Giving another look
Jacksonville puts in the wildcat for the second week a row and puts up big numbers, giving future opponents something to think about as they game plan for the Golden Eagles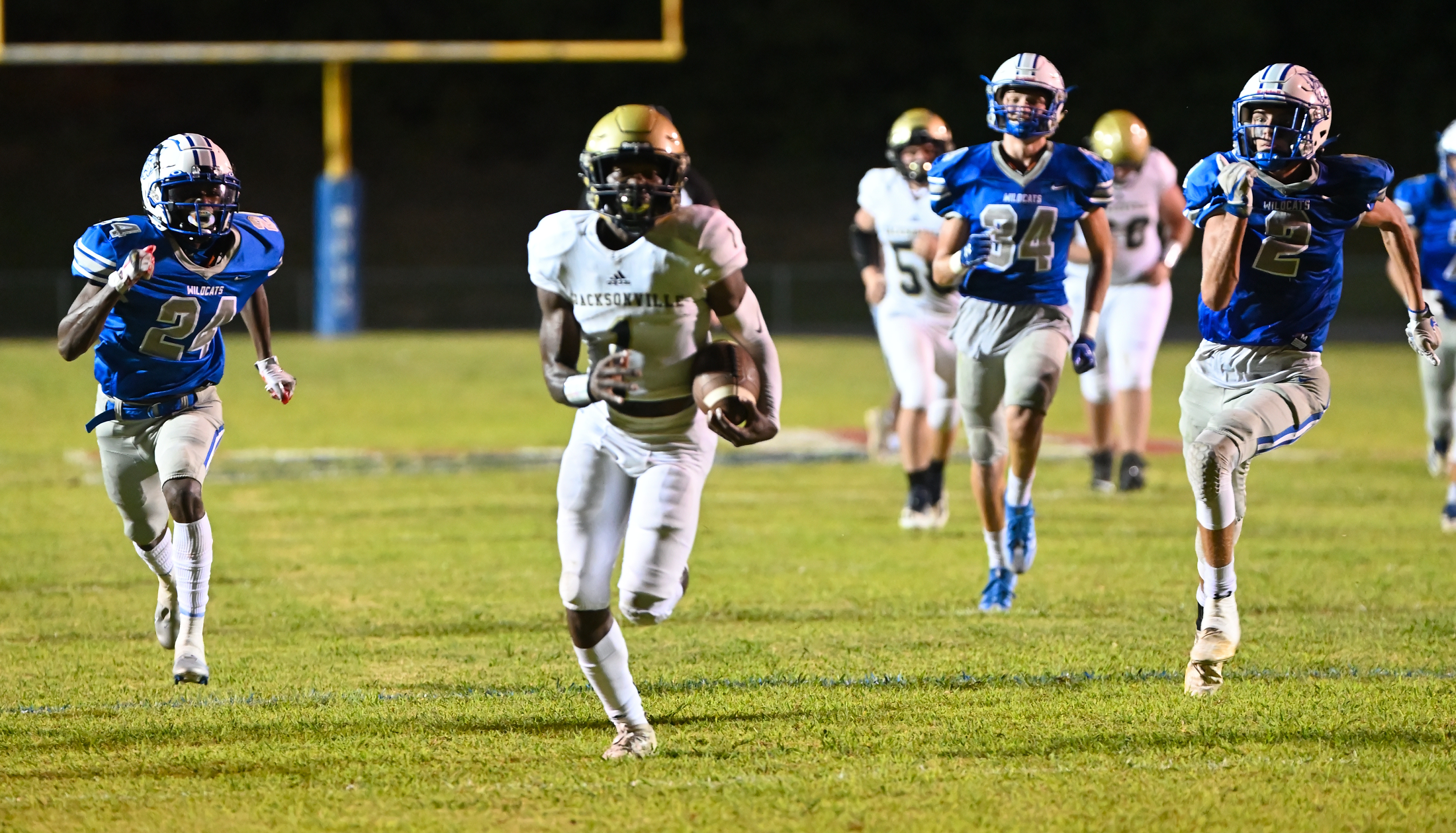 By Al Muskewitz
East Alabama Sports Today
Jacksonville showed it could be pretty good shuffling things around with a short-handed lineup a week ago. The Golden Eagles proved Friday in beating White Plains 46-24 they're still as really good when virtually at full strength.

And along the way the Golden Eagles showed their effectiveness in an emergency second offense that could serve them quite well down the road.

The Golden Eagles had everyone back from COVID-19 restrictions Friday night except quarterback Jim Ogle, and he's expected to return next week when his team opens a three-game gauntlet against Munford, Piedmont and Handley. In Ogle's absence, the Golden Eagles went from a team that was going to rely on their quarterback's strong arm to one wild about the wildcat.
They put up 29 points and 379 yards (344 rushing) last week against Anniston and 46 points and 452 yards (393 rushing) in the wildcat against the Wildcats.
"These guys have done a really good job," Jacksonville coach Clint Smith said. "First of all, my coaches did a really good job of coming up with a game plan last week and this week putting some things in.
"The biggest thing is we've been able to take care of business and we've been able to win through some adversity and through some different avenues that going in we didn't know we were going to have."
It couldn't have been more effective early on. With Omarion Adams as the quarterback and JaeTaj Morris as the runner, the Golden Eagles scored 34 points in a 40-minute first quarter and all of their points in the first half.
From the start it looked like this was going to be a shootout. Morris scored the first of his four touchdowns two minutes into the game on a 1-yard plunge. The Wildcats answered on Jaden Chatman's 37-yard touchdown pass to Carson Tyree, but when they missed the extra point it was all Jacksonville after that.

The Golden Eagles scored each of the first six times they had the ball and added a defensive touchdown in the midst of it on Adams' 50-yard pick-six.

"They played us hard, but I was proud of our guys for coming out and really early on just establishing control of the game," Smith said.
Last week Adams had the big game for the Golden Eagles. This night, it was Morris. He rushed for 215 yards and four touchdowns (1, 17, 47, 60 yards). He had 185 yards and four scores in the first half.
If nothing else the way they played well without Ogle gives future Jacksonville opponents something to think about.
"It just makes us more multiple and gives us that option," Smith said. "It's a unique look from the standpoint of the guys running it are really talented guys and it makes people have to respect that. It makes people have to practice that. It just adds another weapon offensively. Now we just have to do a good job of figuring out how we're going to use it, when we're going to use it, how we're going to game plan it and things like that."

"Hopefully we do a little bit of both," Morris said. "With Jim, it helps out a lot because he can throw really good, it opens up a lot and makes the defense back off. Without Jim, it helps because we've got Peanut (Adams), Dreylan Fomby, Kydric (Fisher), a lot of guys to help out. It's going to help a lot down the road."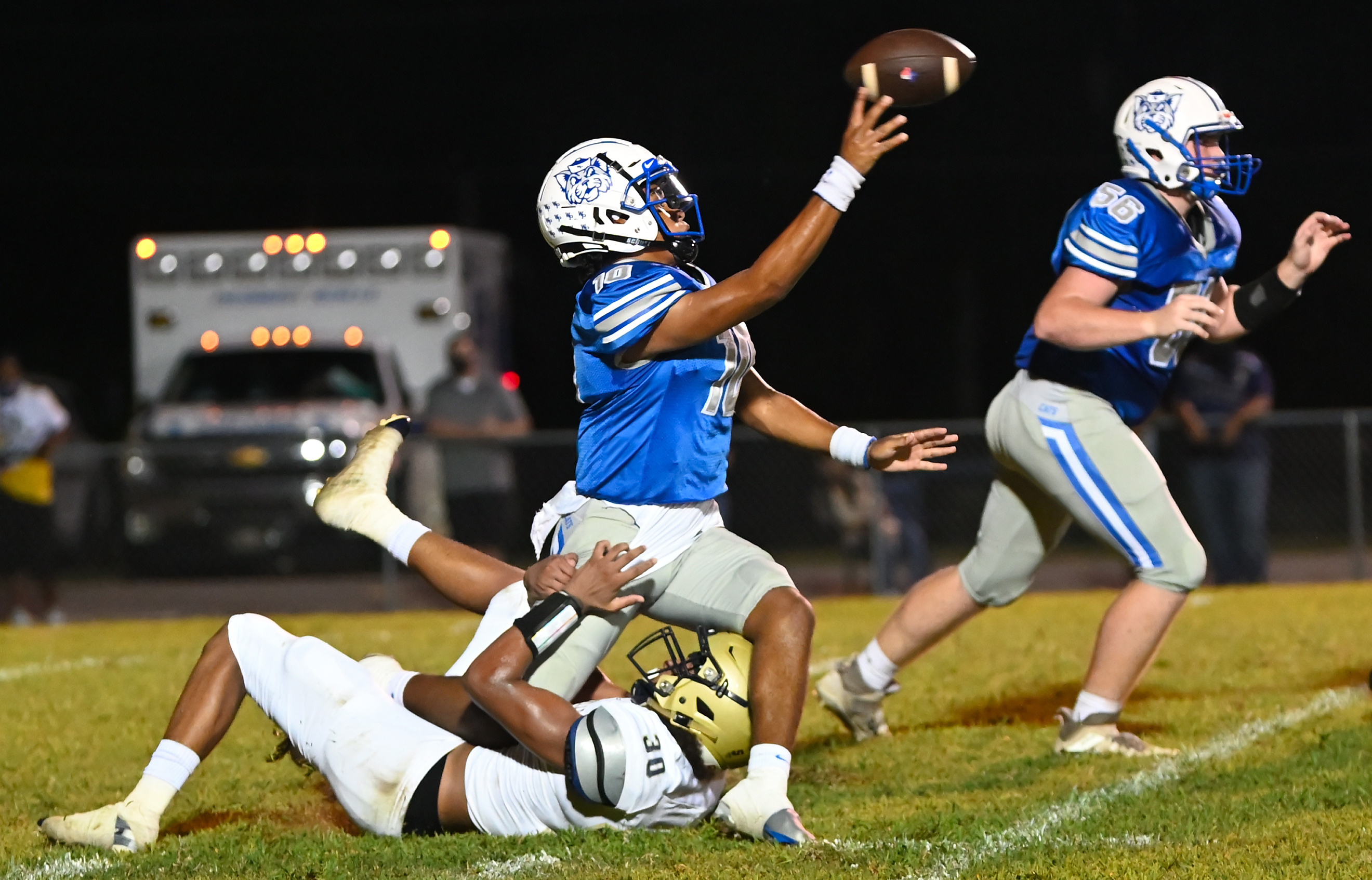 JACKSONVILLE 46, WHITE PLAINS 24
Jacksonville 34 12 0 0 — 46
White Plains 6 12 0 6 — 24
J – JaeTaj Morris 1 run (Mason Terrell kick), 10:09 1Q
W – Carson Tyree 37 pass from Jaden Chatman (run failed), 9:33 1Q
J – JaeTaj Morris 17 run (kick failed), 7:00 1Q
J – Omarion Adams 50 interception return (Mason Terrell kick), 5:56 1Q
J – Omarion Adams 47 run (Mason Terrell kick), 2:18 1Q
J – JaeTaj Morris 60 run (Mason Terrell kick), 1:19 1Q
J – Mason Terrell 26 FG, 10:35 2Q
W – Kahlil Williams 85 kickoff return (run failed), 10:20 2Q
J – JaeTaj Morris 52 run (kick failed), 9:59 2Q
W – Jaden Chatman 2 run (pass failed), 6:33 2Q
J – Mason Terrell 30 FG, 0:00 2Q
W – Carson Tyree 16 pass from Jaden Chatman (kick failed), 2:57 4Q
| | | |
| --- | --- | --- |
| Jville (46) | | WP (24) |
| 14 | 1D | 14 |
| 46-422 | Rush | 21-15 |
| 3-6-1 | C-A-I | 16-36-1 |
| 51 | Pass | 254 |
| 2-1 | F-L | 1-0 |
| 2-32.5 | Punt | 2-40.5 |
| 5-50 | Pen | 8-65 |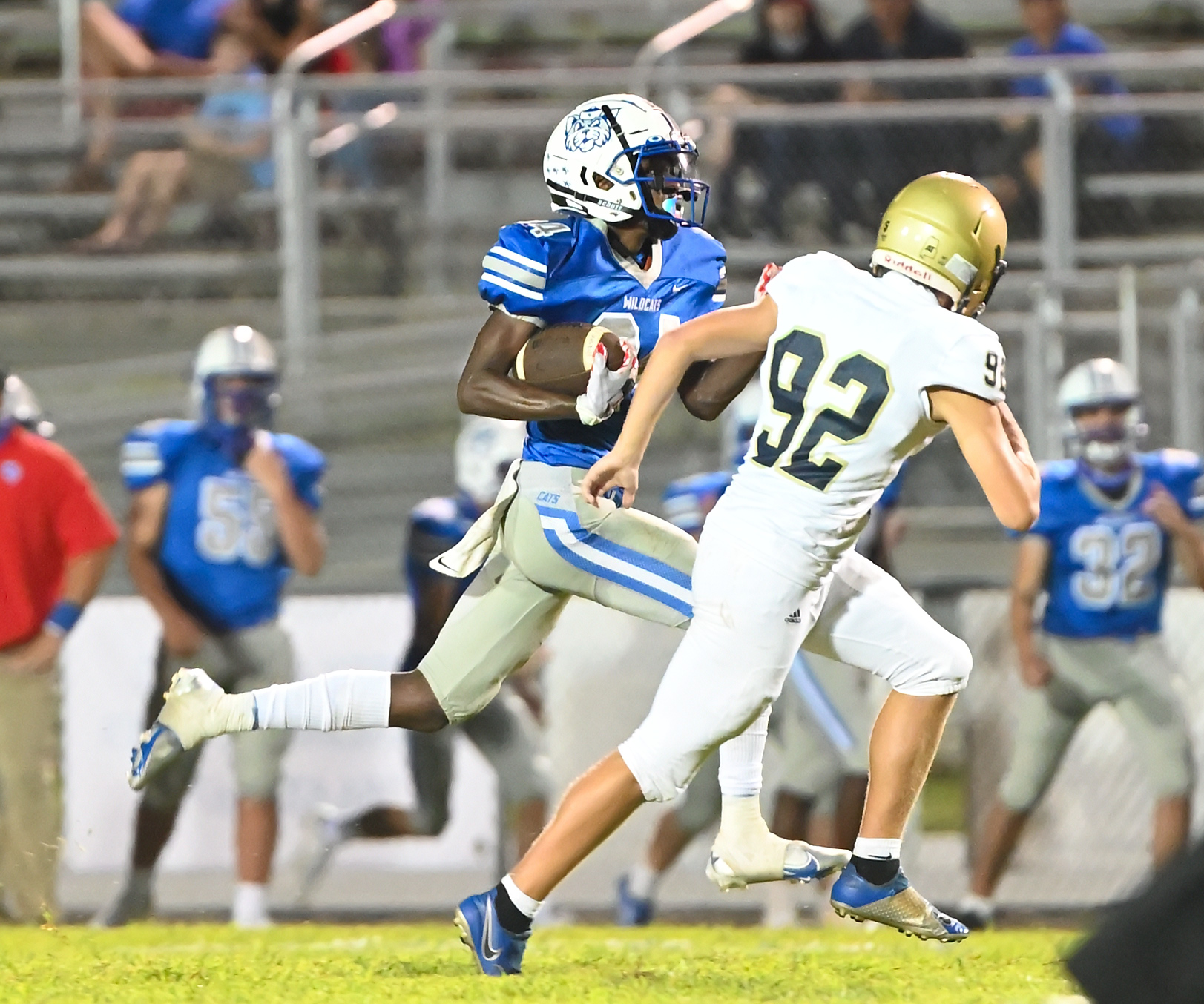 To see more photos from the game, click this link: www.bjfranklin.smugmug.com