Aces all around
Sears, Etter both make holes-in-one in morning wave of Buddy Moore Tournament; defending champs Etter, Bowen lead after 17-under 53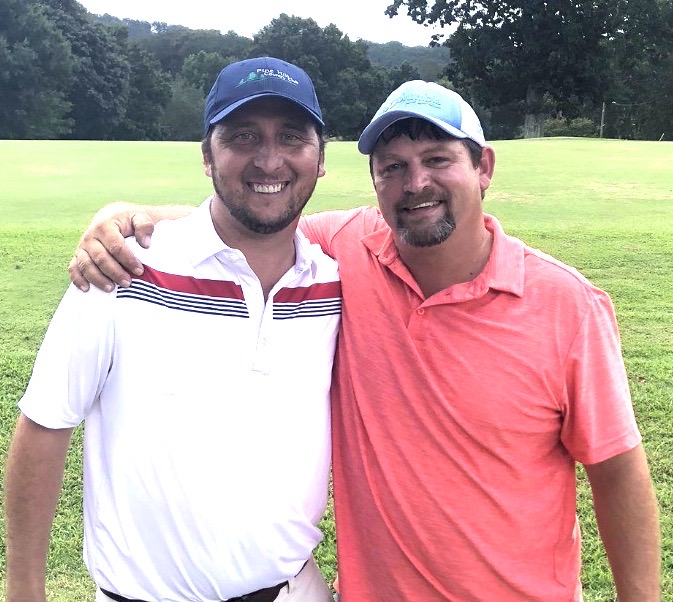 By Al Muskewitz
East Alabama Sports Today
Aces were the order of the day in the opening round of the Buddy Moore Tournament at The Hill. Or at least the opening session.

Hill regular John Sears and defending champion Cory Etter both made holes-in-one Saturday, highlighting the morning wave of the opening round of the tournament that honors the beloved late head pro at the course.

Sears' ace came on No. 11 and nosed out Etter's partner Caleb Bowen for an anticipated closest-to-the-pin prize. Etter's came on No. 16 and was the start of an eagle-eagle-eagle run (1-2-3) that highlighted their back nine 25 in a four-eagle, 17-under-par 53 that carried them to the early and eventually overnight lead.
"It was something else," Bowen said of the run. "He gets up there and drives it to the front of the green on 17 and misses the 45-footer and I drain it. On the next hole, I hit driver, 7-iron to 15 feet and he makes the putt … This is better (than last year's opening-round 54). Four eagles are, like, special. That's nuts."
They also eagled the par-5 third, their first hole of the day. Amazingly, the 53 came with five pars, so there's no telling how low the defending champs could have taken it. Even more amazing, they played their last 14 holes without mulligans, having burned them both trying to make a five-foot birdie putt on No. 6.

"I was sick to my stomach," Bowen said. "We had a chance to really do something, then you use all your mulligans and the wind's completely out of your sails. Turned out we didn't need them."
"It was one of those rounds we could have shot three shots better, but we also could have shot three shots worse," Etter said.

As it is, they carry a four-shot lead into Championship Sunday over Brennan Clay-Andrew Brooks and Matt Rogers-Jeremy McGatha.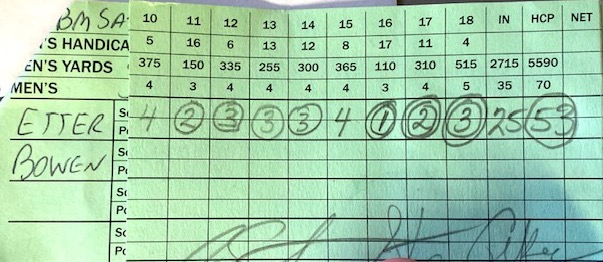 Ironically, just as Sears' ace cost Bowen a morning prize, Etter's ace took Sears' partner, Ashley Bussey, Buddy's granddaughter, out of a potential closest-to-the-pin prize. Bussey and Bowen were both about two feet out when their partners' lightning struck.
Etter's ace came from 108 yards with a 60-degree wedge. It was his 11thall-time and sixth under tournament conditions. It carried a cash prize, which he prompted donated back to the tournament.
"A lot of people saw it, but I didn't get to see it," he said. "The group in front of us said it landed in front, bounced past about a foot and sucked back. The biggest thing I've always believed is if you play the par-3s well you'll win and we played the five par-3s 5-under par today."
Sears' ace came from 186 uphill into the wind with a 5-iron. It was his second ever. The early arrivals at the party porch behind the green said the ball hit short of the hole and tracked dead center like a putt.
"Buddy Moore kicked that ball in for me, that is exactly what happened," Sears said with Bussey sitting off his right shoulder nodding in agreement. "I didn't have anything to do with it. I hit it at it and Buddy kicked it in."
He almost had a second one a short while later, nearly putting one on top of Etter's – on the hole he made his first one 20 years ago – the ball bouncing off the pin and settling 18 inches from the hole. The shots helped him and Bussey shoot 12-under, tied for second after the morning wave. They'll start Sunday's round tied for fourth with Landon Straub-Jason Johnson and Layton Bussey-Byron Preston.
NOTES: Clay and Brooks had 11 birdies and an eagle. Rogers and McGatha had nine birdies and two eagles … In addition to the holes-in-one, the other morning specialty prizes went to Bowen (longest drive), Wayne Tillman (closest-to-the-pin No. 4) and the team of Layton Bussey-Byron Preston (longest putt on No. 6, Bussey from 50 feet). The afternoon prizes went to Straub (long drive), McGatha (CTP No. 2/11), Brooks (CTP No. 4), Clay (CTP No. 7/16) and Will Brown (long putt). Clay's shot into 7/16 was the closest to an ace in the afternoon, three inches … This is the 12th annual Buddy Moore Tournament, the 10th since Moore's passing.
12th BUDDY MOORE TOURNAMENT
First-round scores
Buddy Flight
Cory Etter-Caleb Bowen 53
Brennan Clay-Andrew Brooks 57
Matt Rogers-Jeremy McGatha 57
Landon Straub-Jason Johnson 58
Ashley Bussey-John Sears 58
Layton Bussey-Byrron Preston 58
Chip Howell-Jonathan Pate 60
Will Brown-Tyler Dopson 61
Jake Goggans-Grant Jackson 61
Marcus Harrell-Peyton Bradley 61

Mary Ann Flight
Clay Calkins-Chris Hubbard 62
Chris Reaves-Tim Dennison 63
Jimbo Phillips-Mike Hughston 63
Lamar Carter-Billy Thompson 63
Tony Hicks-Nick Hubbard 63
Danny Whittaker-Gary Thomas 64
Mike Herndon-Tony Strickland 64
David Ramey-James Ramey 64
Frank Brady-Landon Winfrey 64
Steve Akers-Rodney Grubbs 64
Scott Flight
Kelly Rogers-T.J. McGatha 65
Scott Moore-Will Prickett 65
Lenn Coffey-Adam Johnson 65
Charles Carden-Johnny Barnes 65
Ted Heim-Garrett Heim 66
Andrew Tyson-Trey Sawyer 66
Jimmy Jackson-Gordon Stewart 66
David Hill-David Fitzgerald 66
Mark Gaines-Andy Jenkins 67
Chris Randall-Wayne Tillman 68
Angie Flight
Tim Mullendore-Mike Braxton 68
George Salmon-Lee Waldron 69
Grady Sapp-Eddie Reese 69
Jim Ramey-Morgan Ramey 71
Keith Gann-Steve Rogers 72
Donnie McGinnis-Ron Dulaney 73
Jay Jenkins-Matthew Wright 73
Steve Mullendore-Will Mullendore 75
Derek Webb-John Roe 76
Ken Renfroe-Konner Renfroe 82
Sunday pairings
8 a.m. Shotgun1
B: Kelly Rogers-T.J. McGatha, Scott Moore-Will Prickett
1A: Lenn Coffey-Adam Johnson, Charles Carden-Johnny Barnes
2: Ted Heim-Garrett Heim, Andrew Tyson-Trey Sawyer
3: Jimmy Jackson-Gordon Stewart, David Hill-David Fitzgerald
4: Mark Gaines-Andy Jenkins, Chris Randall-Wayne Tillman
5: Tim Mullendore-Mike Braxton, George Salmon-Lee Waldron
6: Grady Sapp-Eddie Reese, Jim Ramey-Morgan Ramey
7: Keith Gann-Steve Rogers, Donnie McGinnis-Ron Dulaney
8: Jay Jenkins-Matthew Wright, Steve Mullendore-Will Mullendore
9: Derek Webb-John Roe, Ken Renfroe-Konner Renfroe
1 p.m. Shotgun
1B Cory Etter-Caleb Bowen, Brennan Clay-Andrew Brooks
1A: Matt Rogers-Jeremy McGatha, Landon Straub-Jason Johnson
2: Ashley Bussey-John Sears, Layton Bussey-Byron Preston
3: Chip Howell-Jonathan Pate, Will Brown-Tyler Dopson
4: Jake Goggans-Grant Jackson, Marcus Harrell-Peyton Bradley
5: Clay Calkins-Chris Hubbard, Chris Reaves-Tim Dennison
6: Jimbo Phillips-Mike Hughston, Lamar Carter-Billy Thompson
7: Tony Hicks-Nick Hubbard, Danny Whittaker-Gary Thomas
8: Mike Herndon-Tony Strickland, David Ramey-James Ramey
9 : Frank Brady-Landon Winfrey, Steve Akers-Rodney Grubbs