Jackets want in
Oxford's boys second at Pleasant Valley, formally joins the conversation to challenge White Plains, PV for county cross-country contention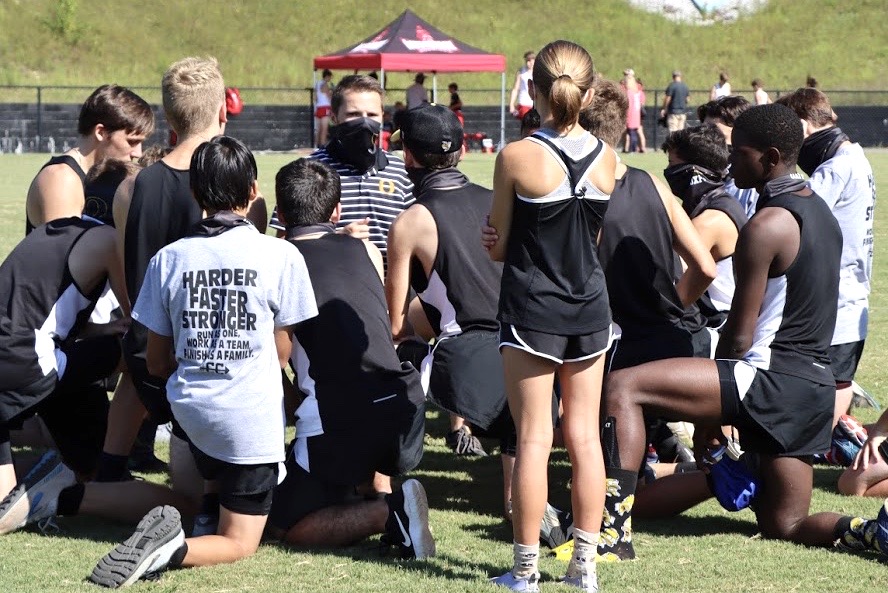 By Al Muskewitz
East Alabama Sports Today
JACKSONVILLE – A lot has been made this fall of the battle being waged between White Plains and Pleasant Valley on their road to their anticipated showdown in this year's Calhoun County Cross Country Championship, but there's an new old player in the race.

Coming up fast on the outside is …

Oxford.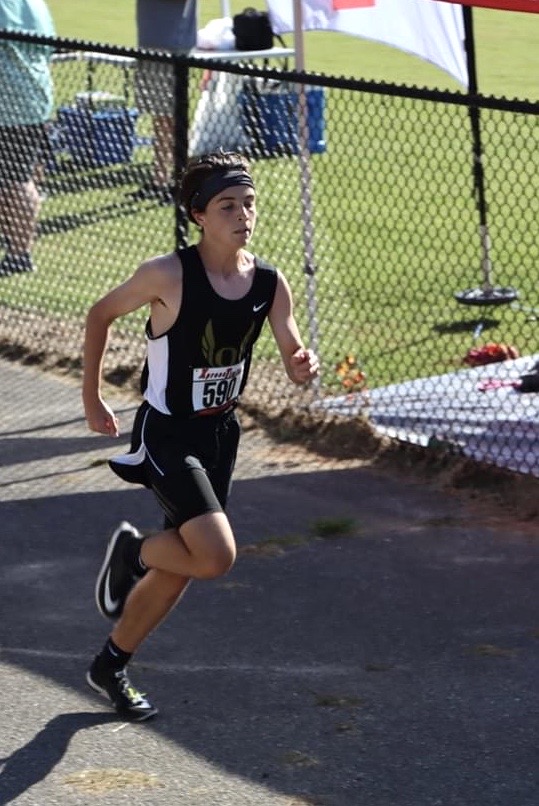 The Yellow Jackets made a firm don't-forget-about-us statement on the boys side Saturday when they finished a solid second in their race at the Raider Invitational at Pleasant Valley.
The Jackets finished one point behind boys team winner Catholic-Montgomery (91-92), but the attention-getter was they beat both Pleasant Valley (109) and defending county champion White Plains (113) straight up.
Pell City and Ashville went 1-2 in the girls race, followed by Pleasant Valley, White Plains and Alexandria.
Individually, Pell City junior Jack Lowe won the boys race in 16:34.72, setting a Calhoun County course record for the second time this season. Glencoe sophomore Katie Giles won the girls race in 20:34.43.
Last year, on this very course, Oxford's boys finished a distant third to White Plains and PV in the closest County boys race in the meet's history, but based on Saturday, where every full county team was in the field, there's a new player in the mix. Because all the teams were here, projecting the County Meet off Saturday's results would find Oxford winning (48 points) ahead of PV (60), White Plains (62) and Alexandria (88).
"We've had a very young team the last couple years and what's happening now is these guys are finally hitting their stride," Oxford coach Landon Delozier said. "They're finally showing what I've seen the whole time. They're not the eighth-graders and seventh-graders, and some freshmen, I was kind of previewing the last couple years and they're finally showing the potential I've seen the whole time.
"That's kind of been my message to them all summer: This is our comeback year; this is going to be our year where we're able to prove ourselves to everybody. We've got it, we've put in lot of work. As soon as they allowed us – and even before they allowed us – to get back together, the kids were begging me for workouts. I did that and as soon as we could meet we were and all masked up, and they kept telling me coach, this is our comeback year. They were seeing it while I was seeing it.

"That's not to take away from (White Plains) coach (John) Moore or (PV Brad) Hood; they both have stellar teams and they're still in their equation (for their state) and still in the equation for County. We're not far enough (ahead) to where I want the kids to relax at all. I constantly remind them they're great teams that are right on their heels, make sure you keep working, you keep grinding.

"The past two weeks we beat a crippled White Plains team and this week they were back with their whole five and we were able to fend them off for this meet. I told them in the post-race meeting just because we beat them (today) doesn't mean they can't come back and beat us next meet. I told them we've got great teams in our county, we've got great teams in our section and if we want to be somebody we've got to keep working. All we did was put a chopping block on our head and now we've got to be quick enough to get out of it."
The reason Saturday happened, Delozier surmised, was the combination of "laser-like focus" across his entire lineup and "everything kind of fell right today." Sophomore Noah George's ninth-place overall finish led an 8-11-13 finish among the Yellow Jackets' five counters. Team winner Catholic had three top 10 counters, but no one after Oxford had three among the top 15.
Josue Alvarez seems to be shaking his early-season sophomore slump and finished 14thoverall and Chad Turner, the team's lone senior, was 16thand "thoroughly impressed" his coach. Anniston's Christian Myles (third) and PV's Cayden Nelson (fifth) were the top overall finishers from the county.
Lowe won the race by almost 25 seconds over Catholic senior Hollis Johnson. Lowe set the White Plains course record in last month's season-opening Twilight Invite.

PV has been chasing the Wildcats since last year's one-point loss in the County and finally caught them in the third race of the year. The margin was 18 points at White Plains and 50 at Choccolocco Park. The Raiders were projected to finish fourth Saturday to White Plains' third.
"Somehow we slayed the giant," Hood said. "I wasn't expecting to beat White Plains this early … because they have so much high volume of training going into the season where I don't get my kids there until State."
RAIDER INVITATIONAL
At Pleasant Valley HS
BOYS RACE
Team scores: Catholic-Montgomery 91, Oxford 92, Pleasant Valley 109, White Plains 113, Ashville 130, Pell City 155, Alexandria 164, Lincoln 165, LAMP (Loveless) 221, Jacksonville 285, Westbrook Christian 291, Clay Central 331, Ohatchee 369, Saks 390, Donoho 415, Glencoe 433, Holtville 475.
Individual Top 20
Jack Lowe, Pell City 16:34.72 (course record)
Hollis Johnson, Catholic 16:58.14
Christian Myles, Anniston 17:14.75
Wyatt Knight, Ashville 17:23.61
Cayden Nelson, Pleasant Valley 17:37.28
Sam Leslie, Catholic 17:52.93
Jake Moore, White Plains 17:56.31
Harrison Skala, Catholic 17:57.79
Noah George, Oxford 18:04.72
Dakota Frank, Munford 18:04.85
J.R. Proctor, Lincoln 18:10.99
Luke Fair, Ohatchee 18:36.35
Anthony Lopez, Susan Moore 18:51.53
Josue Alvarez, Oxford 18:54.26
Asher Curp, Westbrook 18:55.69
Chad Turner, Oxford 18:58.67
Oliver Young, Pleasant Valley 19:02.64
Clayton Knight, Ashville 19:04.35
Joe Stevens, Ashville 19:10.34
Kayd Hightower, White Plains 19:20.45

GIRLS RACE
Team scores: Pell City 43, Ashville 66, Pleasant Valley 69, White Plains 107, Alexandria 119, Glencoe 196, Jacksonville 205, Ohatchee 216, Lincoln 239, Clay Central 288, LAMP (Loveless) 297, Moody 327.

Individual Top 15
Katie Giles, Glencoe 20:34.43
Taylor Knight, Ashville 21:31.70
Abby Little, Pell City 21:47.95
Reagan Edwards, Pell City 21:55.99
Trinity Roberts, Pleasant Valley 22:13.78
Caroline Pinson, Pell City 22:40.08
Sarah Sloughfy, Jacksonville 22:41.01
Michaela Moore, Alexandria 22:57.79
Meghan McCarthy, Ashville 22:59.42
Anna Strickland, White Plains 23:03.62
Abie Jenkins, Pell City 23:10.19
Katie Keur, Oxford 23:10.74
Bella Rhodes, Holtville 23:32.06
Elizabeth Hall, Pleasant Valley 23:36.03
Eva Bryant, Pleasant Valley 23:40.98