It started strong
Thompson scores on a 99-yard fumble return to get Weaver off to a good start, but the Bearcats fall to Douglas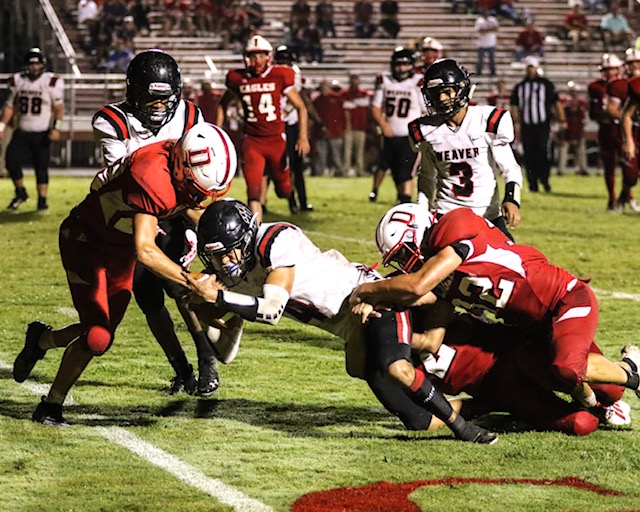 By East Alabama Sports Today
DOUGLAS – The game started so well for the Weaver Bearcats, but between the daily battles with COVID-19 and other circumstances, they just couldn't sustain the momentum and dropped their season opener for the second year in a row.
Taylor Thompson logged one of the longest scoring plays in Weaver history Friday night when he returned a fumble 99 yards for a score and accounted for three touchdowns, but Douglas rallied after the big play and pulled away in the second half to hand the Bearcats a 48-18 loss.
Thompson's scoop and score opened the scoring with 7:14 left in the first quarter. It reminded Bearcats coach Justin Taylor of the night at White Plains when Austin Pruett raced 103 yards for a score with the fourth longest interception return in state history when he coached at Cherokee County.
"That was awesome," Taylor said. "I told them at halftime the game was one play here, one play there. That was huge because they had already gotten a couple first downs and I think we had a penalty (extending the drive).
"Taylor was huge. He was (ESPN announcer) Chris Berman rumbling, stumbling up through there. Taylor's a warrior. He's a hefty warrior, but he was battling and that was fun to watch him go down through there."
Douglas responded to Thompson's score with the next three touchdowns. Thompson hooked up with Jackson Williams on an 82-yard touchdown pass with 1:35 left in the second quarter to draw the Bearcats, still searching for their first win under second-year coach Taylor, within 20-12 at halftime.
The Eagles, who hadn't won a season opener since 2012, stretched their lead to 35-12 in the third quarter and added two more touchdowns in the fourth. In between Thompson accounted for another Weaver score when he threw a 4-yard TD pass to Brendyn Knight.
"We've got to do a better job conditioning, we've got to do a better job with nutrition," Taylor said. "With the COVID guidelines, trying to make sure they get water, we neglected the Gatorade. A lot of the COVID guidelines have messed us up and from what I'm hearing from other coaches it's happening all around the South of teams trying to follow these guidelines for getting water but because they've changed their process they're missing out on things they've already done.
"That hurt us and we've got to be in better shape, and that's on me. Our staff does a good job, our kids are too talented for that, and I've got to do a better job of pushing them a little bit farther than I have and making sure that they're ready to go and making sure some of the guys who weren't as tough get there. We've had some guys battle tonight and we had some checked out. By the second half we were playing linemen who were third or fourth on our depth chart. That was probably the big difference right there. We've got enough warriors that if I'll get them in shape they'll be able to play ball. I've got to make sure that doesn't happen anymore."
Thompson threw for 112 yards and rushed for 65 more. He also had five tackles, including one for loss, on defense.
Greg Warren contributed to this report.
DOUGLAS 48, WEAVER 18
Weaver                   6    6   0    6    —  18
Douglas                  14  6   15  13  —  48
W – Taylor Thompson 99 fumble return (run failed), 7:14 1Q
D – 2-yard run (run good), 3:37 1Q
D – 16-yard run (kick failed), 2:00 1Q
D – 20-yard pass (kick failed), 1:58 2Q
W – Jackson Williams 82 pass from Taylor Thompson (kick failed), 1:35 2Q
D – 1-yard run (run good), 10:05 3Q
D – 2-yard run (kick good), 0:31 3Q
W – Brendyn Knight 4 pass from Taylor Thompson (run failed), 9:33 4Q
D – 12-yard run (kick good), 6:39 4Q
D – 12-yard run (kick failed), 6:25 4Q
Wea                          Doug
11            1stD        27
32-118  Rush       56-334
6-13-0   C-A-I        2-2-0 
120         Pass        50
3-2           F-L         3-1
2-24.5   Punt        0-0
15-135  Pen          9-77