Rivalry Round 1
White Plains, PV start their season rivalry with a split in Wildcat Twilight Invite; Pell City's Lowe sets course record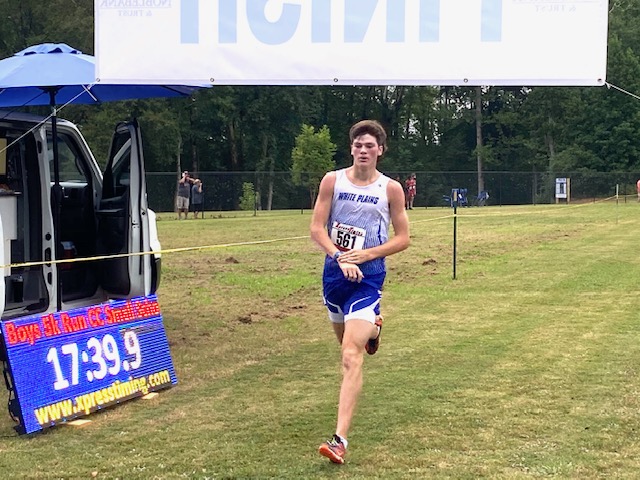 By Al Muskewitz
East Alabama Sports Today

The White Plains and Pleasant Valley cross country teams will go head-to-head five times this season in the run up to their anticipated showdown in the Calhoun County Meet in October. Of course, they'll be competing for different state championships in Moulton, but the County has gotten to be a pretty hot race between the two of them.
Round One Thursday went to the Pleasant Valley girls and the White Plains boys.

The PV girls put on a midseason type performance in their season opener and won the Class 1A-4A girls race in the Wildcat Twilight Invite by a comfortable margin over Ashville and host White Plains. The White Plains boys were similarly impressive in winning their race over Ashville and the rebuilding Raiders.

"Now, he has motivation for his boys and I have motivation for my girls," White Plains coach John Moore said.

"If we do close the gap, if somehow we can slay the giant, that'd be huge," PV coach Brad Hood said.
Glencoe sophomore Katie Giles (20:57.57) and White Plains senior Jake Moore (17:40.54) won their respective 1A-4A girls and boys races.

Pell City's girls and Southside's boys won the big school races. Pell City swept individual gold, with Abby Little winning the girls race (21:41.24) and Jack Lowe winning the boys race (16:45.63) and breaking Moore's course record (17:04) in the process.
The Pleasant Valley girls were led by Trinity Roberts' second-place finish (22:19.39) and placed three runners in the back of the top 10 – Elizabeth Hall, Gracie Hood and Eva Bryant – separated by 2.35 seconds. Macey Roper, coming back from ACL surgery during basketball season, was 12th, five seconds back. The Lady Raiders scored 37 points.
"I'll be honest," Hood said. "It was the first time 2017 I looked in their eyes and told them that they could win the state, and if I don't think they are legitimate contenders for state I'm not going to tell them a lie. I told them this is the first time I could ever look at you in your eye and tell you you're a contender for state. Ever since I had that talk the first practice of the year they have been working their tails off."
White Plains finished two points behind sectional rival Ashville, and on this day, short of winning, that was more pleasing to John Moore than anything.
With Jake Moore leading the way, the White Plains boys finished 1-4-7 and scored 47 points. Kayd Hightower was fourth and Carson Limbaugh was seventh. Third-place Cayden Nelson was PV's highest finisher.
"We'll go back and forth," John Moore said. "Even if he stays ahead all season it just gives us motivation to push and work harder. Of course, we would like to win County, but we would also like to win sectionals, so both of the teams that are in front of us, we've got some more work to do. I'll just tell the girls you were close, but it didn't happen today, just keep on working, keep your heads up. We'll be OK.
"I'm glad we're in the conversation with them and it's not just we're automatically going to take second every time. There's a chance if you don't come with you're A-game we win and vice versa. I love the competition we get between our teams … I want him to win state in 3A and I want to win state 4A – and I'm certainly glad he's in 3A and I'm in 4A when it comes to state – and the only way both of us are going to get there is to push each other all year long."

The event has become the traditional season opener in the county and, this year, the first race in the COVID-19 era. Many of the runners and spectators arrived at the course with masks in tow. Pleasant Valley practiced the ultimate social distance, setting up their team tent in the far corner of the parking lot. All of the winners ran as if it might be their last race of the year.
"That's what I told my parents the other day," Giles said. "I told them I had to run every race like it was the last one I was going to get to run because I don't know how long the season's going to last. It felt good to be racing again. The last thing I competed in was a soccer game on March 12 and I hadn't gotten to do anything since. I trained super hard all summer and it felt good to get to run again."
"You've got to remember right now that every race might be your last race," Lowe said. "You've got to give it your all every race right now because you never know when it might be your last one."
"I was going to come out and try to break 17, but I'll take 17:40; you only get better so I can't be mad," Jake Moore said. "I ran my heart out. I don't want this to be the last race of senior year. I'm just hoping and praying we get every race we can this year."

Cover photo: White Plains cross country coach John Moore (L) and Pleasant Valley coach Brad Hood share a laugh at the conclusion of the Wildcat Twilight Invite.
Wildcat Twilight Invite
Class 1A-4A Girls
Team scores: Pleasant Valley 37, Ashville 64, White Plains 66, Glencoe 96, Pisgah 144, Jacksonville 151, Ohatchee 171, Handley 214.
Individual Top 10
Katie Giles, Glencoe 20:57.57
Trinity Roberts, Pleasant Valley 22:19.39
Taylor Knight, Ashville 22:37.93
Meghan McCarthy, Ashville 23:23.10
Sarah Sloughfy, Jacksonville 23:37.05
Anna Strickland, White Plains 23:50.22
Taylor Simmons, Donoho 24:11.04
Elizabeth Hall, Pleasant Valley 24:17.36
Gracie Hood, Pleasant Valley 24:18.02
Eva Bryant, Pleasant Valley 24:19.71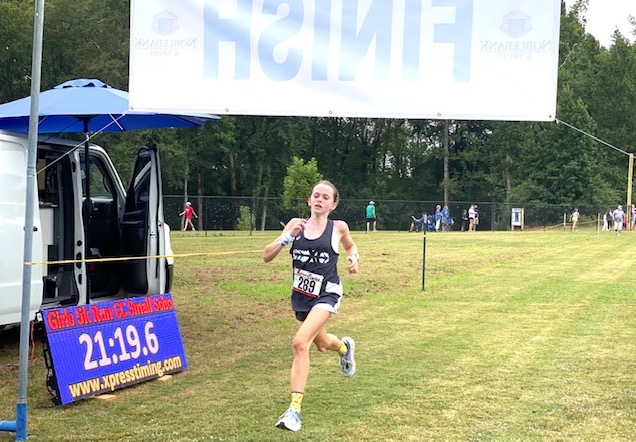 Class 1A-4A Boys
Team scores: White Plains 47, Ashville 61, Pleasant Valley 65, Hokes Bluff 98, Jacksonville 162, Pisgah 168, Faith Christian 194, Glencoe 202, Ohatchee 205, Donoho 231, Saks 297.
Individual Top 10
Jake Moore, White Plains 17:40.54
Wyatt Knight, Ashville 17:49.20
Cayden Nelson, Pleasant Valley 17:56.36
Kayd Hightower, White Plains 17:58.76
Luke Fair, Ohatchee 18:43.78
Tristan Little, Pisgah 18:49.61
Carson Limbaugh, White Plains 19:18.52
Joe Stevens, Ashville 19:19.72
Sam Green, Hokes Bluff 19:25.15
Clayton Knight, Ashville 19:27.61
Class 5A-7A Girls
Team scores: Pell City 32, Southside 34, Alexandria 65, Clay Central 129, Calera 141, Lincoln 150
Individual Top 10
Abby Little, Pell City 21:41.24
Camryn Davis, Southside 22:08.87
Zoie Menk, Southside 22:13.52
Reagan Edwards, Pell City 22:31.24
Abie Jenkins, Pell City 23:02.65
Alexis Valentine, Southside 23:03.36
Michaela Moore, Alexandria 23:31.76
Caroline Pinson, Pell City 23:54.68
Katie Keur, Oxford 24:12.56
Michaela Watts, Alexandria 25:09.52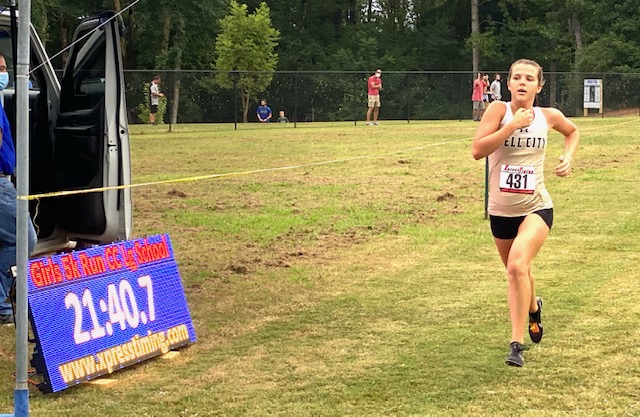 Class 5A-7A Boys
Team scores: Southside 65, Calera 74, Oxford 76, Lincoln 91, Alexandria 109, Pell City 134, Fairview 149, Clay Central 221.
Individual Top 10
Jack Lowe, Pell City 16:45.63
Peyton Bailey, Fairview 18:10.52
J.R. Proctor, Lincoln 18:21.08
Noah George, Oxford 19:02.54
Jonah Medders, Alexandria 19:08.93
Riley Gay, Calera 19:12.19
Luke Holcombe, Southside 19:13.06
Jackson Griggs, Southside 19:14.56
Cade Galloway, Calera 19:16.82
River Richard, Pell City 19:20.51