Clay is close
Brennan Clay, looking for his first County Tour win, shares lead with Paul Murphy going into final round of Gadsden Invitational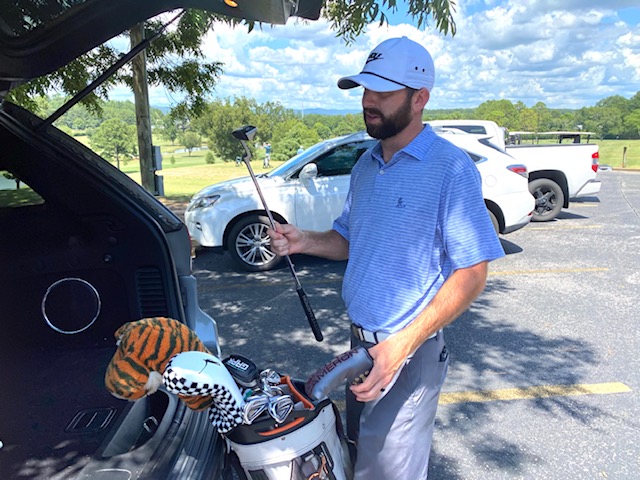 By Al Muskewitz
East Alabama Sports Today
GADSDEN – Brennan Clay knows just how Rickie Fowler feels.
Just like everyone wonders when the PGA Tour favorite, a nine-time Tour winner, is going to win a major, Clay wonders when he's going to win on the Calhoun County Golf Tour.
Both players have come close on their respective quests, but when it's come to closing the deal on Championship Sunday both have come away empty-handed.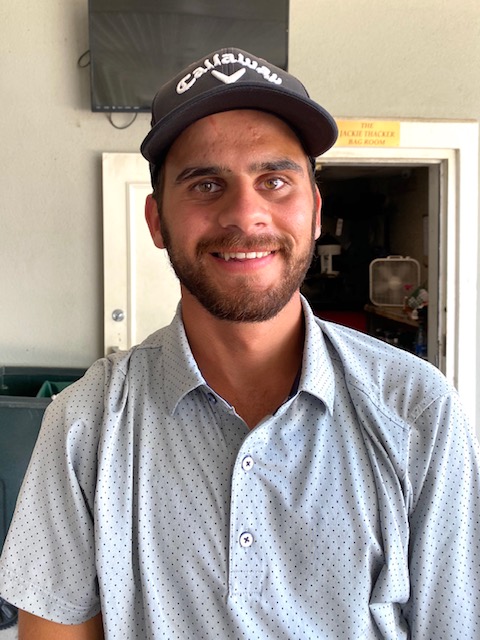 Clay is knocking on the door again after shooting 5-under-par 66 – tied for the best round of the day – in Saturday's second round of the Gadsden Invitational. It shot him into a tie for the overnight lead with first-round leader Paul Murphy at 6-under 136. They lead Chris Hummel (70) and Gary Wigington (66) by four.
It's probably his best shot to finally score that elusive County Tour win since the final round here two years ago when he had a two-shot lead coming down the stretch and was tied going to 18. He's had that second, five thirds, three fourths and 23 top 10s in 29 career Tour starts since 2016. He's only finished out of the top 15 three times.
"It eats at me all the time," Clay said. "I kind of feel like probably the same way Rickie Fowler feels about not winning a major.
"It's the reason I play. I want to win one, for sure. All my friends – Matt's (Rogers) won, Jeremy's (McGatha) won, Andrew's (Brooks) won, Twig (Gary Wigington), Ty (Cole) – everybody's won. I want to get in the group."
The 31-year-old Anniston landscaper and former club pro has won plenty before, both as a pro and an amateur; he just hasn't broken through on the Tour.

Two years ago here, at the club he started his career in the golf business, Clay carried a two-shot lead into the final three holes only to be chased down by Cole for the third of his current string of fourth straight Gadsden wins. Earlier that year he missed a sudden death playoff between Cole and Logan Archer at Cider Ridge by a shot.

In the 2017 County he was part of a six-way tie for the lead with five holes to play before McGatha pulled away and held off Ott Chandler to end a 27-month victory drought.
"I know why sometimes (it happens)," Clay said. "Nerves get to everybody. I just haven't been there and made enough birdies on Sunday. That day (here in 2018) I shot 31 on the front and was going pretty good and then …
"I don't think I get comfortable (with the lead); it's kind of like don't (do anything dumb). I don't think that's how Ty and Twig and Jeremy and all them win tournaments. I think they kind of stay after it. You don't all of a sudden let up just because you've got a three- or four-shot lead … I've got to be able to keep going."
He called Saturday's round the "most fun, satisfying round I've had in a while," probably since that 64 at The Hill. He had four birdies, an eagle (on the par-4 ninth) and a bogey. He went birdie-eagle-par-birdie in the four holes coming through the turn and missed a 10-foot birdie putt on 18 for the outright lead.
It was his first round in the 60s since a 69 in the opening round of the season-opening RTJ-Silver Lakes Championship and his best since a 6-under 64 in the final round of last year's County Championship at Anniston Municipal.
Interestingly, he was using his fifth different putter in his last nine Tour rounds and second in as many days. On Friday he missed two par putts inside three feet on the front, had back-to-back three putts, was 3-over through 5 and rallied to post 70. On Saturday, at the suggestion of Matt Rogers after Friday's round, he went back to the blade he used in the first two tournaments of the season, the putter he'd used for the previous two years.
"I've been struggling putting all year," Clay said. "I putted pretty good at Silver Lakes in the first tournament and I played pretty good, but after that I could not get the ball in the hole and I was hitting the ball fine. If you don't make putts, you're not going score; that's obvious in golf. I've been going through putter after putter, just looking at something different, trying to figure it out.
"I don't think there was anything wrong with my actual stroke, it kind of got to where I missing so many it was like I was having a mental breakdown then – what are you doing? I don't like mental breakdowns. That's why I wanted to try to experiment like I did at Pine Hill 9-10 years ago trying to hopefully putt decent with something, but I never got something I could putt decent with … Having that putter back in my hand today was like 'this is why I have this putter; I should never go away from it.' I putted the best I have this year. I didn't miss a putt inside eight feet."
Murphy sank a fast-moving birdie putt on 18 to maintain a share of the lead. It was that kind of back nine for the Montevallo senior.
He went into the day with a two-shot lead and was a bogey-free 2-under for the day at the turn, but the back nine was a roller-coaster ride. He shot 1-over on the side, but had four bogeys and three birdies.
"I just got uncomfortable on the back nine with the greens and not trusting my stroke and probably paid too much attention to it," the Montevallo senior said. "My shot predictions on most of my shots, they didn't execute as I thought and then it got me into sticky situations and I had to scramble from there. Shots not being executed to where I would like it and then the putter not working, it's really a bad-for-bad (situation)."
He expected players making moves behind him and kept an ear out for what Clay was doing in front of him where he could. In Sunday's championship round he plans to stick with the process that got him here.
"Just go out and keep playing the game that I'm playing, execute the shots and hopefully just hole more putts," he said.
Wigington posted the day's first 66 in his bid to win a fifth straight County Tour title. He saved bogey on the first hole, then played the rest of the way bogey-free with six birdies. He played his final six holes in 4-under. Hummel drew even with him with a second straight 70.
Gadsden Invitational
Championship Flight
Paul Murphy 66-70—136
Brennan Clay 70-66—136
Chris Hummel 70-70—140
Gary Wigington 74-66—140
Michael Rich 70-71—141
Corey Ray 70-71—141
Dane Moore 68-73—141
Sam Audia 72-70—142
Richard Douglas 72-69—142
Jody Wooten 74-68—142
Randy Lipscomb 70-73—143
Tanner Wells 74-79—143
Chad Calvert 74-70—144
Ty Cole 74-70—144
Tanner Roberts 76-68—144
Shawn Ledbetter 69-76—145
Harrison Hughston 71-75—146
Jake Goggans 74-73—147
Alan Smedley 76-71—147
Carter Goodwin 76-71—147
Max Basler 69-79—148
Drew Anderton 72-77—149
Luke Armstrong 73-76—149
Clay Calkins 74-75—149
Chandler Richards 73-77—150
Mason Dennis 76-75—151
Morgan Cunningham 70-81—151
Frank Brady 74-78—152
Corbin Holland 75-78—153
Ryan Limbaugh 76-77—153
Matt Rogers 76-77—153
Charlie Smith 76-80—156
Logan McCracken 74-83—157
Braden Lovely 75-82—157
Jackson Stephens 75-82—157
Daniel Black 75-85—160
Putter progression
(Here is the succession of putters Gadsden Invitational co-leader Brennan Clay has used this Calhoun County Golf Tour season with scores/putts):
Silver Lakes (T-4): Scotty Cameron Newport 2 (69/33, 74/32)
Briarmeade (T-14): Scotty Cameron Newport 2 (72/29, 76/30)
Anniston CC (T-16): Center-shafted Odyssey 7 (73/NA, 74/27, 78/33)
Pine Hill (T-15): Scotty Cameron Phantom X5 (75/28, 70/29)
Cider Ridge (9): Heel-shafted Scotty Cameron Del Mar (74/29, 78/33)
Gadsden CC (T-1 thru 36 holes): (Round 1) Odyssey Triple Track Ten (70/NA); (Round 2) Scotty Cameron Newport 2 (66/29)