Murphy leads Gadsden
Montevallo senior shoots 66, tops Gadsden Invitational qualifying by 2 shots
By Al Muskewitz
East Alabama Sports Today
GADSDEN – Paul Murphy carried a piece of advice he'd heard long ago with him after his first hole in the Gadsden Invitational and it proved to be quite prophetic.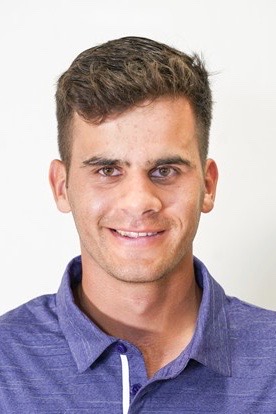 Many a good round has started with a bogey, the Montevallo senior remembers being told somewhere in his youth.
It certainly did Friday. Murphy bogeyed his first hole out of the gate, then went on to make four birdies and an eagle for a 5-under-par 66 that earned him medalist honors in Championship Flight qualifying.
"I actually always say, it's usually a golf term also, that good rounds always start with a bogey and many a time I have actually done that," he said. "I've had so much experience and, how would I say it, like, disappointments during my career and it's kind of all coming together in a good mindset."
The aspiring pro from Wexford, Ireland, bounced back from the opening hiccup with birdies on 6, 7 and 9 to turn in 33 and had another on 17. The highlight of the round, though, was his eagle on 12, hitting a 3-wood into the wind from 210 yards to within six feet of the hole.
He carries a two-shot lead into Saturday's second round over reigning Gadsden CC club champion Dane Moore. He's three ahead of Shawn Ledbetter and Jacksonville State player Max Basler.
Ledbetter's 69 came out of the last group of the day and knocked a handful of 77s off the cutline. Thirty-six players will play in the Championship Flight, including four-time defending champion Ty Cole (74) and Gary Wigington (74), winner of the last four Calhoun County Golf Tour events, and two of Murphy's Montevallo teammates, Anniston's Harrison Hughston (71) and Logan McCracken (74).
After a decorated and world-class junior career out of Rosslare Golf Links, Murphy came to the United States to pursue his dream to make golf a career. He spent two years at Western Texas College in Lubbock and then transferred Montevallo, where he made the Division II regionals two years ago and redshirted last year before COVID-19 hit to recover some academic credits. He'll be a fifth-year senior this year.
Unable to return to Ireland this summer because of the coronavirus, he's had a good stay in the States. He's enjoyed several solid finishes as an amateur on the Emerald Coast Tour – T-20 in Dothan, low am at Regatta Bay, T-10 at Timberline – finished second at the Musgrove Invitational and just last week shot 58 (with a bogey) at Trussville Country Club.
"When we were out there, Corey (Ray) said when he was on the range, there was a guy who looked like a young kid who was absolutely striping it," Moore said. "Then we got on 14 and he looked over and said, yeah, (Murphy) was the one he saw on the range."
"He's a good player," Hughston said. "He's 58 good. I've played with him a lot. He does everything real well. He'll be there on the weekend. There's nothing else to it: He's a player."
For his part, Moore said he didn't hit it particularly well, but caught a few breaks that helped him though the round. He was 1-under through 13 holes, then birdied 14 and 16 to pull into second place.
"I didn't hit it great, but I scored OK," he said. "I made a few little putts to keep my round going. In our group, Corey hit the ball and played better than I did, he just didn't score as good."
Basler's round also started with a bogey, but he got the shot back with a birdie at 3 and played his last 15 holes bogey-free in 2-under-par. Ledbetter made the last of his five birdies on 18 to gain a share of third place.
NOTES: Murphy's swing coach is former Jacksonville State player Hernan Rey, a former European Tour player and current golf analyst and teacher based in Orlando. He last visited with Rey the week before Musgrove … Murphy has a little Tommy Two-Gloves thing going on, but he plays with two gloves to protect his hands from an allergic reaction called contact dermatitis … Moore and Randy Lipscomb are the only former Calhoun County Tour winners in Friday's top 16, both having won at Silver Lakes … The cut for the Championship Flight has been 79 each of the previous three years … The field will be flighted after Saturday's round.
GADSDEN INVITATIONAL
Championship Flight qualifiers
Paul Murphy 33-33—66
Dane Moore 34-34—68
Max Basler 34-35—69
Shawn Ledbetter 34-35—69
Michael Rich 37-33—70
Corey Ray 35-35—70
Chris Hummel 38-32—70
Randy Lipscomb 34-36—70
Morgan Cunningham 36-34—70
Brennan Clay 37-33—70
Harrison Hughston 36-35—71
Drew Anderton 38-34—72
Richard Douglas 36-36—72
Sam Audia 35-37—72
Luke Armstrong 34-39—73
Chandler Richards 37-36—73
Ty Cole 38-36—74
Jody Wooten 36-38—74
Clay Calkins 35-39—74
Frank Brady 35-39—74
Logan McCracken 40-34—74
Jake Goggans 38-36—74
Gary Wigington 36-38—74
Chad Calvert 37-37—74
Tanner Wells 37-37—74
Braden Lozely 36-39—75
Corbin Holland 39-36—75
Daniel Black 40-35—75
Jackson Stephens 38-36—75
Alan Smedley 39-37—76
Tanner Roberts 42-34—76
Carter Goodwin 37-39—76
Ryan Limbaugh 37-39—76
Charlie Smith 39-37—76
Mason Dennis 37-39—76
Matt Rogers 37-39—76
Saturday pairings
7:30 a.m. – Matt Rogers, Ryan Limbaugh, Tanner Roberts
7:38 – Carter Goodwin, Charlie Smith, Mason Dennis
7:46 – Daniel Black, Jackson Stephens, Alan Smedley
7:54 – Jake Goggans, Braden Lozely, Corbin Holland
8:02 – Frank Brady, Logan McCracken, Tanner Wells
8:10 – Jody Wooten, Chad Calvert, Ty Cole
8:18 – Luke Armstrong, Gary Wigington, Clay Calkins
8:26 – Richard Douglas, Sam Audia, Chandler Richards
8:34 – Randy Lipscomb, Harrison Hughston, Drew Anderton
8:42 – Corey Ray, Michael Rich, Morgan Cunningham
8:50 – Shawn Ledbetter, Brennan Clay, Chris Hummel
8:58 – Paul Murphy, Dan Moore, Max Basler
9:06 – David Lipscomb, Jake Pennington, Blake Grisham
9:14 – Donnie Sutton, Blake Gilchrist, David Kyatt
9:22 – Richard Schmidt, Sam Bone, Joseph Zieman
9:30 – Bill Rhea, Steve Cantrell, Paul Gore
Noon – Chase Thomas, John Lindsey, Trey Stone
12:08 p.m. – Chris Leonhardt, Will Manuel, Austin Smith
12:16 – Cameron McCareeth, Chris Cox, Ernie Blakenship
12:24 – Greg Hare, Mason Aulsbrook, Norman Clifton
12:32 – Ryan Huff, Scott Smith, Trey Rouse
12:40 – Bumper Jones, Chad Hare, Jeff Chapman
12:48 – Jeremy McGatha, Tyler Dobson, Josh Ashley
12:56 – Will Brown, Kenny Fulmer, Patrick Cooper
1:04 – Steve Davis, Dre Davenport, Casey Harmon
1:12 – Drew Steele, Matt Greer, Justin Goree
1:20 – Cain Hollingsworth, Chase Hollingsworth, Danny Owens
1:28 – Graham Morrow, Jared Waits, Scott Jimmerson
1:36 – Ted Heim, Timmy Woodard, Clayton Chandler
1:44 – Jason Britton, Mike Lett, Dale Owens
1:52 – Kevin Third, Chris Messer, Dustin Tucker
2:00 – Mark Dillard, Matthew Bennett, Jimmy Jones
2:08 – Jordan Means, Chuck Brand, William Kirkland