Rogers duo wins State flight
Father-daughter tandem come through demanding format to win Parent-Child Mixed Team division

By East Alabama Sports Today
 
BIRMINGHAM – Calhoun County players brought home a title from the State Parent-Child Tournament for the third year in a row Monday when Anniston's Matt and Isabel Rogers won the Mixed Team 14-and-Under Flight.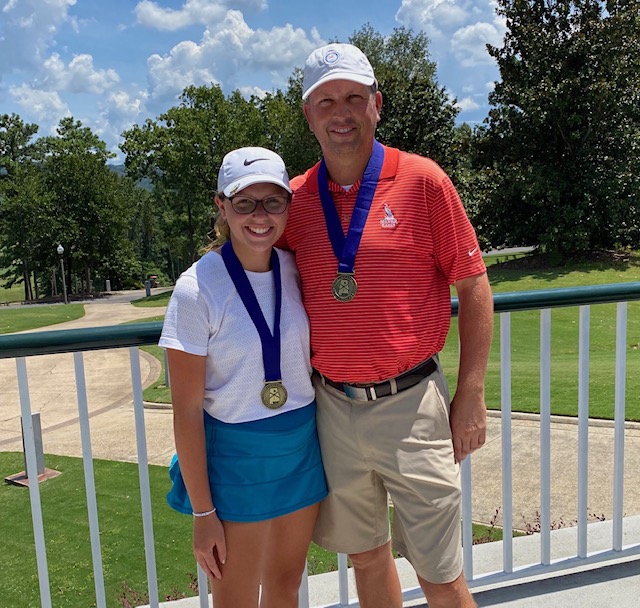 They shot 1-over-par 73 in the demanding modified alternate shot format on Oxmoor Valley's Ridge Course and won by one shot over Fairchild and Paul Garner of Selma.

"I was thinking it was low-ball," Papa Matt said. "I didn't pay much attention (to the format) and when I saw it was alternate shot I thought this is going to be tough, we've really got to use our brain today. You've got to be thinking the whole time. All it takes is one bad shot and you can make 7 or 8 real quick. I definitely was feeling the pressure of alternate shot."

But Bel had her dad's back. The rising White Plains freshman hit her driver well all day, made a pair of birdie putts during the team's most decisive stretch of the round and set her father up for good birdie attempts on the two closing holes.

"She played really well and I helped when it was needed," Matt said. "For me and her in alternate shot to get close to shooting even or better is pretty good."

Their round was highlighted by three consecutive birdies at 9, 10 and 11. They were two shots behind before going on their run and were two shots ahead coming out of it. Bel made the first two birdies putts, from 4 and 10 feet, and Matt chipped in from just off the green for the third.

Playing in the group behind the Rogerses, the Garners had a 10-foot birdie putt on 18 to tie for the lead and would've won the scorecard playoff had they it fallen.

Jacksonville's Madilyn and Brady Turner were T-4 in the Mixed Team Flight, Anniston's Hanna and Joe Dyar were eighth in the Mixed Team Flight and Oxford's Zachary and David Hurst were eighth in the Father-Son 13-and-Under B Flight.

Anniston's Ott and Dalton Chandler won the tournament each of the first two years it was played, but they did not play this year.