Satisfying victory
Wigington wins Etowah Open by 2, first victory since coming back from elbow surgery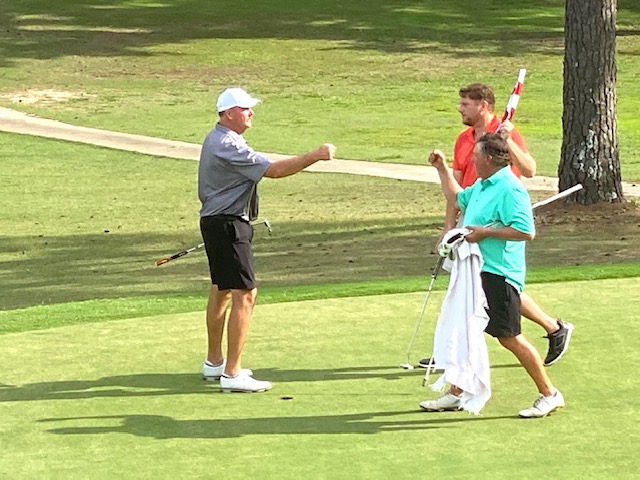 By Al Muskewitz
East Alabama Sports Today

GLENCOE — Gary Wigington has won a lot of golf tournaments in his career, but there are very few as satisfying as the one he collected Sunday.

Between the disappointment of his Silver Lakes finish, the span between his victories and the uncertainty following his offseason elbow surgery, it was a lot to absorb.

But he cleared all that away Sunday when he completed a wire-to-wire victory in the Etowah County Open.

Wigington shot a final-round 3-under-par 68 at the Links at Briarmeade to finish at 10-under 132. He was two shots better than runner-up Ty Cole and four ahead of third-place finisher Jeremy McGatha.

It was his 17th Calhoun County Tour win and first since the 2019 season opener at Cane Creek, ending the longest victory drought of his Tour tenure. He also went 10 events without a win between the 2015 Pine Hill Invitational and 2016 Match Play Championship.
 
"It's very satisfying," he said. "Because the older you get it get harder and harder physically and you've got to play better because there are so many good, young players playing and even the older players are still (viable). We're 50 and most everybody is 45 and under.
 
"And coming back from (the surgery) was good. After last year, as bad as it was, I didn't know if I could ever really play competitive again. You just didn't know if it was pretty much done and surgery was the last resort. It ended up being a really positive thing. You never know how it was going to work out after surgery, but it's been great."
 
There were a lot of people Wigington could have thanked after accepting his first winner's trophy in 15 months, the first probably being his surgeon. In October, Dr. Lyle Cain cleaned up several bone spurs in the 50-year-old's left elbow that made it painful to execute a good swing. Wigington was back in contention pain-free two weeks ago at Silver Lakes and had the lead with two holes to play before misfortune stepped up to test his resolve.
 
"That was huge," he said. "I went from last year after the County not knowing if I could play again or be competitive again – I just couldn't swing it – and then I go have the surgery and recovered quicker than I was expecting and did the rehab stuff they asked me to do. It was just great.
 
"The last couple years I just hadn't hit the ball (well). I didn't realize how bad I was swinging at it because it was the way I had to do it. Now I just feel like I can get up there and swing it. I hadn't felt really this good swinging in a long time."
 
Wigington went into Championship Sunday with a two-shot lead over his Sunny King Classic partner. They were tied going to the back nine and were still tied through 12 holes. Wigington then pulled away with birdies at 13 and 14.

He took the outright lead after hitting his best wedge of the week on 13 – an L-wedge from 75 yards to 12 inches – then extended it with a seven-foot downhill birdie putt on the par-5 14th. He carried a four-shot lead into the final two holes after he birdied 16 to Cole's bogey.
 
"I just didn't execute on the back," Cole said. "I left three putts dead in the jaws two inches short and that's the difference. I just got outplayed."
 
For Wigington, his wedge play – not just on 13, but everywhere on the course – made all the difference. He hit 11 greens in the final round and got up-and-down on six of the seven he missed.
 
"That's what killed me at Silver Lakes," he said. "I got to looking back, the last day from 75 to 150 (yards), which is my wedges, I had nine of them the last day and I was 2-over par, which is awful. Ty had the same nine shots inside 150 and he's 2-under. The wedge game was not good so I worked hard to get it back around."
 
McGatha made a late charge up the leaderboard to finish third. He birdied each of his last three holes to post a 67, the best round of the day.
 
"I hit the ball better today than I've hit it in a minute," McGatha said. "I had my chances on some putts. I didn't putt good until the end. To finish birdie-birdie-birdie to shoot 67 was good. For some reason, I got a 12-footer for birdie and I'm afraid to hit it. I'm like 'Why am I lagging, I'm nowhere close to the lead?', but that's just golf. I didn't want to pound it and three-putt.
 
"It was fun. Sixty-seven out here from these (back) tees on Sunday; I'll take it. With those two (Wigington and Cole) leading, my goal is try to get third. They don't usually back up and they didn't. At least I advanced."
 
NOTES: The other flight winners were Alan Smedley (Championship B), Matt Rogers, Chris Hubbard, Turner Shankles and Jake Pennington. Smedley opened his round with three straight birdies. … With the Championship Flight moved back Sunday, the 12 A flight players played the final five holes in 5-under; they were 31-under on the stretch from the white tees Saturday. All 12 A players were under-par Saturday, but only six were in red numbers Sunday … Opie Teague (No. 1) and Chris Hubbard (No. 14) had the day's eagles … The next event on the Calhoun County Golf Tour is the Wilfred Galbraith Anniston CC Invitational July 10-12. There are still some spots available in the 64-player field.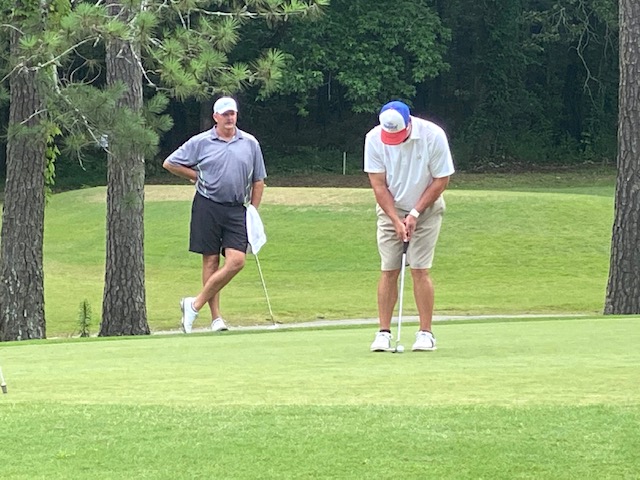 ETOWAH COUNTY OPEN
At The Links at Briarmeade
Final scores
Championship A
Gary Wigington 64-68—132
Ty Cole 66-68—134
Jeremy McGatha 69-67—136
Chad Calvert 69-68—137
Chris Leonhardt 70-70—140
Chad Hare 70-70—140
Chris Cox 69-72—141
Randy Lipscomb 68-74—142
Charlie Smith 69-73—142
Gage Miller 70-74—144
Tee Brown 70-78—148
Mason Dennis 70-80—150

Championship B
Alan Smedley 71-74—145
Frank Brady 71-76—147
Harrison Martin 72-75—147
Brennan Clay 72-76—148
Brad Baird 72-77—149
Larry Moon 71-78—149
Patrick Cooper 71-80—151
Luke Armstrong 73-78—151
Bill Gilchrist 74-78—152
Sam Bone 74-79—153
Dane Moore 74-79—153
Blake Grisham 74-79—153
Norman Clifton 73-81—154
Robin Wood 73-81—154
Josh Ashley 73-82—155
Tony Hicks 74-85—159
Ted Heim 74-85—159

First flight
Matt Rogers 75-75—150
Lamar Carter 76-75—151
Drey Reeves 75-79—154
Neal Keener 76-78—154
Justin Wood 75-80—155
Greg Brannon 78-80—158
Tim Gables 78-80—158
Richard Johnson 78-80—158
Eric Ray 78-81—159
Josh Hicks 75-84—159
Opie Teague 75-86—161
Scott Medders 78-WD

Second flight
Chris Hubbard 79-73—152
Jeff McRae 79-74—153
Morgan Cunningham 81-74—155
Craig Graves 81-76—157
Craig Colvard 80-78—158
Greg Hare 81-78—159
Jesse Rawls 81-79—160
Rush Rutledge 81-80—161
Chuck Medders 79-83—162
Nick Pollard 82-83—165
Wesley Watkins 82-85—167
Chad Maples 80-WD

Third flight
Turner Shankles 84-75—159
Danny Whittaker 85-76—161
Frank Barnes 84-82—166
J.R. Morris 83-85—168
David Lipscomb 84-84—168
Blake Erwin 84-85—169
Ray Strawbridge 83-87—170
Phillip Eades 83-87—170
John Hill 85-87—172
Luke Haynie 84-94—178
Chris Holderfield 85-94—179

Fourth flight
Jake Pennington 86-76—162
Greg Davenport 87-78—165
Jeff Noah 89-78—167
Justin Graham 86-86—172
Jeff Barnwell 88-84—172
Lenn Coffey 86-88—174
Logan Steele 91-83—174
Alex Grisham 86-97—183
Dani Bone 91-92—183
Kelly Rogers 90-99—189
Gary Singleton 93-96—189
Braden Lang 98-99—197
Andy Quinn 91-WD
Ryan Moore 92-WD
Leon Gladden 93-WD
Jeff Lasseter 101-WD