Elite status
Dalton Chandler joins elite group of players to win all three major trophies at Anniston CC, going wire-to-wire to win the club championship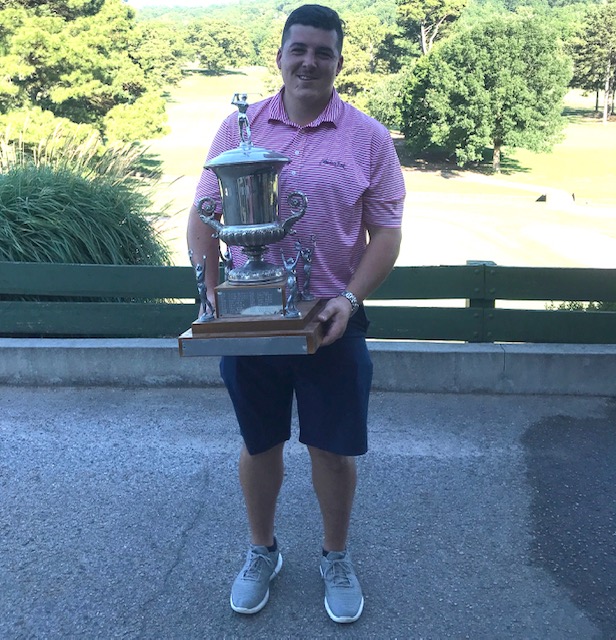 By Al Muskewitz
East Alabama Sports Today

There are three big trophies housed at Anniston Country Club – the Walker Reynolds Club Championship, the Wilfred Galbraith ACC Invitational and the Sunny King Charity Classic.

Dalton Chandler now has his name on all three.

Chandler joined an elite group of ACC triple crown winners Sunday when he shot a final-round 72 to go wire-to-wire to win the club championship his first time playing it.

He didn't play as well as the day before, but it was good enough to get the job done. His two-day total of 4-under-par 136 was five shots better than runner-up Lance Evans. Chase Hollingsworth finished third and Chandler's dad Ott was fourth.

"I did not play good," Dalton said. "I had to grind it out."

He made four birdies on the front in Saturday's opening round, but turned Sunday in 2-over. He got the round back to even with birdies at 11 and 13 (nearly holing out for eagle), but found the ditch of 14 and made double bogey, bogeyed 16 and birdied 17.

Evens and Hollingsworth both got within three shots on the front nine, but fell back. Evan got within three shots after eight holes, but bogeyed 9 and 10 and fell further back after Chandler's birdies on 11 and 13. Hollingsworth got within three after seven holes, but bogeyed 9 to turn four shots back and then fell back with bogeys at 12, 13 and 14.

Chandler picked up the first jewels in the ACC triple crown when he won the Sunny King with his dad in 2015 and the Invitational in 2017. He joined a group that includes Chip Howell, Eric Hamilton, Jaylon Ellison, Garrett Burgess and Jacob LeCroy.

"It feels like lightning running through my veins," he said, thoroughly enjoying the moment. "Like Jesus tickling the bottom of my feet, like I'm riding on the back of a zebra through the wild lands of Africa."

NOTES: Ott Chandler and Charlie Smith posted the best rounds of the day (71) … Adrian Geeting won the first flight, Chase Thomas the second, Tyler Huckaby the third and David Sanders the senior division … Thomas won his flight by two shots, the difference coming on 16 when he re-teed after his original shot hit a utility pole guy wire behind the green and he made par with the do-over instead of a projected 5 … Dalton Chandler's last individual win came in last July's Pine Hill Invitational.
Walker Reynolds ACC Club Championship
| | |
| --- | --- |
| Championship flight | |
| Dalton Chandler | 64-72–136 |
| Lance Evans | 69-72–141 |
| Chase Hollingsworth | 70-72–142 |
| Ott Chandler | 72-71–143 |
| Kevin Daugherty | 69-76–145 |
| Freeman Fite | 71-75–146 |
| Jake Goggans | 69-78–147 |
| Tyler Putnam | 70-78–148 |
| Ryan Howard | 73-76–148 |
| Tanner Wells | 73-82–155 |
| Matt Hunter | 72-84–156 |
| First flight | |
| Adrian Geeting | 74-73–147 |
| Greg Shultz | 75-73–148 |
| Chandler Wilborn | 74-75–149 |
| Chance Harris | 76-75–151 |
| Ross Svensen | 75-77–152 |
| Brett Key | 76-77–153 |
| Rob Davie | 76-77–153 |
| Charlie Smith | 75-71–156 |
| Rob Svensen | 76-80–156 |
| Jack Svensen | 76-80–156 |
| Caleb Morrow | 76-80–156 |
| Benji Turley | 77-WD |
| Second flight | |
| Chase Thomas | 78-75–153 |
| Timmy Woodard | 78-77–155 |
| Ryan Huff | 80-76–156 |
| Grant Jackson | 79-78–157 |
| Will Broome | 81-76–157 |
| Hank Smith | 80-79–159 |
| Taylor Morrow | 79-83–162 |
| Mike Putnam | 82-81–163 |
| Warren Askew | 81-86–167 |
| Wes Couch | 81-90–171 |
| Trey Stone | 81-90–171 |
| Third flight | |
| Tyler Huckaby | 85-76–161 |
| Kevin Third | 84-79–162 |
| Graham Morrow | 88-76–164 |
| John Lindsey | 85-80–165 |
| Chris Messer | 83-83–166 |
| Andrew Morris | 84-85–169 |
| Taylor Jones | 84-88–172 |
| Amado Ortiz | 83-93–176 |
| Will Coker | 89-88–177 |
| Blake Lowery | 99-92–191 |
| Steve Gendron | 100-95–195 |
| Clay Blackwell | 104-100-204 |
| Senior flight | |
| David Sanders | 67-72–139 |
| Doug Sears | 74-75–149 |
| Don Springer | 79-76–155 |
| John Carrozza | 81-84–165 |
| Bob Kennamer | 82-83–165 |
| Tom Roberts | 83-86–169 |
| Rick Taylor | 91-86–177 |
| Don Whitlow | 94-90–184 |
| | |