Ahead of schedule
Cole working to keep his game sharp as he awaits the season's first tournament, sets home course record with 59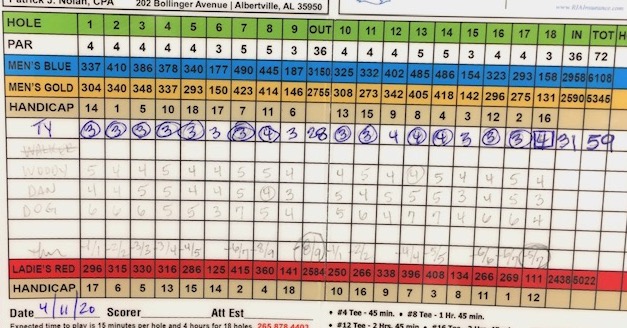 By Al Muskewitz
East Alabama Sports Today

As the world around him grasps for some glimmer of normalcy in this era of coronavirus quarantine, life has pretty much stayed the same for Ty Cole.

He works in an essential industry so he's busier than ever in a job that provides a steady paycheck, he goes home to a healthy wife and son every night and his home golf course is open so he can keep his game sharp.

To that last point the winningest player in Calhoun County Golf Tour history looks to be ahead of schedule after posting a 13-under-par 59 to break the course record he had three pieces of in last Saturday's choose-up at Albertville's Big Spring Lake Golf Club.

Cole opened the round with five straight birdies, seven straight 3s and turned in 8-under-par. He had 12 birdies altogether, one eagle and a three-putt bogey on 18. There were 21 putts, mostly from inside 10 feet, and he hit 15 greens. The three greens he missed were all par-3s and the par-3 green he did hit he three-putted, missing a two-foot uphill putt for 58 that still haunts him three days later.

He said he was thinking 59 after the third hole.

"One of the guys I was playing with, we always joke you can't birdie them all if you don't birdie the first hole," Cole said. "Well, then, I make the putt on 2 and then 3, 4, 5 and everybody's just kind of looking and shaking their head going 'You're literally going to birdie them all?'"

The previous course record was 60, which Cole has shot in each of the last three summers and each time had a good shot at 59 or better. This time he came to 18, a 158-yard par-3, with 58 in his pocket and an 8-iron in his hand. He hit the green, ran his first putt up to two feet, then missed the par, producing a sharp rebuke with his putter against the flagstick.

"Nobody in my group knew what the number was; they just knew I made a bunch of birdies," Cole said. "They didn't know what I was putting for because I was the only one that was keeping the scorecard.

"So after I slammed the putter into the flagstick everybody was like 'What the hell?' I said y'all have no idea what just happened. That little putt was for 58. They were like you just shot 59 and broke the course record and you're mad. I said it should've been 58; that's the difference between the way I think on a golf course and the way y'all think on a golf course."

It was not the lowest score he's ever shot. He put up a course- and County Tour-record 57 – also 13-under – at Anniston Municipal in the opening round of last year's Calhoun County Championship, wrapping up his fourth County Player of the Year award before the sun went down. He hit one fewer green and one more putt in that round than he did in Saturday's 59.

The 57 came on a par-70 course at 5,600 yards. The 59 was from 6,108 yards. Due to coronavirus rules for golf, course operators placed a piece swimming pool noodle inside each cup to reduce contact with an exposed surface, but still leaving plenty of room for a ball to be holed.

As the coronavirus response continues Cole hasn't been able to practice a lot, but tries to play when he can. Just as Tiger Woods gears his early work for the Masters in April, Cole hones his game for May with three of the biggest tournaments of the season – Cider Ridge, Anniston CC, Gadsden CC.

"With all this going on I can't wait for a tournament," he said.

The wait got a little longer. The Cider Ridge tournament was postponed Tuesday, the third County Tour event to fall victim to the virus. Next up is the Gadsden CC Invitational May 15-17, an event Cole has won four years in a row.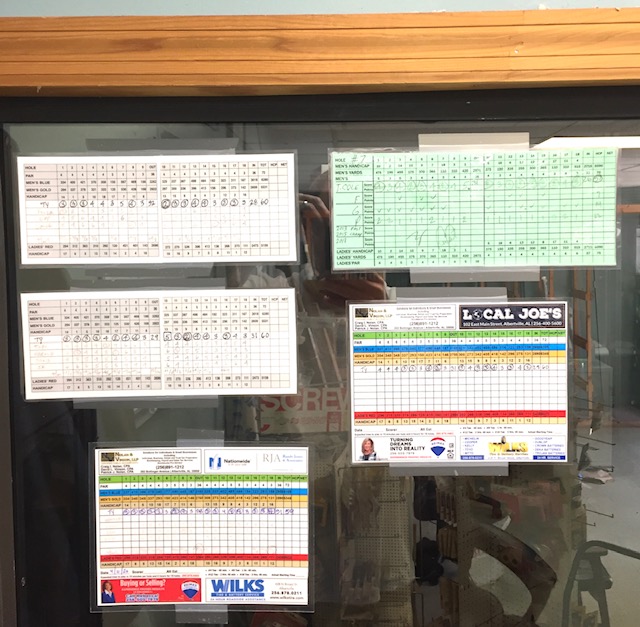 Cover photo by B.J. Franklin