Standing their ground
Piedmont plays with something to prove, beats Alexandria in finals to win first Calhoun County Baseball Tournament title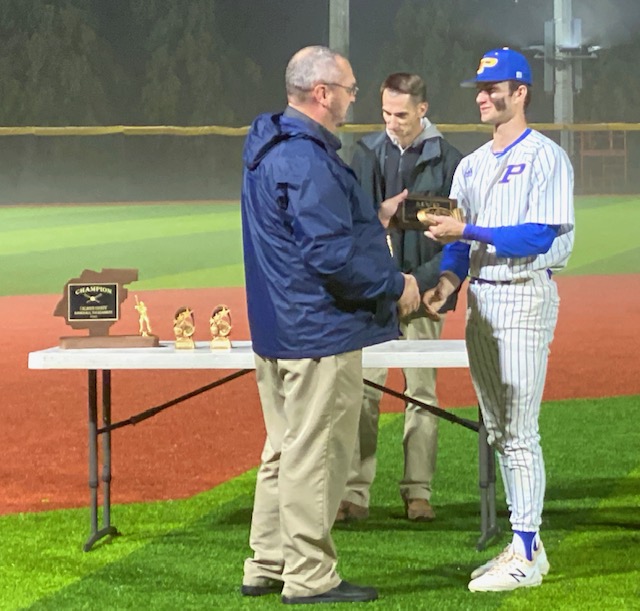 CALHOUN COUNTY TOURNAMENT
(At Jacksonville State)
Semifinal No. 1: Piedmont 7, Jacksonville 1
Semifinal No. 2: Alexandria 3, Oxford 1
Championship game: Piedmont 6, Alexandria 1

By Al Muskewitz
By East Alabama Sports Today

JACKSONVILLE — For all the area, region and state championships Piedmont athletics has won over the years, the Bulldogs picked up the one title Tuesday night that definitely was missing from the resume.

The Bulldogs parlayed the No. 1 seed in the Calhoun County Baseball Tournament into their first-ever county tournament title, beating Alexandria in the championship game 6-1 on the artificial turf at Jacksonville State.

"This is one of those things where it's a pride thing," Bulldogs coach Matt Deerman said. "Ultimately, at the end of the season, we don't want this to be the highlight of our season, but for these players and these seniors to go out and be a part of this, they've earned this.

"They've had so much success in every sport, I'm so super proud of them. We had a lot of guys who contributed 1 through 9 today, and guys on the mound. I thought a lot of people did a lot of things to help us win this. I think that's what makes us so good this year. It's not just one guy. It's nine or 10 guys who are contributing a lot of things."

Two players in particular stood out in the championship game. Bryce Mohon pitched a complete game and earned tournament MVP honors. Freshman catcher Jack Hayes stood his ground twice in the sixth inning and denied Valley Cubs runners the plate.

The plays by Hayes kept the Bulldogs (13-0) ahead 2-1 and in the bottom of the inning they broke it open with four runs.

Piedmont's Brant Deerman was named the outstanding offensive player of the tournament and Alexandria's Landon Comer was a named the outstanding defensive player. 

The Bulldogs pulled down the No. 1 tournament seed at a time they were 7-0, but there was still a sense around the game that they didn't deserve to be there, as evidenced by the close 8-6 vote in the seeding meeting.

As a result, they came to the tournament with a chip on their shoulder, to prove a point, and they did it. They won their three tournament games by a combined score of 35-2 and gave up a total of seven hits.

"A lot of people didn't think we deserved it," Deerman said. "That's kind of what I told our guys. I said I want us to play with a chip on our shoulder because I thought there were a lot of people in that room who thought we hadn't played a tough schedule and this and that.

"I told them make a statement right here. I don't know if anybody really believes that y'all deserve that and I think they came here and proved that on the field."

Mohon said he "definitely pitched with a chip on my shoulder" in the championship game. He gave up three hits, one run, walked two and struck out six in seven innings. He retired the first nine Valley Cubs he faced in order and 10 of the first 11 without a ball leaving the infield until Mitch Welch delivered their first hit, an RBI double in the fourth that tied the game 1-1.

"I think we proved our point tonight letting everyone know we're pretty good," Mohon said. 

The Bulldogs actually got two masterful pitching performances in the semifinals and finals and some nifty defense in the finals to win it. Noah Reedy pitched a complete-game win over Jacksonville in the semifinals and ace Mohon did the same against Alexandria. Read about the two semifinal games elsewhere on the website.

The Bulldogs broke open the championship game with a four-run sixth inning. It came after Hayes stymied two potential runners at the plate in the top of the inning, the perfect metaphor for a team standing their ground.
 
The first came when courtesy runner Comer tried to score on Welch's single to left, but Ethan Swinford got the ball in to Austin Estes who caught Comer between third and home and flipped it to Hayes just as Comer tried to barrel him over. Comer was ejected for malicious contact.
 
On the next play Swinford cut down courtesy runner Aaron Johnson trying to score on Dylan DiGangi's line single with Hayes standing his ground like a linebacker at the plate. The Valley Cubs argued both plays – one to keep Comer in the game and the other for blocking the plate without the ball – but to no avail.
 
"I was just making sure I had it with two hands," Hayes said. "Ethan made a good throw on the last one and Estes made a good throw on the first one. It was just all set up by the throws, really. I just had to do a simple thing."
 
"There was no way he was dropping that ball right there, in either situation," Deerman said.
 
The Bulldogs broke it open in the bottom of the inning. They loaded the bases on a walk, single and hit batsman. The Cubs got a force out at the plate, but then Austin Estes cleared the bases with a double to right. Piedmont reloaded the bases and Estes scored the final run on Sean Smith's sacrifice fly.
 
"That team over there is very talented, they put a lot of pressure on you," Alexandria coach Andy Shaw said. "Our guys battled on the mound, but we set the tables for them all night. You can't do that that many times and not get burned, and we got burned there late."
 
CHAMPIONSHIP GAME
Alexandria  000 100 0 — 1 3 2
Piedmont    010 104 x — 6 6 2
WP: Bryce Mohon. LP: Mitch Welch. 2B: Mitch Welch (A), Austin Estes (P).

ALL-TOURNAMENT TEAM
Most valuable player: Bryce Mohon, Piedmont
Outstanding offensive player: Bunt Deerman, Piedmont
Outstanding defensive player: Landon Comer, Alexaandria
All-Tournament: Sean Smith, Piedmont; Austin Estes, Piedmont; Brant Deerman, Piedmont; Bryce Mohon, Piedmont; Landon Comer, Alexandria; Dylan DiGangi, Alexandria; Mitch Welch, Alexandria; Gavin Orcutt, Oxford; Dawson Winningham, Oxford; Brandon Heard, Jacksonville; Christian Royster, Jacksonville; Connor Martin, Saks; Pelham Parris, Pleasant Valley; Coleman Messer, White Plains; Konnor Baswell, Ohatchee.