Big chain of events
Jacksonville gets off to rousing start in county tournament, routs JCA, then erupts for big seventh to beat Pleasant Valley; top 3 seeds also make semis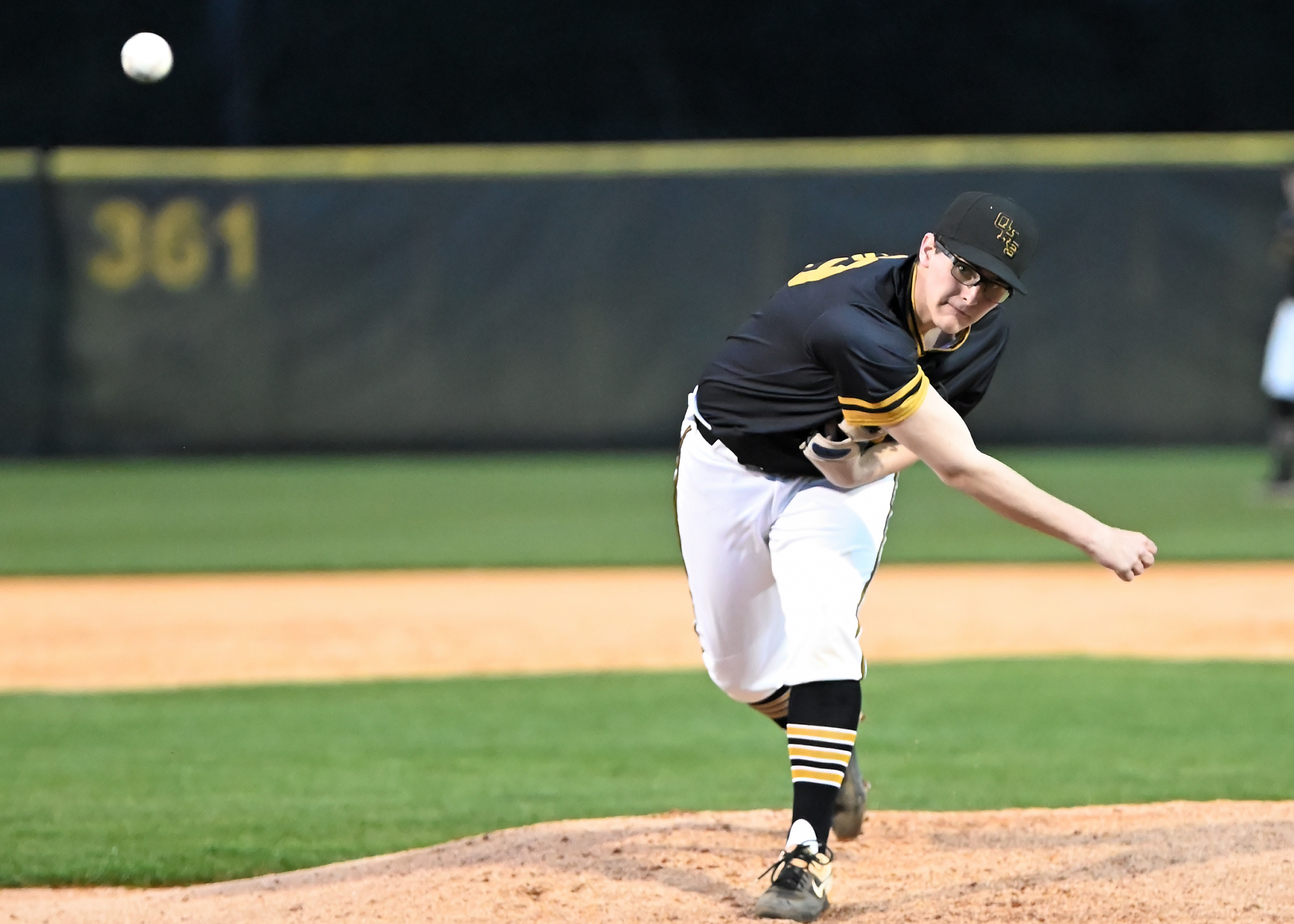 CALHOUN COUNTY TOURNAMENT
Saturday's games
No. 11 Weaver 25, No. 14 Anniston 1
No. 8 Saks 6, No. 9 Wellborn 3
No. 12 JCA 18, No. 13 Donoho 16
Monday's games
(At Choccolocco Park)
No. 5 Jacksonville 19, JCA 0
No. 6 Ohatchee 8, Weaver 3
No. 7 White Plains 18, No. 10 Faith Christian 2
Jacksonville 14, No. 4 Pleasant Valley 7
No. 1 Piedmont 22, Saks 0
No. 3 Alexandria 12, Ohatchee 3
No. 2 Oxford 12, White Plains 2
Tuesday's games
(At Jacksonville State)
Semifinal No. 1: Jacksonville vs. Piedmont, 2 p.m.
Semifinal No. 2: Oxford vs. Alexandria, 4:30 p.m.
Championship game, 7 p.m.

By Al Muskewitz
East Alabama Sports Today

OXFORD — With all the rain that's fallen on the area the last couple weeks, Jacksonville baseball coach Jamison Edwards is "just happy to be outside on a baseball field" these days. Winning is a bonus.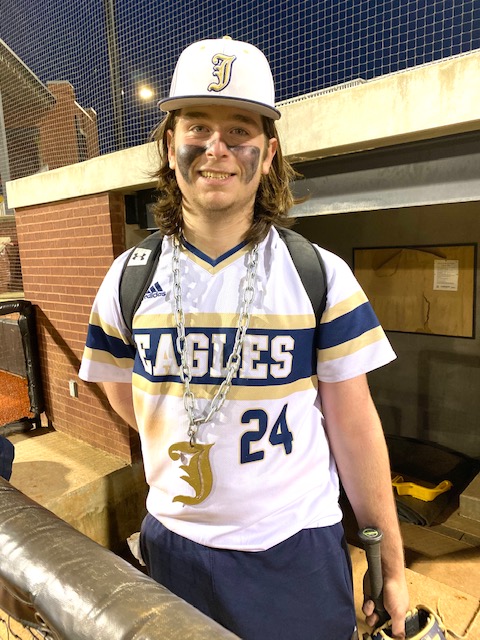 The Golden Eagles were on the field twice Monday in the Calhoun County Baseball Tournament and won both times so it was definitely a good day.

The Golden Eagles crushed Jacksonville Christian in their tournament opener 19-0, then used a big seventh inning to beat Pleasant Valley 14-7. They advance to Tuesday's 2 p.m. semifinal at Jacksonville State against undefeated top-seeded Piedmont.

The offensive explosion can be attributed, they said, to actually getting on the field some and the two-hour, 21-out practice Edwards put his team through after it lost to Alexandria Friday 15-2 and looked bad doing it.

"We wanted to make sure we had a new mentality coming into the game," third baseman Coleman Oliver said. "We want to make sure we had our attitude fixed and we weren't giving up."

"We weren't a team together Friday when we played; we did not play like a team," added designated hitter Christian Royster. "It was bad. To come out here today and play like we did I was very proud of us."

On Monday, the first time the Golden Eagles have played since that Alexandria game, they scored 10 runs in the first inning against JCA and 11 runs in their last inning of the night to rally past Pleasant Valley.

There was also a little something about their "rally chain," but more on that later.

The first 10 batters who hit for Jacksonville in this year's Calhoun County Tournament all reached base and scored as the Golden Eagles overran Jacksonville Christian.

The Thunder reached this round of the tournament by rallying twice from nine runs down against Donoho on Saturday, but they didn't have that kind of comeback in them this time. Jacksonville pitchers Dakoda Willingham and Luke Jackson held them to three hits and four base runners in the five-inning game.

The Golden Eagles sent 15 batters to the plate in their big first inning. They sent 14 batters to the plate in a nine-run third.

Oliver went 3-for-3 in the game. Brandon Heard went 2-for-2 with two RBIs and Jae-Taj Morris went 2-for-4 with three RBIs. Royster went 2-for-3 with two RBIs.

The big inning against Pleasant Valley was a reversal of what the Raiders did to the Golden Eagles earlier in the season, scoring four in the seventh inning to erase a 3-2 deficit and steal a 6-3 victory. "It was basically they got a taste of their own medicine," Royster said.

The Golden Eagles trailed this one 3-0 and were down 4-3 going to the seventh. This time, they sent 15 batters to the plate. Oliver's two-run single put them ahead 5-4. Later in the inning Royster plated three when he came all the way around on a double and two throwing errors, and Luke Jackson delivered a two-run double.

It came after Raiders starter Pelham Parris reached his pitch count after six sharp innings. He gave up six hits, three unearned runs and struck out two.

"The biggest thing is that we can't panic," Oliver said. "That was our big deal in the last couple games. We have to stay focused and we have to work for that one goal. I felt the pressure, but I just knew there were bigger goals, a bigger purpose, I had to work for."

It was Royster who left the field with the "rally chain," a heavy chain link necklace with a fancy "J" fashioned by Edwards' Mr. Fix-It Heard in metal shop. It's a good luck charm similar to the railroad spike Alexandria had in the 2015 season or Moose the Minion Pleasant Valley brought back from the beach in 2018.

The chain is usually worn by the first Jacksonville who scores a run in the game or given to the best player in a road game, but they try to pass it through the lineup as much as they can. The Golden Eagles have been rallying around it since the second game of the season against Ohatchee.

"We just did something because last year we didn't have that much energy on the team and we tried to more positive things this year for our team," Royster said. "I'm taking it home and I'll bring it back tomorrow when we play."

Piedmont 22, Saks 0: The top-seeded Bulldogs (11-0) had their way with the Wildcats with three pitchers combining for a five-inning one-hit shutout. Austin Estes and Silas Thompson held the Wildcats hitless before Zack Waters spoiled the gem with a one-out double in the fifth.

The Bulldogs, No. 1 again this week in the Alabama PBR Class 3A rankings, broke the game open with a 16-run third. They sent 22 batters to the plate in the inning. Brant Deerman and Estes had a two-run doubles in the inning, Sean Smith had a two-run single. Smith was 3-for-3 with four RBIs. Deerman had two doubles and three RBIs.

"It's good to get off to a good start like that, to come out here and take care of business and continue to hit the ball the way we have," Piedmont coach Matt Deerman said. "We got some guys some work on the mound and I thought they did fairly well."

Alexandria 12, Ohatchee 3: The third-seeded Valley Cubs tied the game with two in the third and broke open it open with eight in the fifth.

The Cubs sent 13 batters to the plate in their big inning. They had only three hits in the inning, but took advantage of two errors, three walks and two hit batsmen. The go-ahead run scored on a passed ball.

Ohatchee took a 3-1 lead in the third on Cade Williamson's two-run double and Drake Hollis' RBI single. The Cubs tied it in the bottom of the inning on Layton Ellison's daring steal of home and Cade Shaddix' RBI triple. The Indians threatened in the fifth, putting runners at second and third with one out, but Dylan DiGangi got out of it with two of his six strikeouts.

Oxford 12, White Plains 2: Dawson Winningham went 3-for-4 with four RBIs and Wesley Miller took a one-hit shutout into the sixth inning for the second-seeded Yellow Jackets.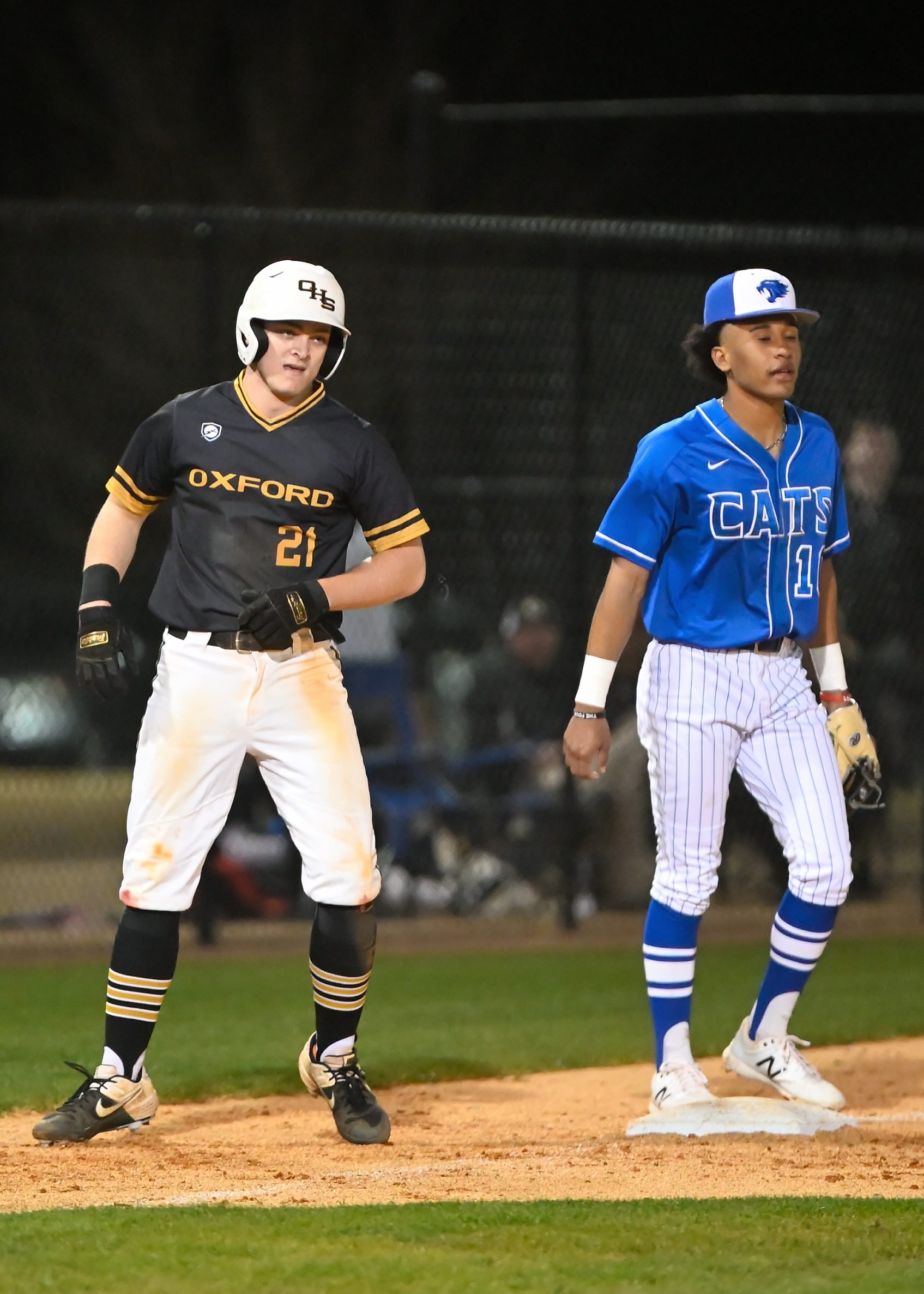 Winningham doubled in the fourth, had a two-run double in the fifth and a sacrifice fly in the sixth. Miller had two RBIs, including the walkoff RBI single in the sixth. Gavin Orcutt also drove in two runs.

Miller went through the Wildcats in 81 pitches. The only hit he allowed until the sixth was a fourth-inning single by Carson Tyree. He walked two and struck out seven.

White Plains 18, Faith Christian 2: Tyler Daniel and Coleman Messer both had three hits, Conner Coffey and Ben Rouse both went 2-for-2 with two RBIs and the Wildcats added to an early lead with eight runs in the third inning.

The Wildcats already were leading 4-1 when they entered the third. They sent 13 batters to the plate, collecting five doubles among their eight hits.

Jaden Chatman pitched the first four innings for White Plains, allowing four hits, one earned run and striking out six.

Ohatchee 8, Weaver 3: Just as Alexandria used a big inning to break away from a tied game, so did the Indians in their first game of the day. They broke a 3-3 tie with five in the sixth. The go-ahead run scored when Weaver misplayed pitcher Konner Baswell's grounder to third. The othe runs scored on a passed ball, a steal of home and RBI singles by Blake Ogle and Williamson.

Ogle and Williamson both had two hits in the game. Baswell pitched the first 5 2/3 innings for Ohatchee, giving up five hits and striking out five.

This story will be updated. Cover photo: Oxford's Payton Watts (24) slides into second base as White Plains' Tyler Daniel tries to corral a throw. (Photo by B.J. Franklin). To see more photos from this game, click this link: www.bjfranklin.smugmug.com

CALHOUN COUNTY TOURNAMENT LINESCORES

JCA 000 00 — 0 3 7
Jville (10)09 0x — 19 12 0
WP: Dakoda Willingham. LP: Ethan Fair.

Jacksonville 000 210 (11) — 14 13 4
Pleasant Val 021 010 3 — 7 8 4
WP: Christian Royster. LP: Drake Hardy.

Faith Christian 100 10 — 2 4 3
White Plains 408 6x — 18 16 3
WP: Jaden Chatman. LP: Andrew Folsom.

Weaver 000 030 0 — 3 6 3
Ohatchee 030 005 x — 8 8 0
WP: Konnor Baswell. LP: Austin Bryant.

White Plains 000 002 — 2 3 4
Oxford 010 263 — 12 9 3
WP: Wesley Miller. LP: Conner Coffey.

Saks 000 00 — 0 1 8
Piedmont 33(16) 0x — 22 8 0
WP: Austin Estes. LP: Shon Elston.

Ohatchee 003 000 0 — 3 4 4
Alexandria 102 081 x — 12 9 4
WP: Dylan DiGangi. LP: Bryce Noah.