Play ball, already
County tournament starts Saturday night with alternate sites available in case back fields unplayable, concludes with semis and finals Tuesday at JSU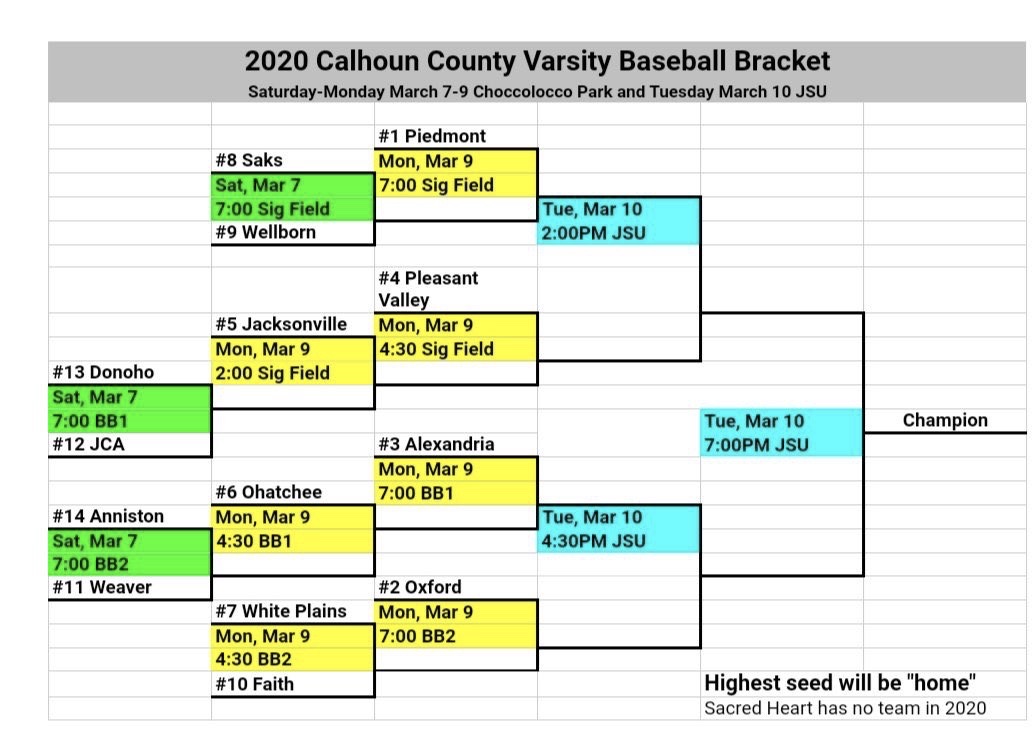 By Al Muskewitz
East Alabama Sports Today

Pleasant Valley principal Mark Proper, the host principal for this year's Calhoun County Tournament series, had a plea for his fellow principals after delivering an updated bracket for this week's Calhoun County Baseball Tournament:

"Please forward this to your coaches and do your NO-rain dance," he wrote.

It has come to that.

The tournament was supposed to start Friday at Choccolocco Park, but the weeklong rain has forced organizers to scrap the original schedule.

The event will begin on Saturday, with all three games scheduled to begin at 7 p.m. to accommodate teams' area play (another casualty of the weather). Action continues Monday at Choccolocco Park and the tournament will conclude Tuesday with the semifinals and finals at Jacksonville State.

Alternate locations are lined up if the games on the Park's BB1 and BB2 fields can't be played because of the conditions, but if there's any more weather-related issues the tournament will have to be postponed to later in the season, which could become "virtually impossible" to fit in with everyone's schedule as teams complete area games and prepare for the playoffs.

Four of the teams in Saturday's three play-in games – Donoho, Faith Christian, Weaver and Saks – are all involved in area series this week. Depending on how its series goes, Donoho could have to play three games Saturday – area games take precedent by AHSAA rules – and it's possible a team could play a doubleheader Monday and Tuesday to win the championship.

"We kind of had already drawn that up after the coaches met the other day," Proper said. "We knew from the forecast that was going to be a big possibility and working with Mr. (Jack) Deal (director) at Choccolocco Park that has had a lot to do with our decisions.

"If we can't get on the field, that's something we've just got to deal with. For the most part the coaches have been great to work with because they understand the situation that's going on. It's more of a situation we've got to do the best we can and I think they feel I'm doing that."

There is a proposal before the county principals to stage all the spring county tournaments – baseball, softball, soccer and track – at Choccolocco Park during the same week.

In 2021, that would be April 8-13. That is the week before AHSAA baseball playoffs begin. Baseball coaches already have concerns about the county tournament impacting their pitching plans for area games. No doubt those concerns would be even greater in the run up to the state tournament.

Here is the new Calhoun County Tournament schedule:

CALHOUN COUNTY TOURNAMENT
(Games at Choccolocco Park)
Saturday's games
Donoho vs. Jacksonville Christian, 7 p.m. (BB1)
Anniston vs. Weaver, 7 p.m. (BB2)
Saks vs. Wellborn, 7 p.m. (Sig Field)

Monday's games
Donoho-JCA winner vs. Jacksonville, 2 p.m. (Sig Field)
Anniston-Weaver winner vs. Ohatchee, 4:30 p.m. (BB1)
White Plains vs. Faith Christian, 4:30 p.m. (BB2)
Donoho/JCA/Jacksonville vs. Pleasant Valley, 4:30 p.m. (Sig Field)
Saks-Wellborn winner vs. Piedmont, 7 p.m. (Sig Field)
Anniston/Weaver/Ohatchee vs. Alexandria, 7 p.m. (BB1)
White Plains-Faith winner vs. Oxford, 7 p.m. (BB2)

Tuesday's games
(Games at Jacksonville State)
Semifinal, 2 p.m.
Semifinal, 4:30 p.m.
Championship game, 7 p.m.