Tigers denied a repeat
Determined Williamson comes out hot, opens big first-quarter lead, Talladega climbs back into it, but just comes up short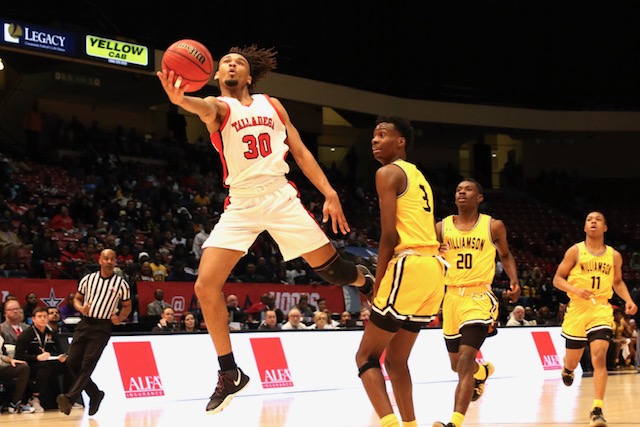 By Al Muskewitz
East Alabama Sports Today
 
BIRMINGHAM — Talladega has been getting off to slow starts all year but usually managed to find its way out of it.
 
The Tigers got behind big early in Friday's Class 4A state championship game. They almost came back again this time, but just didn't have enough of something – luck or time – and Williamson eventually pulled away in the fourth quarter to deny them a second straight title, 68-61.
 
"I guess it was just one of those nights, one of those days," Tigers senior D'Corian Wilson said. "We got good looks but they were rolling in and rolling out – for everybody. We just got in a hole and couldn't get out of it. We were trying to dig ourselves out. It was just too little too late."
 
The Lions (28-5) came out hot. They hit four 3-pointers right out of the gate and were 5-of-7 from behind the arc in the first quarter while storming to a 24-9 lead. They were 7-for-11 from beyond the arc in the first half, but made only one in the second half.
 
The Tigers (26-7) aren't a 3-point shooting team unless they have to be and they had to be late in the game as they tried to come back. As a result, they were 6-of-26 from outside the arc.
 
"In scouting them and knowing what they do in the half-court set, we knew we were going to have to make shots to bring them out of that 2-3 zone," Williamson coach Shumbe Hunter said. "We talked about taking advantage of those open shots and we did just that."
 
"The first quarter set the pace," Talladega coach Chucky Miller said. "They came out there real hot, got us in a hole. We fought back all night. We had a couple chances there if we made a couple more shots, but that's the way it goes sometimes. I thought we held our own on them, but them hitting five 3-pointers the first quarter kind of set the pace and got them relaxed a little bit."
 
The Tigers recovered from the initial shock and got back within two before Jacameron Horn hit another 3 right before the horn to give Williamson a five-point halftime lead. They got within 43-40 late in the third quarter, but missed two chances to get within one or a tie. It was 45-41 in the fourth quarter but missed their first nine shots from the floor in the quarter and the Lions went on the run to pull away.
 
Throughout comeback it just seemed like every time the Tigers got close, the Lions would hit a big shot to keep them at bay.
 
"It was like we were real tense during that (0-for-9) stretch," Miller said. "We were close. We got 72 shots. We probably forced more turnovers on them and probably had more steals (yes on both counts), we just didn't hit enough shots when we needed to.
 
"There's always a time during the game where a shot here or there could switch the momentum. We could never get to that point where we could probably switch the momentum."
 
Part of the Lions' game plan was to keep the pressure on Talladega's Wilson and Kobe Simmons, the idea being the more you stay in a player's face, the sooner he gets rattled. Wilson wound up leading the Tigers in scoring with 20 points but he was 7-fo-28 from the floor (at one point he was 4-for-21). Simmons had 16 points and 14 rebounds.
 
"Them being so tall it was hard to get shots off in the inside of the paint," Wilson said. "We were shooting shots, (but) they were rolling in and rolling back out. It seemed like it just wasn't our night."
 
Final Four MVP Jordan Bell led Williamson with 11 points and 13 rebounds.
 
The state title was Williamson' second. The Lions also won it all in 2007. The team dedicated the season to the memory of former teammate Tycorey Crawford, who was shot to death in his home last March.
 
"I don't know how to feel right now, I just don't," Hunter said. "I know what just happened but I just don't know how to feel. There's a lot of emotion in this place and has been around this program for a year now …. For all of this to happen the way it did and come to fruition it's going to take some time before I can answer the question of how does it feel."
 
CLASS 4A BOYS
Championship game
Williamson 68, Talladega 61
WILLIAMSON (28-5) – Anthony Johnson 0-1 4-6 4, Jordan Bell 4-12 3-3 11, Clifton Granderson 3-5 4-6 10, Robert Woodyard 4-6 1-2 9, JaAllen Gray 2-7 2-4 8, Justin Brown 2-7 2-4 8, Cedric Andrews 1-6 0-2 2, Daniel Miller 0-2 0-1 0, Jacameron Horn 7-15 0-0 18. Totals 23-58 14-24 68.
TALLADEGA (26-7) – Nigel Scales 3-8 1-2 8, Jay Spratling 0-0 0-0 0, Arron Green 5-9 1-6 12, Michael McGregor 0-2 1-2 1, Rrontavious Barclay 0-3 0-0 0, D'Corian Wilson 7-29 4-5 20, RaDerius Montgomery 0-1 0-0 0, Kobe Simmons 7-19 2-6 16, Keontae Funderburg 2-2 0-0 4. Totals 24-72 7-15 
 
Williamson          24   13  8  23  –  68
Talladega               9    23  8  21  –  61
3-point goals: Williamson 8-21 (Gray 2-3, Brown 2-4, Andrews 0-3, Miller 0-1, Horn 4-10); Talladega 6-26 (Scales 1-5, Green 1-3, Wilson 2-11, Montgomery 0-1, Simmons 2-6). Rebounds: Williamson 49 (Bell 13, Woodyard 8); Talladega 43 (Simmons 14). Total fouls: Williamson 12, Talladega 21. Officials: Carr, Barnett, Lynch.
 
All-Tournament Team: Jordan Bell, Williamson (MVP); Jacameron Horn, Williamson; Kobe Simmons, Talladega; D'Corian Wilson, Talladega; Kyler Murks, Brooks; Justin Bufford, Montgomery Catholic.