Tigers to defend
Talladega uses big third quarter to take control of 4A semifinal game, holds off Catholic down the stretch to reach title game again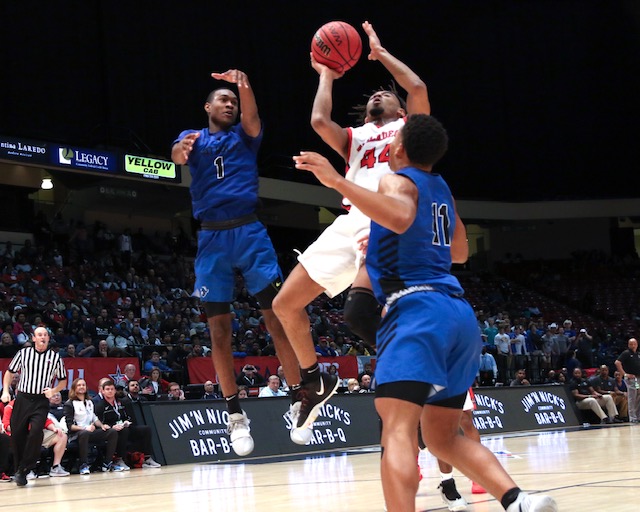 By Al Muskewitz
East Alabama Sports Today
 
BIRMINGHAM – No matter what number Kobe Simmons is wearing he's always one of the best players on the floor. He was when it counted Tuesday.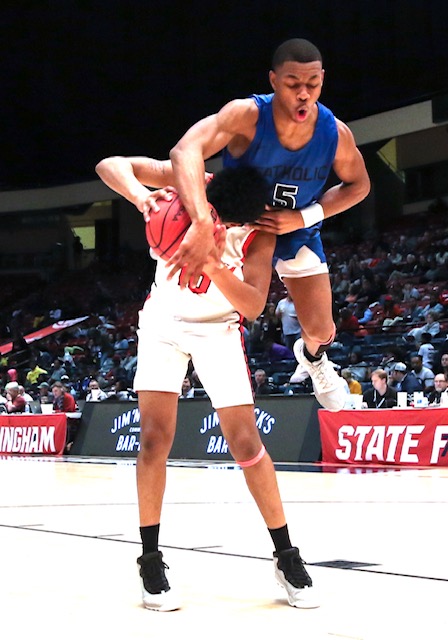 The Talladega forward started Tuesday's Class 4A semifinal game in his traditional No. 30, but a bloodied nose in the second quarter spilled onto his jersey and forced him to change into No. 44. He still produced winning numbers, going for 12 points and 14 rebounds as the Tigers got past Montgomery Catholic 64-57.
 
"I felt like Michael Jordan," Simmons said. "The only reason I said that is he retired, came back. He had 45. I just felt like Michael Jordan just changed jerseys.
 
"It's just a number. I put it on and try to play my same game."
 
The shot to the nose that caused Simmons to change jerseys came shortly after teammate D'Corian Wilson picked up his third foul late in the second quarter. He'd never worn a number so high since he was assigned 40 as a sixth-grader, but when he went to the new number he was transformed into a new player from the way he started the game.
 
He had five points and four rebounds against the Knights wearing 30, but scored seven points and grabbed 10 rebounds with the new digits. He had seven points and three boards in the 15-2 run the Tigers opened the second half with to take control of the game. 
 
"The first half we were flat things weren't going how we expected it, but we couldn't get down we still had a whole 'nother half left," Wilson said. "Even though we played like that we went into halftime down one point. We just wanted to come out first two minutes (of the second half) strong."
 
Catholic opened the fourth quarter as hot as Talladega did the third, going on an 11-0 run to make it a 49-47 game with 5:14 to play. The Tigers scored the next nine points – five by Wilson – and the Knights never got closer than four the rest of the game.
 
"I thought we picked up the pressure in the second half," Tigers coach Chucky Miller said. "The first half I guess we were just playing to get to the second half. We fouled too much, made too turnovers. We got to the second half and had it mostly under control. Make a couple more plays and it's not as close as that … The (Final Four) experience showed out there tonight. Every time they'd make a run we'd make one or two plays to push it back up."

Talladega's Arron Green led all scorers with 19 points. Wilson had 13 points – all in the second half — and eight rebounds and went over the 1,000-point mark in the process. Justin Bufford led Catholic with 16 points. D.J. Carter had 15. The Tigers bracketed Bufford "pretty good" in the second half and held him to two points and 1-for-9 shooting.

"They made more plays than we did," Knights coach Michael Curry said. "We weren't as sharp as we needed to be against a good team. Some of the stuff you can get away with against Team A, B and C you're not going to get away against a good team here in the Final Four."
 
The Tigers (26-6) will get the chance to defend their state title Friday at 5:45 p.m. against Williamson, a 55-52 winner over Brooks. It took Miller 759 wins to get his first state championship, now he's less than 72 hours away from winning two in a row.
 
They won last year's title with basically the same team they're sending into battle Friday. The players expected to be back in the title game, but Miller cautioned "each year has its own lifespan."
 
"It's great we won it last year and we had some of the players back, but each year you've got your own lifespan," he said. "We have found out this year that we've taken everybody's best shot, especially in the first half and we had to make adjustments on that. These kids make adjustments pretty good.
 
"Sometimes we've been down here and I don't think we've played our best and a lot of it has to do with the other team. We've been close a couple times. This bunch last year just decided we're going to do it, we're going to hang in there together."

Williamson (27-5) reached the title game when junior guard JaAllen Gray sank two free throws with 33 seconds to play. Williamson led by eight at halftime, but Brooks took a three-point lead into the fourth quarter. Williamson retook the lead 47-45 with 4:42 left and then held off Brooks the rest of the way.

Robert Woodyard led Williamson with 12 points. JaCameron Horn had 11 and Jordan Bell had eight with 13 rebounds.

CLASS 4A BOYS SEMIFINALS
Talladega 64, Montgomery Catholic 57
CATHOLIC (30-5) – Justin Bufford 6-17 2-5 16, D.J. Carter 5-13 3-4 15, Johntraius Green 1-7 0-0 3, Myles Butler 1-12 0-0 7, Theron Dudley 3-4 1-4 7, Patrick Ryan 1-4 2-3 5, Jalen Thomas 1-3 2-2 4, Darian Riley 0-1 0-0 0, Jaalen Fountain 0-1 0-0 0. Totals 20-62 10-18 57.
TALLADEGA (26-6) – Nigel Scales 1-6 5-6 8, Arron Green 5-9 9-13 19, Rontavious Barclay 2-5 0-0 4, D'Corian Wilson 5-12 3-6 13, Kobe Simmons 5-10 2-3 12, Jay Spratling 0-1 0-0 0, Michael McGregor 3-4 0-0 6, RaDerius Montgomery 1-1 0-0 2, Keontae Funderburg 0-0 0-0 0. Totals 22-48 19-28 64.
 
Catholic                14  15   7    21  –  57
Talladega              15  13  19  17  –  64
3-point goals: Catholic 7-25 (Bufford 2-5, Carter 2-6, Green 1-3, Butler 1-5, Ryan 1-4, Thomas 0-1, Riley 0-1); Talladega 1-11 (Scales 1-4, Green 0-2, Barclay 0-1, Wilson 0-2, Simmons 0-2). Rebounds: Catholic 32 (Dudley 7); Talladega 45 (Simmons 14, Wilson 8). Technical fouls: Carter, Dudley, Wilson. Total fouls: Catholic 22, Talladega 18. Officials: Gamble, Rutherford, Richards.