Bulldogs break out
Ranburne finishes third in Class 1A-5A in Harlan's 'best day' of coaching career, produces first two state champions in school history

By Al Muskewitz
East Alabama Sports Today

HUNTSVILLE – Jay Harlan started the Ranburne wrestling program from scratch 10 years ago. Saturday, he said, was the best day of his coaching career.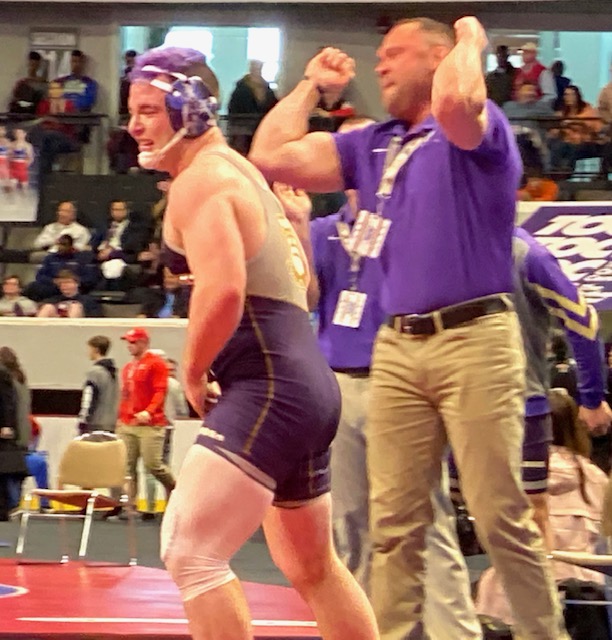 The Bulldogs didn't win a Class 1A-5A state championship at the VonBraun Center, but they finished a best-ever third behind two bigger schools and produced their first state champions ever – Christian Smith and Ben Buchanan. They were seventh last year.

"Not a bad day," Harlan said. "First two in school history, might as well make them on the same day. Best day of my coaching career, I'll tell you that."

Smith became the first state champion in the program's history when won the 195-pound title with an 11-2 major decision over Dashton Rush of Jasper to complete an undefeated season (35-0). The senior was easily distinguishable on the podium with his purple hair highlights purposely put in for last week's sectionals.

A short while later senior Ben Buchanan became the second state titleist when he won the 285 title by pinning Brodie Vinson of Jasper in 3:06. He also completed an undefeated season (39-0).

The third member of the Bulldogs' dominant back line bloc, freshman Carson Hall, also reached the championship round but lost a 7-3 decision to once-beaten Cole Fuller of Corner. It was only his second loss of the season.

"This feels amazing," Smith said. "It's a big accomplishment for this school, myself, the team, everybody. It's just amazing. It's the best feeling ever. Words can't describe it."

The Bulldogs scored 112.5 points as a team. They probably needed to pin in all three of their championship bouts to steal the red runner-up trophy from Jasper, but Harlan couldn't have been happier with the day.

"We gave them a run," he said. "We put a scare in them, I'll tell you that right now. They did all we asked them to do, that's all you can ask. Everybody that we brought with us contributed. It was a total team effort. To make a run like we did, it's all them.

"We prided ourselves on not getting tired in the third period. We won a lot of matches that way."

Alexandria finished fourth in Class 1A-5A with 88 points. Weaver was 11th, Lincoln 13th, Cleburne County 19th, Saks 22nd, Piedmont 33rd, Ohatchee 40th, White Plains 42nd and Pleasant Valley T-43. Oxford finished third in Class 6A.

"Ten years sounds like a while but it's very young compared to most of these (teams)," Buchanan said. "For us to go and be the smallest school in the state finals of duals and then coming here and being in top three of things is amazing."

CLASS 1A-5A TEAM SCORES
Arab 189.5, Jasper 115, Ranburne 112.5, Alexandria 88, Southside 86, Mortimer Jordan 84, Moody 77.5, Corner 73, Ashville 67, Hayden 55.5, Weaver 49.5, Tallassee 46, Lincoln 44, Susan Moore 43, Scottsboro 41.5;

Satsuma 39.5, Westminster Christian 38, Montevallo 36, Cleburne County 34, Dora 31, Elmore County 31, Saks 31, Deshler 30, Montgomery Catholic 29, Pike Road 28.5, St. Clair County 28, Beauregard 27, St. James 25, Springville 24, Madison County 23;

Center Point 22, Shelby County 19, Piedmont 16.5, Prattville Christian 16, Ramsay 14, New Hope 13, TR Miller 13, East Limestone 11, Leeds 11, Ohatchee 9, ASB 7, White Plains 4, Elberta 3, Pleasant Valley 3, Reeltown 3; Holtville 1, St. John Paul II 1, WS Neal 1, Beulah 0, Cherokee County 0, Fultondale 0, Thomasville 0.

CLASS 6A TEAM SCORES
Gardendale 175, Benjamin Russell 134.5, Oxford 109.5, McAdory 109, Wetumpka 104, Spanish Fort 97.5, Gulf Shores 90, Helena 86, Chelsea 69.5, Fort Payne 69;

Shades Valley 64, Mae Jemison 57.5, Homewood 53.5, Athens 51.5, Minor 48, Clay-Chalkville 46, Pelham 43, Stanhope Elmore 42.5, Hartselle 37.5, Daphne 34;

Opelika 30, Buckhorn 29.5, Carver-B'ham 27, Pinson Valley 26, Robertsdale 20, Russell County 19, Baldwin County 15, Decatur 12, Dothan 12, Park Crossing 12, Pell City 10.5, Carver-Mont. 10, Hueytown 10, Muscle Shoals 6, Hazel Green 1, Brookwood 0, Huffman 0.