Adding on
Piedmont wins its sixth straight area championship and 11th in 13 years; Odam named MVP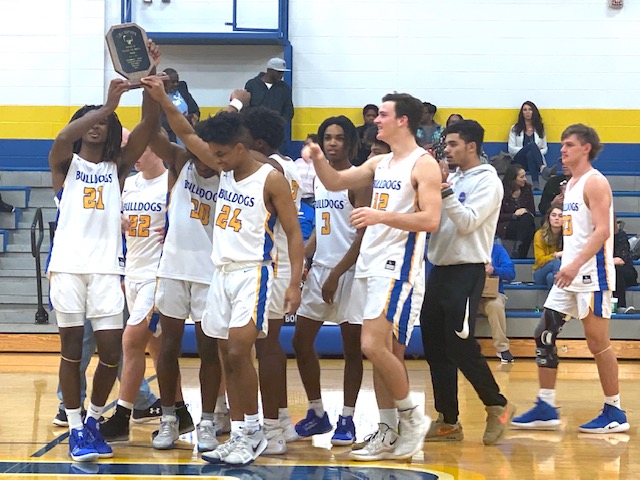 By Al Muskewitz
East Alabama Sports Today
 
PIEDMONT — Piedmont basketball coach JoJo Odam walked along the sideline about an hour before tipoff when a visitor stopped him and asked him what he thought about the game ahead.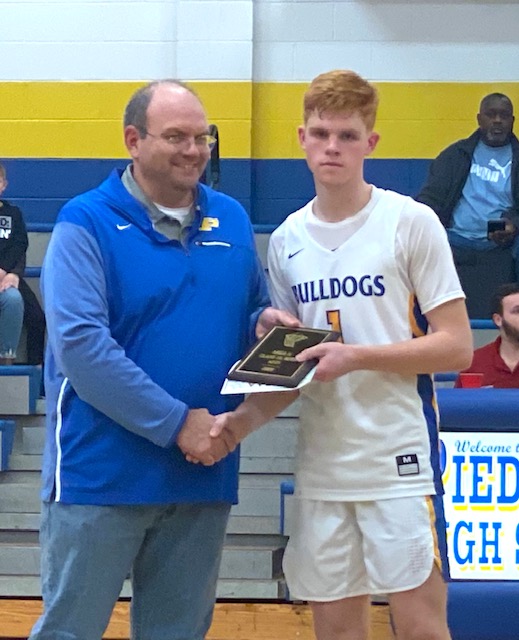 "We'll see what happens," he said before continuing his stroll towards the hospitality room.
 
After a sloppy showing in the Class 3A Area 11 tournament semifinals last time out, the coach was concerned about his Bulldogs being sharp every time it played going forward.
 
They gave him the sharper effort he wanted Saturday, especially in the first half, and ran past Saks 73-49 for their sixth straight area title and 11thin the last 13 years.
 
"I think we came out with our heads right tonight and played a little better early," Odam said. "We were locked in that first half. That's what we've got to be the rest of the year. We're not going to play a bad team from this point on."
 
The Bulldogs will host Geraldine in the Northeast sub-region round Tuesday. Saks travels to Plainview.
 
Geraldine, Plainview and potential regional opponent Midfield were all in attendance at the game.
 
Alex Odam was named tournament MVP. He and Silas Thompson both scored 21 points for the Bulldogs. Odam also delivered seven assists and four steals.
 
Piedmont held Saks' two leading scorers, Zay Elston and Zaejuan Johnson, to seven points total and two of their starters scoreless.
 
The Bulldogs hit three 3s among their first four buckets of the game and opened a 21-7 lead that carried into the second quarter. They outscored the Wildcats 22-6 in the second quarter and led 39-13 at halftime.
 
"We were much better, early especially," Alex Odam said. "We came out pretty hot, playing defense pretty good. We played a lot better."
 
"Everybody was way sharper," Thompson added. "I think last game (against Weaver) we came out with the big head a little bit and that might have slowed us down a little bit, but tonight we came out hard. We've been preaching from the first (minute) we've got to go get it."
 
The Wildcats tried to match Piedmont from beyond the arc and rushed a bunch of shots without success. Saks coach Jonathan Miller evoked the P-word in describing the way his team reacted — panic.
 
"We struggled tonight scoring, were in too big of a rush in the first half and let it get waay from us, which is what we've done in previous meetings," Miller said. "We get down a little bit and we panic instead of moving the basketball. We panicked. We played better in the second half, but it was just too late."
 
The Bulldogs weren't as sharp in the second half, but still had a comfortable cushion and then Odam and Jakari Foster delivered the play that provided the exclamation point.
 
With about three minutes to play Odam broke in alone on the goal for a sure layup, then suddenly flipped the ball off the backboard so trailer Foster could slam it down for an electric dunk. Foster had five points, five rebounds, two assists and three steals.
 
"We've been practicing it for a little while," Odam said. "I heard him yelling so I just threw it."
 
CLASS 3A AREA 11 TOURNAMENT
Championship game
Piedmont 73, Saks 49
SAKS – Benji Wilson 0 0-0 0, Zaejuan Johnson 0 0-0 0, Will Mixson 2 0-0 4, Leonta Jones 1 1-2 3, Kyle Goedde 0 0-0 0, Myle McLaughlin 0 1-2 1, Coner Martin 1 0-0 3, Patrick Williams 5 1-1 12, Jordan Cosper 4 6-8 14, Zay Elston 2 2-6 7, Tyler Smith 2 1-2 5, Aramis Taylor 0 0-0 0. Totals 17 12-21 49.
PIEDMONT – Alex Odam 9 1-2 21, Omarion Foster 3 0-0 6, Cassius Fairs 1 0-0 2, Luke Bussey 0 0-0 0, Trey McFarland 3 0-0 6, Dalton Mitchell 0 0-0 0, Silas Thompson 8 4-5 21, Jack Hayes 1 0-0 3, Coleman Reid 0 0-0 0, Malachi Jackson 3 2-2 9, Jakari Foster 2 1-4 5. Totals 30 8-13 73.
 
Saks                   7    6    21 15  –  49
Piedmont         17  22  17 17  –  73
3-point goals: Saks 3 (Martin, Williams, Elston); Piedmont 5 (Odam 2, Thompson, Hayes, Jackson). Total fouls: Saks 13, Piedmont 15. Officials: Pratt, Graves, Dupree.

All-Tournament Team
MVP: Alex Odam, Piedmont
Piedmont: Alex Odam, Omarion Foster, Jakari Foster, Silas Thompson.
Saks: Zay Elston, Tyler Smith, Jordan Cosper.
Pleasant Valley: Josh Ballew, Damon Farr.
Weaver: Armane Burton, Jackson Williams.
Wellborn: K.V. Wesley.