Ready and able
Nifty 50 and free of pain, Wigington ready to return to form in 2020 golf season

By Al Muskewitz
East Alabama Sports Today

OXFORD – Gary Wigington stepped onto the first tee of the Mindbreaker 9 at Silver Lakes the other day and let loose a typical monumental drive that produced a pretty easy eagle. It was a whole lot better than the "ugly par" he made at Cider Ridge on the first hole he played. OK, he's back.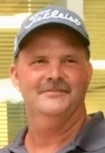 To be truthful, the ball at Silver Lakes only went about 20 feet – he was playing in one of the simulator bays at Duck's Indoor Sports Mania with his son Peyton – but the result of the swing and the feeling it produced was the most encouraging sign to date the county's best homegrown golfer of his generation is ready for a pain-free 2020 season.

Wigington, a 16-time winner on the Calhoun County Tour and eight-time Sunny King Charity Classic champion, had surgery in early October to clean up several bone spurs in his left elbow that made full swings excruciating and forced him to withdraw from an tournament (the County Championship with a chance to be Player of the Year) due to injury for the first time in his career.

But he's been back to hitting for shots for the last couple weeks and proclaimed himself pain-free and ready to go for the season ahead.

"Everything's good," he said. "The surgery went really good, the rehab went real good. I'm pretty much taking full swings now and hitting some balls, playing, practicing a little bit when the weather permits.

"The recovery was really good. I couldn't have asked for anything better. It feels better now than it has in years, so I don't really foresee any complications at all."

That's all his competitors need to hear. He already was a regular at the top of local leaderboards before the surgery. Now that there's no health issue, there's no telling how many tournaments he can win again.

"I'm just hoping to be competitive, have a better shot at trying to win some tournaments and being able to practice as much as I want to," he said. "I'm hoping it'll make for a good year. I don't have any ailments that hold you back. I definitely want to be more competitive this year and have a chance to be in the running."

Wigington turned 50 in August and you know what that means – eligibility for the Champions Tour and USGA senior events. He probably won't make attempts at the U.S. Senior Open or Senior Amateur, but he might take a shot at a couple Champions Tour qualifiers – as an amateur.

2020 CALHOUN COUNTY TOUR SCHEDULE

April 4-5 – Calhoun County Two-Man, Silver Lakes
April 18-19 – Cane Creek Championship
May 2-3 – Oxford City Championship, Cider Ridge
May 15-17 – Gadsden CC Invitational
May 29-31 – Wilfred Galbraith Anniston CC Invitational
June 13-14 – RTJ-Silver Lakes Championship
June 27-28 – Etowah County Open, Briarmeade
July 10-12 – Sunny King Charity Classic
July 25-26 – Pine Hill CC Invitational
Aug. 8-9 – 84thCalhoun County Championship, Anniston Municipal
Aug. 22-23 – Buddy Moore Tournament, Anniston Municipal