Rock solid
MVP Taylor gives courageous effort to lead Oxford to its 20thall-time Calhoun County Tournament title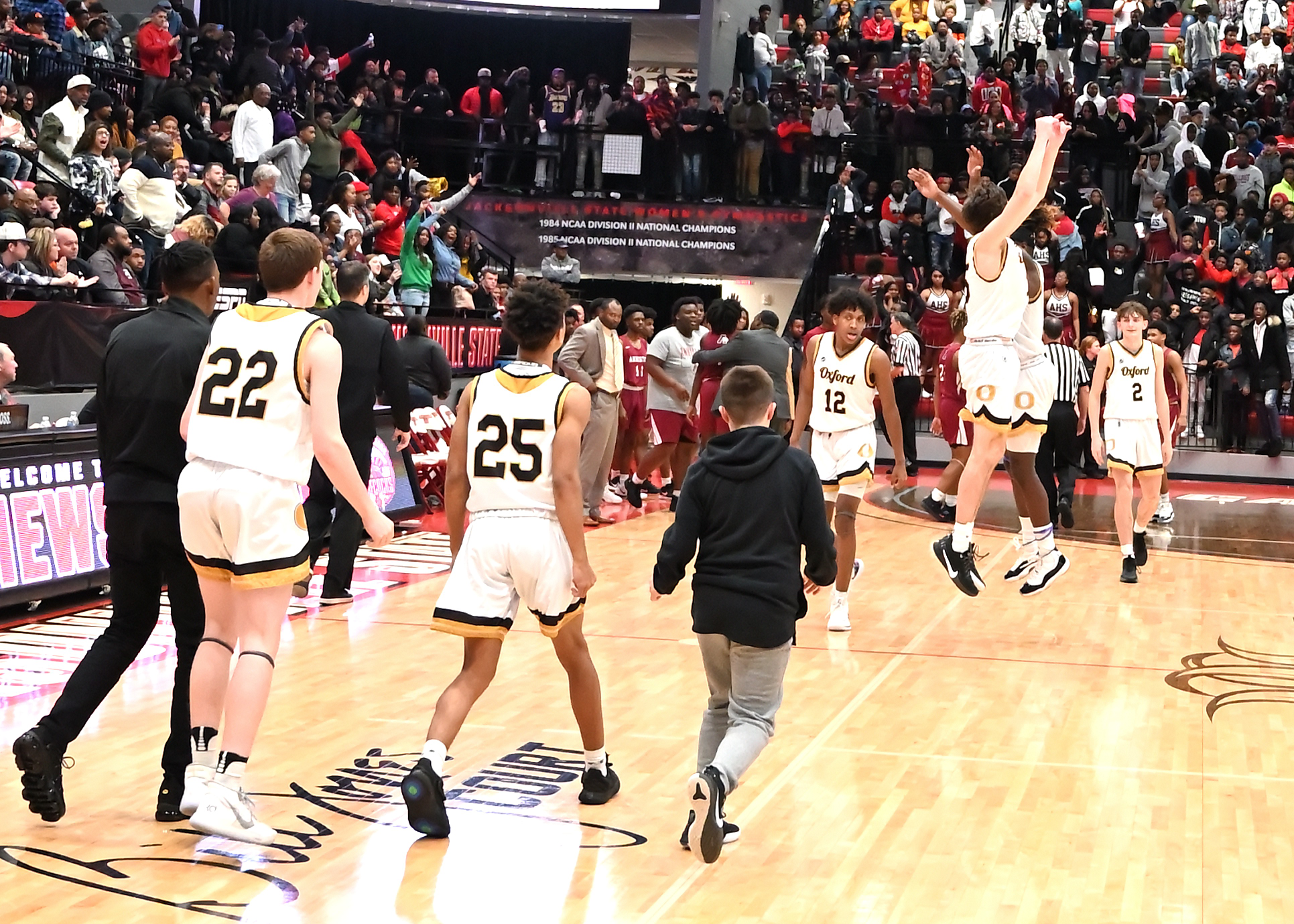 By Al Muskewitz
East Alabama Sports Today

JACKSONVILLE – Oxford turned Pete Mathews Coliseum into Rockafwelloa Center Friday night.

That's Rockefeller Center, if you need help with the pronunciation.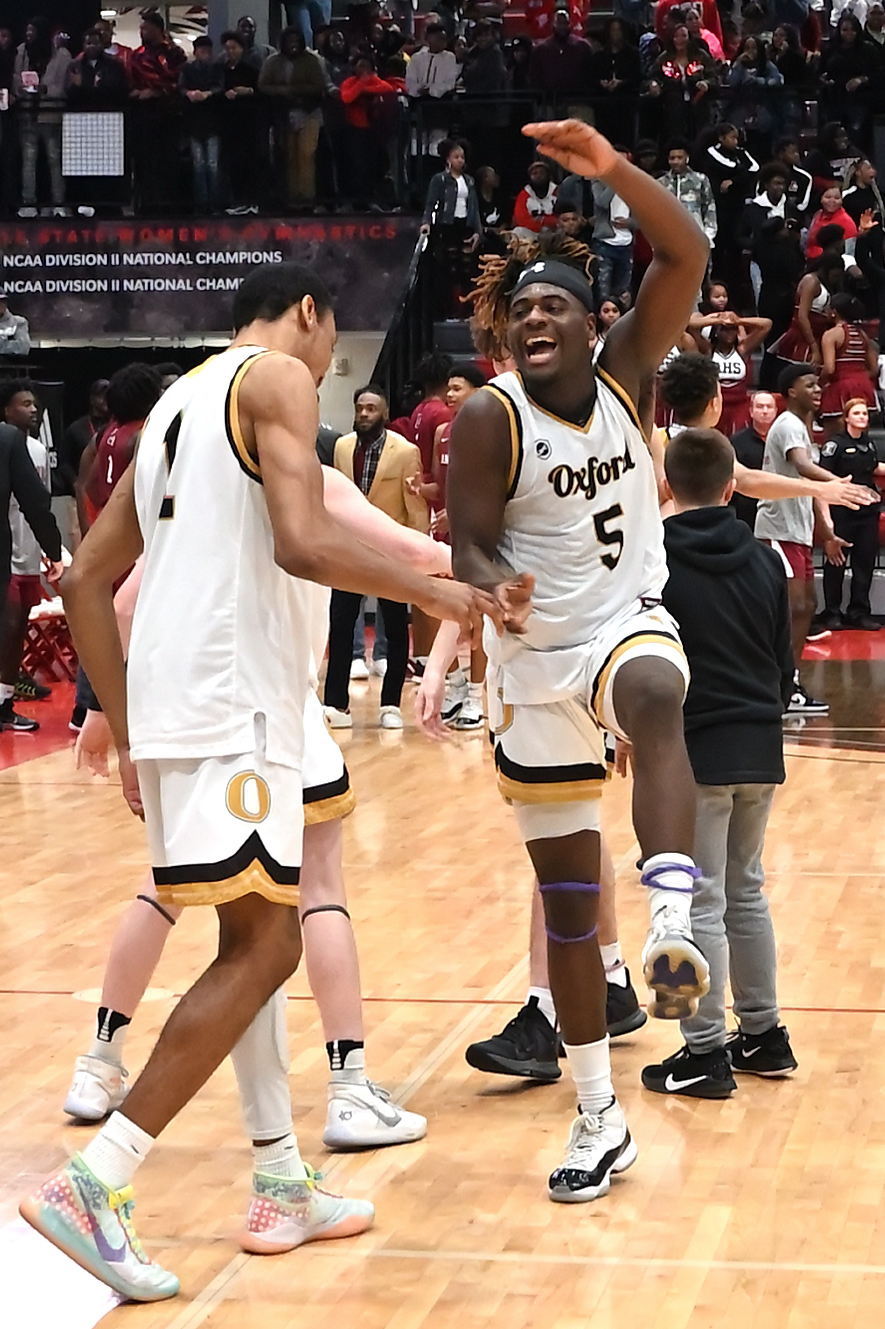 Oxford junior power forward Roc Taylor completed a strong tournament week with a courageous final game, leading the Yellow Jackets past Anniston 65-62 for their 20th all-time title in the Calhoun County Tournament. It's their third crown in the last four years.

The 20 titles ties Anniston for the most all-time in boys tournament history. The Anniston girls won their 20th county championship in the earlier game. So, make it 20/20 in 2020.

On the heels of a recent football offer from the University of Florida, Taylor finished with 24 points in the championship game and survived turning his left ankle and cramps to lead the Yellow Jackets down the stretch. The only thing that would have made it more fitting was if he scored 30, making it 30 Rock.

"He just played outstanding," Oxford coach Joel Van Meter said. "We came out a little hesitant for whatever reason and he steadied us. His energy, just the way he plays the game – he's out there playing a guitar – he has fun the whole time he's playing a game and that carries over to all your players and puts their minds at ease."

There were a few moments in the second half when it looked as if the Jackets might not have Taylor at the finish. He went down in a scramble for a loose ball under the basket two minutes into the third quarter. He was helped off the floor and went to the training table, then later went behind the wall to the locker room.

"You know you've got to play through adversity because at the end of the day your team's gonna need you," Taylor said. "The whole week my mindset was to come out, compete, be the best player on the floor."

Meanwhile, Zondrick Garrett picked up his third foul so the Jackets were without their two big posts for a time, but even with them out of the game the Jackets were able to stretch their lead. Anniston coach Torry Brown lamented not being able to take advantage with Garrett, a South Alabama signee, out of the game.

Taylor returned with three minutes left in the third, but hobbled away twice more before the game ended, this time with cramping.

VanMeter agreed courageous was a good way to describe Taylor's effort. Brown called him the motor that drives their car.

"No doubt," Van Meter said. "Just a warrior, that's what I call him. When it's game time and it's time for those lights to come on he takes it up a whole different level."

Justin Moore was named the most outstanding defensive player and Anniston's Antonio Kite was the outstanding offensive player. Kite scored 71 points in three tournament games.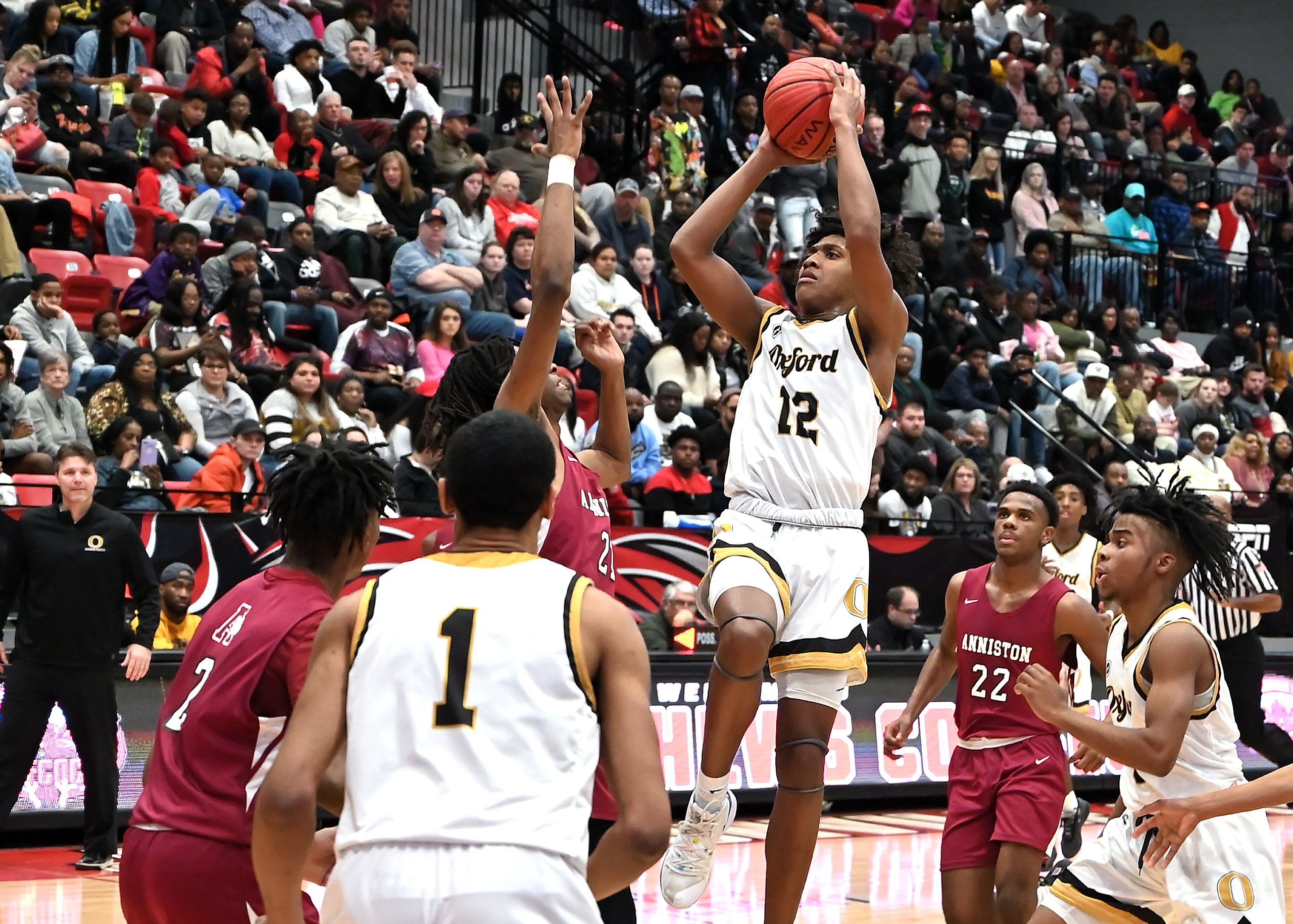 Moore scored 18 points, but he drew the defensive assignment on Kite. The Bulldogs' guard scored 25 points, 14 in the fourth quarter, and took the last-second 3-pointer that could have tied the game, but Moore was satisfied with the defensive job he did on him.
 
"He still got his points, but I felt like I did a good job guarding him," Moore said.
 
Anniston came out hot to start the game and opened leads of 16-8 and 19-10. It was 22-14 near the close of the first quarter when Oxford went on 15-0 run to take control of the game. Taylor had nine points in the run, including the basket that gave the Jackets their first lead (23-22).

The Jackets held Anniston to three points in the second quarter, all by Kite in the final 1:33 of the half.

"The key to that run was getting some energy going to get the team going," Taylor said. "Because once I got the energy going, the team got on my back and they rode with me." 

The Yellow Jackets led by four at halftime and stretched the lead to 18 early in the fourth quarter. It was 15 with 2:28 to play when Taylor left the floor again.
 
But Kite brought Anniston back. Daveon Dukes' put back made it 64-62 with 30 seconds left. Oxford's Rylan Houck made one of two free throws with 16.2 seconds left to make it a three-point game.

Kite worked the clock down into single digits then let his 3-pointer fly with about two seconds left. It fell off to the side and bounded away as the horn sounded.

Brown had no issue with the final shot and Kite "was happy with it." The Bulldogs just didn't have enough time to go for the 2 and get another shot if they missed it. 

"It's a high school basketball game so it's never over until the horn sounds, and you have to give Anniston credit for that," VanMeter said. "I thought it showed our championship pedigree and our greatness of being able to make enough plays to win the game.
 
"I thought Mont McClendon played tremendous. It doesn't matter how many he scored on anything like that, just his steadiness on the floor. Kobe Warren, I think he came out maybe once. Milas Jackson comes in and pulls a huge rebound. This game taught us way more than if we'd have won by 18 or 20."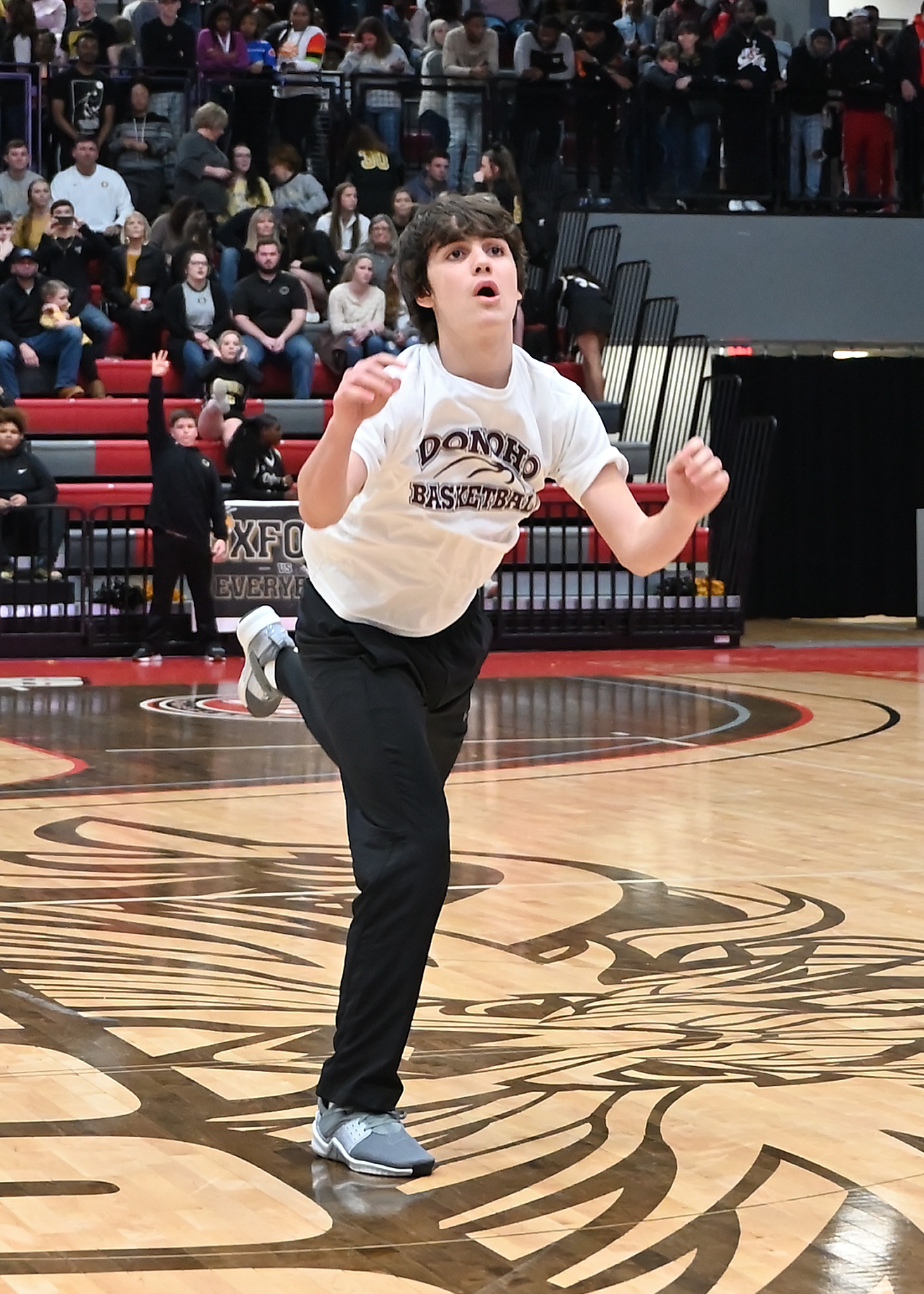 AND-ONE: The 20 titles each won by Oxford and Anniston are more than the next two winningest teams combined — Alexandria (12) and Jacksonville (6). Only nine schools have won the boys county championship … Oxford is the first back-to-back winner since the Jackets won three in a row (2011-12-13) … Donoho freshman Drew Williamson didn't make his $10,000 half-court shot, but he did get $500 for winning the F&M Bank 3-Point Shootout. He did spend much of the last two days practicing half-court shots, but when he took his big-money attempt at halftime of the boys championship game it had been some five hours since his last half-court shot. "I should've warmed up with half-court shots, that's what I should've done," he said. "I was definitely nervous, but I think one more shot I could've made it, I'm not gonna lie."

BOYS CHAMPIONSHIP GAME
Oxford 65, Anniston 62
ANNISTON – Mark Toyer 3 2-6 10, Antonio Kite 8 9-11 25, Kwame Milton 2 0-0 6, Demar Stewart 0 0-0 0, Tajh Jones 1 0-0 3, Malcolm Harvey 4 2-3 10, Daveon Dukes 3 0-0 8, A.J. Brown 0 0-2 0. Totals 21 13-20 62.
OXFORD – Cordell Chatman 0 0-0 0, Zondrick Garrett 5 6-6 16, Rylan Houck 0 1-2 1, Mont McClendon 0 0-0 0, Kobe Warren 2 0-0 6, Roc Taylor 9 6-9 24, Justin Moore 9 0-0 18, Milas Jackson 0 0-0 0. Totals 25 13-17 65.

Anniston 22 3 11 26 – 62
Oxford 16 13 18 18 – 65
3-point goals: Anniston 7 (Toyer 2, Milton 2, Tj. Jones, Dukes 2); Oxford 2 (Warren 2). Fouled out: Garrett. Total fouls: Anniston 18, Oxford 17.

ALL-TOURNAMENT TEAM
MVP: Roc Taylor, Oxford
Outstanding offensive player: Antonio Kite, Anniston
Outstanding defensive player: Justin Moore, Oxford

All-Tournament Team
Antonio Kite, Anniston
Brody Baker, White Plains
Alex Odam, Piedmont
Landan Williams, Alexandria
Donavon McCain, Jacksonville
Roc Taylor, Oxford
Zondrick Garrett, Oxford
Aaron Moore, Sacred Heart
Chase Vinson, Jacksonville Christian
Kwame Milton, Anniston
Josh Ballew, Pleasant Valley
Kyrie Maynor, Jacksonville
Kobe Messer, Jacksonville Christian
Justin Moore, Oxford
Silas Thompson, Piedmont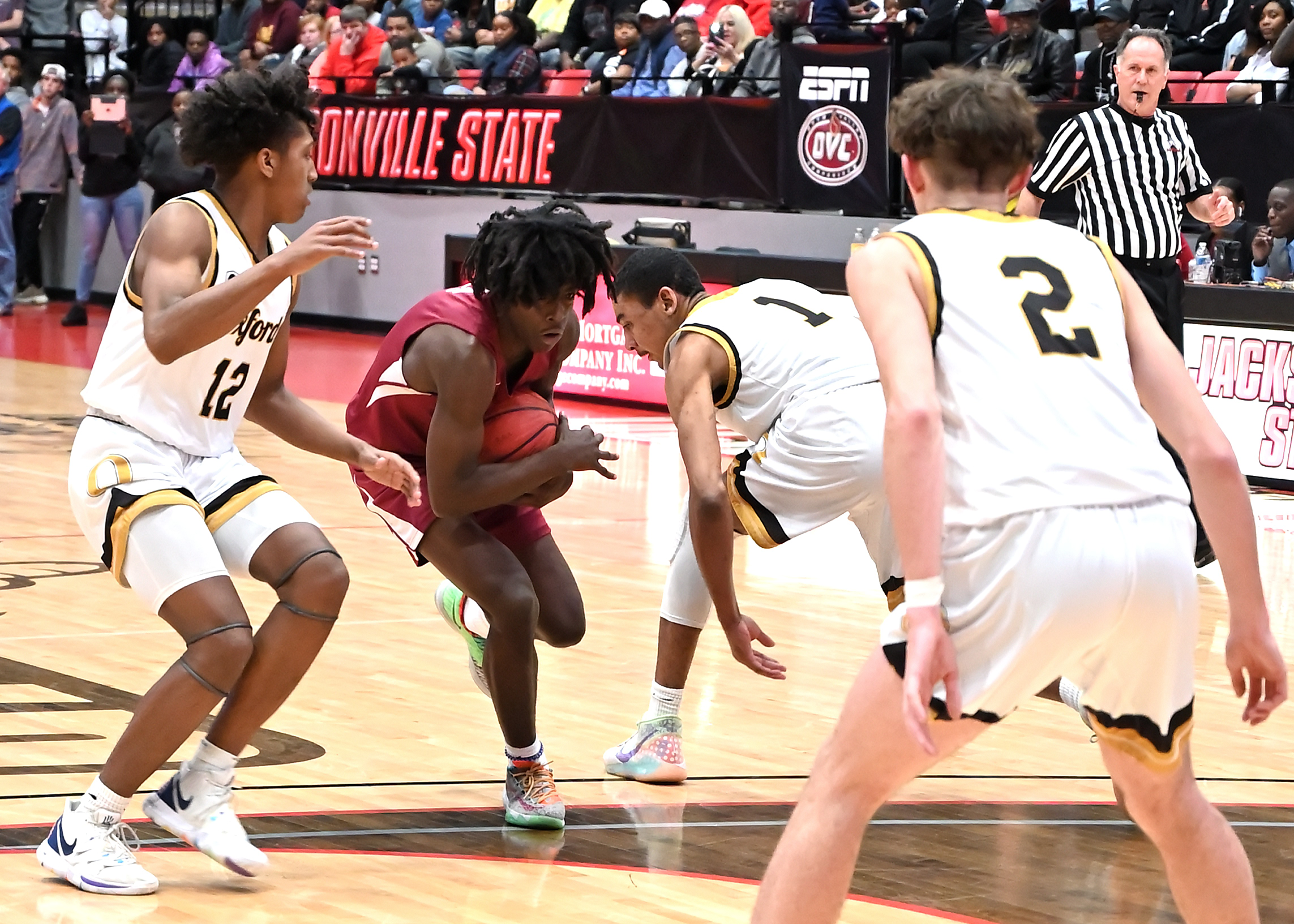 To see more photos from the game, click the following link: www.bjfranklin.smugmug.com