'30 seconds of electric'
Oxford's Moore brings the crowd to its feet with a spectacular array of dunks, top-seeded Jackets rout Alexandria to reach county finals for fourth straight year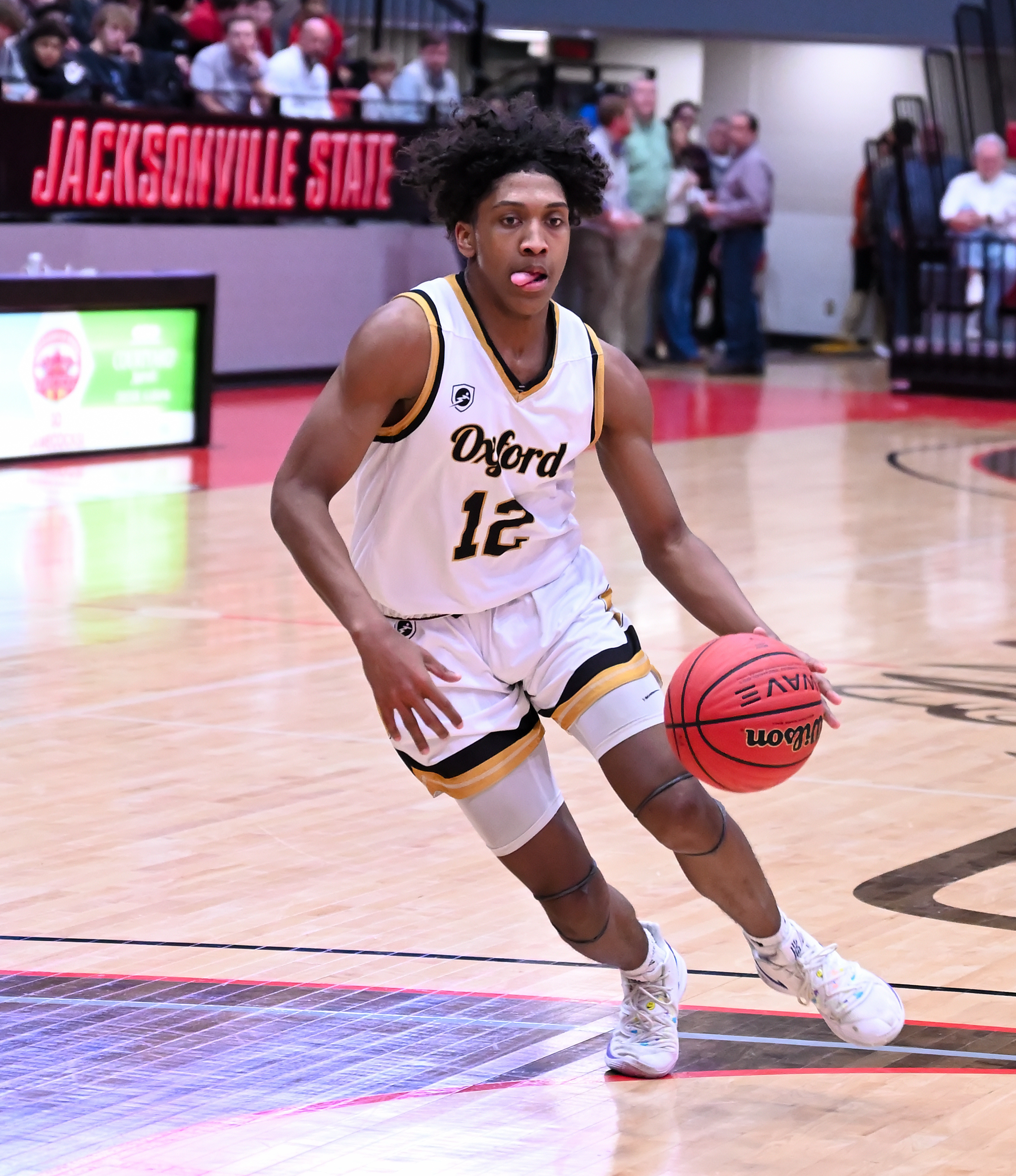 CALHOUN COUNTY TOURNAMENT
All games at Pete Mathews Coliseum, Jacksonville
Boys bracket
Wednesday's games
Oxford 65, Alexandria 34
Anniston 61, White Plains 50
Friday's game
Championship game: No. 2 Anniston vs. No. 1 Oxford, 8 p.m.

By Al Muskewitz
East Alabama Sports Today

JACKSONVILLE – Joel Van Meter has a lot of high-flyers on his Oxford basketball roster, but Justin Moore may be the highest flyer of them all.

His dunks are the stuff of legends, some certainly Sports Center highlight worthy. Did you see the one he had in Huntsville earlier this season? Go find the video.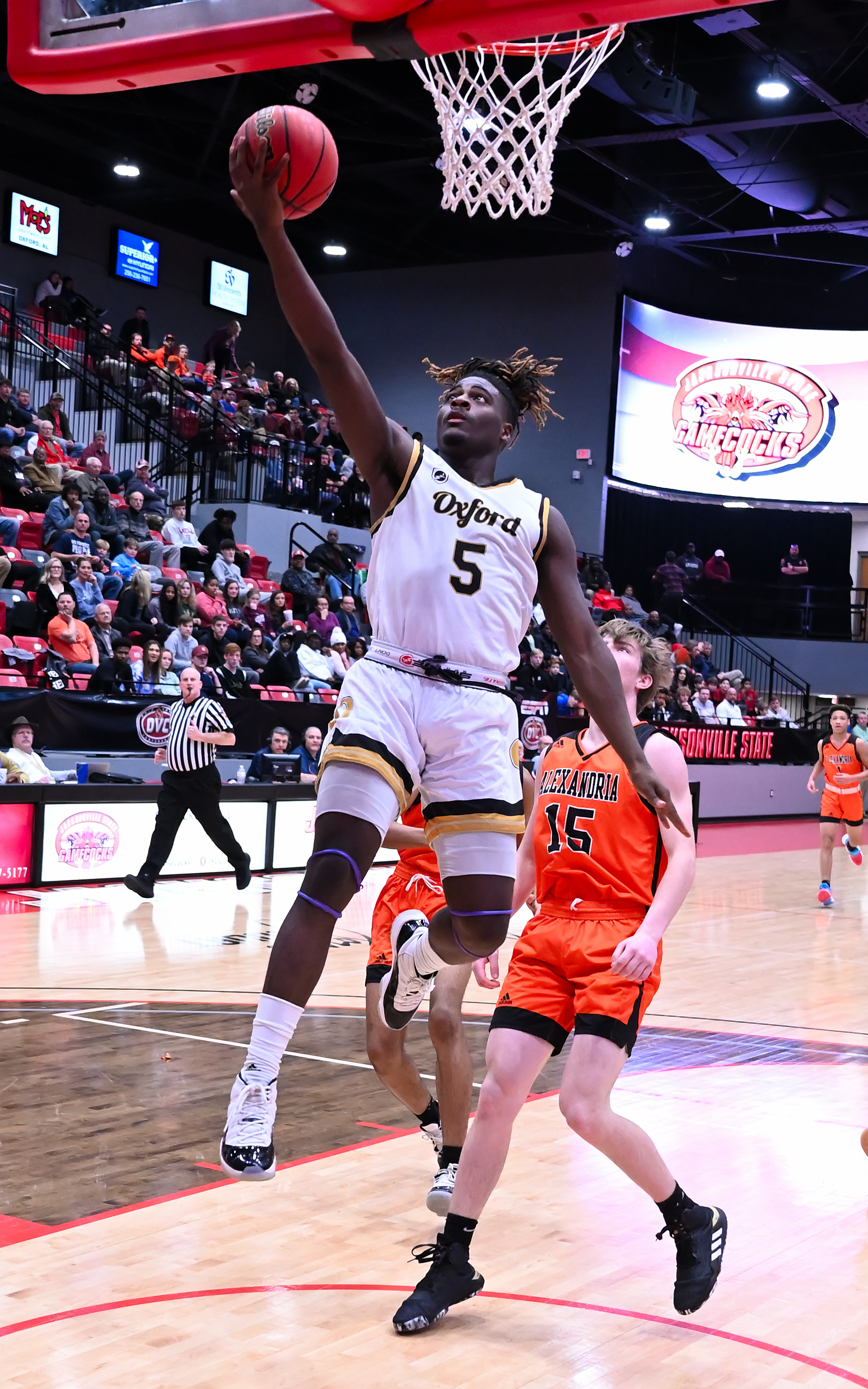 The junior guard – yes, he has another year left – was dynamic all game in the 65-34 win over Alexandria that sent the Yellow Jackets back to the Calhoun County Tournament championship game for the fourth year in a row. But for one 30-second rock block early in the second half he was downright electrifying.

Moore already had one first-half dunk that brought the crowd at Pete Mathews Coliseum to its feet, but by the end of those 31 seconds in the third quarter he had ramped up enough energy to power a small city.

It started with a slam with 7:16 to go in the third quarter. He followed it with another one off a turnover with 6:57 left, and then with 6:45 to play he surprised Rylan Houck with a behind the back pass on the baseline he said "just sort of happened" that went for a layup and a 43-22 lead.

"I'll be honest, I hadn't seen 30 seconds like that," Van Meter said. "I've seen 30 seconds of good, but that was 30 seconds of electric.

"He has that ability. We've worked and he's worked all year to get himself to this point where he can showcase that. And it's part of who we are and the only way we can reach our potential is him doing that. Now our goal is starting to get him to do it a little more often."

They really don't have to ask him twice. His dunks aren't planned, just something that comes with the normal flow of a game, but if he gets the opportunity to throw one down, of course he's going to let one go.

"I like dunking," he said.

His 30 seconds of fun Wednesday was part of a bigger 24-2 run that produced a 53-22 lead with just under three minutes left in the third quarter. By the time he finished his show they were doing cartwheels in the aisles.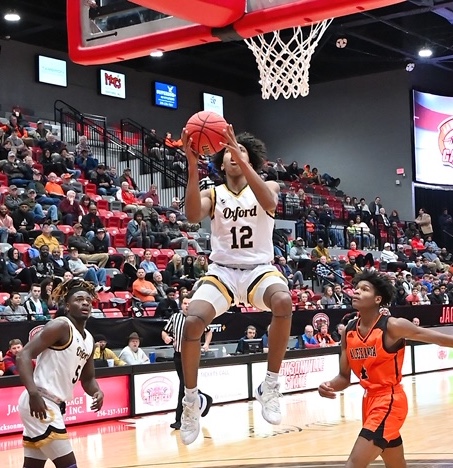 "It was a great reaction," he said. "It gave me and my team a lot of energy."
 
It wasn't the first time Moore dunked in the JSU gym; he did it in last year's Northeast Regional. Given the way he enjoys it so, it certainly won't be his last.
 
"The floor has a little bit more bounce than our gym, so it's easier to get up," Moore said. "It was a lot of fun. I felt like it gave me more confidence going on in the tournament. It really helped me and my team."
 
The bouncy floor only makes it easier. Van Meter is convinced there are bloodlines involved. Moore's father Darryn scored 40 against Oxford in the 1989 county title game, Ohatchee's only appearance in 69 years of the tournament's existence. He went on to play at Birmingham Southern.
 
"I heard his daddy could really bounce," Van Meter said.
 
That apple hasn't fallen far from the tree.
 
"I do see myself in him," said Darryn Moore, who usually sits in the section behind the Oxford bench to get a good look. "He's fast like I was, he can jump like me; he is a little taller. I loved contact. I think he's getting used to more contact; with the schedule they play it's tough.

"But I was shy like he is and I tell him all the time you can be whoever on that court. I tell him to pretend he's a superhero and act like he has a cape on."

Cover photo by B.J. Franklin. To see more great photos from this game, click on the following link: www.bjfranklin.smugmug.com

Oxford 65, Alexandria 34
ALEXANDRIA – Javais McGhee 0 0-1 0, Collin Taylor 1 2-2 4, D'Anthony Walton 0 0-2 0, Seth Slaton 3 0-0 8, Julian Wright 2 0-0 4, Landan Williams 6 6-7 18. Totals 12 8-12 34.
OXFORD – Cordell Chatman 0 0-0 0, Zondrick Garrett 4 6-6 14, Rylan Houck 4 0-0 8, Mont McClendon 3 2-2 10, Kobe Warren 1 2-3 4, Roc Taylor 7 1-2 15, Justin Moore 7 0-0 14, Milas Jackson 0 0-0 0, Ethan Page 0 0-0 0. Totals 26 11-13 65. 
 
Alexandria            11  11 8    4    –  34
Oxford                    26  11 22  6    –  65
3-point goals: Alexandria 2 (Slaton 2); Oxford 2 (McClendon 2). Total fouls: Alexandria 10, Oxford 14. Officials: Corley, Hughes, Zauchin.