Manning up
County tournament: Raiders' Phillips has been around the JSU Coliseum all his life, but played his first game on it Saturday and was a natural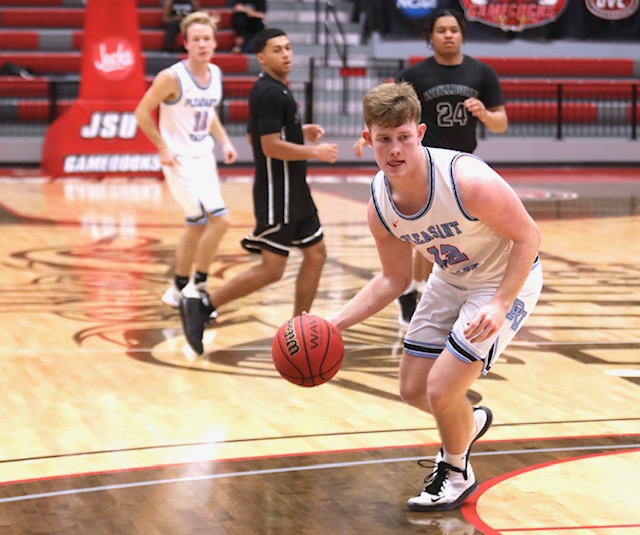 CALHOUN COUNTY TOURNAMENT
All games at Pete Mathews Coliseum, Jacksonville
Boys bracket
Friday's game
No. 12 Ohatchee 76, No. 13 Donoho 56
 
Saturday's games
No. 11 Weaver 71, No. 14 Faith Christian 58 (OT)
No. 10 Pleasant Valley 63, No. 15 Wellborn 37
No. 8 Jacksonville Christian 80, No. 9 Saks 73 (OT)
No. 5 Sacred Heart 66, Ohatchee 45
 
Monday's games
Weaver vs. No. 6 Piedmont, 10:30 a.m.
Pleasant Valley vs. No. 7 Jacksonville, 1:30 p.m.
Sacred Heart vs. No. 4 Alexandria, 4:30 p.m.
JCA vs. No. 1 Oxford, 7:30 p.m. 

By Al Muskewitz
East Alabama Sports Today
 
JACKSONVILLE – With his dad working in the athletics department at Jacksonville State, Brody Phillips grew up around Pete Mathews Coliseum.
 
He'd get on the court after games as kids often did at the end of games there, but he never played on the floor until Pleasant Valley's Calhoun County Tournament opener against Wellborn Saturday.
 
And he never played like he did against the Panthers.
 
Phillips, and Oliver Jones, came off the bench in the second quarter and gave a theretofore lethargic Raiders a much-needed spark. The Raiders picked up their game at that point and went on to rout the Panthers 63-37.
 
Phillips scored 24 points in his County Tournament debut – all in the last three quarters. He said it was probably the ninth or tenth grade since he's had a game this good.
 
"I did go out of my normal routine," he said. "I worked a little harder today, but then again it is the county tournament, it's a big deal for us.
 
"It's really a big deal for me because this is my first county tournament to actually be playing in the coliseum. It's a great atmosphere and so much fun to play. I just know there's a different mentality you gotta give when you step on this court. This is a man's court; you've gotta play like a man."
 
Phillips didn't play last year because he just underwent Tommy John surgery on his pitching elbow. He took a year off from basketball as a sophomore to focus on baseball.
 
Raiders coach Ryan Chambless knows what it means to play in the county tournament and what it takes to play on this floor. He spent his high school career playing for Larry Ginn at Alexandria, where his dad was the principal. And he played on this floor for Mark Turgeon and Mike LaPlante at JSU in the early 2000s.
 
"These guys all live in the shadow of JSU and a lot of parents work up here; to get to play in Pete Mathews and play well, that's something we talked about before the game," Chambless said. "My best memories of playing are all in this gym right here, all of them, high school and college, and I thought he did a great job today.
 
"Brody has settled in to a great role of being a sixth man because I can sub him for a guard and I can sub him for a forward. I think I had Virginia Poe in that role for all them times (at Jacksonville). I think a lot of the guy; I really do."
 
As for the game, the Raiders were muddling around for the first quarter and a half. They were trailing 14-13 early in the quarter, then Chambless went for a change in personnel to take advantage of a mismatch they recognized and the team took off. They ended up going into halftime leading 29-19.
 
"Oliver Young and Brody Phillips gave us a big lift," Chambless said. "They came out there defensively and offensively and were hustling the way we wanted to play. I didn't like the way we started and those two guys come in and did aa great job, they really did."
 
Because of the job Phillips did Saturday, he'll get to play another game on this floor. The Raiders now play Jacksonville Monday at 1:30 p.m.

Pleasant Valley 63, Wellborn 37
PLEASANT VALLEY – Jake Malsy 1 1-2 3, Brayden Wright 1 0-1 2, Trent Findley 1 0-0 2, Josh Ballew 4 10-12 19, Oliver Young 0 0-0 0, Brody Phillips 10 2-3 24, Wyatt Ingram 2 0-0 4, Coleman Haynes 0 0-0 0, Garrett Cranmer 1 0-0 2, Damon Parr 1 0-0 2, Justin Winningham 2 1-3 5. Totals 23 14-21 
WELLBORN – K.V. Wesley 6 3-9 16, Chris Lloyd 1 4-4 7, Brady Johnson 0 1-2 1, Rob Broom 1 0-0 2, Ethan Tidwell 0 0-0 0, Kameron Jackson 3 5-8 11, Tae Traylor 0 0-0 0. Totals 11 13-23 37.
 
Pleasant Valley           11  18  17  17  –  63
Wellborn                      10  9   9    9     –  37
3-point goals: PV 3 (Ballew, Phillips 2); Wellborn 2 (Wesley, Lloyd). Total fouls: PV 18, Wellborn 16. Officials: Hodge, Juslin, Kendall.