Vincent can go
Yellow Jackets jump out to big lead in first half, then hold on through sloppy third quarter and beat Cherokee County for Cleburne County boys title

Monday's boys scores
Regular season
Jacksonville Christian 90, Mt. Zion 81
Ragland at Wellborn

Cleburne County Christmas Classic
At Cleburne County HS, Heflin
Ranburne 62, Donoho 52
Ohatchee 53, Cleburne County 43
Munford 58, Winterboro 55
Championship game: Vincent 56, Cherokee County 42

Gadsden Area Christmas Classic
At Gadsden City HS
Hokes Bluff 67, Gaston 30
West End 77, Coosa Christian 61
Glencoe 47, Sardis 38
Consolation game, Southside 55, Westbrook Christian 45
Championship game, Gadsden City 77, Etowah 65

Hilton Sandestin Beach Blowout
At Freeport (Fla.) HS
Wayne County (Ky.) 34, White Plains 32

Hilburn-Patterson Invitational
At Haralson County HS, Tallapoosa, Ga.
Clay-Central 55, Weaver 53
Bowdon 84, Haralson County 51
Championship game, Spring Garden 44, Temple (Ga.) 34

By Al Muskewitz
East Alabama Sports Today

HEFLIN – For all the times John Hadder has brought his Vincent basketball team here, the stated goal has never been winning the Cleburne County Christmas Classic,. It's always been to make sure the Yellow Jackets plays three good games.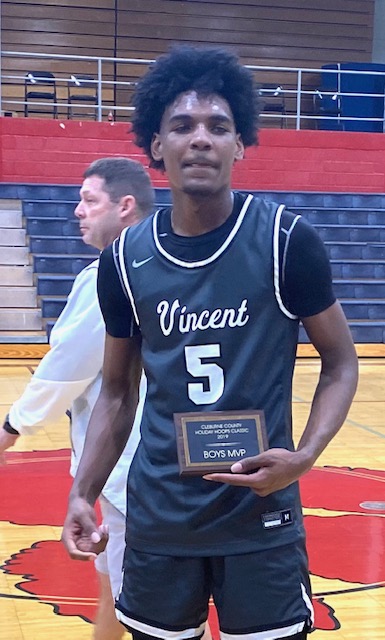 If that happens, there's a good chance they'll win the tournament anyway.

They've succeeded in winning at least two games every year, but never won the tournament. This year they played two and a half good games and this time it was good enough to win it all.

The Yellow Jackets jumped out to a big first half lead, then muddled through a sloppy second half, but they still had enough of a cushion to beat Cherokee County 56-42 for their 11th win in a row and the tournament title.

"Honestly, we don't come over here and talk about winning it, we really don't," Hadder said. "What I tell our guys is we want to come over there and play well three times. Just play well three times and if you play well three times you'll have a chance to win it.

"I think you have to be careful sometimes when you say our goal is to go over and win it and you lose the first round and then they don't want to play the next two. We just talk about playing well three nights. I think every year we've won two of the three, we've lost somewhere in there. It's the first years we've ever put together all three."

The Yellow Jackets (13-1) couldn't have looked sharper in the first half, scoring the last nine points of the second quarter to open a 21-point halftime lead. They looked like a different team in the second half, though.

The Warriors chipped away at the deficit with tight defense and sharp outside shooting and got it all the way back down to eight with 2:16 to play after back-to-back 3-pointers by Josh Green.

The Warriors would get no closer though as Vincent closed it out with a put back by Hamilton off a missed free throw and four free throws in the final 40 seconds.

"It's tough sometimes when you get up like that at halftime to come back out the second half with the exact same energy you had," Hadder said. "You have that little inherent letdown and all of a sudden they turn it up a little bit and now you're trying to find a way to get the energy back you had to start with.

"Credit to them. They really came out and kind of took it to us to start the second half. I thought our decision making got really poor there when we had a little stretch of adversity and all of a sudden we're doing some things uncharacteristic because we kind of start feeling a little bit of pressure.

"Those games are good to learn by, though. It's good to learn how to deal with those little stretches like that. I think we'll be better eventually because we had that. It's like I told them it's good to learn that lesson and still win than to have to learn it with a loss."

The Yellow Jackets built their big first-half lead with weapons similar to those Sacred Heart had when the Cardinals were winning four straight Class 1A state championships – a creator, a shooter and an inside presence.

Ryshad Keith is the creator, really good off the dribble. That was evidenced in the second quarter when he drove the length of the floor, made a nice behind-the-back dribble in stride down the lane in traffic and finished it off with a layup. He had 17 points and four assists.

Tournament MVP Malik Hamilton is the shooter and the Jackets' best defender. He scored 19 points, going 4-of-8 from 3-point range, and grabbed 11 rebounds. The inside presence is Jackson McGinnis; he had 10 points and 10 boards.

"Those three are big for us," Hadder said.

Ohatchee 53, Cleburne County 43: Trey Pesnell scored a career-high 16 points on the strength of four second-half 3-pointers to lead the Indians.
Pesnell had 14 3-pointers this season before Monday, with three being his single-game best in a game against Sacred Heart. He hit three in the third quarteagainst the Tigers, the first of which broke a 26-all tie and gave the Indians the lead for good.
"My teammates set me up well," he said. "Coming into the game I felt like I hadn't been scoring much and helping the team so I felt I had to come in and score."
Ohatchee coach Bryant Ginn said Pesnell is one of his most consistent 3-point shooters and he's glad to see his confidence return.
"He lost a little confidence over the summer, but he's finally got it back," Ginn said. "He's been shooting the ball well at practice, in the games, every one that comes out of his hands I feel like it's going in."
Briley Hale added 10 points and nine rebounds for the Indians. He was 6-for-8 from the free throw line and before missing his last two shots he was working on a streak of hitting 16 in a row. He figures if he's going to do all that work down low to get to the basket and gets fouled for his effort he needs to make them when he goes to the line.
Munford 58, Winterboro 55: The Lions trailed by three with 4:14 to play, then went on a 9-0 run to take the lead for good.
 
The biggest exchange in the run was the four-point possession with a 53-51 lead late in the fourth quarter brought on by a technical foul against the Winterboro bench. Connor Morgan hit the first two free throws to make it a four-point game. He missed the second two, but Jay Tuck hit two more on the ensuing possession to extend the lead to 57-51.
 
For the first time in the tournament coach Michael Easley had his full complement of players and it helped him press and handle the pressure in a pressure situation.
 
"I thought during that time we were a little smarter with the ball," Easley said. "You want your teams to be smart with the ball when the pressure's on. It's easy when nobody's out there on you to say we're going to take care of the ball, but they were doing a very good job with what they were doing so I thought when we went on the run we did a little better job taking care of the basketball.
 
"And that's encouraging because that's when the pressure was on, not when it was a 10-point game or not when you don't have a lot of pressure on you."
 
Even shorthanded in their first two games of the tournament the Lions came within a shot of playing for the championship. Still, they went 2-1 in the tournament and at 6-3 overall they are now one victory shy of matching last year's team win total.
 
Munford's Justin Sistrunk led all scorers with 20 points.
Monday's boys box scores
Cleburne County Christmas Classic
Championship game
Vincent 56, Cherokee County 42
VINCENT –K.J. Youngblood 0 0-1 0, Ryshad Keith 6 5-6 17, Tae McGregor 2 2-2 7, Kaleb Wilson 0 0-0 0, Malik Hamilton 6 3-4 19, Will Harris 0 0-0 0, Treston Smith 1 0-0 3, Jackson McGinnis 5 0-0 10, Martaviun Lawson 0 0-0 0. Totals 20 10-13 56.
CHEROKEE COUNTY –Dylan Culver 0 1-1 1, Josh Green 2 2-2 8, Jackson Amos 0 0-0 0, Nas Diamond 3 0-0 7, Malachi McSpadden 0 0-0 0, Slade Alexander 5 5-8 15, Malachi Horton 0 0-0 0, Connor Elrod 4 0-0 9, Courtlin Brooks 1 0-2 2, Cade Hopper 0 0-0 0, Charles Ramsey 0 0-0 0, Tristan Starr 0 0-0 0, Jaden Wilson 0 0-0 0. Totals 15 8-13 42.

Vincent 10 24 8 14 – 56
Cherokee Co. 7 6 16 13 – 42
3-point goals: Vincent 6 (McGregor, Hamilton 4, Smith); Cherokee Co. 4 (Green 2, Diamond, Elrod). Fouled out: Alexander. Total fouls: Vincent 13, Cherokee Co. 13. Officials: Burroughs, Chambers, Ortiz.

Ohatchee 53, Cleburne County 43
OHATCHEE –Blake Hollis 1 0-0 3, Nathan Higgins 2 0-0 4, Trey Pesnell 6 0-0 16, Cam Foushee 4 0-1 8, Drake Hollis 2 0-0 4,
McFall 1 0-0 2, Austin Wyatt 3 1-2 7, Briley Hale 2 6-8 10. Totals 21 7-11
CLEBURNE COUNTY –Mannye Rollins 1 2-2 4, Daleon Brown 4 4-7 12, Josh Miller 1 3-6 5, Ben Casey 4 4-6 14, Hudson Miller 0 0-0 0, Rico Jordan 2 0-1 4, Jaylen Moman 2 0-0 4. Totals 14 13-22 43.

Ohatchee 16 8 18 13 – 55
Cleburne Co. 9 13 10 11 – 43
3-point goals: Ohatchee 5 (B. Hollis, Pesnell 4); Cleburne Co. 2 (Casey 2). Fouled out: D. Hollis. Total fouls: Ohatchee 20, Cleburne Co. 14.

Munford 58, Winterboro 55
WINTERBORO –Marquez Curry 0 0-2 0, Brody Hamm 0 0-0 0, Josh Tanner 2 6-6 10, Cameron Pointer 2 0-2 4, Isaiah Howard 2 0-0 4, Kameron Edwards 6 0-1 12, Brandon Dandridge 3 2-3 8, Chance Dandridge 6 4-8 17. Totals 21 12-22 55.
MUNFORD –L.J. Flint 2 0-2 4, Justin Sistrunk 9 2-7 20, Rashad Russell 3 0-1 7, Jay Tuck 1 1-2 4, Dwight Moore 1 3-6 6, Caderio Holland 1 2-4 4, Connor Morgan 1 2-2 5, T.J. Johnson 3 0-0 6, Jaquan Anderson 0 2-2 2. Totals 21 12-26 58.

Winterboro 14 19 12 10 – 55
Munford 18 13 17 10 – 58
3-point goals: Winterboro 1 (C. Dandridge); Munford 4 (Russell, Tuck, Moore, Morgan). Technical fouls: Winterboro bench. Fouled out: Pointer. Total fouls: Winterboro 21, Munford 18. Officials: Battles, Hollingsworth, Tidwell.
Hilburn-Patterson Invitational
TALLAPOOSA, Ga. – Spring Garden dumped Temple (Ga.), 44-34, to win the Hilburn-Patterson Invitational at Haralson County High School. The Panthers' Ryley Kirk was named tournament MVP. He was joined on the all-tournament team by teammate Weston Kirk, Temple's R.J. Boles nad Mekhilen Stegall, Bowdon's A.J. Johnson and Haralson County's Bryson King.

Clay Central 55, Weaver 53: Elisha McNeil scored 18 points and Javan Wood had 10 as the Volunteers held on to win in the consolation bracket.

Weaver had two chances to tie or win the game down the stretch, but lost it once to a turnover and after the Vols missed the front end of a one-and-one couldn't get off a final shot. Freshman Armane Burton led Weaver with 16 points. Kyle Knight had 11 points, all in the fourth quarter.

Hilburn-Patterson Invitational
Clay Central 55, Weaver 53
WEAVER – Brendyn Knight 1 0-0 2, Kohl Perry 4 0-0 8, Marcello D'Ambrosia 1 1-4 3, Kyle Knight 4 1-4 11, Armane Burton 5 5-6 16, Taylor Thompson 2 1-2 5, Tristian Brown 4 0-0 8. Totals 21 8-16 53.
CLAY CENTRAL – Caden McCain 1 0-0 2, Javan Wood 3 3-4 10, Clay Yates 1 1-2 3, Tanner Higgins 1 0-0 3, Elisha McNeil 8 1-6 18, EJay Simmons 3 0-0 6, J.D. McNeaaley 2 1-4 5, Micah Harris 4 0-1 8. Totals 23 6-17 55.

Weaver 6 10 16 21 – 53
Clay Central 13 15 13 14 – 55
3-point goals: Weaver 3 (K. Knight 2, Burton); Clay Central 3 (Wood, Higgins, McNeil). Fouled out: B. Knight, Harris. Total fouls: Weaver 15, Clay Central 14.
Regular season
JACKSONVILLE – JCA had three double-doubles and came within two rebounds of having a fourth in a 90-81 victory over Mt. Zion. The Thunder (11-4) trailed by 12 at halftime, but took a four-point lead into the fourth quarter.

Chase Vinson had 20 points and 14 rebounds. Eli Fair had 15 points and 11 boards. Brady Shaddix had 14 points and 10 assists, while Kobe Messer had a team-high 29 points and eight rebounds.

Vinson is averaging 22.4 points, 12.7 rebounds and has a 65.3 shooting percentage. Messer is averaging 16.5 points and hitting shots at a 44.9 percent clip. Shaddix has 99 assists going into the new year.