Grapplin' with success
Alexandria wins its own Grapplin' In Death Valley tournament for record third title of year, goes into Christmas unbeaten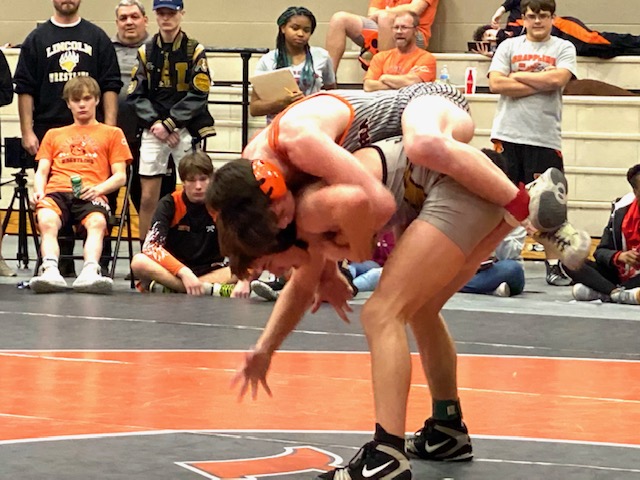 By Al Muskewitz
East Alabama Sports Today

Frank Hartzog might not know everything he's getting under the Christmas tree this year, but he go one pretty good and surprising present Saturday.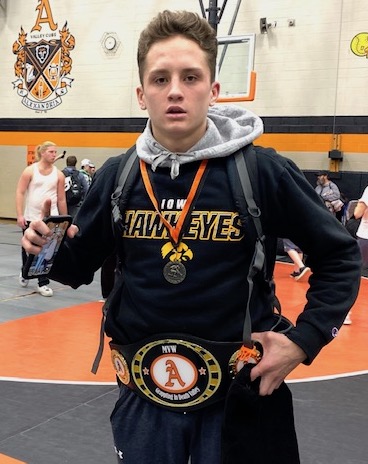 The Alexandria wrestling coach was presented the team's record-setting third tournament title of the season when the Valley Cubs won their own Grapplin' In Death Valley.
 
The Cubs scored 201 points. Ashville was second Wetumpka third, a half-point ahead of Oxford. 
 
The win sends the Cubs into the Christmas holiday in an appropriately festive frame of mind — a No L Noel, as in undefeated (15-0 in duals, 3-for-3 in tournaments).
 
"I guess I need to continue doubting what they can do because they continue proving me wrong," Hartzog said. "I wasn't trying to be negative but I knew this was going to be a tough tournament. I anticipated finishing towards the top, but I never anticipated winning. Never.
 
"I know tough Wetumpka is, and Oxford and Rockmart, they're all solid teams, so to win is above and beyond what I anticipated would happen. It's a good Christmas present."
 
Alexandria produced two champions – Jaden New (138) and Caleb McCulley (220) – two runner ups and 10 in the top four finishers. Oxford produced three champions – Kendrick Young (152), undefeated Reed Hill (160) and Kobe Shumaker (285) – and Weaver produced one – Cody Souder (145), enjoying the first fruits of his split from Alexandria's New.
 
Wetumpka 6A state champion Kyler Adams was voted Outstanding Wrestler, in part for his swift tech fall in the 132 final. The 138 final between New and Oxford's Chase Hicks, a bout decided by ultimate tiebreaker that Hartzog called "the most intense match I've ever seen," was voted Best Match.
 
If he needed any confirmation, it came from no less an authority than his young son Hudson. "He came over and said, 'Dad, that was intense,'" Hartzog said.
 
The wrestlers battled to a 4-4 draw through three periods of regulation and each drew a point in overtime. New took a 4-3 lead with 40 seconds left in the third and Hicks scored an escape seconds later as New let him up with the aim of taking a final shot at the end.
 
New won the ultimate tiebreaker by doing everything he could to not let Hicks out of his grip in the third overtime. Even that was close to going the other way as New revealed Hicks' boot felt about to come loose right before time expired. It finally did fly off out of bounds when it was over.

"I'm not good at top a lot and I can't usually ride you out holding down, but I tried my hardest right there," New said. "I just talked to (former Alexandria state champion) Christian (Knop) and he said if the shoe had come off and he would've gotten away then that would've been the match and I would've lost … I deserved to win that match and I didn't want to go off with a bunch of what-ifs and mess-ups to explain away."
 
"I felt it coming off and I just kept trying to get out," Hicks said. "I thought I was fixin' to get away there at the end, my leg was coming up, but some things don't turn out how you want it to. I think I'll get another shot so it's too bad."
 
The two wrestled a tight decision earlier in the season, with New winning (he's 22-0 now), and Saturday's result sets up some potential drama in the Calhoun County Tournament Jan. 3 at Pleasant Valley.
 
New dropped down to 138 as a way of separating himself from Weaver's Souder to give both a smoother path to the state championship. All he did by choosing that weight was meet up with an equally formidable opponent in Hicks, a matchup that could be recreated in the County finals.
 
"We'll have to look," Hartzog said. "If there's actually an opportunity for us to win County, which has not been something that's really been on my mind, if they want to finagle our lineup, we'll talk. It might be something we do."
 
New is confident there will be less drama if the two meet again and the next time he'll be ready for any eventuality. With no matches until the County, he plans to work on his top game until he gets on the mat again.
 
On Friday night, the Alexandria Youth Program won the Tri-County Championship for the sixth time in seven years and fifth year in a row. The event, formally the County Youth Championship and expanded to include Cleburne County and Lincoln for the first time (hence three counties), drew nearly 200 K-6 wrestlers.

The young Cubs beat out Weaver and Heflin for the championship. Alexandria's Eli Carter (Grades 3-4) and Weaver's Gianluca Torres (5-6) were among the Outstanding Wrestling award winners.

GRAPPLIN' IN DEATH VALLEY
Team scores: Alexandria 201, Ashville 181.5, Wetumpka 176.5, Oxford 176, Rockmart 131.5, Weaver 89, Saks 80.5, Lincoln 80, Cleburne County 73, Southside 40, Piedmont 34.5, Ohatchee 29.5, ASB 19.
 
Championship matches
106: Chad Strickland, Wetumpka, dec. Preston Jones, Alexandria, 6-3.
113: Izaeah Beavers, Rockmart, dec. Gunner Chambers, Rockmart, 10-8.
120: Peyton Morris, Rockmart, pinned Xander McWilliams, Wetumpka, 3:54.
126: Jay Nowden, Wetumpka, dec. Mason Dickey, Wetumpka, 9-5.
132: Kyler Adams, Wetumpka, tech fall over Hunter Wilson, 2:18 (15-0).
138: Jaden New, Alexandria, dec. Chase Hicks, Oxford, UTB 6-5.
145: Cody Souder, Weaver, pinned Dakota Medders, Alexandria, 1:18.
152: Kendrick Young, Oxford, maj. dec. over Timothy Thurman, Saks, 22-9.
160: Reed Hill, Oxford, dec. Dalvin Millhollan, Rockmart, 6-0.
170: Dylan Harris, Ashville, pinned Tristen Latham, Oxford, 2:35.
182: Mason Blackwell, Wetumpka, tech fall over Luke Harris, Ashville, 2:00 (17-1).
195: Cameron Tillman, Ashville, pinned Keyshon Townsend, Lincoln, 2:33.
220: Caleb McCulley, Alexandria, over Treveon Bolton, Saks, DQ.
285: Kobe Shumaker, Oxford, pinned Trent Pate, Cleburne County, 1:03.