Cubs stay Kamstrong
Alexandria basketball team putting together strong efforts to honor injured teammate
 
By Al Muskewitz
East Alabama Sports Today
 
The Alexandria basketball team is playing for a lot more than the name on front of the jerseys these days. Every time the Valley Cubs take the floor – and it's been twice now – they've dedicated themselves to putting forth an effort worthy of a fallen teammate who's fighting for a lot more than they ever have.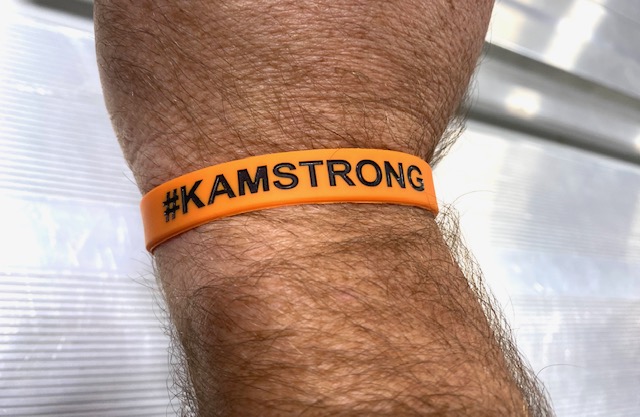 The Valley Cubs are 2-0 since returning to the floor following the car accident last week that sent junior guard Kam Crumley to the hospital with a serious head injury and several broken bones. And they've turned in strong performances in both games.
 
They beat Cherokee County at home Thursday night in their first game since the accident and they overwhelmed Weaver Friday in the opening round of the Champions Christmas Classic 77-34.
 
Alexandria coach Jason Johnson has been "pleasantly surprised" with the way his team has played in light of the circumstances.
 
"You just never know how kids are going to react to adversity and to tragedy and these guys have really hung together," he said. "Sometimes these kinds of things can bring groups of people closer together and that's always a good thing.
 
"It's still heavy on their hearts and a lot of times you still see it in their eyes. We talked last night about making the most out of every opportunity you get to play because in an instant all that can be taken away. Maybe they're seeing that and they're playing with a little more urgency."
 
The players said after the game is was important to play well for their teammate. Sophomore D'Anthony Walton continued the hot hand he had the night before, hitting his first six shots from the floor – four from 3-point range – and had 16 first-quarter points. Sophomore Julian Wright led the Cubs with 22 points. Williams had 10 points, seven assists, three blocks and four rebounds.
 
In the 22-point win over Cherokee County the night before, Walton had 18 points, Wright had 10 and Williams had 19. The Valley Cubs hit 10 3-pointers. Against the Bearcats Friday they were 12-of-16 from the field in a 33-point first quarter and 20-of-28 in the first half. 
 
"It's been hard trying to stay focused with all this stuff going around with Kam," Walton said. "I think we're going to keep playing good the whole season, but now this happened so we want to pick it up more. We're playing for something."
 
"It hurt everyone, but we've got to keep the right mindset," Wright said. "I'm sure he'd want us to play good in all these games. We just have to keep doing good while we're praying for him in the hospital, praying for him to get better. He would want us to do good. We're got to play for Kam."

Support is coming from a lot of places. The players are wearing orange "Kamstrong" bracelets with Crumley's jersey number (11). The Alexandria student body held a roadblock and raised $1,500. The school's teachers raised another significant amount of money.

"We're going to just try to do the best we can to show as much love as we possibly can and support for his family," Johnson said. "We'll just keep fighting, praying and hoping and see what happens."

While the situation is weighing on all the Valley Cubs' players, it has been particularly tough on junior post Landan Williams. He has been close friends with Crumley since the second grade. He's been to visit several times since the accident and plans to make a special trip to be with his friend on Christmas Eve.
 
"It's been pretty hard," Williams said. "He'd want me staying out here playing. It doesn't feel the same (without him there), but you've just got to go through it. Just pray for him."

Alexandria 77, Weaver 34
WEAVER – Quinton Blackerby 0 0-0 0, Brendyn Knight 4 1-2 9, Kohl Perry 1 0-0 2, Marcello D'Ambrosia 0 0-4 0, Jackson Williams 0 0-0 0, Kyle Knight 2 3-6 7, Buck McGregor 1 0-0 3, Austin Bryant 2 0-0 4, Armane Burton 3 1-2 7, Taylor Thompson 0 2-4 2. Totals 13 7-16 34.
ALEXANDRIA – Javais McGhee 3 2-3 8, Collin Taylor 4 0-0 9, D'Anthony Walton 6 0-0 16, Ivonte Davis 0 0-0 0, Seth Slaton 1 0-2 3, Julian Wright 9 4-5 22, Dustin Warren 0 0-0 0, Javarious Williams 3 0-1 6, Landan Williams 5 3-3 13. Totals 31 9-14 77.
 
Weaver            8   10 10   6  –  34
Alexandria      33 21 13  10 – 77
3-point goals: Weaver 1 (McGregor); Alexandria 6 (Taylor, Walton 4, Slaton). Technical fouls: Burton, Taylor. Total fouls: Weaver 9, Alexandria 13. Officials: Holmes, Horn, Caldwell.