'It felt like home'
Oxford DB Fegans becomes first in his family to attend college after choosing Arkansas State to continue his football career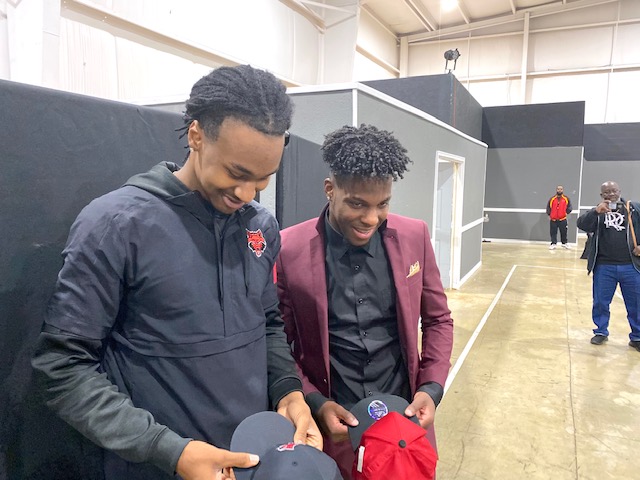 By Al Muskewitz
East Alabama Sports Today

Antwon Fegans reached under the table to find the appropriate piece of headwear for the occasion then proudly announced as he tugged the hat down on his head he would be spending the next four years playing football for Arkansas State.
 
And like most players after making their college choice public, the 3-star Oxford defensive back explained his decision, made over UAB and Mississippi State, came down to a place that just felt familiar.
 
"There were a whole bunch of things that occurred over the recruiting process and I just stuck with whoever stayed with me," he said. "It just felt like home, home away from home; that's a feeling you don't normally get."
 
And it's going to feel a whole lot more like home after he gets there when his cousin, former Oxford basketball player Markise Davis, joins him on campus as a member of the Red Wolves' basketball program. They've already talked about being roommates.
 
The cousins described their relationship as "pretty close." Davis, who currently plays at Wallace-Hanceville, committed to the Sun Belt school in August, but both said there was no influence exerted to help Fegans decide to join him. That's not to say there weren't conversations about it.
 
"Once I committed I was telling Juicy you might as well come on," Davis said. "He could have gone anywhere he wanted. When he committed, I felt like I committed again."

"At first I was thinking you've gotta to go Arkansas, you've gotta meet new friends, you've gotta start all over," Fegans explained. "But when Markise went ahead and took the leap of faith, I kind of leaped behind him.
 
"He didn't help (make the decision), but he was kind of like you need to come join me up here. He kept on and I said OK I may need to look into this."
 
Once he did, Fegans found he liked it. He liked the UAB coaches, too, but in the end he decided "would you rather have the coaches or would you rather have home?"
 
Fegans will get an early jump on his college career, enrolling in January in time to participate in spring drills; Davis won't arrive until the fall. He believes he'll be able to fit in and make an impact right away.
 
Oxford coach Keith Etheredge has no doubt about it. Fegans was the glue that held the Yellow Jackets' state championship-winning defense together. His brother, Trequon, scored the game-tying touchdown with 23 seconds left in the Yellow Jackets' state title victory over Spanish Fort.
 
"I've only had 'Juicy' for a year but I've been watching him from afar and he's just a great young man, a great leader for us, he's like having another coach on the field," Etheredge said. "He's a cerebral guy. He knows what's going on. He knows how to get people in good position. He stays in good position himself. And he always made plays when we needed him to make plays. He was so dependable. We're going to miss him. Less than one percent of high school athletes get to sign a Division I full scholarship. He's in an elite class."
 
On a lot of fronts. Fegans is the first person in his family to go to college, a fact that wasn't lost on his dad. He also becomes Etheredge's first Division I signee at Oxford.
 
"This is a real big deal," Antwon Sr. said. "I played ball, but I didn't make it. To watch your kid have a chance to go do your dreams – he ain't living my dream, he's living his dream – I'm just so proud of him."

Cover photo: Oxford head coach Keith Etheredge says a few words over Antwon Fegans Wednesday shortly before the Yellow Jackets' defensive back signed an NLI to play at Arkansas State.