Cubs keep rolling
Alexandria wins Gene Taylor Memorial Tournament; Cubs sophomore New voted Outstanding Wrestler for the first time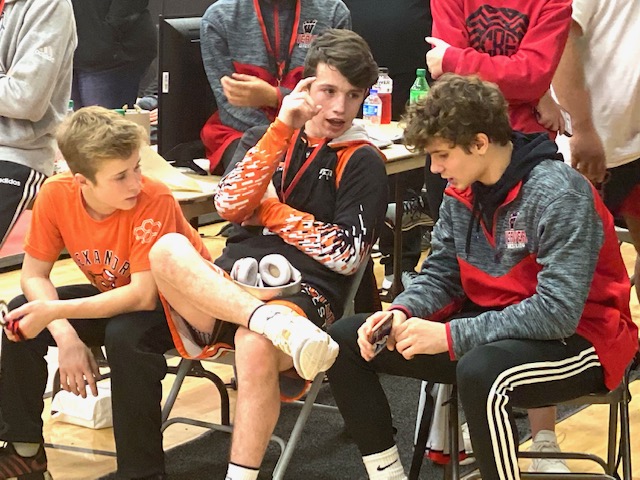 By Al Muskewitz
East Alabama Sports Today
 
WEAVER – A year ago the Alexandria wrestling program had the best individual wrestler in the county. This year, through the events of this weekend at least, the argument can validly be made the Valley Cubs have the county's best team.
 
The Valley Cubs are 10-0 in dual competition this season and Saturday won their second tournament in a row, taking Weaver's Gene Taylor Memorial Tournament by a wide margin.
 
Undefeated Alexandria sophomore Jaden New was voted the tournament's Outstanding Wrestler – the first of his career – after scoring a 14-4 major decision over Weaver's Cody Souder for the 145 title. The 152 final between Alexandria eight-grader Carson Farr and Ohatchee freshman Matthew King, a 12-10 Farr win in overtime, was voted the Match of the Day.
 
The Valley Cubs put seven wrestlers in championship round, produced four champions and scored 234 points. Runner-up Ranburne (175.5) had five winners, all in the final five weight divisions. The Cubs had 10 wrestlers place in the top four.
 
"We're a lot tougher than I thought we'd be dual-wise," Alexandria coach Frank Hartzog said. "We've just got a lot of kids who fight who maybe won't win the tournament in a big tournament, but they're going to battle and keep us in contention for a duals win.
 
"(Winning Saturday) makes me feel a little better because I felt like last week (in Lincoln's Golden Bear Classic) was kind of a fluke. These are smaller tournaments but I think it maybe gives us a little drive to keep fishing to see what we really can do, and I think there's a lot of potential to accomplish more than we've accomplished in the past. I think we've done well in the past, but I think we have a chance to do better.
 
"If you'd have asked me last year when I was losing Christian (Knop), Fletcher (Swindall), Peyton (Thrasher) and Skylar (Payne) I would have said no it's going to be a rebuilding year, but I just think we've had a lot of the junior high guys step up and it really helped us to compete at the level we were at, which kind of blows my mind."
 
While the Valley Cubs are looking forward to keeping their run alive, the tournament may have marked the end of one of the longest running rivalries in county wrestling. It may have been the final head-to-head matchup between New and Souder as the wrestlers are expected to go separate ways to help each other's chances to win a state championship.
 
Souder, a junior, is expected to remain at 145.
 
"They've worked out some deal at the beginning, but I haven't seen it yet," Weaver coach Andy Fulmer said. "I think they both have closure about the situation."
 
The two have wrestled each other since the second grade becoming close friends and rivals. Souder had the upper hand in youth, but since moving onto the high school mat New has held the edge. They wrestled six times when they were at 106. They didn't get together until late last season and New beat him in the sectional and state finals.
 
This latest meeting was their third this season. New has won all three – one by two points, one in overtime last week to win Lincoln's Best Match, and Saturday's major decision, the result of New studying the previous two matches.
 
"I think it is the last time unless we're in a dual or something and I need to wrestle him," New said. "I could wrestle him every week and get better, but he deserves a big chance to do something really good because he is really, really, really good and we have good matches every week. I don't have to bump down, but I'm bumping down to help him and help him win a state championship and get a ring."
 
If it was indeed their final matchup, the bout will be remembered for New pulling away in the third period. He led 2-1 after the first, 4-2 after the second and nearly had a pin early in the third.
 
"I hate it because I lost," Souder said. "I really would have liked to win the last one, but it is what it is."

Before the start of the championship round, tournament organizers recognized Weaver principal Mike Allison for his service to the school, the tournament and wrestling. Allison, Weaver's first wrestling state champion (1987), is retiring Dec. 31 and moving to Florida, where he hopes to remain in education and perhaps coach again.
 
GENE TAYLOR MEMORIAL TOURNAMENT
Team scores: Alexandria 234, Ranburne 175.5, Lincoln 139, Weaver 131, Cleburne County 113.5, Piedmont 97, Saks 80, Pleasant Valley 64, ASD 63, Ohatchee 58.5, White Plains 47, Prattville Christian 39, Wellborn 29.
 
Championship matches
106: Preston Jones, Alexandria, pinned Kameron Hardy, ASB, 3:45.
113: Dylan Melendez, Piedmont, pinned Matthew Kenneway, Saks, 2:34.
120: Kaleb Mathews, Alexandria, maj. dec. over Austin Creamer, Lincoln, 10-1.
126: Travis Bellar, Weaver, over Axarian Griffin, Lincoln, inj. Forfeit.
132: Carter Maddox, Piedmont, dec. Aden Whittaker, Alexandria, 12-7.
138: Dazhoen Finley, Lincoln, dec. Dakota Medders, Alexandria, 8-3.
145: Jaden New, Alexandria, maj. dec. over Cody Souder, Weaver, 14-4.
152: Carson Farr, Alexandria, dec. Matthew King, Ohatchee, SV-1 12-10.
160: Zachary Williamson, Cleburne County, pinned Trenton Brown, Saks, 1:05.
170: Spencer Jordan, Ranburne, pinned Hunter Sallee, Pleasant Valley, 2:18.
182: Jeremiah McCord, Ranburne, pinned Devin Anderson, Weaver, 5:10.
195: Christian Smith, Ranburne, dec. Connor Hall, Alexandria, 7-4.
220: Carson Hall, Ranburne, pinned Treveon Bolton, Saks, 1:35.
285: Ben Buchanan, Ranburne, maj. dec. over Trent Pate, Cleburne County, 8-0.
Outstanding Wrestler Award: Jaden New, Alexandria (145).
Best Match: 152 final, Carson Farr, Alexandria, over Matthew King, Ohatchee.