Indians lead way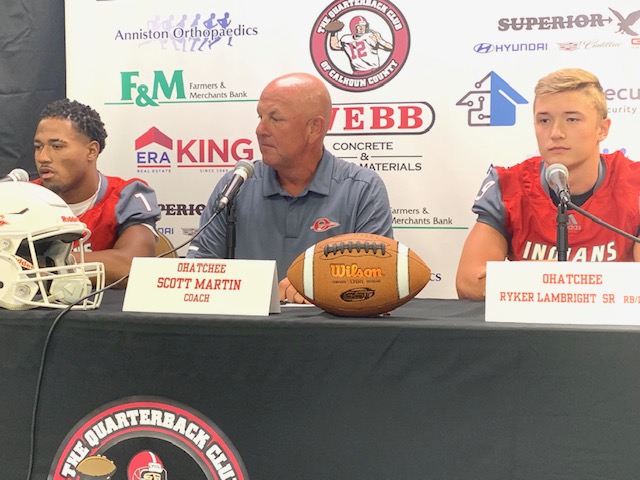 Ohatchee's Thomas, Lambright, Martin headline Class 2A Region 6 all-region team

By East Alabama Sports Today
 
Ohatchee went thorugh its region season undefeated for the second year in a row and that success earned them 13 total spots on the Class 2A Region 6 all-region team and three of the top four major awards.
 
Running back Domonique Thomas was the Player of the Year, running back Ryker Lambright was Offensive Player of the Year and Scott Martin was Coach of the Year for the second year in a row. Ranburne's Gunner Hollis was Defensive Player of the Year.
 
Thomas finished the season with 2,020 yards, 33 rushing touchdowns and zero fumbles in 170 carries; he had 5,134 yards and 74 rushing touchdowns for his career. He also had 352 yards and six touchdowns receiving, six special teams touchdowns and one defensive touchdown. Amazingly, he rarely played in the second half these last two seasons.
 
Lambright rushed for 720 yards and 10 touchdowns on 51 carries and was a powerful blocking. He also was a bruising defender, with 48 tackles and three defensive touchdowns.

"Domonique had phenomenal numbers as it was, but he was a guy who only played in the second half like six games his whole career," Martin said. "The numbers he amassed the last two years are great but if I'd let him play even three quarters a game there's no telling what he would've put together. But I wasn't going to do that, one, for his long-term health and to get valuable experience for those guys playing behind him, which has been a help to our success.

"But that guy can play anywhere at the next level … I understand to some he might be undersized, but he's 5-9, 185 and runs a 4.7 and the guy is a football player. Hes gonna go somewhere and be really, really good and there will be a lot of people who'll look silly for not recruiting him."
 
Here is the all-region team by school:
 
OHATCHEE: RB Domonique Thomas (POY), QB/DB/LB Eli Ennis, RB/DB Noah Fuller, OL/DL Briley Hale, OL/DL Greg King, RB/LB Ryker Lambright, RB/DL/LB Aiden Simpson, TE/LB Cade Williamson.
 
RANBURNE: WR/DB Tye Bailey, LB/RB Hunter Hollis, DL Caleb Hornsby, LB Spencer Jordan, WR/CB Jaxon Langley, OL Jacob Winkles.
 
CLEVELAND: WR/DB Sam Aycock, DL Darrel Gilliland, QB Elijah Longshore, DL Logan Richardson, DL Kyle Willis.
 
WESTBROOK CHRISTIAN: OL Hall Boulware, K Will Edwards, DL Derek Graham, WR Joseph Tucker.
 
WEST END: QB Eli Pearce, WR/CB Jeremiah Roberson, OL/LB Hunter Tucker.
 
WOODLAND: QB/DB Brock Edwards, WR/DB Briar Morris.
 
GASTON: LB Gage McArthur.
 
Honorable mention:
 
OHATCHEE: Dustin Adamson, Payton Duncan, Cam Foushee, Devion Harris, Nathan Harris.
 
RANBURNE: Matthew Char, Reese McAdams, Jeremiah McCord, Sean Pollard, Christian Smith.
 
CLEVELAND: Karter Adams, Stephen Dean, Pierce Gilliland, Skylar Self, Matt Walker.
 
WESTBROOK CHRISTIAN: John Reese Bellew, Jai'Shawn Cattling, John Harvey, Will Noles, Bryce Wood.
 
WEST END: Mason Barnett, Adam Bates, Isaiah Roberson, Jackson Tidmore, Trevor Willett.
 
WOODLAND: Mick Bailey, Matthew Butler, Dale Robertson, Benji Whitmore, Parker Woodham.
 
GASTON: Garren Brown, Wes Simmons, Cole Wadsworth, Malikah Warren.

When Martin thinks about the group of Indians that made this all-region team he gets a little emotional. The four-year class won more than 40 games and was 21-2 over the last two years.

"We had a special group of players this year," he said. "It was the group that came in my first year. These seniors came in as seventh graders, so it's my first six-year group to go through and it's very sentimental to me.
 
"Next year it will be a strange feeling. It''ll be the first year without that core group. When this group graduates, it's going to be a strange feeling; they've been here as long as I have. It'll truly be a different football team because I lose a group I came in with."

Cover photo: Ohatchee's Domonique Thomas, Scott Martin and Ryker Lambright meet the press at the Calhoun County QB Club Media Day in July.