Chasing a title
Gadsden State goes after the JUCO national championship with a roster heavy on Calhoun County flavor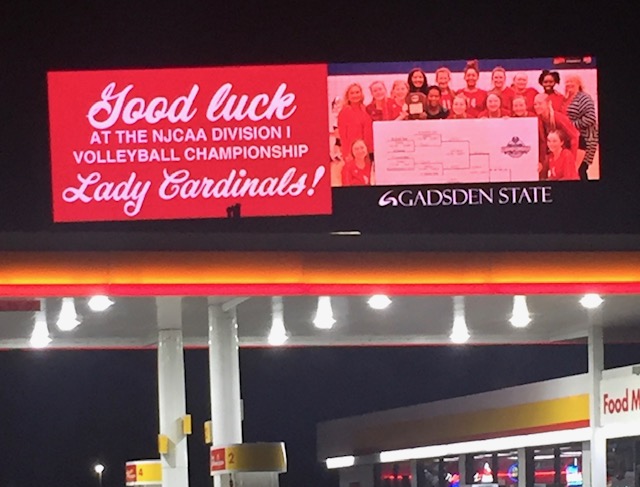 By Al Muskewitz
East Alabama Sports Today
 
The name says "Gadsden State," but there's a heavy Calhoun County presence on that college volleyball team vying for its national championship in Hutchinson, Kan., this week.
 
No fewer than eight players and coaches on the team that plays Miami-Dade (Fla.) in the opening round of the National JUCO Division I Championship have ties to Calhoun County – five players (three starters), the head coach, the assistant and the team manager.
 
If the key to recruiting is going where you know, then head coach Connie Clark, the wife of Jacksonville High school volleyball coach David Clark, has mined a rich field in her backyard.
 
She signed Aubrey Pope, 5A Final Four MVP Taylor Spradley and China Lane off Alexandria's 2017 state championship game and landed White Plains' Landry Bussey and Jacksonville setter Brooke Murphy. Pope, Spradley and Bussey all start. Spradley leads the team with 595 kills and Pope has 248 kills and 286 digs.

Former Jacksonville and Lady Cardinals hitter Sierra Stone is completing her degree as the team manager and Billie Spradley, Taylor's mom, is the assistant coach.
 
"That's a good area for volleyball; been so for many years," Clark said. "Through the years I can think back to several (players) we've had from there. It is probably a little unusual to have this many at the same time."
 
The Lady Cardinals (26-10) are seed No. 15 and plays No. 2 Miami Dade (26-2) Thursday at 11 a.m. They're guaranteed to either play No. 7 Odessa (Texas) (31-1) or No. 10 Iowa Wesleyan (28-9), then after that it depends on their success. Undefeated Navarro (Texas) (27-0) is the top seed.
UPDATE: Gadsden State fell 3-0, will play Odessa Friday in an elimination match.
 
Miami-Dade has won two of the last three national titles (and was the runner-up last year) and is riding a 19-match winning streak. The Sharks have won 10 national titles overall.

"It's very exciting," Clark said. "One of the things I tell the kids is I understand the seeding and all that (and) at this point we have nothing to lose. I just want them to play and have a good time. You never know."
 
The Lady Cardinals are making their first trip to the nationals since 2013 and their first with Clark as the head coach. They drew the top seed out of their conference with a thrilling five-set winner-take-all victory over Monroe (N.Y.) with Bussey contributing two clutch plays late in the set to 15.
 
They came close last year, and coming up short spurred them to not be denied this year.
 
"I know some teams play really well and you play bad, but I don't feel that was the case last year," Clark said. "I feel it was completely us. We were kind of flat, didn't have a lot of energy. We lost the first one to Monroe and that set the tone for the whole tournament. After last year, this group said we're not doing that again. They just weren't going to settle."