Indians denied
Updated: November 16, 2019
Collinsville claims hard-fought second-round win at No. 2 Ohatchee, hands Indians season-ending first loss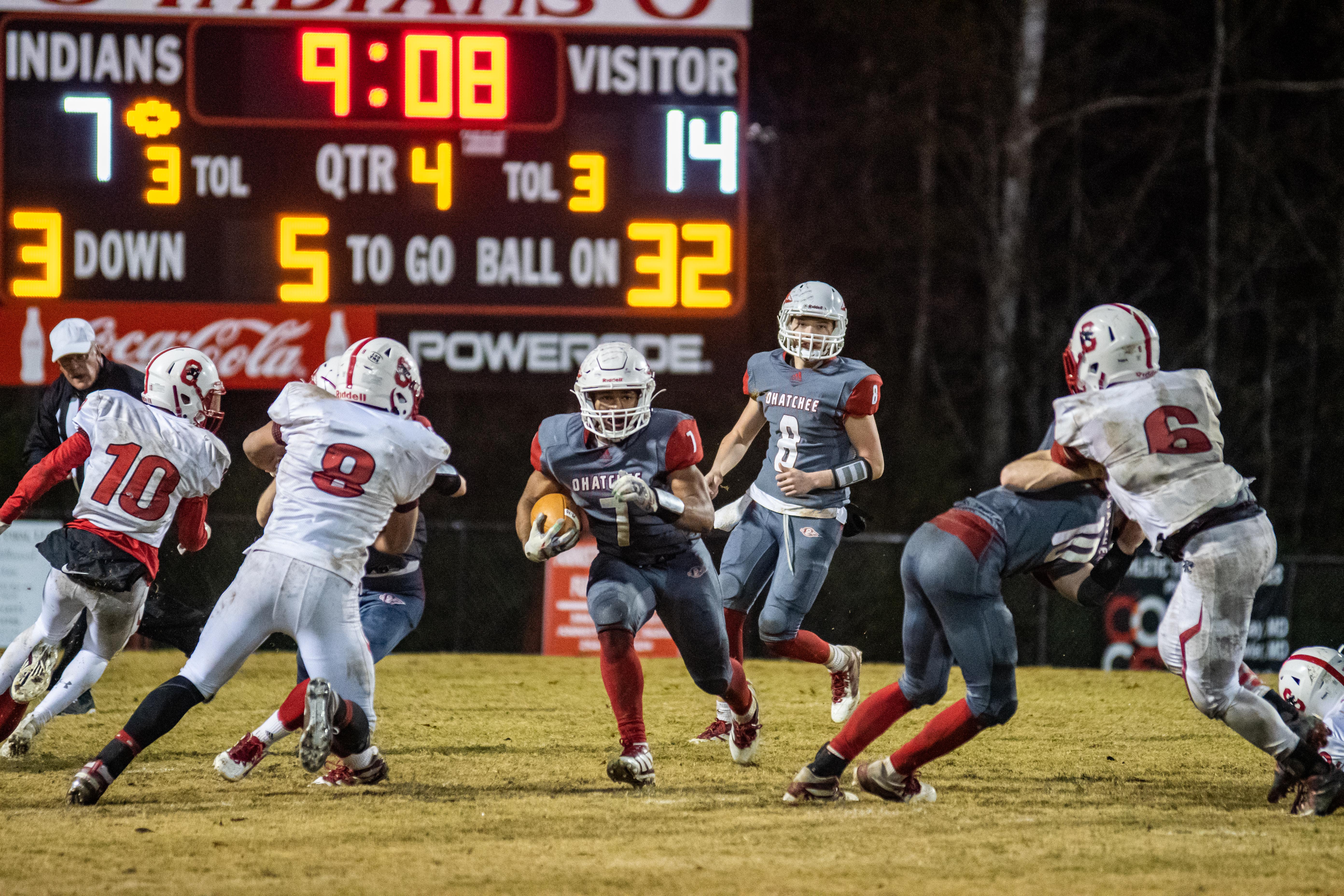 By Shannon Fagan
Special to East Alabama Sports Today
 
OHATCHEE —Collinsville senior quarterback Kaleb Jones remembered the feeling of losing in the second round of the state playoffs at Aliceville last year. He recalled the tears of departing teammates Mason McKinney and Jarrod Barkley as their careers came to an abrupt end.
 
He didn't want that feeling again. And the rest of his teammates didn't either.
 
Behind Jones' 145 yards rushing on 16 carries with a score and 8-of-11, 92-yard and two-touchdown performance through the air, the third-ranked Panthers handed No. 2 Ohatchee its first loss of the season with a physical 21-14 victory on the Creekbank.
 
The win propels the Panthers (11-1) to the third round for the first time since 2011. They'll host Region 8 rival North Sand Mountain Friday after the Bison disposed of Westbrook Christian 35-13. Collinsville beat the Bison 54-28 back on Sept. 6.
 
"This is no doubt the hardest-hitting game I've played in; it was the funnest game of my life," said Jones, whose white road jersey was saturated with mud and blood stains. "We were the underdog coming in this week, but we played ball tonight. We were motivated to play. We didn't think anybody in the state thought we could win this game. We got mad about it, showed up, played ball and ended up coming out with a win."
 
Ohatchee head coach Scott Martin credited Collinsville for playing such a physical game.
 
"To beat us with what we do offensively and defensively, you've got to be big, strong, physical, and go toe-to-toe for 48 minutes; they're the first team this year that's done it," he said. "Give them all the credit. They have a big offensive line, big defensive line. They were strong and physical. They played hard the whole game.
 
"It was a great football game. Somebody's got to lose. Only one gets to walk out with the blue map. It's always disappointing when you lose."
 
The game came down to the very end.
 
After Collinsville had taken a 21-14 lead on Jones' 9-yard touchdown toss to Dalton Hughes with 4:17 remaining in the game, Ohatchee (10-1) drove down to the Panthers 10 with just 18.9 seconds remaining.
 
Collinsville's defense stiffened, forcing three straight incomplete passes by senior quarterback Cameron Foushee to bring up a fourth-and-long situation with 8.9 seconds to go.
 
Ohatchee's final offensive play never developed the way Martin had drawn it. A premature snap was fumbled by Foushee and recovered by the teammate Eli Ennis for a 10-yard loss. The Panthers took over on downs with 3.9 seconds to go.
 
"It was more of a trick play," Martin said. "We were down under 13 seconds. We couldn't spike it. It was fourth down. We ended up running a trick play and we basically had a snap infraction. You hate that it comes down to that because we do prepare. There's things we can do, but we used up the whole playbook of plays we could run with the personnel that was in the game."
 
Foushee gave Ohatchee a 7-0 lead on a 32-yard touchdown pass to Ryker Lambright with 3:53 to go in the first half. There was just enough time left for the Panthers to put together an 11-play, 65-yard drive in which Jones connected with Michael Tucker on a 13-yard score to tie the game at 7-7 heading into locker room.
 
"Us scoring before halftime, that gave us the momentum coming out in the second half," Jones said. "That was real big. Us being able to control the ball and control the time of the clock possession-wise, that was big in the game."
 
Collinsville took its first lead at the end of the third quarter on a 1-yard Jones touchdown run. Jason Perez's extra point provided the Panthers a 14-7 edge heading into the fourth quarter.
 
Ohatchee lost Lambright to an injury on Jones's touchdown run, but the Indians persevered behind Domonique Thomas. The senior running back led the Indians on a 12-play, 85-yard drive in which he scored on his own 1-yard run. With 7:15 remaining in the game, the score was tied at 14.
 
Collinsville answered behind its work horse. From his own 38, Jones ran for 53 yards in five plays. On the sixth play, he hit Dalton Hughes for a 9-yard touchdown to put the Panthers back out in front 21-14 with 4:17 to go.
 
"I told Kaleb I was going out and coming back in," Hughes said. "He hit me right on the pads. It was a perfect play. Our blocking was great. Everything was great on that play."
 
"To be honest with you, the best player on the field tonight was No. 12 (Jones)," Martin said. "If you take 12 out, can they win that game? He rushed for a ton. Every time they needed a play, he made one. That's why he was all-state last year and I'm sure he'll be all-state again this year."
 
Jones performance spoiled a terrific outing from Ohatchee's Thomas. He carried the ball 41 times for 194 yards and a touchdown in his final high school game.
 
"Phenomenal; one of the best players I've ever coached," Martin said of Thomas. "He tried to put the team on his shoulders again tonight. I was going to give him every opportunity because you don't go down not making sure your best player gets a chance to win the football game."
 
"The kids really wanted this game," Collinsville head coach Ernie Willingham said. "That's all we had in mind playing this game. We've been at the hump, had a great year last year and thought we shouldn't have lost when we did. All these kids played last year and they remember that. They didn't want to lose."
 
Shannnon Fagan is sports editor of the Cherokee County Herald.