Bedlam on The Hill
Wellborn knocks off No. 1 Piedmont to grab a piece of region championship; Piedmont still grabs No. 1 seed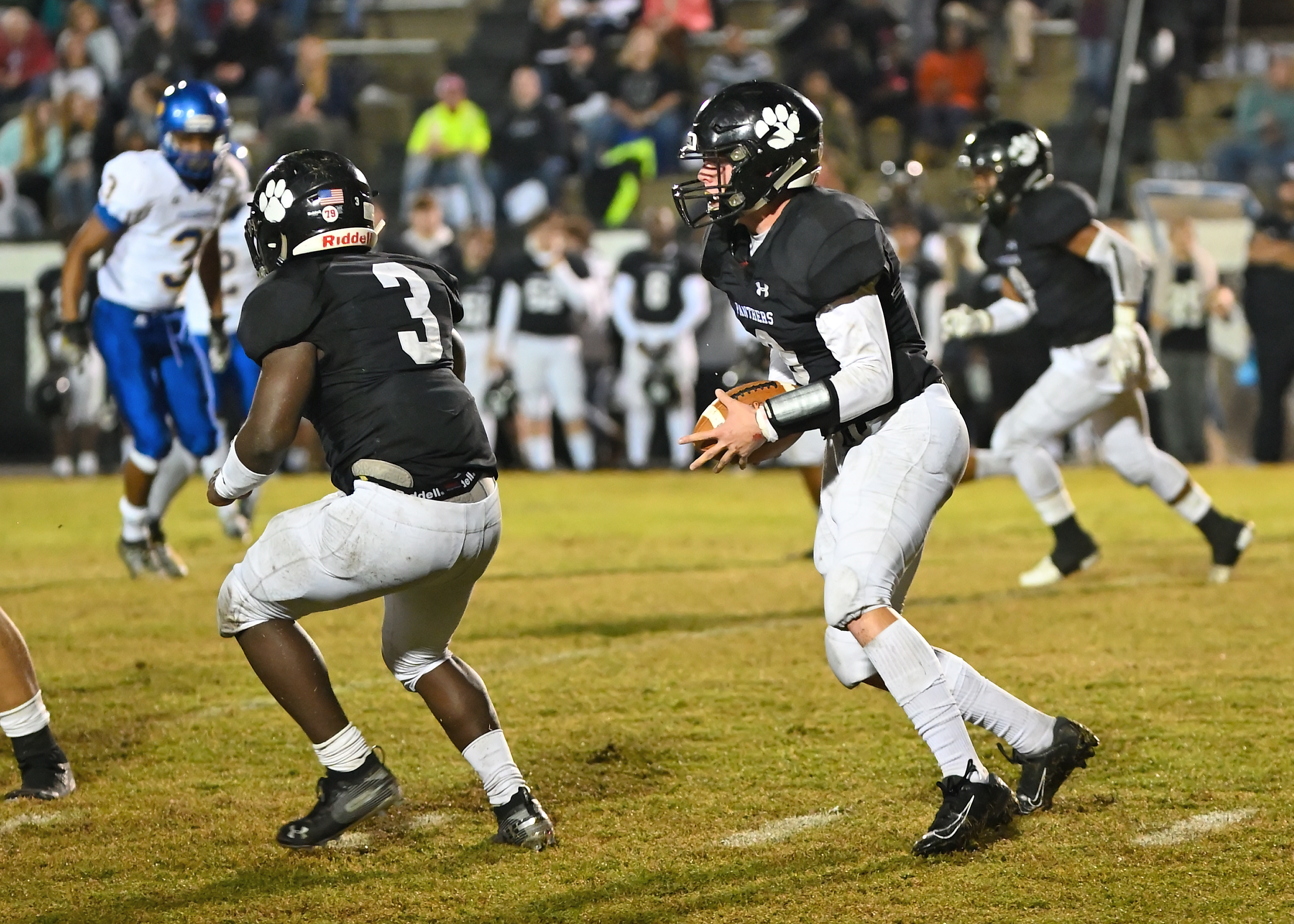 By Al Muskewitz
East Alabama Sports Today

Jett Smith was the last Wellborn player to make it back to the locker room and this party wasn't going to get started until everyone was in the room.

There was already a wild scene outside the fieldhouse, starting with the players going into the stands to celebrate with their fans after knocking off No. 1 Piedmont 40-35 to grab a share of the Class 3A Region 6 title.

When Smith finally made it down the steps the Wellborn quarterback was greeted with hugs, cheers and chants of "MVP, MVP, MVP." After all, he did rush for 92 yards and account for four touchdowns three ways.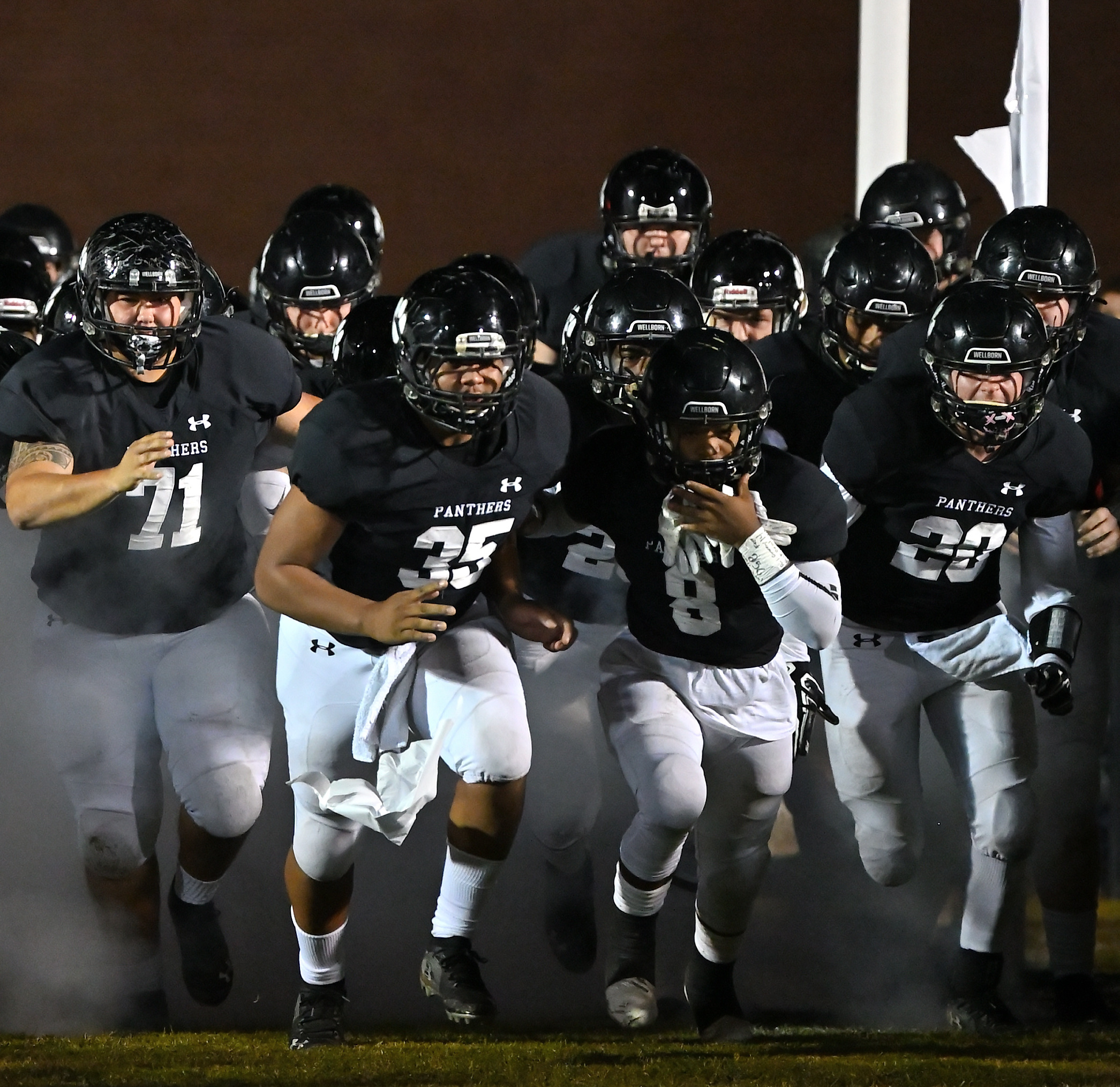 But while he may have orchestrated the win and scored one of the most bizarre touchdowns of the year in it, head coach Jeff Smith reminded his players – and his quarterback/son agreed – it was a family affair that produced one of the biggest wins in the program's modern history.

"This is huge for this community," Jeff Smith said. "I grew up out here myself and when this team does good, this community does good, and when the team don't, the community don't. Football is something we've all been proud of all these years and I'm just so thankful we were able to give it to everybody."

The Panthers (9-1, 6-1) hadn't beaten a No. 1 ranked team since 1995 (Anniston); they had lost their last six to the top-ranked team and were 1-9 all-time. The year 1995 was significant for several reasons: it was the last time they started 9-1 and the last time they had a region championship.

This also was the first time Wellborn had beaten the Bulldogs since 1971, the last year of a long-running rivalry that only resumed in 2008 and hasn't been played regularly again until 2014.

"I'm really speechless," Jeff Smith said. "Our players just played so hard and I couldn't be prouder to be their coach right now."

The win left the region into a three-way tie for first place among Wellborn, Piedmont (8-1) and Randolph County (8-1) – three "really quality teams" Piedmont coach Steve Smith believes "has a great chance to go deep in the playoffs" – all finish 6-1 in region play.

Despite the defeat, Piedmont will be the region's No. 1 seed. Wellborn will be No. 3 and will open the playoffs on the road at Locust Fork.

"It don't matter to me," Smith said. "If we've got to travel, we've got to travel, but the fact of the matter is we beat Piedmont, Piedmont beat Randolph County, Randolph County beats us, so then size it up. It goes to defeated opponents' wins and whoever ends up with the most is the 1 seed, 2 seed, 3 seed, but we all tied for the region championship."

Smith made that point abundantly clear to his players in the dressing room once everybody got into the room.

This game was playoff quality; Jeff Smith likened it to an SEC West game. There were six lead changesafter Wellborn opened the scoring on Calvin Spinks' 16-yard run two minutes into the game.

One of the most bizarre plays of the season – a 43-yard return by Jett Smith of a live punt behind the line of scrimmage – staked the Panthers to a 21-8 lead in the first quarter. The Bulldogs hit a crooked punt that didn't cross the line of scrimmage. Piedmont's Parker Thornton picked up the ball appearing to down it and was looking for an official to hand it over, but it was a live ball the entire time.

With players and ball boys on the field – and no whistle stopping play — Smith came up behind Thornton, knocked the ball loose, scooped it up and dashed to the end zone. After a brief conference, the officials ruled it a touchdown.

"Jett is such a heady player and he pays such attention to the details it doesn't surprise me he did that, it really doesn't," Jeff Smith said. "We had a similar play like that at B.B. Comer that they blew dead when the center picked the ball up and he took it away from him and scored. He's just so alert and it paid off."

"I didn't want to go and just hit him and the play stop right there when I could have made it into a bigger play," Jett Smith said. "You know what they say, you don't stop until the whistle blows and the whistle didn't blow and I just kept my head alert. Heads up play, I guess."

"I can't say I've ever seen anything like that," Piedmont's Smith said. "Our player got the ball and tried to hand the ball to the official. We had managers from both teams coming on and off the field. There were probably 15-16 players from both sides coming off and on. That's one that's kind of beyond me as far as what should have happened in that situation. I'm not certain enough about the enforcement to say one way or the other. I know there was a lot of people on the field for both teams moving on and off and all of a sudden we had a play again."
.
Smith also scored on runs of 7 and 3 yards and threw a touchdown pass.

The Bulldogs came back from the crazy play to take a 22-21 lead on back-to-back Jack Hayes touchdown passes to Silas Thompson in the final three minutes of the half. Hayes was 19-of-26 for 206 yards and four touchdowns; he also rushed for 91 yards. Thompson caught eight passes for 95 yards.

But as was the pattern of the game Wellborn answered on a 33-yard touchdown pass to Logan Hill with 1:07 left in the second quarter for a 28-22 halftime lead.

The Bulldogs went back up 29-28 on Elijah Johnson's 3-yard run, the only touchdown of the third quarter. Wellborn answered again, and this time put in motion the sequence that gave it the lead for good.

Smith scored on a 3-yard run to put the Panthers up 34-29 with 10:03 to play. Hayes lost his grip on the ball on Piedmont's next offensive snap and Wellborn's Tae Traylor recovered for what he called "one of the biggest plays of my career." Moments later, Kentrez Hunt scored from 13 yards out and the Panthers lead was 40-29.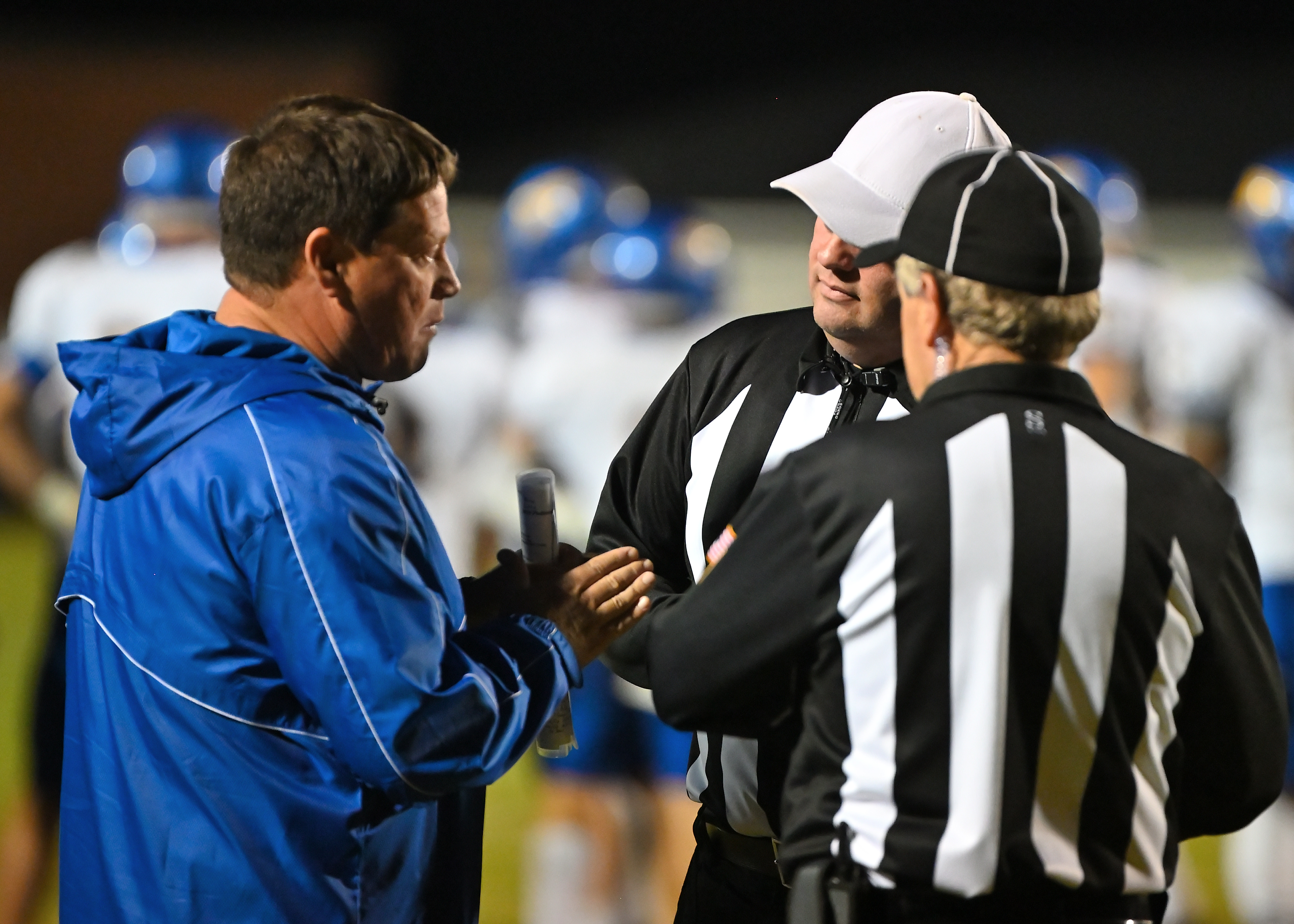 "That was a nice recovery," Traylor said. "I felt like when I did that it was a momentum changer. When I did that, I felt it was our way. I knew it was destined for us to win the game when that happened."

Piedmont wasn't done and Jeff Smith knew it. Hayes drove his team 66 yards and hit Max Hanson with a 4-yard pass to get it within 40-35 with 1:35 to play. The Panthers recovered the anticipated onsides kick that made it through the wall and ran out the clock.

"It was a great opponent tonight, a great environment and we just came up short tonight," Steve Smith said. "We've got to do more to be able to win the game. We just didn't do enough and they did. Hats off to them."

"That's a good team we just beat, a very good team we just beat," Traylor said. "My team showing me we beat them, our team beating them, I feel there's no telling how far we can go. We can go all the way. Beating the No. 1 team in the state being No. 9, coming into the game nobody believed we would win. Nobody. Everybody was against besides our crowd out there. All praises to God that we won."

Jeff Smith wanted to set the record straight on one rumor right off the bat. The Panthers were one of the few teams in the county and around the state not to move this game to Thursday over the threat on inclement weather that never arrived after kickoff.

Smith said the reason they didn't move the game wasn't because of some gamesmanship related to the weather but rather his team needed a full and complete week of preparation for the Bulldogs.

"We could not play Piedmont on six day's preparation; we had to have a full week to play them," Jeff Smith said. "They do a lot of stuff and do a lot of stuff well. You had to have the players prepared for it and we had to have a full week to prepare. That was my whole thinking. It really had nothing to do with weather. It was just to make sure we had the prepared for this."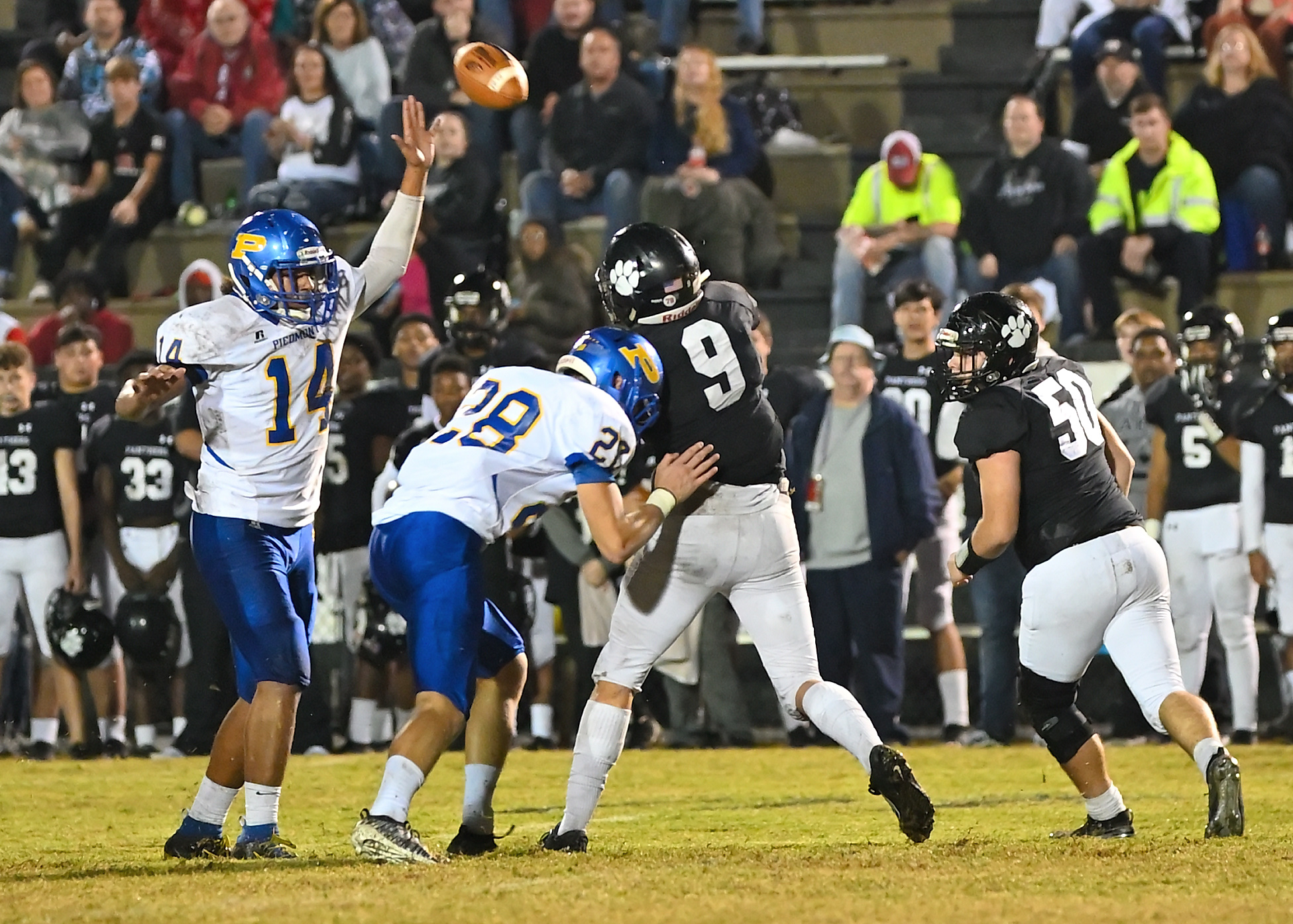 To see a gallery of photos from the game click on this link: www.bjfranklin.smugmug.com
| | | |
| --- | --- | --- |
| Pied (35) | | Well (40) |
| 16 | 1st D | 17 |
| 28-120 | Rush | 44-225 |
| 19-29-0 | C-A-I | 3-6-0 |
| 206 | Pass | 77 |
| 2-2 | F-L | 1-1 |
| 2-7.0 | Punts | 2-27.5 |
| 8-33 | Pens | 6-32 |

Piedmont 8 14 7 6 – 35
Wellborn 21 7 0 12 – 40
Scoring plays
W – Calvin Spinks 16 run (Brandon Morales Ramirez kick), 10:07 1Q
P – Austin Estes 47 pass from Jack Hayes (Jack Hayes run), 6:51 1Q
W – Jett Smith 7 run (Brandon Morales Ramirez kick), 2:38 1Q
W – Jett Smith 43 punt return (Brandon Morales Ramirez kick), 40.3 1Q
P – Silas Thompson 35 pass from Jack Hayes (kick failed), 8:00 2Q
P – Silas Thompson 7 pass from Jack Hayes (Sean Smith pass from Jack Hayes), 3:07 2Q
W – Logan Hill 33 pass from Jett Smith (Brandon Morales Ramirez kick), 1:07 2Q
P – Elijah Johnson 3 run (Bryce Mohon kick), 7:18 3Q
W – Jett Smith 3 run (kick failed), 10:03 4Q
W – Kentrez Hunt 13 run (run failed), 8:59 4Q
P – Max Hanson 4 pass from Jack Hayes (pass failed), 1:35 4Q