Region champs
Jacksonville clobbers White Plains 40-14 to win second straight region championship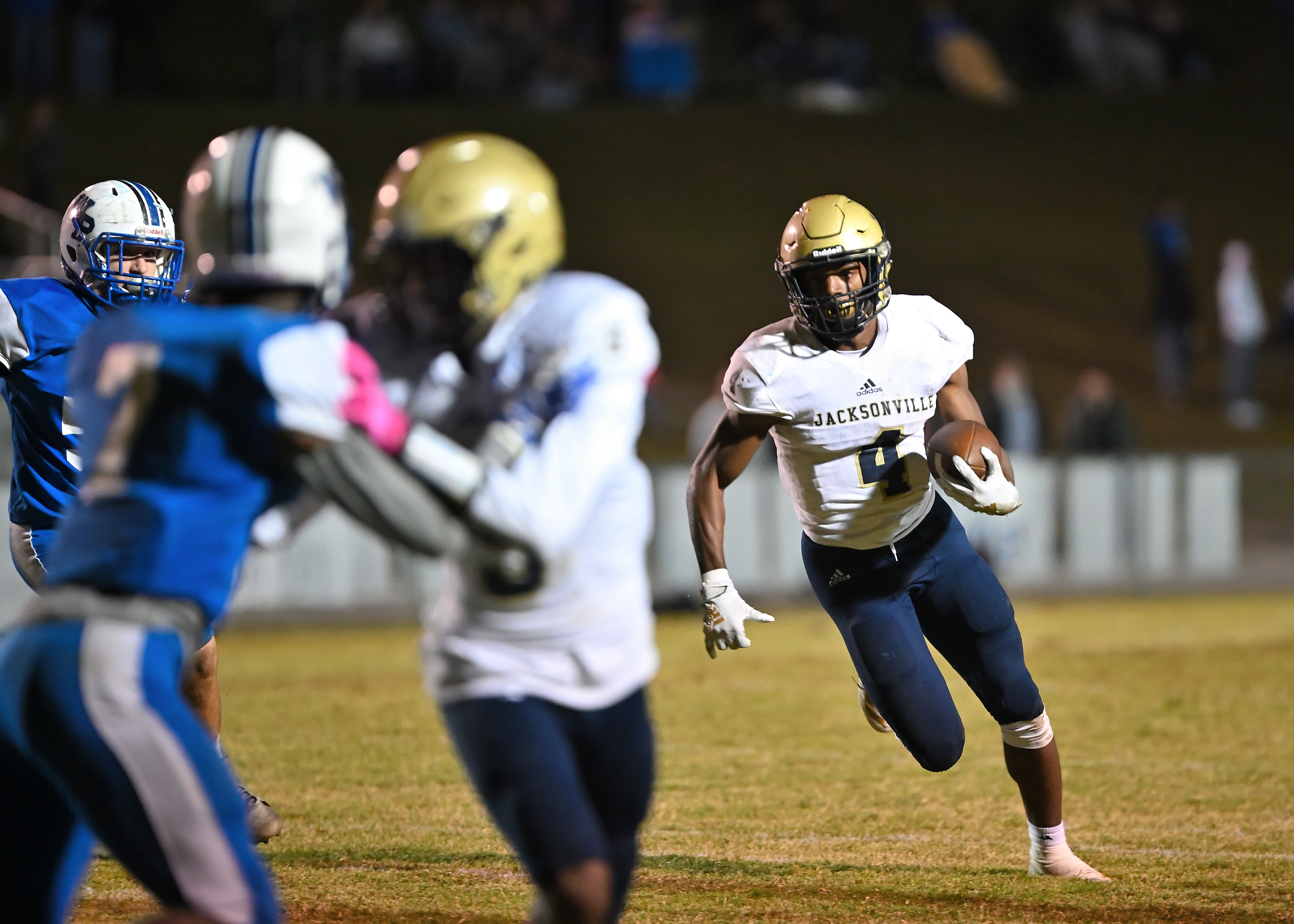 By Brant Locklier
For East Alabama Sports Today
 
For the first time in history Jacksonville Golden Eagles fans can say back-to-back region championships. This one comes on the heels of their 40-14 victory over improved White Plains Thursday night for the Class 4A Region 6 title.
 
The Golden Eagles (6-2, 6-0), who've won four region titles in school history, have one game left next week against Hokes Bluff and even with a loss they would still own the tie-breaker over Anniston (4-1) and Oneonta (4-1).

They have won 19 region games in a row.

"I am proud for our kids, our coaches and our community. It took a while to get going tonight and give some credit to White Plains for that," said Jacksonville head coach Clint Smith. "We need to finish off our region schedule next week and we will have a week off to get ready for the play-offs." 
 
That first-round opponent appears to be either Haleyville (3-4) or Cordova (2-5) at home.
 
Ron Wiggins scored three touchdowns and Jaeden Barksdale scored two for the Golden Eagles and Jacksonville's defense held the Wildcats (3-5, 2-4) off the scoreboard until the fourth quarter.
 
The Golden Eagles made it 7-0 all-time against the Wildcats.
 
They used a suffocating defense to build a 27-0 halftime lead, while Wiggins and Barksdale scored two touchdowns apiece.
 
White Plains opened the game with a successful onside kick and picked up a couple of first downs before being stopped.

Jacksonville roared down the field in just four plays and scored on a 9-yard burst by Wiggins. The Wildcats put together another short drive and chewed up most of the first quarter clock before having to punt.

Wiggins scored on an 18-yard run and then was the lead blocker going down the field on a 58-yard reverse by Barksdale for a score. Barksdale then hauled in a 40-yard pass from Luke Jackson late in the second quarter for the halftime lead.
 
Jae Taj Morris scored on a 6-yard run and Wiggins picked up his third touchdown on a 9-yard run.

Wiggins ended the night with 103 yards on just 12 carries and to add to his massive totals already this year.
 
"I give credit to the offensive line and the defense for helping us out tonight," Wiggins said. "I just want try to play like Alvin Kamara of the Saints and help my team win a championship."
 
"(Wiggins) is a great back," Smith said. "He works hard and our offensive line just keeps getting better each week."
 
The Jacksonville defense held White Plains to minus-24 yards on the ground before exiting in the fourth quarter. The Wildcats showed no quit as they score twice in the last seven minutes. Quarterback Jaden Chatman threw a 29-yard touchdown pass to Teddy Hall and set himself up for a 1-yard score with a 65-yard run from scrimmage.
 
Chatman ended up with 50 yards rushing on 19 carries, but was sacked 9 times by the quick Golden Eagles defense. He also threw for 106 yards.
 
"Our defense played very well in the first half," Smith said. "They got the job done tonight."
 
Smith and the Golden Eagles have more milestones to reach next week as they host Hokes Bluff. The Golden Eagles will be going after their 400th win in school history, while Smith will be going after win No. 100 in AHSAA play. Smith also won 19 games of eight-man football while coaching Trinity in Oxford.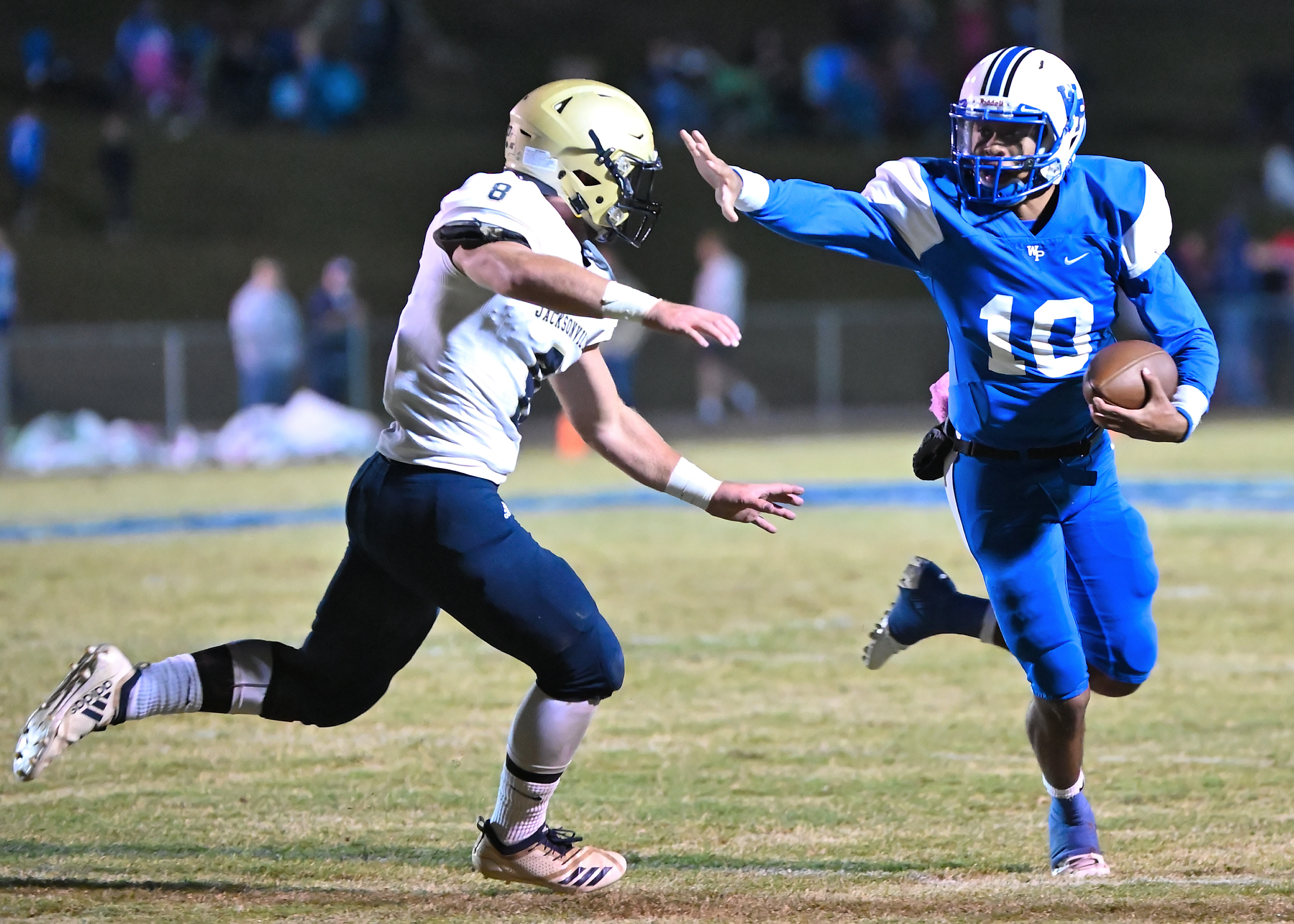 | | | |
| --- | --- | --- |
| Jax (40) | | WP (14) |
| 15 | 1st D | 11 |
| 31-214 | Rush | 38-104 |
| 8-15-0 | C-A-I | 10-19-1 |
| 108 | Pass | 106 |
| 1-1 | Fum-Lost | 1-1 |
| 3-42.0 | Punts | 7-28.3 |
| 12-81 | Penalty | 11-94 |

Jacksonville  7  20 13  0  –  40
White Plains 0   0   0  14 –  14
Scoring Plays
J – Ron Wiggins 6 run (Mason Terrell kick), 8:33 1Q
J – Ron Wiggins 18 run (Mason Terrell kick), 10:39 2Q
J – Jaeden Barksdale 58 run (kick failed), 7:56 2Q
J – Jaeden Barkdale 40 pass from Luke Jackson (Mason Terrell kick), 1:06 2Q
J – Jae-Taj Morris 2 run (Mason Terrell kick), 4:37 3Q
J – Ron Wiggins 9 run (kick failed), 1:47 3Q
W – Teddy Hall 29 pass from Jaden Chatman (kick failed), 6:29 4Q
W – Jaden Chatman 1 run (Rico Aguirre pass from Jaden Chatman), 2:26 4Q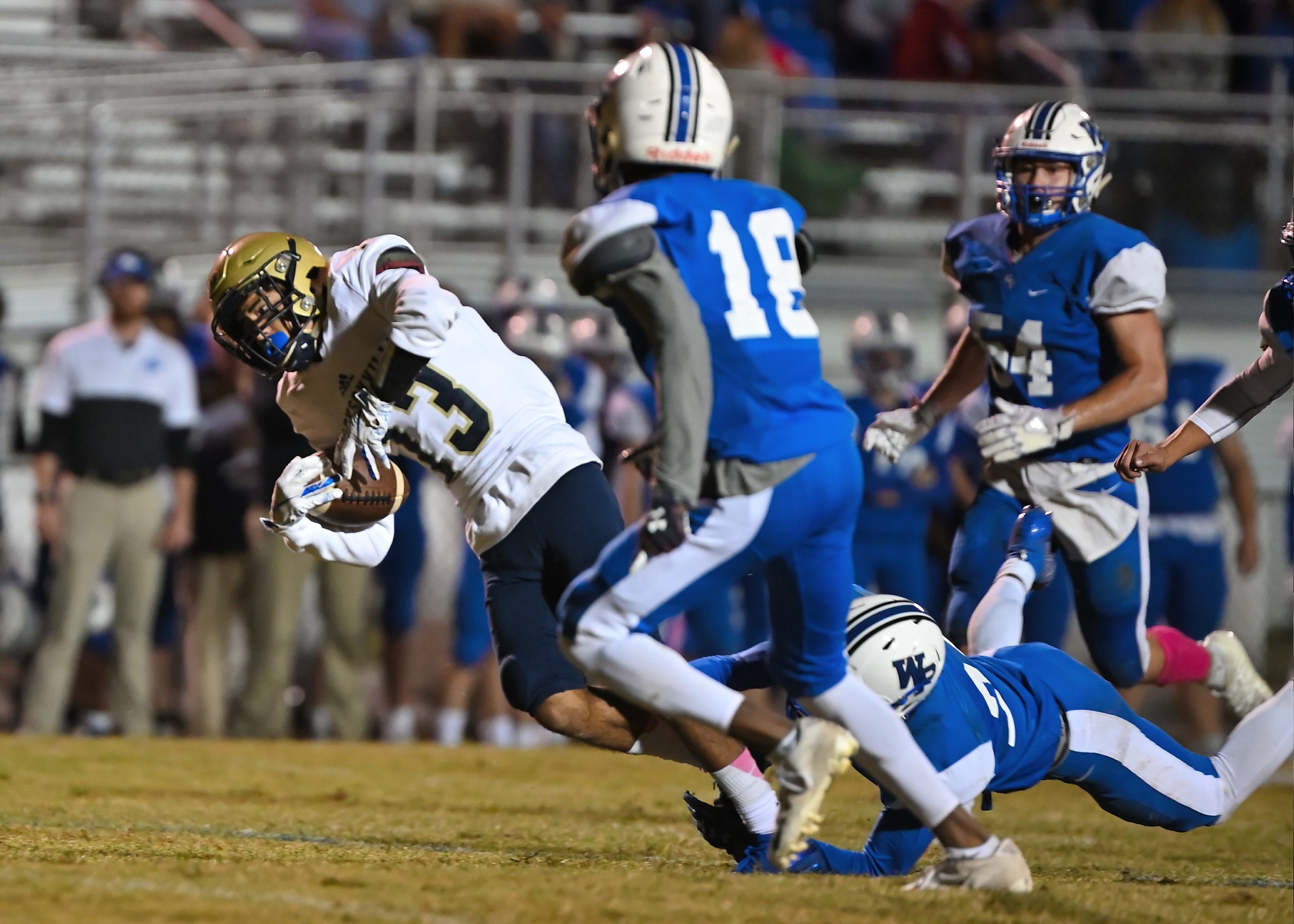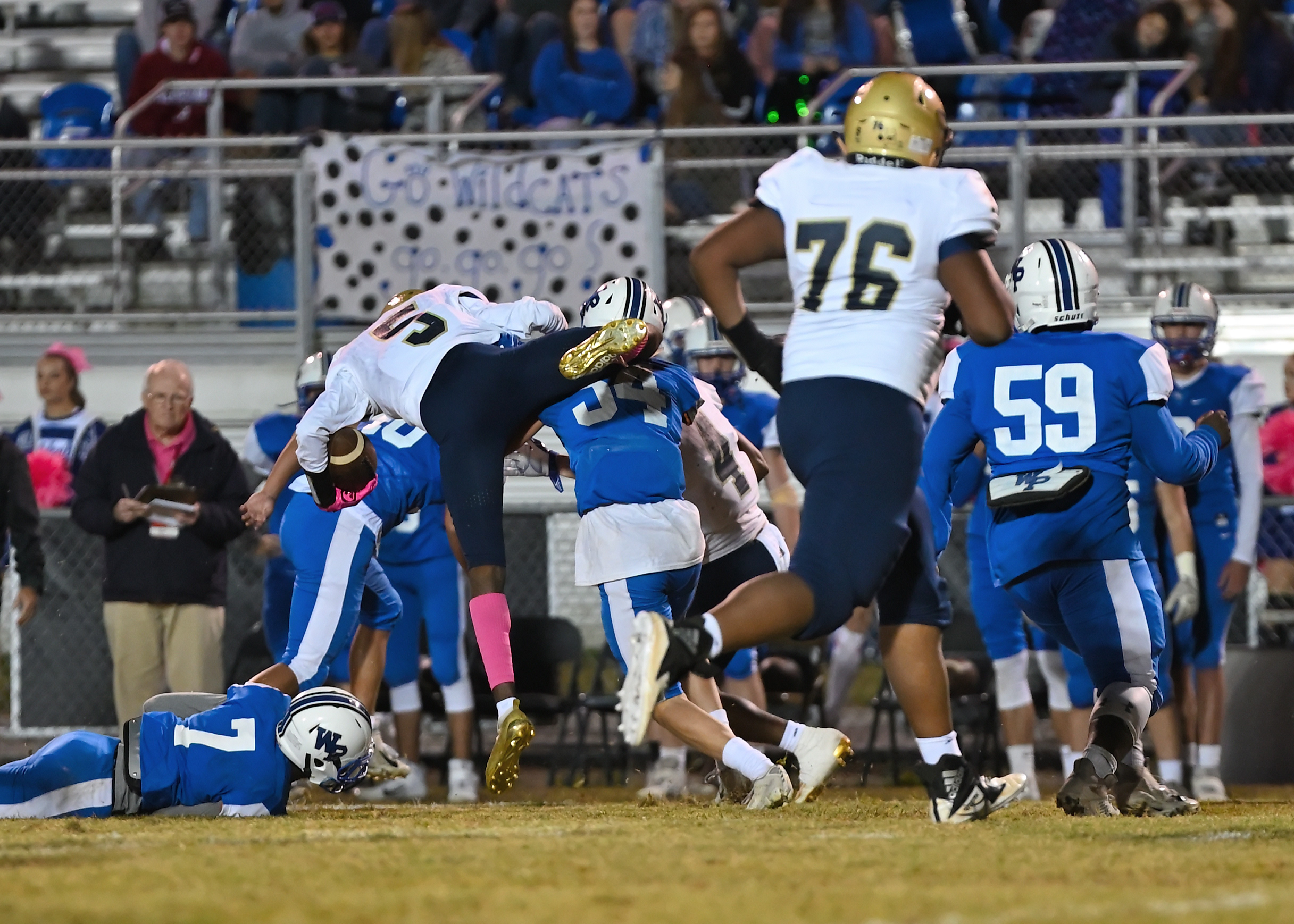 To see more of B.J. Franklin's photos from the game click on this link: www.bjfranklin.smugmug.com