Piedmont perfect
Roundup: Bulldogs celebrate No. 1 status with rout of Glencoe; PV falls in closing seconds, Miller becomes Saks' all-time winningest coach

By East Alabama Sports Today

PIEDMONT —Piedmont celebrated its return to the No. 1 ranking in Class 3A with a dominating 64-7 win over Glencoe to gain sole possession of first place in the region.

The Bulldogs, who moved to No. 1 for the first time since the final 2018 poll this week, rolled up 382 yards of offense and held the winless Yellow Jackets to 18 yards net (minus-29 rushing).

Jack Hayes threw three touchdown passes to three different receivers, speedy Austin Estes scored touchdowns three different ways and freshman Cody Holloway scored two touchdowns as the Bulldogs spread the wealth around.

The Bulldogs (7-0, 5-0) took sole possession of the region lead when Randolph County beat Wellborn in Anniston on a field goal with four seconds to play. They are now the only undefeated team in region play.

Hayes threw touchdown passes to Estes and Elijah Johnson in the first quarter and one to Max Hanson in the second. He was 6-of-10 passing for 133 yards in the game.

Austin scored the first two touchdowns of a 28-point second quarter on a 34-yard run and a 55-yard punt return. Holloway gave the Bulldogs a 42-0 halftime lead with a 15-yard run and scored the first touchdown of the second half on a 10-yard run.

Brayden Morgan had a touchdown in the third quarter, Justin Dedmon had one in the fourth and the Bulldogs concluded their scoring on a safety when a Glencoe snap went through the end zone. The Yellow Jackets avoided being shut out on quarterback Tristen Cox' 1-yard sneak with 3:48 to play.

It was Piedmont's 11thstraight regular-season win and sixth in a row over Glencoe. The 64 points were the most the Bulldogs had scored in the series, topping the 61 they put on the Jackets in 2017. Glencoe has lost 21 straight region games.
| | | |
| --- | --- | --- |
| Glen (7) | | Pied (64) |
| 1 | 1st Down | 15 |
| (-29) | Rushing | 249 |
| 4-13-1 | C-A-I | 6-10-0 |
| 47 | Passing | 133 |
| 2-1 | Fum-lost | 3-3 |
| 9-21-2 | Punts | 3-35.7 |
| 3-20 | Penalty | 9-60 |
Glencoe 0 0 0 7 – 7
Piedmont 14 28 14 8 – 64
Scoring plays
P – Austin Estes 31 pass from Jack Hayes (Bryce Mohon kick), 8:02 1Q
P – Elijah Johnson 19 pass from Jack Hayes (Bryce Mohon kick), 6:08 1Q
P – Austin Estes 24 run (Bryce Mohon kick), 9:43 2Q
P – Austin Estes 55 punt return (Bryce Mohon kick), 7:16 2Q
P – Max Hanson 39 pass from Jack Hayes (Bryce Mohon kick), 5:35 2Q
P – Cody Holloway 15 run (Bryce Mohon kick), 0:37 2Q
P – Cody Holloway 10 run (Sloan Smith kick), 8:35 3Q
P – Brayden Morgan 22 run (Sloan Smith kick), 7:55 3Q
P – Justin Dedmon 2 run (kick failed), 11:53 4Q
P – Safety, snap through end zone, 9:52 4Q
G – Tristen Cox 1 run (PAT good), 3:48 4Q
B.B. Comer 20, Pleasant Valley 19
JACKSONVILLE – The Tigers scored a touchdown and two-point conversion in the final 10 seconds to spoil PV's Homecoming and a chance to clinch its first playoff spot since 2010.

The Raiders (5-2) appeared to have sealed the milestone victory when Colton East went for a 50-yard touchdown with 46 seconds to play, but they missed the two-point conversion and it was a seven-point game. The Tigers got to the 5 with a Hail Mary pass and then threw a touchdown pass.

East also had a 56-yard touchdown run late in the third quarter and a 70-yard touchdown with seven minutes left in the first quarter to open the scoring.

PV remains in fourth place in the Class 3A Region 6 standings, a game behind Wellborn and Randolph County (their next two opponents) and a game ahead of Comer and Saks. The Raiders had won four in a row.
Alexandria 41, Southside 20
Alexandria used several big plays to score or set up scores and put itself in position to take control of Class 5A Region 6 next week at Etowah.

The Valley Cubs (6-0, 4-0) led 28-13 at halftime. Eighth-grader Ronnie Royal had a 77-yard run to set up Nate McCallum's 3-yard touchdown and later had touchdown runs of 36 and 35 yards of his own. Antonio Ross scored on a 73-yard run and McCallum threw an 80-yard TD pass to Dustin Warren.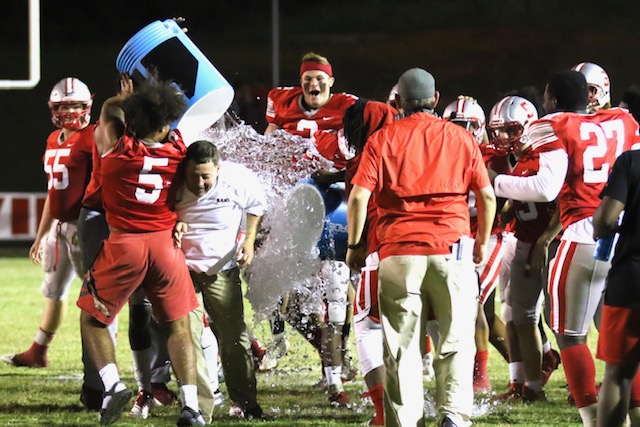 Saks 62, Weaver 14
Jonathan Miller became the winningest football coach in Saks history with his 71st victory in the Wildcats' most prolific scoring game of the season.
 
Miller, 71-21 in his eighth season with the Wildcats, surpassed legendary Jack Stewart for most coaching wins in Saks history. Stewart was 70-40-4 in a tenure that ran from 1966 to 1977. The Wildcats' football stadium bears his name.
 
Miller tied Stewart on Sept. 6, but the Wildcats had lost three in a row since. The 62 points are the most they've scored in a game since scoring 63 in back-to-back contests against Jacksonville and LaFayette in 2015.
Hokes Bluff 43, Cleburne County 0
HEFLIN – Ashton Gulledge scored three touchdowns, accounted for four and Darrian Meads returned to form with 203 yards rushing and two touchdowns.
 
Gulledge ran for three touchdowns and passed for another – all in the first half. Meads accounted for the other two touchdowns on runs of 19 and 28 yards.
 
Hokes Bluff held the Tigers to 112 yards of net offense. 8 had nearly half of it with a team-leading 51 yards rushing.
 
The Eagles (5-2, 3-2) have won three in a row since being shut out for the first time since 2011 at home by Anniston. They've outscored their opponents 113-20 in those three games.

Cleburne County (1-7, 0-5) has lost seven in a row since winning its opener against Weaver.
| | | |
| --- | --- | --- |
| HB (43) | | Cleb (0) |
| 20 | 1st D | 4 |
| 42-370 | Rushing | 33-99 |
| 4-5-0 | C-A-I | 1-7-2 |
| 64 | Passing | 13 |
| 0-0 | Fum-lost | 0-0 |
| 2-35.0 | Punts | 7-32.4 |
| 4-25 | Penalty | 5-30 |
Hokes Bluff    14  22 7  0  –  43
Cleburne Co.   0     0  0  0  –   0
Scoring plays
HB – Ashton Gulledge 27 run (Jadan Burns kick), 4:26 1Q
HB – Ashton Gulledge 1 run (Jadan Burns kick), 1:59 1Q
HB – Darrian Meads 19 run (Tristin Billingsley pass from Ashton Gulledge), 9:11 2Q
HB – Ashton Gulledge 1 run (Jadan Burns kick), 4:50 2Q
HB – Jalen Robinson 23 pass from Ashton Gulledge (Jadan Burns kick), 1:25 2Q
HB – Darrian Meads 28 run (Jadan Burns kick), 11:14 3Q