It's Sauter; no, Boyd
NASCAR hands Boyd first career win after stripping Sauter of Sugarlands Shine 250 victory for blocking below the yellow line on last lap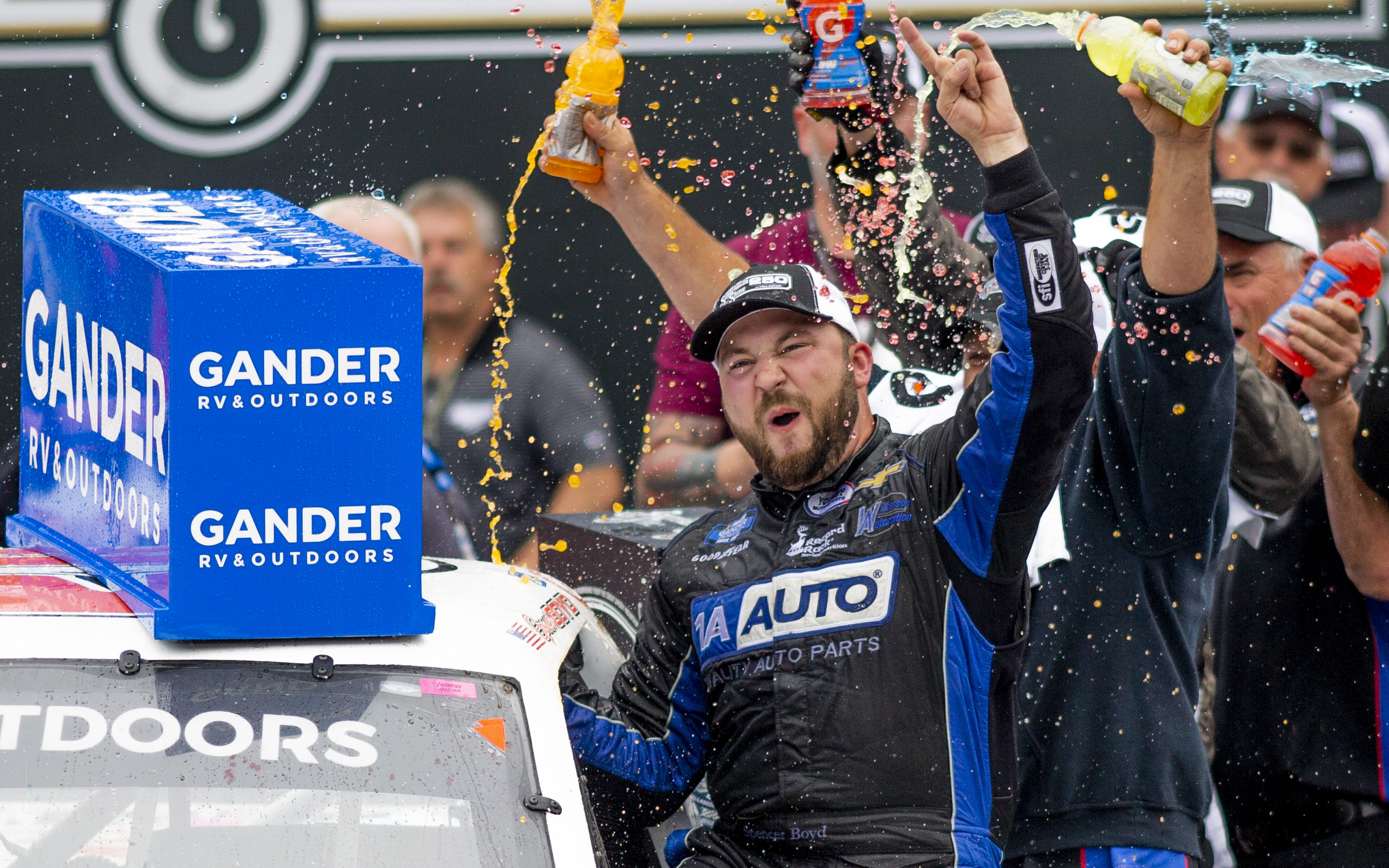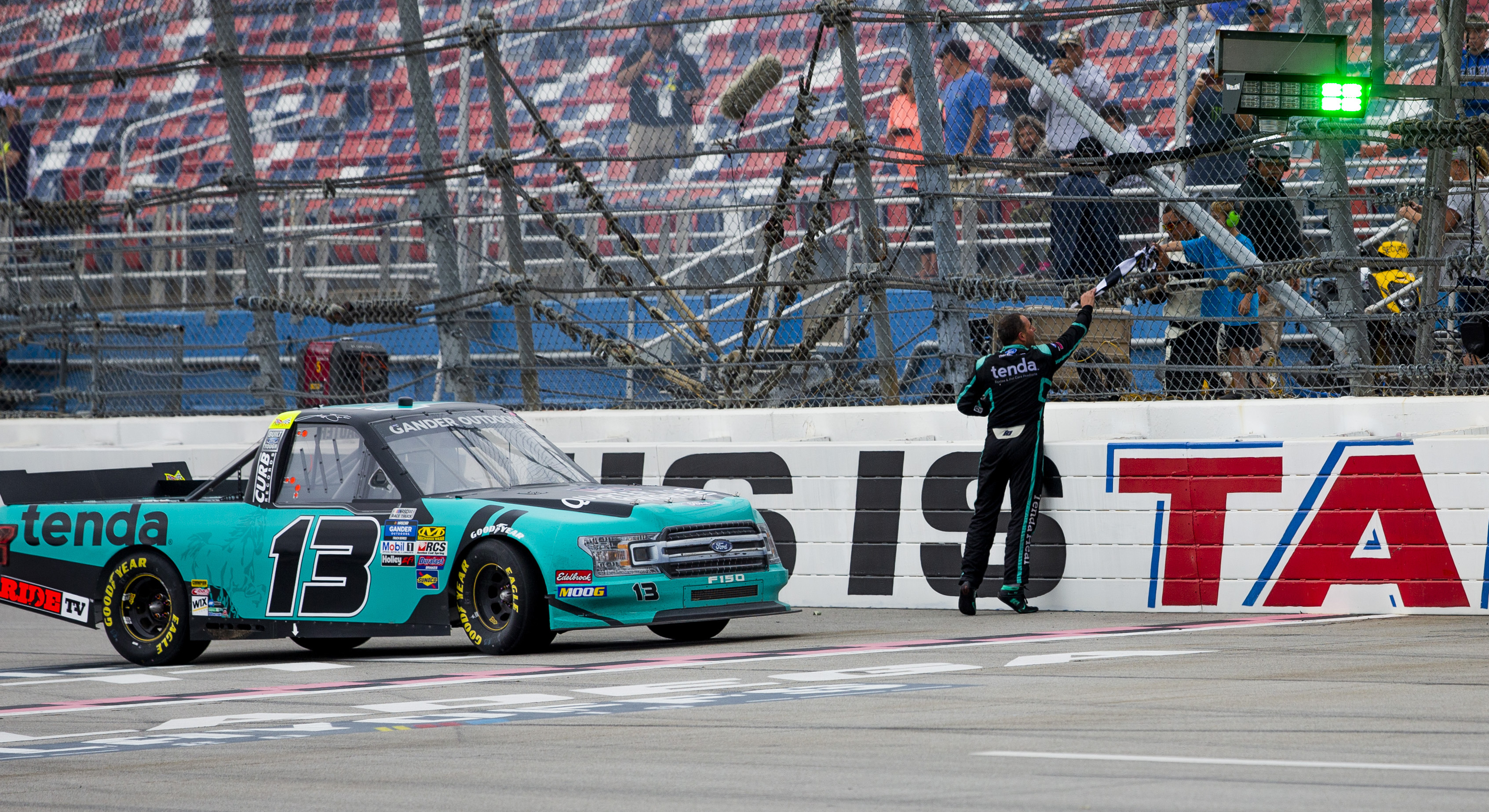 By Al Muskewitz
East Alabama Sports Today

TALLADEGA – Spencer Boyd was going to be over the moon with what he thought was a second-place finish when the Sugarlands Shine 250 truck series race at Talladega Superspeedway ended Saturday afternoon.

But, hey, this is NASCAR. Just wait a minute, things will change.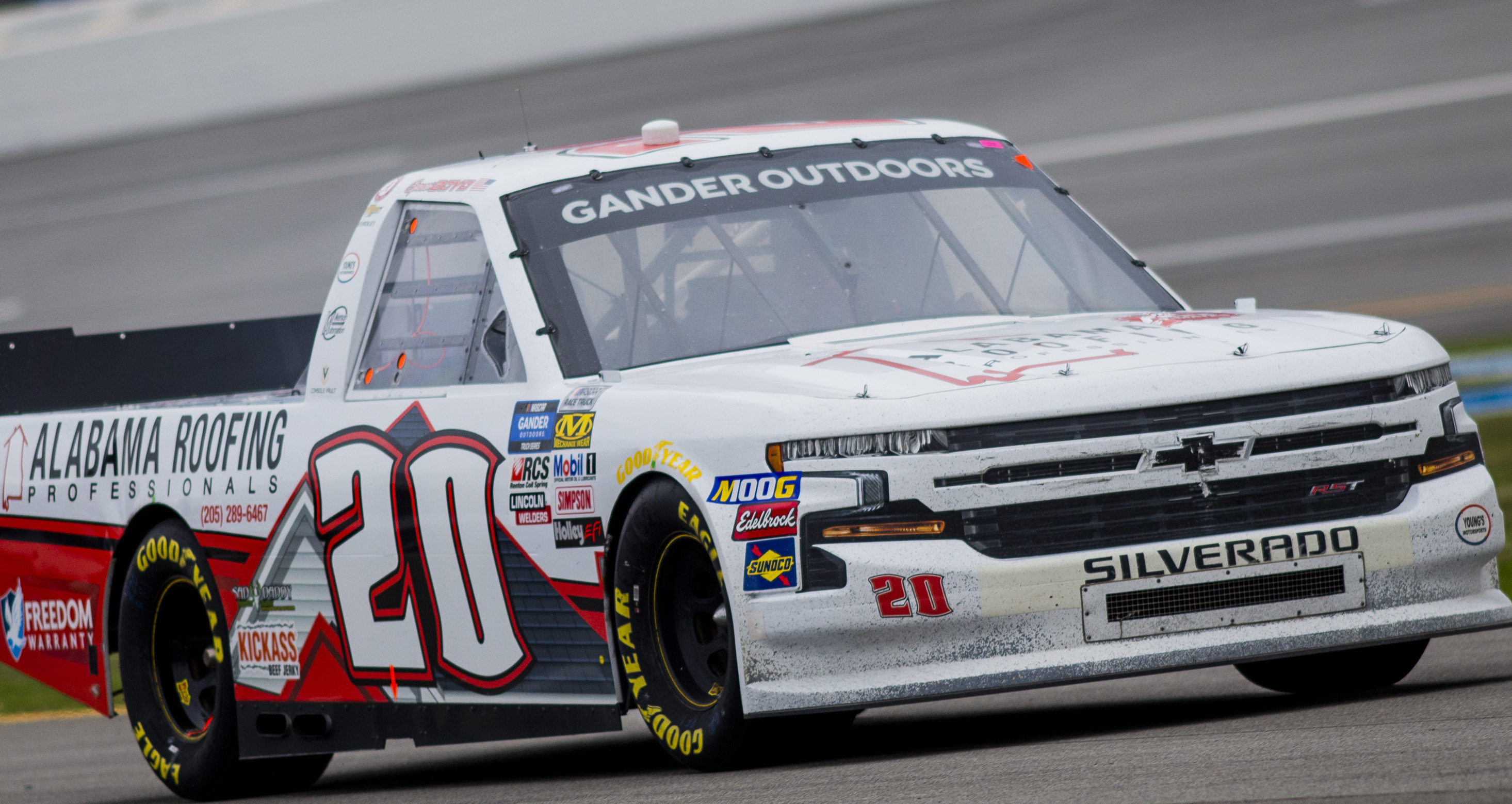 A few minutes later, after Johnny Sauter completed his round of burnouts as the perceived winner of the race, NASCAR declared Boyd the winner – handing the 24-year-old his first career win in just his second truck start at Talladega – in yet another bizarre finish at Talladega.

Sauter did take the checkered flag – literally – but he was penalized, NASCAR ruled, for protecting his lead by going below the double yellow line. After a brief but immediate review, race officials declared Boyd the winner.

"One of my crew guys ran up and was like, 'Great job, you just won the race,' I couldn't believe it," Boyd said in Victory Lane before hustling right back out to qualify for Sunday's 1000Bulbs.com 500 Cup race. "I was excited for our small team finishing second – we bested our finish of fourth at Daytona – and then one of our guys said we won. I was in shock.

"It's one of those things you take the W as you can get them. The first victory is pretty sweet coming at Talladega. Two weeks ago, I wasn't running this race. I had no idea what to expect. We put this together late. You dream of winning a NASCAR race. Four years ago, I was selling cars with my dad."

Sauter had taken the white flag in another Talladega overtime race and appeared to be headed for Ford's 100th career truck series win. As the leaders raced to the finish, Riley Herbst made his move low on the inside.

Sauter slid down there, too, and the cars dipped below the yellow line – and not by a little. Boyd stayed in his outside lane and raced past them as they roared to the finish line. Word of an inquiry drifting through the crowd almost immediately after the checkered flag fell. After a few anxious moments Sauter was stripped of the win and Boyd was looking for directions to the track's new $50 million Victory Lane.

In his defense, Sauter said he was hooked and called the decision to take the win away "a garbage call." NASCAR officials said the rules are clear and the yellow line violation is one of the strictest enforced. NASCAR vice president of competition Scott Miller said this violation was "pretty clear cut."

"It ain't the first one NASCAR has taken from me," Sauter said. "I didn't block his advance or anything like that. If I remember I think Tony Stewart and Regan Smith had the same deal (in a Cup race) a few years back.

"You do what you thought was right. It is what it is, man. It's … whatever. We did what we thought was right to win the race. Whatever. You got rules, you got rules, I guess."

The restart was created after Gus Dean slammed head-on into the wall with four laps to go.

On the last lap Boyd was racing behind the leaders alongside Todd Gilliland and Herbst. He saw what was happening in front of him and wanted to stay in their wake, focusing on a top 10 finish and maybe stealing it from them at the end. Finally, when the leaders made their moves Boyd was in the right place at the right time.

"They were disrupting the air a lot," he said. "I got this huge run and was like do I push the 51? I kind of got up on them and I felt a surge and was like forget it, I'm just gonna pull out and try to pass. I wouldn't be able to sleep if I just pushed him to the win. It worked out in our favor.

"We know this racing is a lot about luck at these speedways and I've been lucky this year, so I'll take it."

The Dean incident came shortly after the second red-flag stoppage of the day, this time for race leader Ross Chastain's self-inflicted accident that knocked him out of the race.

Chastain was at the front of a tight pack with eight laps to go. Sheldon Creed tried to make a run up the middle, Chastain went down to block, but didn't get there in time. There appeared to be a bump, Chastain got a little loose and mayhem ensued.

"I'm not going to sit here and quarterback it back," Chastain said. "I definitely turned left; sorry to everybody who got taken out. That was on me. That was poor execution on my part."

Sauter relegated to the last car on the lead lap and a 14th-place finish. Gilliland was declared the runner-up with Herbst third. Brett Moffitt and Stewart Friesen, the top two drivers in the points standings, finished fourth and fifth, respectively, fighting back onto the lead lap after a pass-through penalty for locking bumpers that took them from leading the race with 42 laps left to 25th place.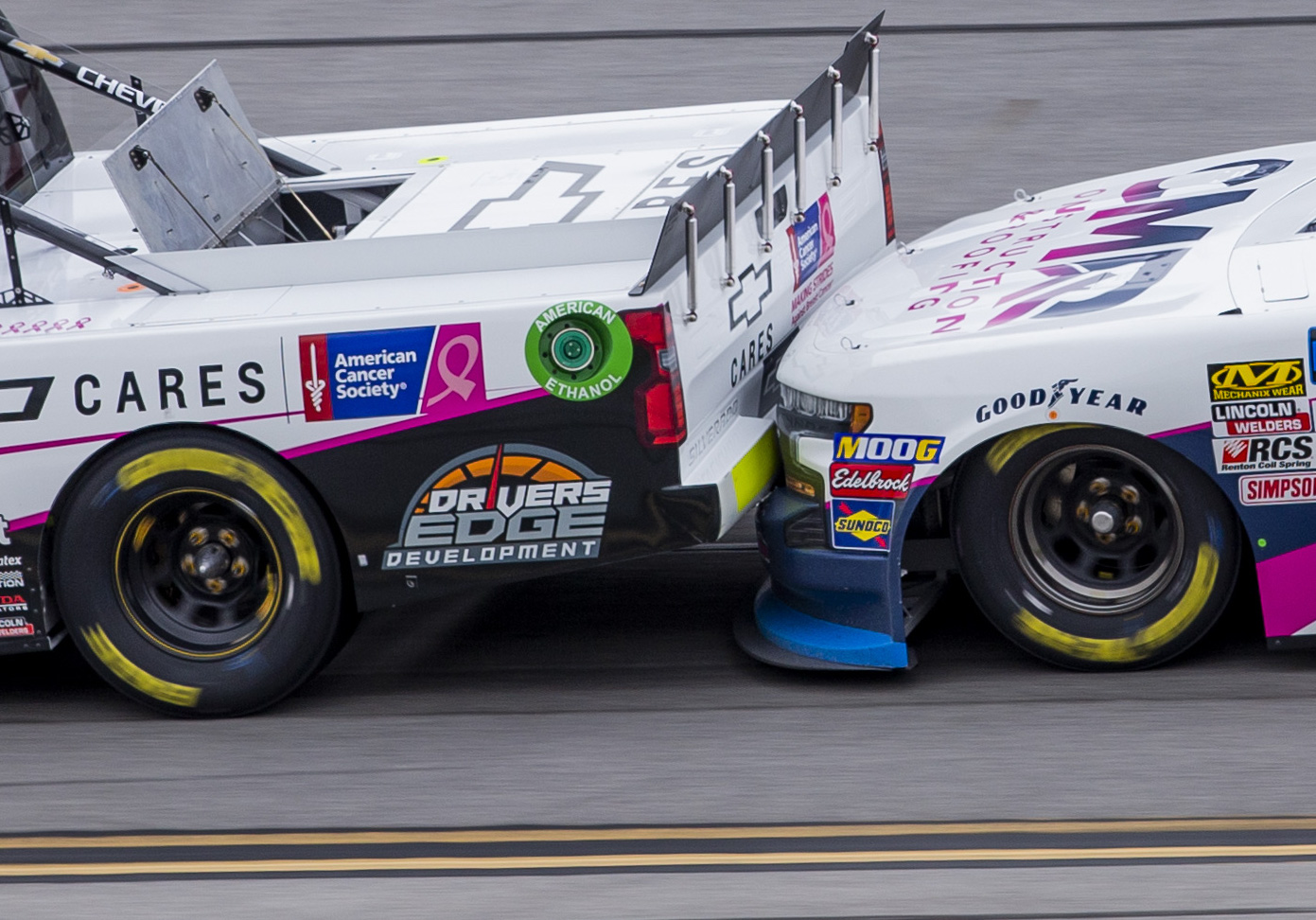 SUGARLANDS SHINE 500
Race results (Top 10)
Spencer Boyd
Todd Gilliland
Riley Herbst
x-Brett Moffitt
x-Stewart Friesen
x-Austin Hill
x-Tyler Ankrum
x-Matt Crafton
Sheldon Creed
Grant Enfinger
x-Playoff drivers

SERIES POINTS
(Top 8)
Brett Moffitt 3085, Stewart Friesen 3062, Austin Hill 3052, Matt Crafton 3041, Tyler Ankrum 3040, Ross Chastain 3039, Johnny Sauter 2129, Grant Enfinger 2120.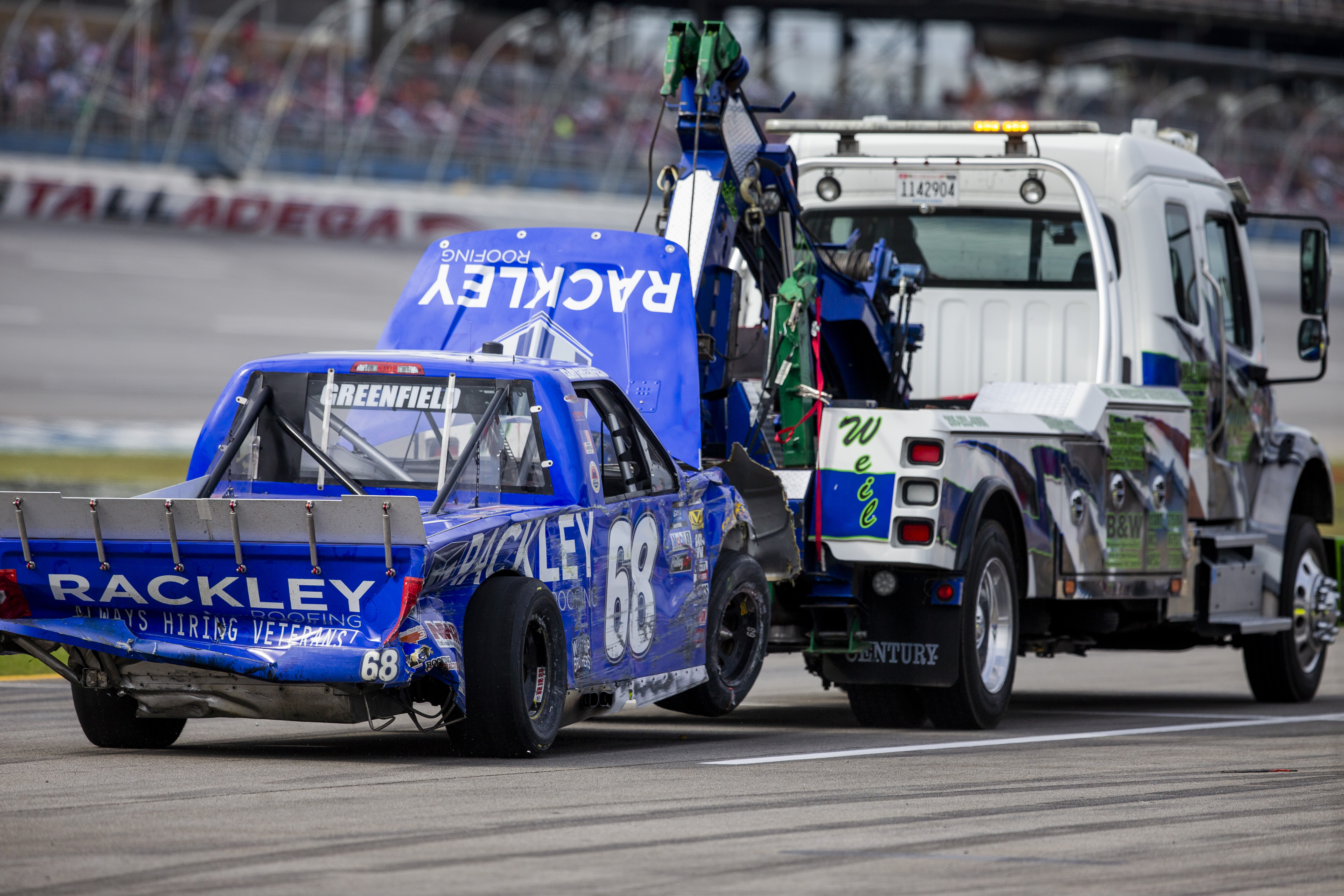 All photos by Jonathan Fordham