Oxford gets it done
Higgins earns high praise as Yellow Jackets to turn back Huffman in a penalty-filled game and improve to 6-0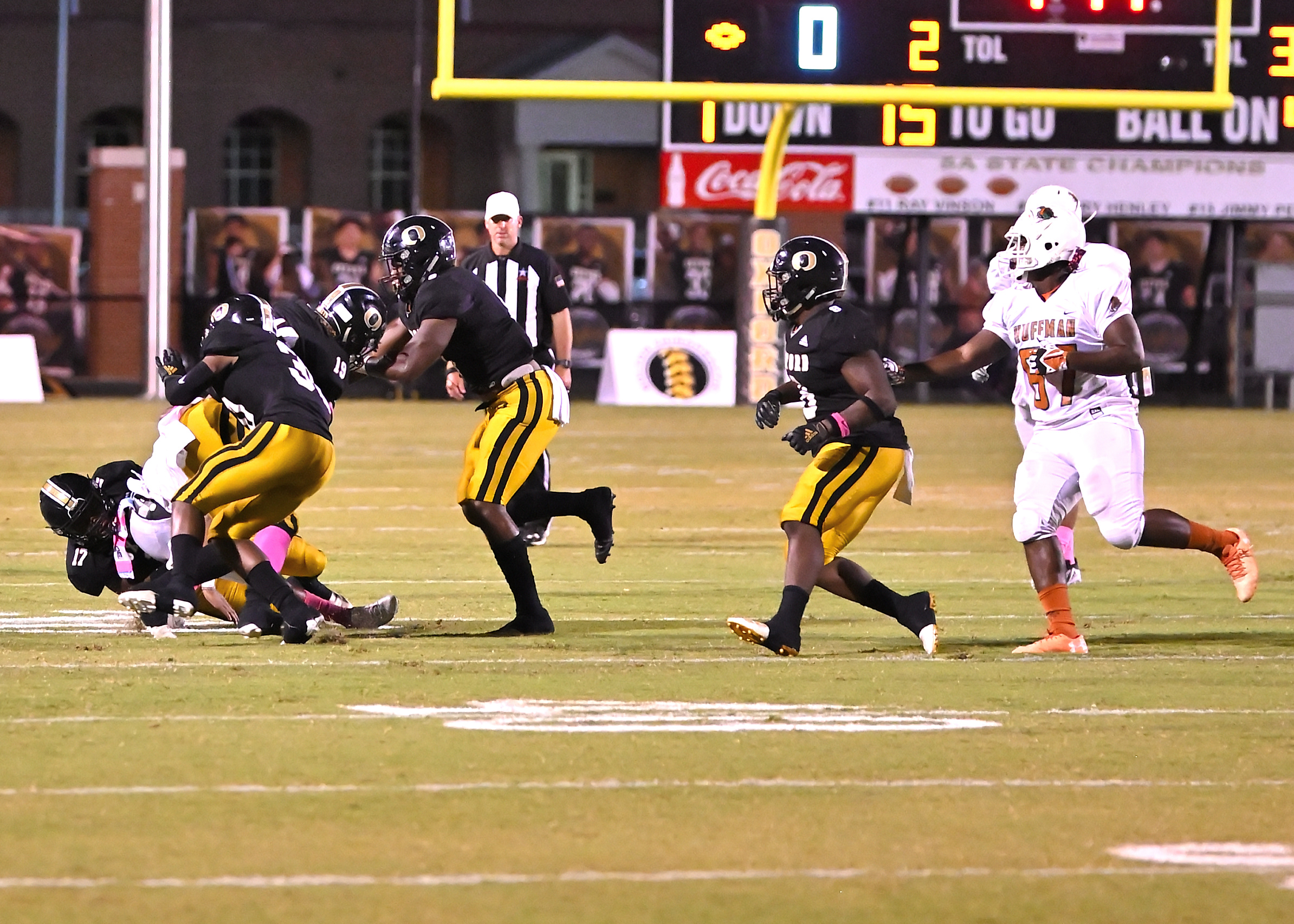 By Brant Locklier
For East Alabama Sports Today

OXFORD – Plain and simple, "we did what we had to do to win," Oxford coach Keith Etheredge said after his third-ranked Yellow Jackets pounded out a 45-6 win over Huffman Friday night at Lamar Field.

It was a bit of a struggle in the sense that Huffman (2-5, 1-3) had so many penalties it was really hard to get any kind of flow going for both teams. The Vikings committed 23 penalties in the game – 20 of them dead-ball infractions of five yards – for a total of 132 yards. The Jackets (6-0, 3-0) seemed unsettled by their penalties as well as they ended up with 10 for 95 yards.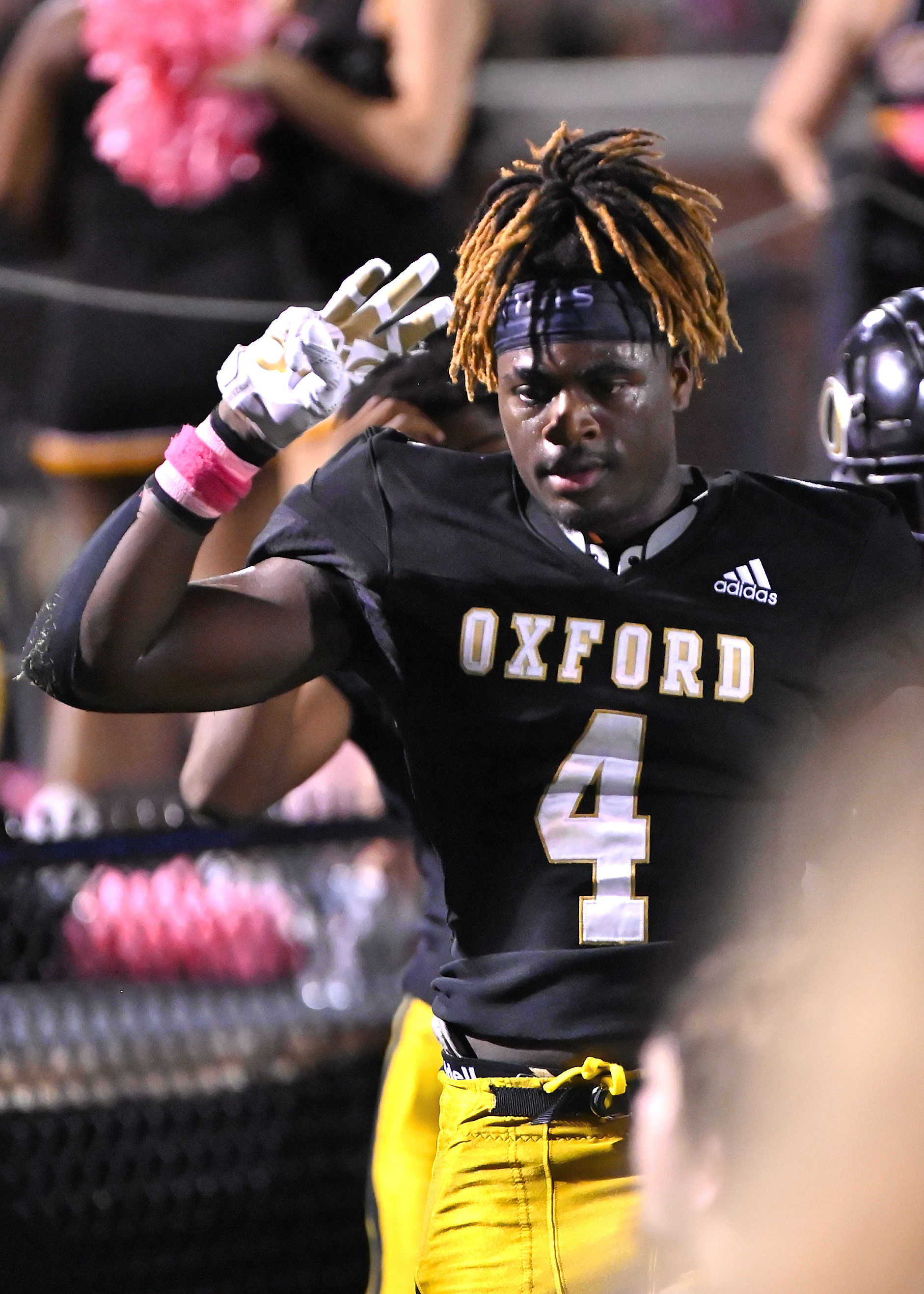 It was Oxford quarterback Trey Higgins who took over the game as he ran the offense with his passing and running. He passed for 102 yards and two touchdowns and rushed for 135 yards and two scores on 10 carries.
 
"Higgins played a great game for us and made some big plays," said Etheredge.
 
The lead was only 14-6 at the half and when the Jackets fumbled away the second half kickoff it looked like Huffman was gaining some serious momentum, but the Oxford defense completely shut the Vikings down and held on downs. 

That defense would allow only 83 total yards on the night and 49 of them came on one play. The Vikings rushed for 19 yards on 36 attempts with 17 of those yards coming on the last three plays of the game.

Higgins ripped off touchdown runs of 68 and 3 yards to help the Jackets open a 28-6 lead. He then connected with Zay Britt on a 15-yard scoring pass to extend the lead. Andrew Warhurst added a 27-yard field goal and Camden Etheredge punched in a late touchdown from the 1 to close out the scoring.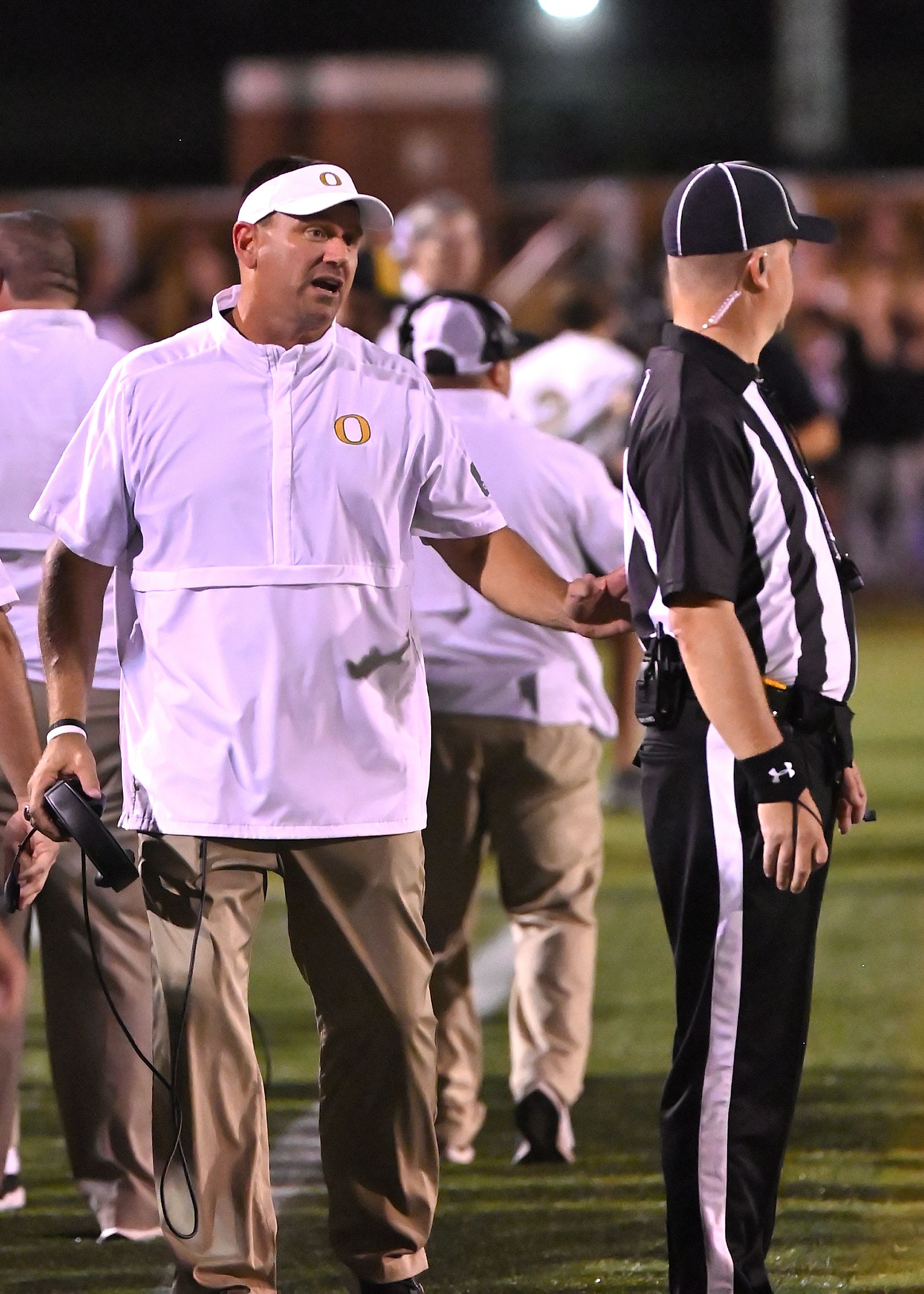 "Warhurst is a good kicker and it was good to see him hit the field goals," Etheredge said. "He has gotten steady at the extra points and is doing a solid job for us."

It was a bizarre first quarter. Huffman put together a 57-yard opening drive for a score on 12 plays, The Vikings incurred seven penalties on the drive, but a 15-yard facemask penalty on Oxford and a 48-yard bomb helped them overcome their own unforced errors. The touchdown came on a fourth-and-goal from the 5 when Viking quarterback Jayden Evans hooked up with Jakolbe Smith. The extra point attempt was fumbled and the Vikings had an Improbable 6-0 lead.

The Yellow Jackets finally got the ball after the Vikings lined up offside on the kickoff and jumped offside on the first Oxford snap. There were 10 penalties called before Oxford's first offensive snap and all but one happened while the ball was in play. The Vikings lined up wrong, had too many men on the field, lined up offside, took delays of game, jumped before the snap and went through the rule book on five-yard penalties.

Oxford scored on its first possession after a 12-play, 55-yard drive and overcoming 25 yards in penalties themselves. Trequon Fegans, subbing for injured JB Carlisle, got the touchdown on a 5-yard run. Andrew Warhurst's extra point gave the Jackets a 7-6 lead late in the first quarter.

The Jackets' pushed the ball down to the 2 on their next possession, but penalties backed them up to the 33. But Higgins salvaged the drive when he threw a perfect strike to Rock Taylor on third-and-goal for the touchdown.

The Yellow Jackets threatened three more times in the first half, but were unable to score. Warhurst missed a 35-yard field goal, Higgins was picked off at the 1 and the Jackets were stopped at the 35 and forced to punt.

"We just have to learn to play through all that stuff," said Etheredge, "and just deal with each game and play individually."

| | | |
| --- | --- | --- |
| Huff (12) | | Oxf (45) |
| 8 | 1st downs | 15 |
| 36-19 | Rushing | 29-204 |
| 5-15-1 | C-A-I | 11-22-2 |
| 64 | Passing | 102 |
| 3-3 | Fumbles | 1-1 |
| 5-20.2 | Punts | 1-37.0 |
| 23-132 | Penalties | 10-95 |
Huffman 6 0 0 6 – 12
Oxford 7 7 14 17 – 45
Scoring Plays
H – Jakolbe Smith 5 pass from Jaylon Evans (run failed), 5:58 1Q
O – Trequon Fegans 5 run (Andrew Warhurst kick), 1:31 1Q
O – Rock Taylor 33 pass from Trey Higgins (Andrew Warhurst kick), 9:31 2Q
O – Trey Higgins 68 run (Andrew Warhurst kick), 8:22 3Q
O – Trey Higgins 3 run (Andrew Warhurst kick), 2:50 3Q
O – Andrew Warhurst 28 field goal, 10:55 4Q
O – Zay Britt 15 pass from Trey Higgins (Andrew Warhurst kick), 6:50 4Q
O – Camden Etheredge 1 run (Andrew Warhurst kick), 2:40 4Q

Cover photo of Trey Higgins by B.J. Franklin