Stanley steamrolls
Former Piedmont back added two touchdowns to one of NAIA's most lopsided victories

Special to East Alabama Sports Today
 
WILLIAMSBURG, Ky. — Former Piedmont running back Lee Stanley rushed for 62 yards and two touchdowns Saturday night as part of one of the most lopsided victories in NAIA history.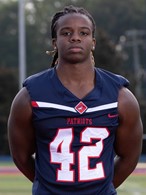 Stanley's 13th-ranked Cumberlands football team crushed Union College 98-0. It's the most points scored by a team in the rivalry's history as well as the largest margin of victory in UC's history. According to NAIA records, the most points by one team in a game is 106 by Fort Valley (Ga.) State in 1969.
 
Stanley, a sophomore, was part of an offense that amassed 727 yards (393 rushing) on 68 plays. He now has 98 yards on 17 carries for the season.
 
You may recall in the spring of his freshman year in high school Stanley suffered tibia plateau fractures in both legs while competing in the triple jump at the sectional track meet at Fort Payne. He hit the board at full speed and felt something strange and then tried to compensate on the rest of the run.
 
He was confined to a wheelchair for nearly two months. He worked extremely hard in his recovery and was back on the football field in a limited capacity midway through the following season.

Stanley rushed for 4,417 yards and 39 touchdowns during his Piedmont career. In his two full seasons following the injury he ran for 3,564 yards and 34 touchdowns.