Hayes on target
County roundup: Piedmont QB throws 4 TD passes, Wellborn keeps rolling, Alexandria gets first shut out for Ginn, and more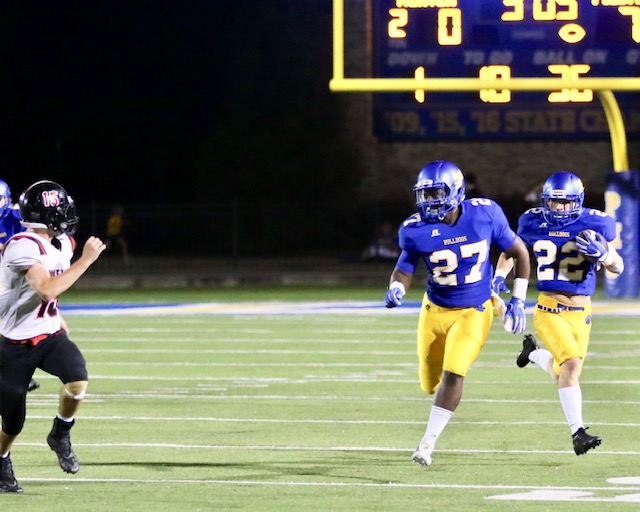 By East Alabama Sports Today

PIEDMONT – Jack Hayes may be only a freshman, but he doesn't throw the football like one.

Hayes was as efficient as ever Friday night, completing four passes – all for touchdowns – as second-ranked Piedmont rolled over Weaver 53-0 to remain tied atop the Class 3A Region 6 standings with Wellborn.

Hayes, in his first year as the Bulldogs' full-time starting quarterback, completed four of five passes for 149 yards in the game. He would have been five for five for five, but overthrew Silas Thompson with an open field in front of him. He had a 594.32 pass efficiency rating for the game.

Through four games, Hayes has completed 39 of 74 passes for 618 yards and 12 touchdowns with only four interceptions, a 165.56 efficiency rating.

All four of his touchdown passes Friday came in the first half as the Bulldogs (4-0, 3-0) opened a 32-0 lead. He threw two to Coleman Reid (74 and 27 yards) and one each to Austin Estes (26 yards) and Silas Thompson (22 yards).

Jakari Foster returned the second half kickoff 82 yards to give the Bulldogs a 39-0 lead. Elijah Johnson scored on a 15-yard run later in the third quarter and Kaleb Thomason closed the scoring with a 17-yard run in the fourth quarter. Bryce Mohon kicked a 20-yard field goal and four extra points.

The Bulldogs scored on their first eight possessions, punting only on their last possession of the game.

Their defense turned back two Weaver threats to preserve its second shutout of the season. The Bearcats drove into Piedmont territory with their first drive of the game, but the Bulldogs pushed them back. The Bearcats also drove it down inside the 5 against the reserves and the Bulldogs held them on fourth down.

Piedmont 53, Weaver 0
| | | |
| --- | --- | --- |
| Wea (0) | | Pied (53) |
| 8 | 1st Downs | 12 |
| 47-13 | Rush-yds | 22-185 |
| 1-1-0 | Passes | 4-5-0 |
| 1 | Pass yds | 149 |
| 4-1 | Fumbles-lost | 0-0 |
| 6-22.0 | Punts-avg | 1-38.0 |
| 6-55 | Pen yds | 6-55 |
Weaver 0 0 0 0 – 0
Piedmont 15 17 14 7 – 53
Scoring plays
P – Coleman Reid 74 pass from Jack Hayes (Bryce Mohon kick), 5:06 1Q
P – Austin Estes 26 pass from Jack Hayes (Max Hanson run), 0:35 1Q
P – Coleman Reid 27 pass from Jack Hayes (Bryce Mohon kick), 9:07 2Q
P – Bryce Mohon 20 FG, 3:29 2Q
P – Silas Thompson 22 pass from Jack Hayes (Bryce Mohon kick), 0:26
P – Jakari Foster 82 kickoff return (Sloan Smith kick), 11:47 3Q
P – Elijah Johnson 15 run (Bryce Mohon kick), 9:46 3Q
P – Kaleb Thomason 17 run (Sloan Smith kick), 6:48 4Q

Wellborn 61, Glencoe 0
Kentrez Hunt rushed for 116 yards and two touchdowns and Calvin Spinks had a 102-yard punt return among his three touchdowns as the Panthers spread the wealth and moved to 5-0 for the first time since 2001. They were credited with a 6-0 start in 2011, but one of those wins was a forfeit of a game they lost on the field to Leeds.

Six players scored touchdowns for the Panthers (5-0, 3-0), who entered the game ranked in the statewide poll for the first time since 2015 and already have matched their win total of last season.

In addition to his punt return in the second quarter Spinks also rushed for 64 yards and two scores. Khavion Wesley had a 63-yard touchdown run on his only carry of the game. Grayson Johnson and Tiquan Thomas also ran for scores and Jett Smith threw a 20-yard touchdown pass on his only throw of the night.

The Panthers rushed for 392 yards as a team and their defense held the Yellow Jackets to a total of 15 yards offense (minus-2 rushing). Glencoe (0-4, 0-3) has yet to score a point this season

The most remarkable statistic of the night belonged to the man keeping the stats. Wellborn statistician David (Wormy) Haynes was watching his 595th consecutive Wellborn varsity football game. He hasn't missed a game since he entered the program in 1962. The team has played 719 in its history. He's working on his eighth head coach.

"I just enjoy it," he said Friday night. "That's just me and the way I feel about football and Wellborn."

The closest he came to almost missing a game was on the day of his sister's wedding. She got married on a Friday afternoon, he went to the ceremony in his coaching gear and was on the Wellborn sidelines that night.

He turns 73 in November and should be well past 600 games by then. His 600thconsecutive game will be the regular-season finale Oct. 25 against Piedmont that could be for the Panthers' first region championship since 1995.

"Wormy is Wellborn," Panthers head coach Jeff Smith said.

Alexandria 54, Crossville 0
CROSSVILLE – Nate McCallum had touchdown runs of 60 and 81 yards on back-to-back touches and finished with 206 yards on seven carries and the Valley Cubs' defense posted its first shutout of the Todd Ginn coaching era.

The Valley Cubs (3-0, 2-0) rushed for 409 yards as a team. McCallum had 176 of his yards on just three carries. Eight different players scored. Six of the scoring plays covered 24 yards or more.

Antonio Ross rushed for 45 yards on two carries with ouchdown runs of 26 and 19 yards. Donavon Lomax had 67 yards with a 32-yard touchdown run. Nick Merriweather had 63 yards with a 52-yard touchdown run. David Wright had a 7-yard touchdown run and Javais McGhee 1 threw a 24-yard touchdown pass to Ethan Barnes.

The Cubs' defense held Crossville (1-4, 0-3) to 111 yards rushing and 156 yards total. Eighteen of the Lions' rushing plays went for zero or negative yards. The Cubs had four sacks.

Jacksonville 41, Cleburne County 26
HEFLIN – Ron Wiggins rushed for 201 yards and two touchdowns, Luke Jackson passed for 184 and Jackson Moses' strip and recovery on a kickoff late in the fourth quarter gave the Golden Eagles the opportunity to close out the game.

Wiggins scored touchdowns on runs of 41 and 57 yards in the first half. Jackson was 11 of 18 passing with three touchdown passes, including a 32-yarder to Kyre Maynor with 5:11 to play and a 28-yarder to Yessman Green with 3:30 left on either side of Moses' strip and recovery that helped the Eagles extend their 27-26 lead.

To give you an idea of the pace of the game, the teams combined for three touchdowns in the first two and a half minutes of play.

Jackson's other touchdown pass went to Jaeden Barksdale, who had a 62-yard kickoff return for a touchdown after the Tigers cut their deficit to 21-20.

Omarion Adams led Jacksonville's defense with 11 tackles, three for loss. Cameron Parker had eight tackles .Moses forced two fumbles in the game

Jacksonville 41, Cleburne County 26
Jacksonville 14 7 6 14 – 41
Cleburne County 6 0 14 6 – 26
Scoring plays
J – Ron Wiggins 41 run (Mason Terrell kick), 10:23 1Q
C – Sam Groce 62 run (kick failed), 9:58 1Q
J – Jaeden Barksdale 38 pass from Luke Jackson (Mason Terrell kick), 9:28 1Q
J – Ron Wiggins 57 run (Mason Terrell kick), 7:41 2Q
C – Sam Groce 3 run (Donovan Folks run), 6:29 3Q
C – Donovan Folks 3 run (run failed), 1:54 3Q
J – Jaeden Barksdale 62 kickoff return (kick failed), 1:39 3Q
C – Rustin Roberts 5 run (kick failed), 8:40 4Q
J – Kyre Maynor 32 pass from Luke Jackson (Mason Terrell kick), 5:11 4Q
J – Yessman Green 28 pass from Luke Jackson (Mason Terrell kick), 3:30 4Q
Anniston 21, Hokes Bluff 0
HOKES BLUFF – Tony Hunley returned a fumble for a touchdown and had an interception to lead a defensive effort that produced Anniston's second straight shutout.

The Bulldogs held the sixth-ranked Eagles to 178 yards of total offense, shutting them out for the first time since October 2011. Hunley's 27-yard scoop and score was the final touchdown of the night.

Arcavius Brown rushed for 113 yards and scored the Bulldogs' second touchdown on an eight-yard run. Tyree Carmichael's 72-yard touchdown run opened the scoring.

Hokes Bluff running back Darrian Meads rushed for 101 yards on 19 carries, but he also lost two fumbles, including the one that Hunley brought all the way back.

The Bulldogs (3-1, 3-0) are tied with Jacksonville for the Class 4A Region 6 lead. They've given up only 21 points all year, seven in region play.

Anniston 21, Hokes Bluff 0
| | | |
| --- | --- | --- |
| Ann (21) | | HB (0) |
| 10 | 1st downs | 10 |
| 25-247 | Rush-yds | 33-123 |
| 9-15-1 | Passes | 5-18-2 |
| 131 | Pass yds | 55 |
| 2-2 | Fumbles-lost | 3-2 |
| 5-44.2 | Punts-avg | 7.39.4 |
| 16-120 | Pen yds | 3-25 |
Anniston 0 14 7 0 – 21
Hokes Bluff 0 0 0 0 – 0
Scoring plays
A – Tyree Carmichael 72 run (Kevin Escareno kick)
A – Arcavius Brown 8 run (Kevin Escareno kick)
A – Tony Hunley 27 fumble recovery (Kevin Escareno kick)
Spring Garden 16, Donoho 12
Spring Garden sophomore Cooper Austin is a talented young point guard on the basketball court, but he's also coming up in the clutch in the Panthers' football passing game.

Austin hauled in the game-winning 10-yard touchdown pass from junior quarterback Ryley Kirk with 1:52 remaining in Spring Garden's 16-12 comeback win at Donoho in a key Class 1A, Region 5 battle.

Donoho (3-1, 2-1) scored just 10 seconds into the game on Amarion Smedley's 68-yard kickoff return. The Falcons scored again just before halftime on a 4-yard touchdown run by James Williamon. They went for 2 after the first PAT failed, but didn't get it and led 12-0 at intermission.

Spring Garden (3-1, 2-0) finally got on the board on junior running back Weston Kirk's 20-yard touchdown run with 2:14 left in the third quarter. The 2-point try was successful, trimming the Falcon lead to 12-8.

That set the stage for Austin's late-game heroics.

Ryley Kirk was 8-of-18 passing for 75 yards for Spring Garden. Luke Welsh led the Panthers' ground game with 59 yards on 14 carries. Weston Kirk carried the ball 10 times for 46 yards. – Cherokee County Herald

Cherokee County 38, White Plains 6
CENTRE – From the outset of a Class 4A, Region 6 battle, gold-clad Cherokee County defenders swarmed the Wildcat backfield, sacking Jaden Chatman four times, blocking two of his punts, and hurrying the junior on every throw. The defensive charge and a punishing run game spearheaded the Warriors' victory on homecoming.

Dillon Humphries led the Warriors' defense on White Plains' first two possessions. He tallied a tackle for a loss, a sack, and a recovery of a Ryon Dunn blocked punt all in the first seven minutes of play. The block and recovery put the ball on the Wildcat 1. Damien Ramsey's touchdown surge off left tackle, and Daniel Mejia's extra point put Cherokee County up 7-0 with 5:32 left in the first quarter.

"Chatman is an elusive guy. He threw for a good many yards last week. We weren't just going to sit back and let him pick us apart," Cherokee County coach Jacob Kelley said. "We were going to pin our ears back and go get him."

Chatman was 16-of-30 for 124 yards with a pair of interceptions.

White Plains (2-3, 1-2) found running against the Warrior defense an impossible task. The Wildcats mustered only 65 yards on 20 carries. Receiver screens helped them tally a first down on their next possession, but an incomplete fourth-down pass ended the threat.

It was 31-0 before White Plains got on the board. Jaden Harris's 3-yard scamper around right end got the Wildcats in the end zone, but Dalton Rollins batted away the two-point conversion try.

"We went through some adversity in the first three weeks," Kelley said. "It was great to see us bounce back tonight."– Roy Mitchell, Cherokee County Herald