Dyar makes it 10
White Plains senior wins Bud Burns title going away for her 10th career Alabama Junior Tour win

By Al Muskewitz
East Alabama Sports Today
 
SELMA – There was no hole-in-one this round, but there was a tournament title and at the end of the day that's what matters most.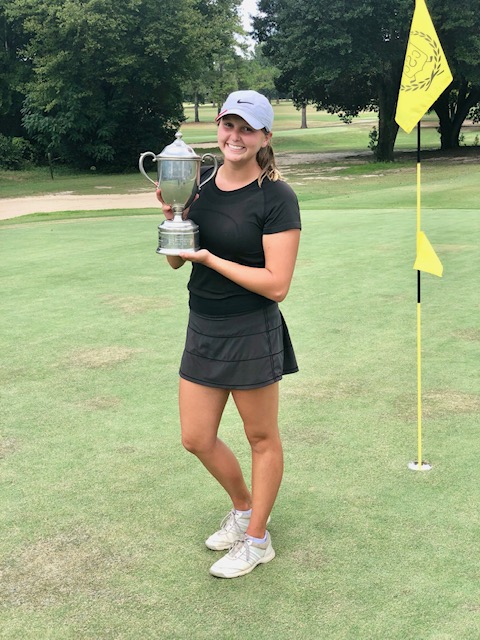 Riding a wave of confidence from a good start, White Plains senior Hanna Dyar turned in a 2-under-par 70 Sunday and won the 58th annual Bud Burns Dixie Junior girls championship at Selma Country Club in a runaway.

Her two-day total 150 was 12 shots better than runner-up Riya Key of Muscle Shoals, the player with whom she shared the lead entering the day.
 
It was her fifth win on the Alabama Junior Golf Association (AJGO) circuit this year and tenth since she started playing on it 2015.
 
"It's really exciting," she said. "It gives me a lot of momentum going into my senior season."
 
The 70 she shot was a 10-stroke improvement over her first-round score, which included her first-ever hole-in-one. It was all about eliminating the blow-up holes but especially getting off to a good start. And meeting goals.
 
She played the front nine in 10-over in the opening round, but was a bogey-free 3-under there Sunday and had a seven-shot lead at the turn. She had five birdies in the round, meeting a benchmark she tries to achieve every round. And it started with a birdie on 1 that inches from being an opening eagle.
 
"I think what gave me a lot of momentum was if I start off good I end up playing pretty steady," she said. "I try to get as far under par as I can; I might need these birdies later."
 
Dyar has yet to make a choice on where she'll play her collegiate golf, but plans to commit during the November signing period. She has narrowed her choices to North Alabama and Jacksonville State, where her sister Layne plays.
 
Until that day comes she will continue to sharpen her game with competition. In the next two weeks, she'll be playing AJGO events at Indian Pines in Auburn and Silver Lakes.
 
Dyar's White Plains teammate, Abby Gattis, finished fourth.