Panthers on rise
Wellborn goes to 3-0 for first time since 2012; Piedmont blanks PV; J'ville overruns Ashville; White Plains falls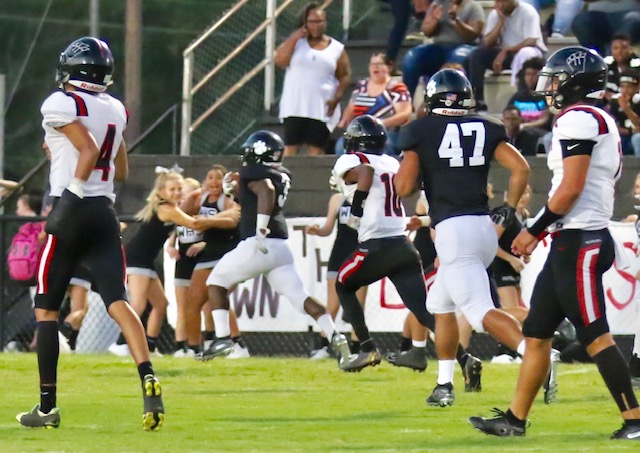 By East Alabama Sports Today

One of the backbones to Wellborn's success this year is the core of 16 players who've been playing together since midget football. Bryson Heath is one of those players. While he may not have been with them for all those years, he's found his way back to the fold.

Heath, a sophomore, rushed for 138 yards and two touchdowns on six carries Friday night as the Panthers overwhelmed Weaver 49-6 in a region opener they had to win if they want to be the playoff team everyone envisions this season. They also are 3-0 for the first time since 2012.

The Panthers have missed the playoffs each of the last three years, lost to Weaver all three years, and the Bearcats locked down the fourth region playoff spot. In two of the years, they nosed out Wellborn by a game. Last year, it was by one point.

"This is what we're telling the kids: Try to get better every week," Wellborn coach Jeff Smith said. "I think since the first covered-dish scrimmage to the first game and second and now we've improved. That's what we're trying to do, get better every game."

Heath grew up playing with most of his current teammates in youth football, moved to Georgia, came back to Anniston and transferred back to Wellborn this summer. He scored on runs of 69 and 14 yards against the Bearcats.

"It's kind of like he's come back home," Smith said. "This is probably the fourth and a half week he's been with us and he's just getting better every time he goes out there."

Kontrez Hunt scored touchdowns on all three of his carries (50, 11 and 6). Jett Smith rushed for 63 yards, including a 46-yard touchdown, and ninth-grader Jesse Lewis rushed for 97 yards on four carries in the second half, including a 57-yard scoring burst.

The Panthers rushed for 429 yards as a team. They led 42-0 at halftime.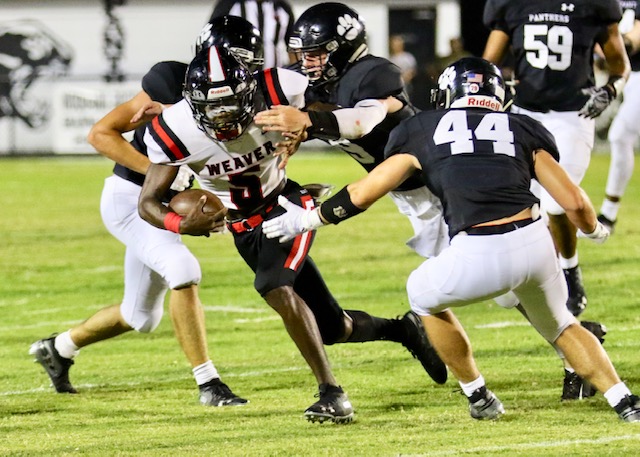 Piedmont 28, Pleasant Valley 0
JACKSONVILLE – After throwing for just eight yards on two pass completions in the season-opener against Addison, Piedmont freshman quarterback Jack Hayes completed 19-of-26 pass attempts for 245 yards and all four Bulldog touchdowns.

All four of Hayes' touchdowns went to different receivers. The first came on a 10-yard toss to Austin Estes with 5:18 left in the second quarter. His second came with 1:55 left before halftime – a 40-yard connection with Coleman Reid.

Silas Thompson hauled in Hayes' third touchdown pass with his 19-yard catch with 6:38 remaining in the third quarter. Hayes' final scoring connection went to Elijah Johnson on a 40-yard strike with 10:07 left in the game.

Bryce Mohon kicked all four extra points.

Jacksonville 54, Ashville 17
ASHVILLE – Ron Wiggins scored three touchdowns, Kyre Maynor and Yessman Green both scored two and Luke Jackson threw for three scores as Jacksonville got back on the winning track after having its regular-season winning streak snapped last week.

Ashville scored first, but the lead lasted all of 15 seconds. Wiggins returned the ensuing kickoff after the Bulldogs' touchdown 93 yards for the tying score and Mason Terrell's extra point for the Golden Eagles ahead for good. A Dreylan Fomby interception gave Jacksonville the ball back and Wiggins extended the lead with a 30-yard touchdown run. Fomby had two picks in the game.

Wiggins' third touchdown, a 3-yard run midway through the second quarter, was set up by a fumble recovery by Omarion Adams. He rushed for 102 yards on 12 carries.

Jackson threw a pair of touchdown passes to Green late in the first half and one to Maynor in the third quarter; he was 11-of-15 for 135 yards in the game. Maynor also scored on a 61-yard punt return.

Jacksonville 54, Ashville 17
Jacksonville 14 20 13 7 – 54
Ashville 6 3 8 0 – 17
Scoring plays
A – Luke Harris 3 run (kick failed), 2:36 1Q
J – Ron Wiggins 93 kickoff return (Mason Terrell kick), 2:21 1Q
J – Ron Wiggins 30 run (Mason Terrell kick), 1:50 1Q
A – Nathaniel Williams 36 FG, 9:03 2Q
J – Ron Wiggins 3 run (kick failed), 6:26 2Q
J – Yessman Green 43 pass from Luke Jackson (Mason Terrell kick), 1:21
J – Yessman Green 35 pass from Luke Jackson (Mason Terrell kick), 0:09 2Q
J – Kyre Maynor 14 pass from Luke Jackson (Mason Terrell kick), 9:10 3Q
J – Kyre Maynor 61 punt return (kick failed), 7:22 3Q
A – Luke Harris 35 run (Adriane Hernandez run), 3:23 3Q
J – Jae-Taj Morris 14 run (Mason Terrell kick), 11:01 4Q

Hokes Bluff 45, White Plains 21
HOKES BLUFF – Talk about your tough starts. White Plains and new head coach Chandler Tyree ran into two of Northeast Alabama's most prolific running backs in the first two weeks of the season without much success.

It was Ohatchee's Domonique Thomas in the opener and Friday it was Darrian Meads of Hokes Bluff. Meads rushed for 241 yards and two long touchdown runs on 27 carries. Eagles quarterback Ashton Gulledge was just as productive running for 127 yards and three touchdowns and throwing for another.

"They are great backs with really good futures; big time challenges for us," Tyree said of Thomas and Meads. "They both play the game the right way."

The Wildcats were held to negative net rushing yardage by the Eagles' defense, but they moved the ball through the air. Jaden Chatman completed 20 of 29 passes for 299 yards and a pair of touchdown passes to Ethan Bozarth, who caught six passes for 139 yards. Teddy Hall had eight catches for 89 yards.

"The kids played hard and got a lot better," Tyree said. "We will continue to improve. Proud of our effort tonight."

Hokes Bluff 45, White Plains 21

| | | |
| --- | --- | --- |
| WP | | HB |
| 14 | First downs | 23 |
| 21-(-8) | Rush-yds | 49-412 |
| 20-29-1 | Passes | 2-7-0 |
| 299 | Pass yds | 65 |
| 1-1 | Fumbles-lost | 0-0 |
| 5-36.4 | Punts-avg | 2-30.5 |
| 6-65 | Penalty yds | 7-75 |
White Plains        0  7  6 8  –  21
Hokes Bluff           7 14 10 14 –  45
Scoring plays
HB – Tristin Billingsley 34 pass from Ashton Gulledge (Jadan Burns kick), 7:31 1Q
HB – Ashton Gulledge 24 run (Jadan Burns kick), 7:08 2Q
HB – Ashton Gulledge 1 run (Jadan Burns kick), 3:12 2Q
WP – Ethan Bozarth 28 pass from Jaden Chatman (William O'Steen kick), 2:06 2Q
HB – Jadan Burns 33 FG, 7:15 3Q
WP – Jaden Harris 1 run (kick failed), 2:19 3Q
HB – Darrian Meads 55 run (Jadan Burns kick), 1:23 3Q
HB – Darrian Meads 45 run (Jadan Burns kick), 11:31 4Q
HB – Ashton Gulledge 2 run (Jadan Burns kick), 3:19 4Q
WP – Ethan Bozarth 55 pass from Jaden Chatman (Joel Daniel pass from Jaden Chatman), 0:54 4Q
Randolph County 27, Glencoe 0
WEDOWEE – The Tigers were off to the races when they held Glencoe to three-and-out on the opening drive and Dante Jordan scored on a 60-yard punt return.
 
The Yellow Jackets couldn't find any success the first half as they were unable to cross midfield and were held to only 19 yards of total offense. The Tigers, meanwhile, were more productive, getting touchdowns on each of their next three possessions of the half by Keyshawn Garrett, Jonathon Prothro and Hagen Bailey to lead 27-0 at the half.
 
"We want to share the wealth with everybody; it's a team effort," said Randolph County coach Pat Prestridge. "At the end of the day we all win."
 
Prestridge took to the reserves with 7:12 remaining in the second quarter, where the youngsters held the game intact for the remainder to pitch the Tigers first shut out on the season. Glerncoe has yet to score in its first two games.
 
"Experience is the key to everything," Prestridge said. "I'm proud of our guys, especially our younger guys who got to play some and get some experience." – Jeremy Wortham
 
Randolph County 27, Glencoe 0

| | | |
| --- | --- | --- |
| Glen | | RC |
| 9 | First downs | 14 |
| 48 | Rushing yds | 272 |
| 30 | Passing yds | 22 |
| 3-25 | Penalty yds | 5-45 |
Glencoe          0 0  0  0   –  0
Randolph Co.  14 13 0 0 – 27
Scoring plays
R – Dante Jordan 60 punt return (Braxton Daniel kick), 9:30 1Q
R – Keyshawn Garrett 5 run (Braxton Daniel kick), 4:27 1Q
R – Jonathon Prothro 3 run (kick failed), 10:22 2Q
R – Hagan Bailey 2 run (Braxton Daniel kick), 7:12 2Q