Record setters
Power partners LeCroy, Harper set single-round scoring record at 20-under; take early SKCC lead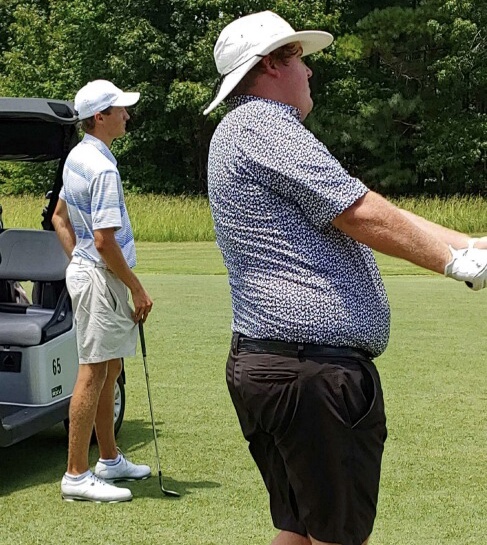 SKCC LEADERBOARD
Jacob Harper-Jacob LeCroy -20
Cody Robinson-Barrett Waters -17
Warren Askew-Will Broome -17
Randy Archer-Logan Archer -17
Jeremy McGatha-Brennan Clay -16
Ott Chandler-Dalton Chandler -16
Patrick Cushman-Hank Smith -16

By Al Muskewitz
East Alabama Sports Today

SILVER LAKES – Jacob LeCroy put his team together with Jacob Harper specifically to make a run at the Sunny King Charity Classic juggernaut that is Ty Cole and Gary Wigington. 

They made a good first move Friday.

LeCroy and his 2018 Alabama Open champion and mini-tour playing partner blistered the scramble format at Silver Lakes Friday, shooting a record-setting 20-under-par 52 in the early wave of play. 

Three teams – Georgia mini-tour pros Cody Robinson and Barrett Waters, first-time partners Warren Askew and Will Broome of Anniston and Oxford's Randy and Logan Archer – all posted 17-under 55s and are within three shots of the lead.

Three more teams are another shot back. Cole and Wigington, the three-time reigning champions, shot 13-under 59.
 
"Today, it was our day," LeCroy said.
 
The all-time tournament scoring record is 43-under-par and there are still two rounds to play, a scamble round at Cider Ridge Saturday that could be the leaders' most difficult and a best-ball round at Anniston Country Club Sunday.

The old single-round record was 18-under, set by Adrian Geeting and Kenny Wright in 2013 and tied by Wigington and Freeman Fite the following year. Neither team won the tournament the year they met the mark.

"(The record) not only got beat, it got destroyed," Geeting said. "It was nice holding it for a while."

Geeting has had a front-row seat to all of three of the records. After setting the mark the year before, he was in the foursome when Wigington and Fite tied their record and played with Benji Turley alongside LeCroy and Harper Friday. Geeting and Turley shot 14-under.

"We putted as good as they did, but they hit it at least 10 times better," Turley said. "(Harper) hits his irons as good as anybody I've ever seen."
 
"He's legit," Geeting said. "I told everybody that when he was coming. A bunch of people asked me. I've seen him do some crazy stuff. He'll be on TV one day. He's got the game."

LeCroy, the two-time high school state champion from Donoho heading to South Alabama, hadn't played in the Classic for several years because of scheduling conflicts, but won his flight the last time he did. He had gotten to know Harper from competition and thought the 23-year-old former Troy player from Beulah would be a "perfect partner" for the Classic so he simply asked if he wanted to play.
 
It was a strong pairing. LeCroy's driving consistency freed Harper to get them closer, they both hit irons about the same and clubbed off each other and both made a bunch of putts.
 
"We were wanting to come out here and golf as best as we could," LeCroy said. "We knew 18 was the record and I remember thinking if we just hit fairways and golf shots I know we can shoot 18. You can always be bad, but if we're playing our game I didn't think there was any way we could shoot worse than probably 16."
 
"I didn't really have any expectations," Harper said. "He just called and asked if I could play. He just said he wanted to give these boys a try, that they had won three, four years in a row. It took me about a month to let him know; my schedule is kind of funny. I figured out I could play, come up here and hang out and play with these boys up here. Have a little fun for the weekend. I'm up here for him. I'm not up here to nobody else."
 
By all accounts, Friday was "a lot of fun" for the leaders.
 
They got off to a little slow start, both lipping out for eagle on Mindbreaker 1 and then parring 2 from 30 feet. After that, they didn't make another par until 18, and even there LeCroy's birdie putt hit the hole and Harper's putt came up one roll short.

The record-setters had four eagles. They eagled Mindbreaker 5 from 145 yards to 15 feet, Mindbreaker 9 on LeCroy's chip in from 20 yards off the front of the par-4, Heartbreaker 1 with two mulligans from the middle of the fairway and a bomb of a putt by Harper and Heartbreaker 7 from the $20 drop zone to break the record that Harper nearly holed on a bounce.
 
"To shoot 20-under in a two-man scramble, you can't go out and do that every day," LeCroy said. "Stuff has to go your way. We did it today. We're worried about tomorrow now."

And the game is on.

Robinson and Waters were another power team expected to come in and challenge the defending champs. Robinson, 24, played in the Classic last year and finished tied for sixth after holding a share of the first-round lead. Waters, 23, is coming off his fifth straight win on the Open Atlanta Tour.
 
Their round featured three eagles, including a near hole-out for double eagle from 154 yards by Robinson on Mindbreaker 5. They hadn't learned of the leaders' score until they were headed back home to Georgia.
 
"We really didn't know what kind of number was going to be put up today because those greens were rolling so well," Robinson said. "That 20 was pretty special; they had to be hitting really good shots. Last year something like that wasn't even heard of. Fourteen was lowest and we were one of them. We were three lower this year and still got beat by three. That's wicked; pretty cool, though."
 
Askew and Broome were 4-under through five holes, then caught fire to climb the leaderboard. They played their next seven holes in 8-under, parred Mindbreaker 4, then closed with five straight birdies. It wasn't like they were chasing a score; they said they didn't hear about the 20-under until they stood off the green on their final hole of the day.
 
"We brother-in-lawed about as best as we could," Askew said. "This was a fun round of golf. Everything was just kind of clicking."
 
"I think between the two of us we probably hit five bad shots and if I hit a bad one he picked it up," Broome said. "We played as good as we could today."
 
The Archers eagled all four par-5s and their putters got hot on the back nine. The eagle on Mindbreaker 1 were the only shots they picked up through four holes, and then they caught fire. They played their last 14 holes in 15-under, their last 10 in 11-under.