Cinderella story in the making
Former Cider Ridge greenskeeper returns to play in his first Sunny King Charity Classic, elicits visions of the 'Cinderella story' from 'Caddyshack'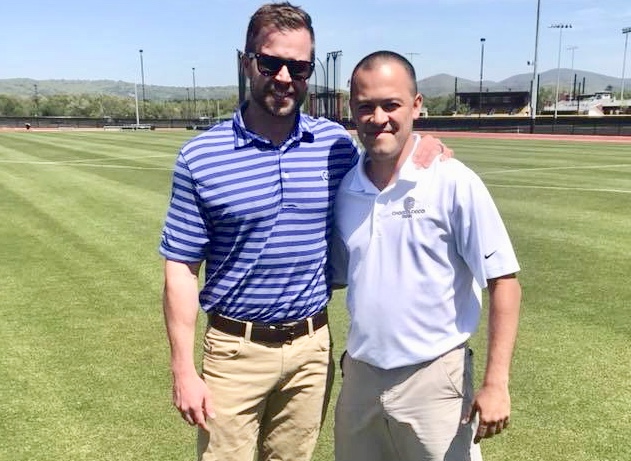 By Al Muskewitz
East Alabama Sports Today

If there's ever been a chance to have a real "Cinderella story" in the Sunny King Charity Classic this is it.
 
You know how the story goes. The itinerant greenskeeper "comes out of nowhere" to get in contention, comes down the stretch, and holes out a miraculous final shot to win – wait for it – The Masters. And the crowd goes wild.
 
It's the natural story when Chad Robinson, the former Cider Ridge Golf Club greens superintendent, comes back to town this week to play in the Sunny King Classic for the first time.
 
"That will be funny," he said the other day from on the beach at Fort Lauderdale, where he and wife Ashley are living these days. "I don't think it's possible, but it would be funny, wouldn't it?"
 
In case you don't remember the famous "Caddyshack" scene – all improvisation by Bill Murray, by the way – here it is:
 
What an incredible Cinderella story! This unknown, comes out of nowhere, to lead the pack…at Augusta. He's at his final hole. He's about 455 yards away, he's gonna hit about a 2-Iron I think. [Swings, pulverizes a flower] Oh, he got all of that. The crowd is standing on its feet here at Augusta. The normally reserved crowd is going wild… [pauses] for this young Cinderella who's come out of nowhere. He's got about 350 yards left, he's going to hit about a 5-iron it looks like, don't you think? He's got a beautiful backswing… [Swings, pulverizes another flower] That's … Oh, he got all of that one! He's gotta be pleased with that! The crowd is just on its feet here. He's a Cinderella boy. Tears in his eyes, I guess, as he lines up this last shot. He's got about 195 yards left, and he's got a, looks like he's got about an 8-iron. This crowd has gone deadly silent … Cinderella story, out of nowhere, former greenskeeper, now, about to become the Masters champion. [Swings, pulverizes yet another flower] It looks like a mirac- It's in the hole! It's in the hole!
 
In Carl Spackler's moment of glory, the "Cinderella boy" hits three shots on the final hole – a par-4 if you're really talking about Augusta National – and two of them Robinson actually has had in his bag.
 
If you follow the narrative, shot tracker will tell you Spackler hit a 2-iron 105 yards, a 5-iron 155 and, while Robinson might not have ever put an 8-iron "in the hole" from 195 yards – "who has?" he asked – he's had that shot in the bag.
 
"I don't think I've ever hit a 2-iron," he said. "The 5-iron from 155? When I was 13, my 5-iron was my 155 club. I used to have a set of Callaway Big Bertha X-14 pro series irons and I could hit that 8-iron 195 yards."
 
The 33-year-old Robinson knows all about the Sunny King Charity Classic. He spent eight years growing and grooming the turf at Cider Ridge as the Oxford course's head greens superintendent and getting the course ready for the 400 golfers who'd be coming through that weekend in July..

Now, he helps courses in the Caribbean and Central America manage their turf as an international account executive for a company that sells Toro mowing equipment. Think of all the high-end resort courses and Tour stops in that part of the world, he's been to most of them.
 
His playing partner, Will Brown, was his assistant at Cider Ridge and now helps manage the day-to-day maintenance operations at Choccolocco Park.
 
The new job affords Robinson more opportunities to play – from about twice a year to twice a month – and he's gotten his handicap back to a 12. 
 
"I'm not as good as I used to be, but I'm better than I was when I was superintendent," he said.
 
And in that vein, he's looking forward to playing at Cider Ridge without having that critical eye that used to dominate his casual play there.
 
"My scorecard would be a note pad when I played before," he said.
 
Above all, he's eager to catch back up with old friends and colleagues. He and Brown play Silver Lakes Friday, return to Cider Ridge Saturday and Anniston Country Club Sunday.
 
"I'm just looking to go up there and have fun and see a bunch of old friends," he said. "I know a lot of guys get serious about it but I'm looking forward to meeting old friends, shake some hands and seeing some familiar faces."
 
When he worked at the course Robinson wasn't really fond of the Sunny King Classic. It might have been the longest week of the year, but it was also the most rewarding. 
 
"I would always make it the biggest event of the year, make a big deal out of it," he said. "It was like working to a goal and the Sunny King was our goal at the golf course."
 
The former greenskeeper shared a little secret he probably wouldn't mind seeing continue for his rounds this week. When he was there, his maintenance team would find a way to make it easy for the players to score on one particular prize hole.
 
"We'd go out and set it up Friday, Saturday, Sunday and the Sunday pin on 17 we would precisely put it in a place for a hole-in-one," he revealed. "We'd all throw a ball on the green and where they rolled, that's where we'd put it."
 
If they were to do that this year and Robinson happened to be the one to ace it for the big prize that truly would be a Cinderella story.

The complete set of tournament pairings can be found elsewhere on the East Alabama Sports Today website.