Coming from near and Fargo
Fearless foursome coming from North Dakota to experience all the Sunny King Classic has to offer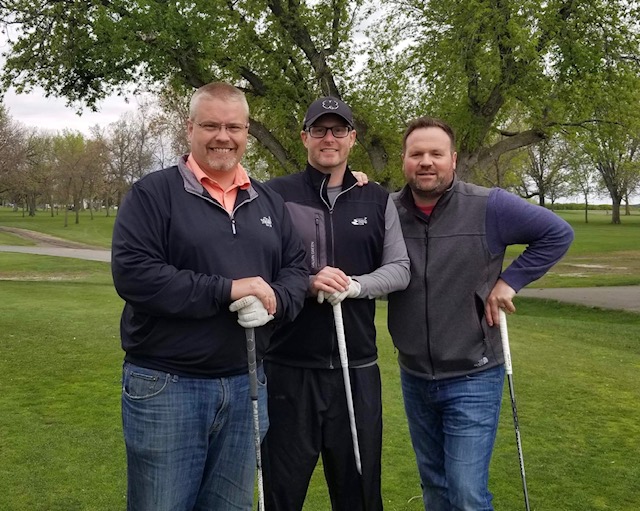 By Al Muskewitz
East Alabama Sports Today

As you might expect, most of the players who come to the Sunny King Charity Classic the weekend after the Fourth of July travel no more than about two hours to get here.

This year, the players will be coming from near and Fargo.

Former Anniston resident Rob Riddle has been talking up the Classic to his North Dakota golfing buddies since moving back there in 2014 after his work with the incinerator finished. He's even dreamed of starting a tournament similar to it up there.

He almost had them coming last year, but timing and uncertainty kept it from happening. But this year he's convinced three of them to join him for an ultimate buddies weekend in an event that has been a staple on the local golf calendar for more than 40 years.

"We're going to do it, everybody's committed," Riddle said. "I'm so excited to bring these guys down there."

A few players have wandered in from the hinterlands to play in the Classic in the past, but over the past three years 92 percent of the field has come from Alabama and 95 percent from Alabama and Georgia. Most of the way-out-of-towners had roots in the community and were coming back to renew acquaintances or were guests of tournament sponsors (think Bahamas resort pro Rich Gibson, who played with Randy Reaves in 2017 and Ryan Stinchcomb in 2018).

Riddle's group from "just north of normal" is just looking for some good golf in a place they've never ventured to before and they'll be among the farthest participants to ever play in the tournament. If nothing else, tournament organizers will add another state to their list; there have been 16 the last three years. (Of course, nothing can top the year Greg Heath came all the way from Italy to play).

Everybody in the group is a good amateur player and will play in the upper flights. Riddle, a 42-year-old custom homebuilder who carries a 3.5 handicap, will play with his investment banker and former college player Chris Siverson, a 2. Insurance brokers Steve Huber, an 8, and Boe Sheeley, a 4, complete the group.

They play together all the time in the modest golf market that is Fargo, which has about 100 courses in a 40-mile radius for a golf season that typically runs from mid-to-late April to October. In fact, the day Riddle spoke for this story his home course was opening for the first time this season. During the dark days of winter, those most jonesing to play get their golf fix in indoor golf leagues on simulators; think of it as Top Golf with a roof.

"I think we're going to go down there to have fun and experience what Alabama is like," Sheeley said. "Siverson, Steve and I have never been to Alabama. We'll meet some different people, have fun and take it all in.

"As far as expectations, I don't think we have any. Rob has kind of set the bar high. He's definitely hyped it up and made it seem like we're going to go there and get our butts kicked. We're going to take it all in and have fun."

Actually, this will be Riddle's first time back in the Classic since 2015, when he returned the year after he moved to get his Sunny King fix, and he's looking forward to playing ambassador. He finished tied for fifth in the third flight in 2011 with Daniel Simmons.

"We're going to have a good time with this," Riddle said. "I think I'm most excited to introduce them to Champion Bermuda greens at Silver Lakes and the (Anniston) Country Club. The bent (at Cider Ridge) is similar to here, but the Champion Bermuda is something different. I told them about the speed and how fast they can be; they haven't totally embraced that yet. I think they're going to get to the practice green and slap that first putt to holy hell."

As of June 1, approximately 50 team spots remained available for the tournament. Register through the tournament website: www.kingclassic.com. Practice rounds begin June 17; contact each course for availability.
SKCC PLAYERS BY STATE
(Since 2016)
2018: Alabama 374, Georgia 13, Tennessee 5, Florida 4, Texas 3, California 2, Arkansas 1, Missouri 1, Mississippi 1, North Carolina 1, Ohio 1, Pennsylvania 1, South Carolina 1.
2017: Alabama 367, Georgia 14, Florida 6, Texas 6, Tennessee 5, Illinois 3, California 2, Missouri 2, Pennsylvania 1, South Carolina 1, Michigan 1.
2016: Alabama 372, Georgia 13, Indiana 2, Florida 1, Texas 1, California 1, Missouri 1, South Carolina 1, Arkansas 1, Mississippi 1.