Bulldogs in finals
Piedmont sweeps into Class 3A title series for first time since 2017 with complete package against Phil Campbell
By Al Muskewitz
East Alabama Sports Today

PIEDMONT — Matt Deerman felt something different in the air when his Piedmont baseball team got to the ol' ball yard Wednesday.
 
The Bulldogs wanted back into the Class 3A championship series after missing the year before and played like it. They put together as complete an effort — pitching, hitting, defense — as they've had all year and swept Phil Campbell 5-0 and 14-1 to earn a place in the title series for the first time since 2017.
 
The Bulldogs (35-8) will play Providence Christian (28-8) in Game 1 of their championship series 6 p.m. Tuesday at Patterson Field. The series moves to Riverwalk Stadium for its completion Wednesday at 10 a.m. 
 
Providence Christian got there by sweeping Gordo, the team Piedmont played when it last reached the finals in Deerman's first season as head coach in 2017.
 
"It never gets old," Deerman said. "This is our third trip since 2012. You want to think every time you get there that's another chance you've got. These kids getting to experience that is something they'll always remember. That's what it's all about."
 
The more the Bulldogs win, the blonder they seem to get. More and more players have come to the park with blonde highlights or complete dye jobs each week as they advanced through the playoffs. Game One winner Logan Pruitt is rumored to be joining the group, the Bulldogs' answer to NHL playoff beards, this week.
 
Four current starters were on that 2017 team that lost to Gordo in the finals — Pruitt, Mason Mohon, T.J. Fairs and Nick Johnson — and all played big roles in the sweep.
 
Making his final career home start, Pruitt fashioned a four-hit shutout with nine strikeouts. Each of the senior right-hander's four playoff starts have gotten progressive better and longer. He'd given up 13 runs in his first two starts, but Deerman told him he'd never had three bad starts in a row so just relax and have fun with things the next time out.
 
Then he gave up no earned runs last week against Westminster Christian. The only real trouble he ran into Wednesday was in the fourth when the Bobcats put runners at second and third with no outs. He struck out the next three batters to kill the threat and keep the shutout alive.
 
"It's gotten better every week," Pruitt said. "With the state championship on the line (and) this being the last game I was going to pitch at Piedmont at home, I wanted to go out in a big way."
 
He got a lot of support from his defense. Left fielder Austin Estes made two diving catches, shortstop Mohon made a lunging grab in the sixth, and centerfielder Fairs gunned a runner at the plate for the final out of the game.
 
"They really saved me a couple times," Pruitt said. "They really helped me out today."
 
"As far as an all-around complete series — offense, defense and pitching — we haven't played that well all year, as far as a complete game," Deerman said. "We've had games where we best good teams and been good at one thing or the other. Tonight, we made plays and had good at bats and our pitching was phenomenal tonight. This is about how we played during spring break … We got on them early and we stayed on them and we finished."
 
The Bulldogs scored all their runs in Game One in the second inning. They batted around, collecting four doubles. Walter opened the scoring with a two-run double, Johnson had an RBI single, and Fairs and Brant Deerman had RBI doubles. Johnson was 3-for-3 in the game.
 
The nightcap they hit it even better. They erased an early 1-0 deficit with four in the third, sparked by Mohon's go-ahead, two-run single. They added four in the fifth and just teed off on the Bobcats in the seventh for six more. They had four straight extra-base hits in that seventh. Sean Smith and Mohon both had three hits in the game.
 
Bryce Walter was just as impressive as Pruitt on the mound. He gave up five hits and struck out 12 and allowed only one runner past second after the first inning. He struck out the side in the second, third and sixth innings. He's allowed only three earned runs and struck out 31 in 26 playoff innings.
 
"The first inning I wasn't too happy about but I settled down and I got through it," he said. "I think I got the adrenaline going and my teammates made plays behind me and that really helped me out … We're very confident right now. We're on a hot streak and feel like we've got a good chance."

Game 1
Phil Campbell  000 000 0 – 0 4 0
Piedmont         050 000 x – 5 9 1
WP: Logan Pruitt. LP: Nate Owens. 2B: T.J. Fairs (P), Bryce Walter (P), Brant Deerman (P), Sean Smith (P).
Game 2
Piedmont         004 040 6 – 14 13 1
Phil Campbell  100 000 0 – 1 6 4
WP: Bryce Walter. LP: Ridge Raper. 2B: Bryce Walter (P), Logan Pruitt (P), Nick Johnson (P), Sean Smith (P). 3B: Austin Estes (P).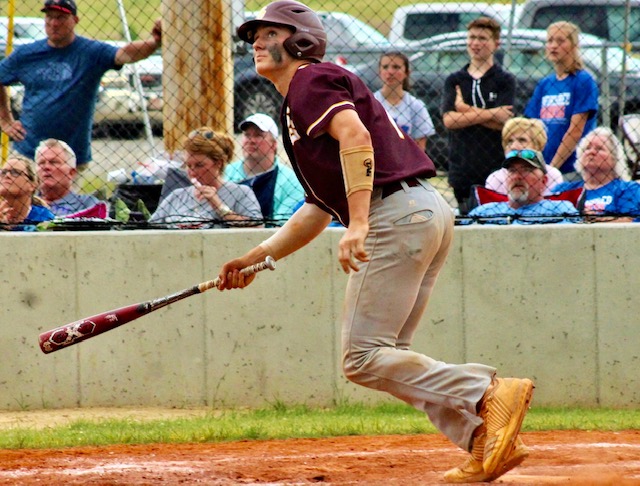 Spring Garden swept
SPRING GARDEN – Barrett Ragsdale told his Spring Garden baseball team nobody had challenged Mars Hill Bible since the last week of the regular season. Well, the Panthers gave their visitors all they could handle in the first game of their Class 1A North title series.
 
Junior pitcher Colby Slayton found himself in a battle with Mars Hill's Colt Smith for seven innings. It wasn't until Slayton was lifted in the top of the eighth the visitors finally found a way to scratch across the game's only runs and win 4-0.
 
Mars Hill carried the momentum it built into Game 2, got a two-run shot from Smith in the bottom of the first inning and kept pouring it on 11-3 to sweep the series.
 
"I knew they were going to be a tough opponent," Ragsdale said. "They got put out by G.W. Long last year in Montgomery, who's won 14 out of the last 30 state championships in 2A. They had most of their team back, so we lost to a good baseball team."
 
Peyton Higgins got the winning rally going in Game 1 with a one-out single. Josh Bowerman then beat out a bunt to give Mars Hill runners at first and second. Second baseman Kyler Murks singled to drive in the first run, Walker White's infield single scored another and back-to-back infield errors allowed the final two runs to score.
 
"We're laying down bunts, trying to move runners, and I thought our guys did a good job moving those runners," Mars Hill coach Jay Mitchell said. "We were just trying to get a run or two, but we ended up with four."
 
That proved to be plenty of run support for Smith, who finished the game off in the bottom half of the eighth. Smith scattered three hits and two walks with 13 strikeouts. Slayton singled and doubled against him. Leadoff batter and left fielder Chaz Pope singled and walked, and designated hitter Nathan Law drew walk.
 
Slayton earned a no-decision after tossing seven scoreless innings. He allowed three hits and three walks with eight strikeouts. Weston Kirk suffered the loss, then started Game 2 and was greeted by Smith's two-run homer to left field in the bottom of the first inning to set the tone.
 
Ragsdale said the tough-luck loss in Game 1 was hard for his Panthers to come back from emotionally in Game 2.
 
"It was one of those games where you play your best and lay it all out on the line," he said. "We brought Weston into the first game. He was going to be our Game 2 pitcher, but I thought it was really important to win Game 1 because they were so deep with their pitching. We hung with them for a little bit (in Game 2). It was 2-0 for a while, but they're a good baseball team and they just hit the ball well in the second game."
 
Smith went 3-for-3 with a home run, a double, a walk and four RBIs in game two. Collin Huntley and Brooks Thompson were both 4-for-4. Huntley doubled twice. Thompson doubled three times with four RBIs. Walker White singled and doubled. Sam Ragan finished 2-for-4.
 
Luke Welsh accounted for the Panthers' runs in the doubleheader with a towering three-run homer. He finished Game 2 a triple shy of the cycle. — Shannon Fagan, Cherokee County Herald