Best for last
Ohatchee's Hanks, boys 4×800 relay put together state championship-winning efforts on the final attempts of their high school career

By Al Muskewitz
East Alabama Sports Today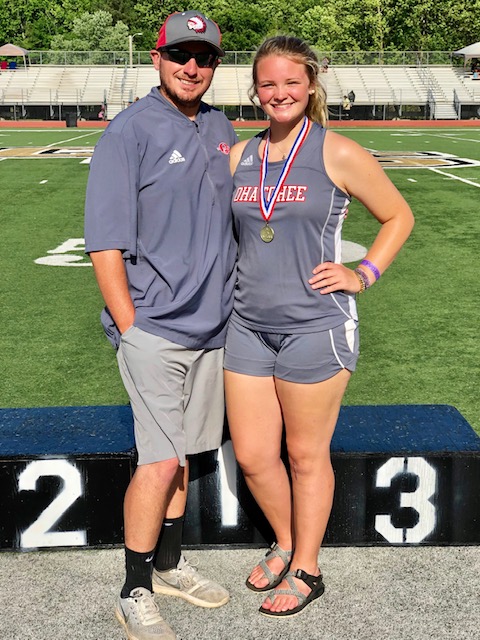 CULLMAN – Sometimes knowing you're doing something for the last time brings out the best in what you do.

That was the case for Ohatchee discus thrower Marli Hanks and the Indians' boys 4×800 relay team.

Both won Class 2A state championships either on the final throw or last race of their high school careers Friday at the Class 1A through 3A state track meet at Cullman High School.

Hanks won the 2A discus on the final throw of her career – on her birthday, no less, because they moved Saturday's field events up a day – with a throw of 100 feet, 11 inches, capping an incredible comeback from January knee surgery. The 4×800 relay team – Luke Fair, Gabe Huff, Gabe Hammonds and Blake Noah – won in a blistering 8:28.12, six seconds shy of the state record, and there was no one around them at the finish.

What both milestones represented is as much of the story as the winning itself.

"Gabe and Blake (and Victoria McRaney) started this program," Ohatchee coach Casey Howell said. "When I came in they were seventh graders and I literally kicked everybody off but the seventh and eighth graders. I wanted to start the right way and the only way to do that is where you mold them at a young age. We had one senior and seventh and eighth graders.

"Blake and Gabe built this thing – cross country, indoor, outdoor – they're the greatest leaders a person can ever ask for. You could not have drawn it better than God waited to the last race all the way through cross country, indoor and outdoor to bless them."

The four friends have events to handle Saturday, including the same group in the same order in the 4×400 relay, but this was the final time they were running the 4×800 together in their high school careers. The coaches couldn't believe their 4:33 seed time, but they lived up to the billing with a runaway win the finals. Howell is convinced if they had had someone pushing them in the last leg they "probably" would have broken the state record.

The Indians had never medaled in the event before Friday. In fact, they had 13 athletes medal on the first day where they most they've had in the outdoor meet before was two.

"It was unbelievable; it didn't feel real," Hammonds said. "Before the race we were all so nervous and after it was over I was just walking around like it was any other race. Before the race I told them give everything we had. If we did, there's no way we can't do something special. These guys are like my brothers. We'd do anything for each other. We're a special group."

Huff had given Hammonds a "pretty good lead" and he just tried to stretch it before handing the finish off to Noah. Despite running with a head cold, Noah hit the tap five seconds ahead of runner-up Cold Springs.

"It was really great bringing it in for the team," Noah said. "The four guys, we're all very good friends outside of the sport and care for each other. We just bring it every week for each of the guys. It's the last time we'll ever run it for Ohatchee and I wanted to represent it well. I tried to go out and give my PR split but couldn't because I didn't have anybody to pace off of. I was just excited to win with this group of guys because those guys are essential my best friends."

Hanks winning the girls discus is one of the best stories at the meet.

In mid-December she tore the ACL in her left knee during a basketball game against Ragland and at the time the prospects of her high school athletics career continuing looked dim. Howell remembers sitting in the locker room at halftime thinking there's no way she could ever get back.

Hanks got after it in rehab determined to return, but the last doctor she saw before spring training wasn't going to clear her and that made her cry. He finally relented with the stipulation she compete with a brace.

At the County Meet she threw a 65 and cried again, knowing she was a long way from qualifying for state. Howell told her "you've accomplished everything you need to accomplish, you need to take it in and enjoy it that you got one more opportunity to throw."

Not satisfied with that, Hanks got after it some more. She won the sectional at Beauregard with an 87 and Friday the comeback was complete when, on the final throw of her high school career, she threw 100-11 and won by four feet.

"The only way I can see it is it was just a gift from God; I know I couldn't have done it on my own," Hanks said. "If somebody told me two weeks ago I would've been able to win state I definitely wouldn't have believed it."

The brace, while stabilizing the knee, was impacting her technique. Along with her uncle, she developed a half-spin that dramatically improved her results.

She was sitting in second place when her final attempt came. She stepped confidently into the circle and soared her lead ball way past Feliah Greer of LaFayette.

"They all told me before the last throw this is the last throw of your entire high school career," Hanks recalled "Get in there, clear your mind and just don't think about anything else. That's what I did. I got in there and didn't think about anything and did it."

The Ohatchee boys go into Saturday in second place in the team standings, 12 points behind leader Altamont. The girls are fourth.

"It'd be amazing my senior year to win the whole thing," Noah said. "That'd be amazing."

ON THE PODIUM: Robert Gaines started feeling bad around the time of the 4×100 prelims, but he hasn't let it slow him down. The Weaver senior won the 3A boys high jump (6-6) and finished third in the triple jump (44-7). He has two events Saturday, the 4×100 and the 110 hurdles, his specialty.

"I've been throwing up all day, but since this is my last go-around I'm giving everything I've got," he said. "I'm very proud of today because nobody even knows I'm sick and I'm out here doing all my events and doing it to the best of my abilities. I've just got to keep going and push through it."

In Class 3A, Saks' Halimah Bin-Yamin won the girls shot put (35-4) and teammate Sa'Nya Fleming was second in the long jump (16-9.5) and triple jump (35-2.75). Pleasant Valley's Brenna Harris was second in girls high jump (5-2) and third in the pole vault (9-6). On the boys side, Piedmont's Matthew Pfledderer was third in the pole vault (13-0) and Pleasant Valley's 4×800 team was third (8:40.84).

In Class 2A, Ohatchee's Laura Hurst was second in the girls javelin (105-3); the girls 4×800 relay was third (10:49.45); Tyler Hester and Troy Galloway went 2-3 in boys pole vault (11-0); and Austin Wyatt third in boys high jump (5-6).

In Class 1A, Donoho's Tyler Rigsby third in the boys shot (44-3).