Saks falls in 2OT
Aguilar header with 1:47 remaining sends Susan Moore past Wildcats; Weaver boys, Sacred Heart girls fall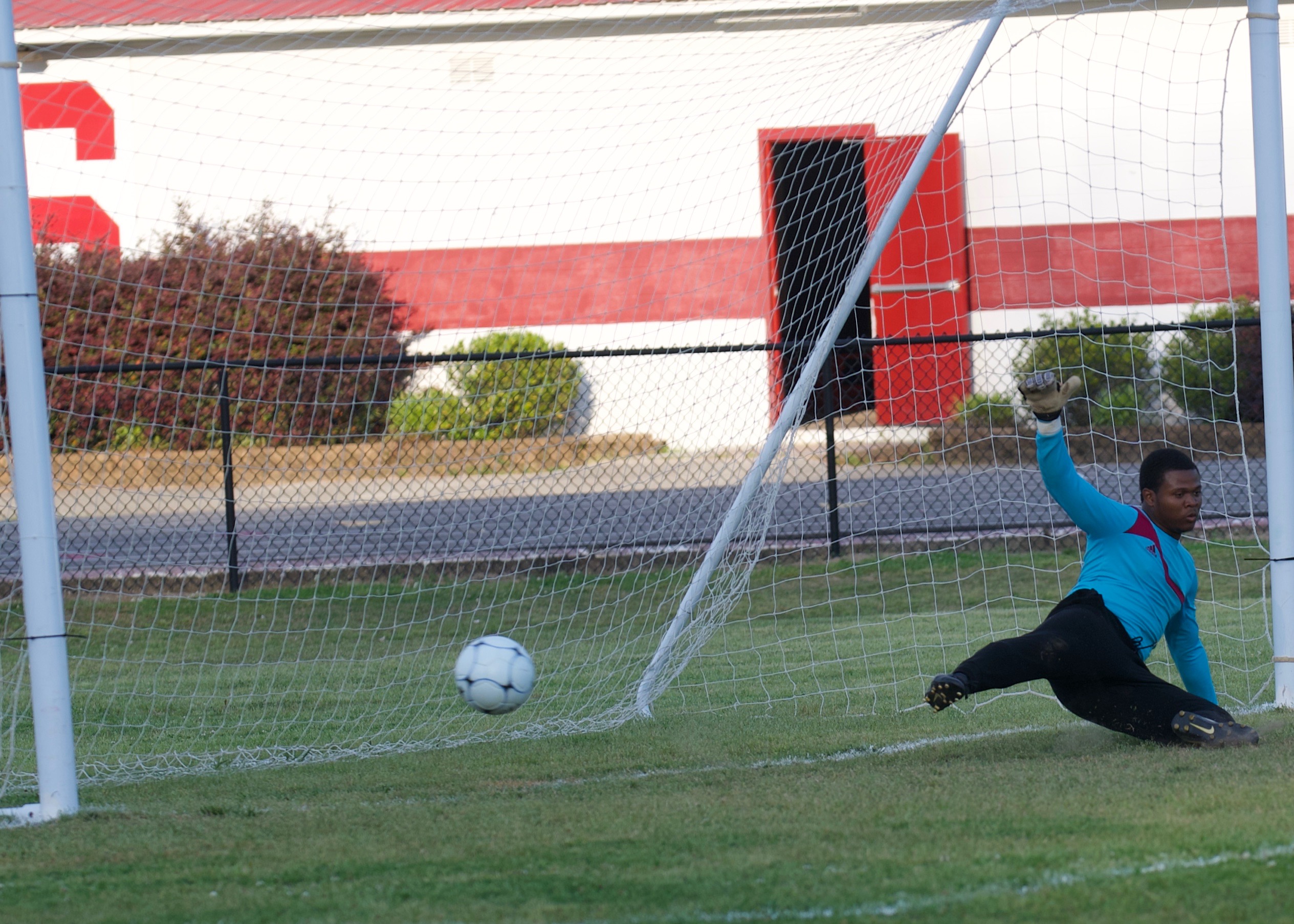 Tuesday's playoff scores
Boys matches
Altamont 5, Weaver 0
Susan Moore 4, Saks 3 (2 OT)
Girls matches
Altamont 5, Sacred Heart 1

By Al Muskewitz
East Alabama Sports Today

Everybody in the stadium was expecting penalty kicks when suddenly lightning struck at the worst possible moment for Saks.

Susan Moore's Jason Mejia chased the ball deep into the right corner. Saks keeper Ty Willis followed him.

At the last instant, instead of allowing the ball go out of bounds for a corner kick, Mejia shot it across the goal crease where Jesus (Chuy) Aguilar headed it into an open goal to send Saks to a 4-3 double overtime loss in the Class 1A-3A boys soccer playoffs.

Aguilar's 10thand biggest goal of the season, 1:47 from the end of the second overtime, sends the Bulldogs to play Altamont in the second round. Altamont shut out Weaver 5-0.

The Wildcats (17-2-1) were literally 100 seconds away from getting where they wanted to be against the veteran, highly skilled Bulldogs (11-3-2) in the first home playoff match in school history.They answered all three of Susan Moore's goals to tie the game, but had no time to match the fourth.

"Going into the second overtime, that was our game plan," Saks coach Dwight McDonald said of getting to the PK shootout. "Just mishaps on the defensive end, not getting back on the wing, that happens. … We didn't finish."

Susan Moore coach Robert Austin would've liked to have said the game-winner came just as the team practices it every day, but but he didn't want to be untruthful. He called it a "good heads up play" by Mejia giving up the low percentage shot to trust his teammate. When the ball found the back of the net Aguilar ripped off his jersey in celebration.

"I just felt confident throughout the game," Aguilar said. "I struggled through some adversity and overcame it. It was pretty wide open. It's just unbelievable. It just felt like an amazing moment."

"As I was running I saw him crossing in," Mejia said. "I could have let it go off for the corner, but I saw him crossing in. I had a chance to cross it and I got it in and luckily my teammate put it in the back of the net."

"I didn't see him behind me, but I was hesitant," Willis said. "I should have told my team to drop back more and cover the man from behind me. I can't look from behind me, but as I saw the kick I was hesitant to dive because I twisted my ankle on the last play so if I dived I thought maybe I was going to not be able to get back in time to stop the play. And I thought it was out before he crossed it, that's why I was also hesitant, but I should have kept playing until I heard a whistle."

Interestingly, Aguilar scored the game-winner in the last five minutes of the Bulldogs' final regular season game last Tuesday night. Even more interesting, he missed two shots earlier in the second overtime, including a header off a curling pass from Mejia 39 seconds into the period.

Mejia scored the Bulldogs' first two goals on penalty kicks.

Saks' Kory Watkins, who drew the Bulldogs' attention as the "most dangerous (opposing) player on the field" every time the ball crossed midfield, tied the game 3-3 when he beat Bulldogs keeper Brandon Jordan Martinez off the line for his second goal with 12:46 left in regulation. Watkins' first goal came in a similar fashion and tied the game 1-1.

Watkins appeared to have been fouled from behind by Anthony Cervantes in the box for a sure penalty kick with 5:41 to play, but the officials ruled both players were going to the ball.

"Kory has really turned it on this year, "McDonald said. "He has led the way offensively and really been an unstoppable force, I don't care who we played. When he's healthy he can beat anybody. That was a really good matchup. Five more minutes I think we'll be going to another overtime with PKs."

Susan Moore 2 1 0 1 – 4
Saks 2 1 0 0 – 3

Scoring
First half
SM – Jason Mejia (PK), 11:52; S – Kory Watkins, 18:23; SM – Jason Mejia (PK), 20:12; S – Jahir Ortiz-Rodriguez (PK), 27:53.
Second half
SM – Gabriel Piceno Aguilar, 49:31; S – Kori Watkins, 67:14
Overtime
SM – Jesus Aguilar, 98:13.
Shots: Susan Moore 27, Saks 12. Saves: Brandon Jordan Martinez (SM) 7, Ty Willis (S) 12. Corner kicks: Susan Moore 2, Saks 2.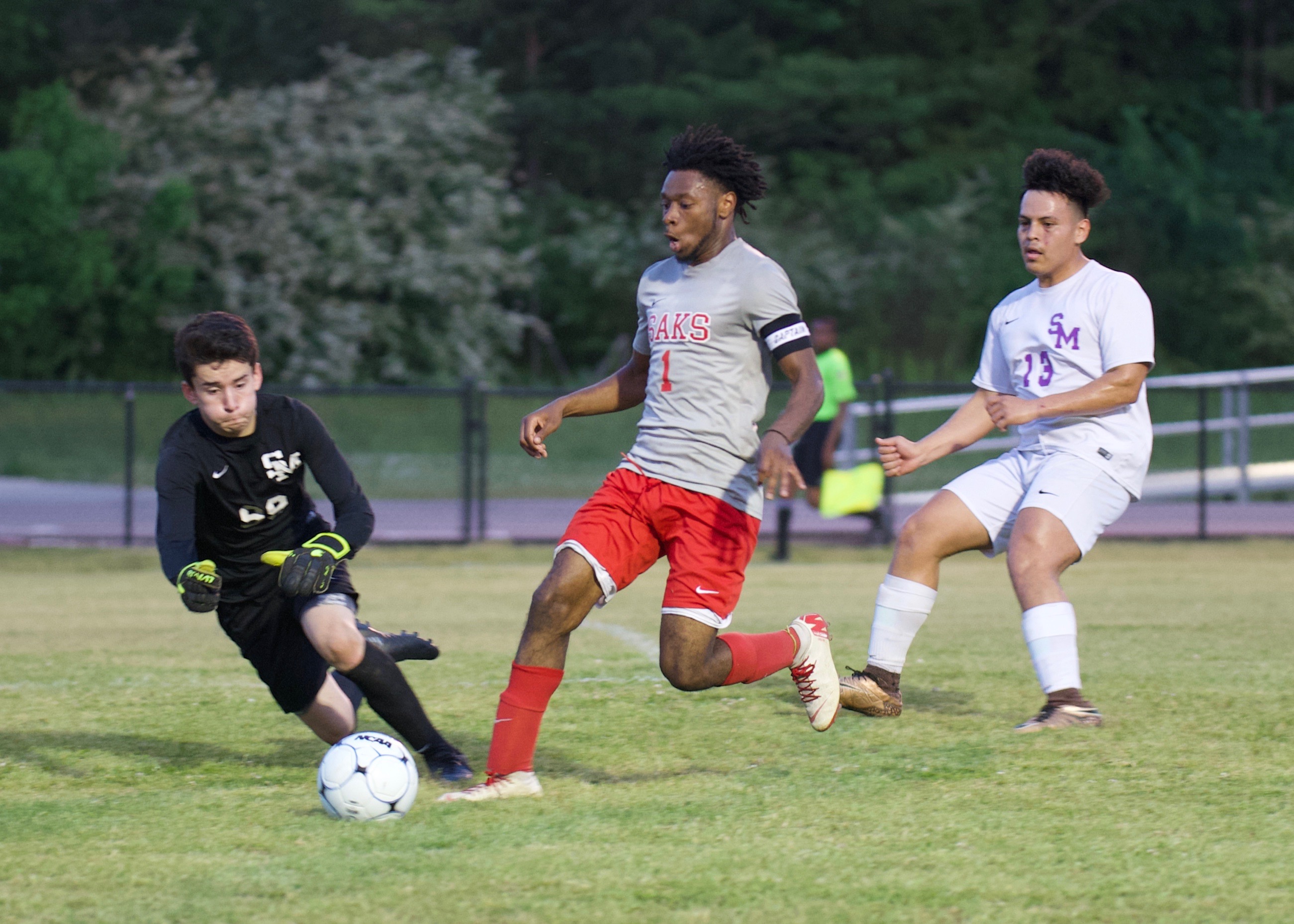 To see more photos from the match like these click on this link: www.bjfranklin.smugmug.com