Donoho's 'amazing' day
Donoho's Draper, Hillman win Class 1A-3A singles state tennis titles; both teams finish third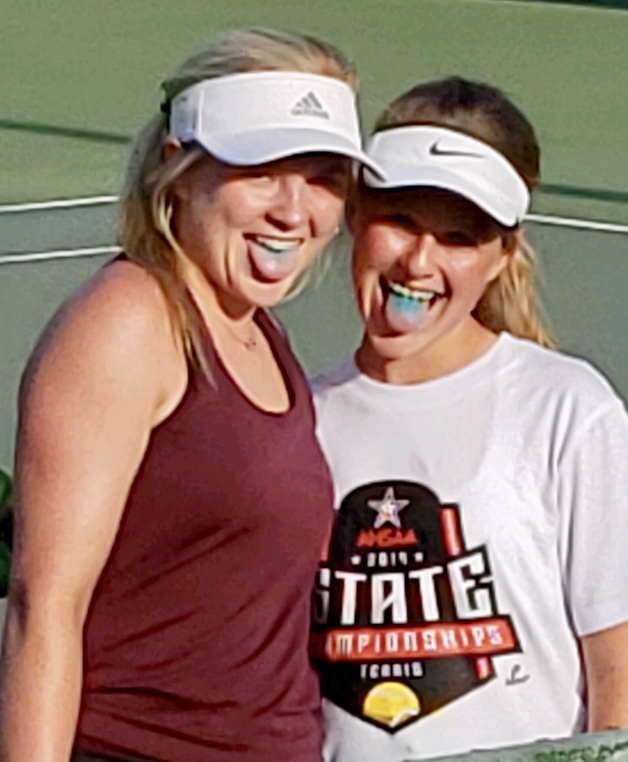 By Brant Locklier
For East Alabama Sports Today

MONTGOMERY – It was a long grinding day for Laurie Rigsby and her Donoho boys and girls tennis teams at the AHSAA state championships at Lagoon Park in Montgomery, and a fruitful one at that.

There was the exhilaration of girls singles players Claire Hillman, Lily Grace Draper, Claire Walker and Mary Marshall Perry and the doubles team of Draper-Hillman reaching a state championship match. All but Walker are eighth-graders and the entire team returns next year.

Two of them will be returning as state champions. Draper, the 12thseed, defeated third-seeded Gabriella Hernandez of St. James 6-2, 6-1 at No. 4 singles. Hillman, the 16thseed, took a three-set marathon at No. 2 from top-seeded Bea Richardson of St. James 7-5, 6-7 (7-4), 6-0.

Second place was riding on the last doubles match, but the Falcons lost and finished third with 46 points, six behind runner-up St. Luke's and 10 behind champion St. James. The boys finished third as well with 26 points.

Throw in Harrison Han on the boy's side, as he made his charge to a state championship and losing a close match, and Han and his partner Rhett Rigsby dropping a close match in the Final Four of doubles play and it was a special day for the Falcons.

"When Rhett and Harrison left the court in their last match it was a special moment," said Laurie Rigsby, as all three gathered together to breath and reflect on all that had happened in the last two days. "There were tears as it was it was my child and a special kid like Harrison and I realized that was the last time we would be working together.

"I was so proud of all of our kids and the way they battled all day long. It was just an amazing day."

Claire Hillman won the No. 2 singles championship after finishing second a year ago and along the way defeated the player, Evelyn Prickett, who beat her last year. She also lost her first sets of the season and was behind for the first time this year and had to pull herself together from a mental toughness standpoint to push her way to a state championship.

"It was very stressful," Hillman said. "I thought I was going to lose against Prickett. She was really keeping the ball in play and was really good, but I hung in there. It just feels great to win a state championship because of my age and I am excited to have four more opportunities to do this again."

Draper brought home the second Donoho state championship in No. 4 singles.

"It is just overwhelming to think of it right now; I just cannot believe it," she said. "The Bayside match was the one that gave me the most trouble. I served real well today. It was just an amazing day."

Sophomore Claire Walker finished runner-up at No. 5. Things started to click for her when she had to move up and play No. 2 in the Calhoun County Tournament that she won.

"It just took me a while to figure things out, I guess, and the county helped me," Walker said. "It was a hard, but I just kept the ball in play today and figured out how to win. I am proud of the year I have had and want to come back next year and win this thing."

Perry made it to the state finals, also.

"It was a very stressful and nervous day," she said. "It was the hardest and the best I have played all year. I was proud that I showed I was tough and could play at this level. We were tied 2-2 in the third set and then she got up 4-2 and we just went back and forth from there."

Han, a senior, was happy with his whole year. The setback in the championship match was his first loss at No. 2 this season.

"It was such a good experience to be able to have," the Chinese exchange student said. "To be able to be on this team and be able to learn from coach and be accepted by all my teammates is something I will take with me the rest of my life."

GIRLS RESULTS

No. 1 Singles – Junior Emma Wiedmer opened up her tournament with a 6-2, 6-0 win over Macy Mixon of Westminster. She lost in the elite eight 6-1, 6-1 to Annie Holt of Holy Spirit. It was the second straight year Weidmer made the elite eight.

No. 2 Singles – Eighth-grader Claire Hillman made it to the state finals a year ago and came up short. This year she got her state championship and along the way got a chance to avenge that defeat in a rematch with Bayside's Evelyn Prickett in the semifinals.

Hillman opened up with a typical 6-0, 6-0 win over St Luke's Anna Marie Bentley. Then came the rematch and it was a struggle as Hillman lost the first set 6-4 and was behind for the first time this year. She regrouped and won the second set 6-4 and took the third set 6-2 to move onto the finals against Bea Richardson of St James.

Again, it was not easy as Hillman won the first set 7-5, lost the second set 7-6 in a tie-breaker and then romped home 6-0 in the final set.

No. 3 Singles – Junior Virginia Hutto went to the finals last year in No. 5 singles and started out with a 6-0, 6-1 win over Kara Rhodes of Shoals Christian to reach the final four. She ran into eventual state champion Whitney Novak of St Luke's and fell 6-1, 6-0.

No. 4 Singles – Draper made it the final four a year ago in No. 6 singles, but was not going to be stopped this year. She only lost seven games in rolling past three straight opponents to win a state championship.

She opened up with a 6-2, 6-1 win over St Luke's Oliva Thompson and then took care of business with a 6-0, 6-2 win over Ella Perry from Bayside. The state championship win came over Gabriella Hernandez of St James.

No. 5 Singles – Sophomore Claire Walker lost in the first round last year to Bayside's eventual state champion Omelia MacPherson. She had a much better draw this year and is a much better player as she took her game to the state finals before losing 6-3, 6-1 to Reilly Taylor of St. James.

Walker fought back in the opening round to take a 6-1, 4-6, 6-3 win over Westminster's Molly Mixson. Next she disposed of Providence Christian's Anna Clay Parrish 6-3, 6-1 to get to her first state final.

No. 6 Singles – Perry advanced to the state finals before losing a tightly contested match 1-6, 6-4, 4-6 to Allyn Browning of St. James. Perry won 6-0, 6-0 over Holy Spirit's Eva Parrish, then won a tight 7-6, 6-3 match over Bayside's Lillie McInnis and then reached the finals in dominating style with a 6-1, 6-0 victory over Abbey Still of Providence Christian.

No. 1 Doubles – Weidmer-Hutto had the misfortune of drawing the defending state champs from Bayside after a first-round bye and fell 6-3,6-1.

No. 2 Doubles – Hillman-Draper won 6-0, 6-0 in their first match over Providence Christian and beat Lauderdale County to advance to the state finals against St Luke's. It was the 12th hour of play on the day for both girls and after losing a tough 7-5 set, they ran out of gas and lost the final set 6-0.

No. 3 Doubles –Walker-Perry opened up with a 6-1, 6-2 win over Providence Christian before falling in the second round to St. James 6-4, 6-2.

BOYS RESULTS

No. 1 Singles – Junior Cooper Montgomery made it to the final four after an elite eight appearance last year. He opened play with a 7-5, 6-0 win over Lauderdale County's Brett Marlow and then polished off Red Bay's Noah Brewer 6-1, 6-1. Montgomery then ran into Houston Academy's Will Tucker. Tucker was the state champion a year ago No. 4 and defeated Montgomery 6-2, 6-3.

No. 2 Singles –Han only lost one match this season and it was in the state finals. He was 15-0 at No. 2 singles going into the final. He played two familiar foes this year. He faced Nicholas Ruddard of Houston Academy two years ago at state in Mobile where Ruddard won 6-4, 7-5. It was much similar this year as Ruddard edged Han 6-3, 6-4 in the state championship match.

Earlier he defeated Carson Spivey of Whitesburg Christian 6-2, 6-2 and Dillon Bayes of Lauderdale County, 4-6, 6-1, 6-0 to reach the finals.

Han will be attending Purdue University in the fall.

No. 3 Singles – Senior Gray Hanley had a tough opening match has he drew the eventual state runner-up, Mitch Mathews. Mathews was in top from as he defeated Hanley 6-1,6-1.

No. 4 Singles –Senior Rhett Rigsby fought back from a 6-3 first-set loss to win the next two sets 6-2, 6-1 over Gabe Dollar of Sumiton Christian. Rigsby then lost 6-1, 6-4 to Houston Academy's Hayes Edwards. Edwards would go on to win the state championship.

No. 5 Singles –Eighth-grader Jack Ballard fell to T.R. Miller's Craig Blevins in his opening match 6-2, 6-1. It was Ballard's second appearance in the state playoffs.

No. 6 Singles –Senior Reese McWhorter opened his tournament play with a 6-4, 6-2 win over Connor Garrett of Lauderdale Co. He then lost to Mitchell Piedra of Houston Academy 6-1, 6-1. Piedra made it to the finals.

Hanley, Rigsby and McWhorter will all be going to Alabama in the fall.

No. 1 Doubles – Montgomery-Handley opened with a 6-1, 6-4 win over T.R. Miller. They fell in a three-set match to St. Bernard's 6-4. 2-6, 6-2.

No. 2 Doubles – Han-Rigsby got a quick start in the tournament with a pair of wins over St. Bernard 6-2, 6-2 and Whitesburg Christian 6-1, 6-2.

No. 3 Doubles –Ballard and McWhorter opened with a 6-2, 6-2 win over St. Bernard. They lost in the second round to Houston Academy 6-4, 6-1.

Golf: Morard wins with 64
SILVER LAKES –Randolph junior Michaela Morard, an Alabama commitment and recent selection to the U.S. Junior Golf World Cup team, shot a bogey-free 8-under-par 64 and won medalist honors in the White Plains Girls Invitational at Silver Lakes. She won by six shots over Jinger Heath of Hartselle.

Providence Christian all three scorers in the top 10, shot 233 as a team and won by two shots over Randolph. Arab was third (238) and White Plains was tied for fourth.

Providence Christian's Lauren Thompson (74), White Plains' Hanna Dyar (75) and Arab's Grace Narrell (75) rounded out the top five.

Glencoe wins match: Abby Powell shot 46 on the back nine to win medalist honors and lead Glencoe to a six-shot victory over Pleasant Valley in a nine-hole match at Twin Bridges. The Lady Jackets shot 153 as a team, counting also Lauren Cole (51) and Camryn Blackwell (56). Marlie Wright shot Pleasant Valley's low round (51).

WHITE PLAINS GIRLS INVITATIONAL
At Silver Lakes
Team scores
Providence Christian 233
Randolph 235
Arab 238
White Plains 244
Huntsville A 244
Muscle Shoals 261
Hartselle 263
Huntsville B 287
Oneonta 290
Fairview 291
Scottsboro 293
Russellville 317
Alexandria 322
Oxford 333
Fort Payne 343
Jasper 344

Top 15 Individuals
Michaela Morard, Randolph 64
Jinger Heath, Hartselle 70
Lauren Thompson, Providence Christian 74
Hanna Dyar, White Plains 75
Grace Narrell, Arab 75
Emma Cox, Providence Christian 78
Alley Beth Waldrop, Jasper 78
Sarah Utley, Huntsville A 79
Baylie Webb, White Plains 80
Allison Howard, Providence Christian 81
Reagan Malone, Arab 81
Anna Margaret Hays, Muscle Shoals 82
Ellie Cothran, Arab 82
Markie Nelson, Huntsville A 82
Gabi NiCastro, Huntsville A 83
Elle Webber, Randolph 83