Oxford Invitational
St. Paul's wins Oxford Invitational, Donoho's LeCroy makes two clutch putts down the stretch to hold off challengers for medalist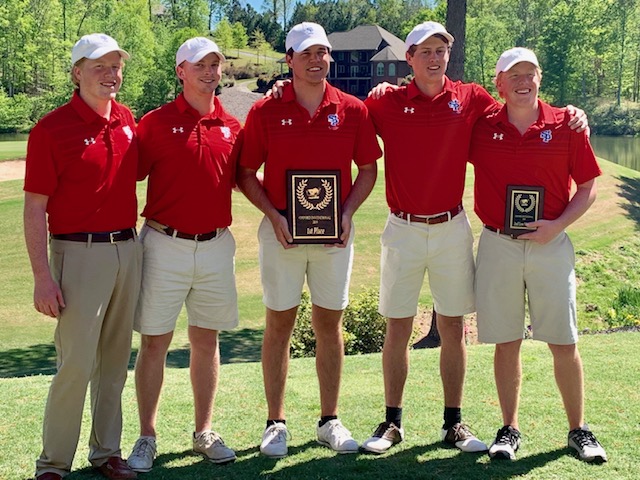 By Al Muskewitz
East Alabama Sports Today

OXFORD — Jacob LeCroy's golf ball ran out of gas on the 17th hole, so he did what any sensible driver would do. He pulled in for a fill up.

The Donoho senior changed out the balky and damaged ball on the 18th tee and, now fueled to the max, he rode it all the way to the finish line.

He made clutch putts with the new Titleist on each of his final two greens, making birdie on 18 after finding the hazard off the tee to take the lead and sinking a tense six-footer at the last for par, to avoid a playoff and win the medalist honors in the Oxford Invitational that got away from him last year by one stroke.

LeCroy shot a final-round 2-under-par 70 to finish at 1-over 145 for the tournament. St. Paul's junior John Gaal shot the round of the day, 69, and finished one shot back. Defending champion and Alabama signee Tyler Lipscomb of Bremen (Ga.) was third at 148 after a final-round 70.

At separate points on the back nine LeCroy was tied with each of his challengers for the lead. He was tied with Gaal until the birdie at 18. He entered the day with a two-shot lead.

"I finally finished one off," he said. "I'm just happy I finished strong. You could say it was the ball, sure, but I made some putts coming in, that's what it really was."

Lipscomb earned a piece of the lead when he went eagle-birdie-birdie on 9, 10 and 11 to get to 4-under for the day, and briefly held the lead when LeCroy bogeyed 12, but fell back with bogey on 14 and bogeyed 18 to finish.

"I knew I had to shoot probably about 6 to get back to even for a chance to win," he said. "I didn't want to put that number in my head, but I knew I needed to make some more birdies and I just kind of forced it on 14 and that was pretty much it."

That left it to LeCroy and Gaal to battle coming home. Gaal grabbed his share of the lead with an eagle on 15 to LeCroy's par and the game was on.

"I knew exactly how tight it was," LeCroy said. "I was keeping up with it all day. It's the most pressure I've had on me in a while, getting to play with the guy (challenging him). I've been in that situation before where you don't know what the guy behind you is doing and I hate that. It's more fun knowing."

LeCroy missed putts on the high side on 15, 16 and 17 that would have allowed him to pull away. Instead they were tied going to 18. LeCroy found the hazard off the tee, but wound up making a straight five-foot birdie to take the lead. Finishing on 1, Gaal hit it to 10 feet and LeCroy to 20. Gaal just missed his birdie putt and LeCroy ran his six feet past but courageously made it coming back.

"I didn't want to go to a playoff; I've had enough of those, I was wore out anyway," LeCroy said. "Luckily I made it. Finally, I went back-to-back five-foot makes. I finished strong. I made two putts coming in that changed it all. If he would've made that birdie putt it puts me in a must-make situation and I lose by one. I was thinking that I've got to make this."

"It was nerve-wracking," Gaal said. "I was very nervous, but I just pulled through it."

The team race wasn't so close. Three-time reigning 5A state champion St. Paul's posted a 304 Tuesday and won its first tournament of the year by 25 shots over James Clemens. In addition to Gaal, the Saints put two other players in the top seven and all five in the top 17. Clemens' top two players finished tied for ninth and a third was T-12.

The Saints were second in each of their last two tournaments against fields that included multiple state champions. They were playing in the tournament to get an advanced look at Cider Ridge, the site of their sub-state qualifier in three weeks.

"The biggest thing is just playing smart golf," coach Zac Lambrecht said. "Out here it's much more about club selection and staying away from trouble versus where a lot of the courses we play the guys are able to hit driver 10-12 times and out here most of them probably didn't hit driver, so it's really about playing smart golf."

OXFORD INVITATIONAL
At Cider Ridge GC
Final scores
Team scores
St. Paul's 321-304—625
James Clemens 338-312—650
Hokes Bluff 340-344—684
Bremen (Ga.) 350-340—690
Donoho 353-343—696
Northridge Blue 341-357—698
Bob Jones 363-348—711
Oxford 350-363—713
Pell City 380-357—737
Northridge Black 400-417—817

Individual scores
Jacob LeCroy, Donoho 75-70—145
John Gaal, St. Paul's 77-69—146
Tyler Lipscomb, Bremen (Ga.) 78-70—148
Tanner Wilder, Pell City 77-75—152
Harrison Hughston, Donoho 80-73—153
Blake Bahos, St. Paul's 77-79—156
Matthew Hunt, St. Paul's 80-78—158
x-Mark Sawyer, Cedar Bluff 82-77—159
Jack Mitchell, James Clemens 83-77—160
Brooks McKellar, James Clemens 79-81—160
Andre Flores, Bob Jones 78-82—160
Austin Schamburg, James Clemens 86-77—163
Austin Burnham, Pell City 79-84—163
Jake Munroe, Oxford 77-87—164
Bill Johnson, St. Paul's 87-78—165
x-Peyton Bradley, Sacred Heart 81-84—165
Thomas Gaal, St. Paul's 87-79—166
Grayson Waller, James Clemens 90-77—167
Robert Cooper, Northridge Blue 83-84—167
Josh Jones, Hokes Bluff 78-89—167
Tucker Marsh, Hokes Bluff 81-87—168
Holden Abernathy, Donoho 79-90—169
Matthew Jones, Hokes Bluff 89-82—171
Ben Womble, Bob Jones 90-82—172
John Wright, Northridge Blue 85-88—173
Brock Cook, James Clemens 95-81—176
Wesley Copeland, Northridge Blue 88-89—177
Jackson Millander, Hokes Bluff 92-86—178
Nic Boyd, Oxford 90-89—179
Gavin Smedley, Bremen (Ga.) 88-92—180
Gage Driskell, Bremen (Ga.) 91-90—181
Wyatt Underwood, Bremen (Ga.) 93-88—181
Jackson Allen, Northridge Blue 85-96—181
Trenton Lott, Oxford 90-93—183
Scott Reid, Bob Jones 95-91—186
Maddox Daniels, Northridge Blue 92-100—192
x-Taylor Harris, Oxford 94-98—192
Ethan Whitcomb, Hokes Bluff 97-96—193
Adam Benefield, Bob Jones 100-93—193
Landen Souder, Oxford 100-94—194
Jack Wert, Oxford 93-105—198
Jacob Colson, Bob Jones 102-97—199
Jarrett Bowes, Pell City 106-95—201
Mosley Mason, Northridge Black 100-104—204
Tripp Oliver, Northridge Black 98-107—205
Caleb Smith, Bremen (Ga.) 97-108—205
Grant Leiter, Northridge Black 102-104—206
Max Rogers, Northridge Black 110-102—212
Paul Garrett Alexander, Pell City 118-103—221
Will Miller, Northridge Black 100-123—223
Chandler Armstrong, Donoho 119-110—229
Bradey Goodson, Donoho 121-113—234
x-Sam Payne, Donoho 127-117—244
x-Nic Sawyer, Cedar Bluff WD
x-Ryan Folsom, Bremen (Ga.) WD
Ryan Bowling, Pell City WD
x-Individuals

White Plains jumps to T-11
ONEONTA – White Plains made a 19-shot improvement over the opening round and jumped three spots to finish tied for 11thin the Tom Bell Memorial Classic at Limestone Springs.

The Wildcats, who had only one round in the 70s on Monday, had all four counters score in the 70s Tuesday and they posted a 300 to finish at 619 and tied with Brooks.

Andrew Miller shot even-par 72 to lead the Wildcats for the second day in a row. He finished at 5-over 149 for the tournament, T-29 individually. The Wildcats also counted 74 from Kenny Okins, 75 from Gage Miller and 79 from Gavin Burrage.

Mountain Brook won the tournament at 11-under 565 (281-284). The Spartans' William Wann was low medalist with rounds of 67-68. He won by a stroke over Houston Academy's Hal Dove and two over UMS Wright's JP Cave.

TOM BELL MEMORIAL CLASSIC
At Limestone Springs
Final scores
Team scores
Mountain Brook 281-284—565
Auburn 296-293—589
Houston Academy 299-292—591
UMS-Wright 304-287—591
Hewitt-Trussville 300-292—592
Homewood 300-294—594
McGill-Toolen 295-300—595
Vestavia Hills 298-299—597
Hartselle 306-294—600
Huntsville 299-309—608
White Plains 319-300—619
Brooks 312-307—619
Ft. Payne 310-312—622
Providence Christian 320-307—627
Hoover 319-313—632
Oneonta 316-317—633
Oak Mountain 329-309—638
Westbrook Christian 340-315—655
Gadsden City 359-320—679
Haleyville 349-367—716

Individual top 10
Willam Wann, Mountain Brook 67-68—135
Hal Dove, Houston Academy 68-68—136
JP Cave, UMS-Wright 68-69—137
Price Brown, McGill-Toolen 71-67—138
Evans Gross, Mountain Brook 69-70—139
Thomas Ponder, Providence Christian 74-65—139
Harrison Davis, Ft. Payne 69-72—141
Stuart Dickson, Hewitt-Trussville 74-70—144
Ken Goforth, Oak Mountain 72-72—144
Will Patrick, Oneonta 73-71—144

Cole leads Glencoe
GADSDEN – Lauren Cole shot 44 to win medalist honors and lead the Glencoe girls to victory in a five-team, nine-hole match at Twin Bridges.

The Lady Jackets shot to 161 and won the team portion by eight shots over Etowah. Cole's 44 was four shots better than runner-up Miranda Nassif of Etowah.

Glencoe returns to the course Thursday in the Gadsden Area Tournament at Twin Bridges, hosted by the Gadsden Junior Golf Association.

Team scores: Glencoe 161, Etowah 169, Hokes Bluff 205.

Individual top 5: Lauren Cole, Glencoe 44; Miranda Nassif, Etowah 48; Mallory Brooks, Southside 54; Abigail Lee, Springville 56; Sydney Correll, Etowah 58; Camryn Blackwell, Glencoe 58.