Lady Cubs back in finals
Alexandria reaches county softball title game after Maggie Phillips flips two shutouts, bats come alive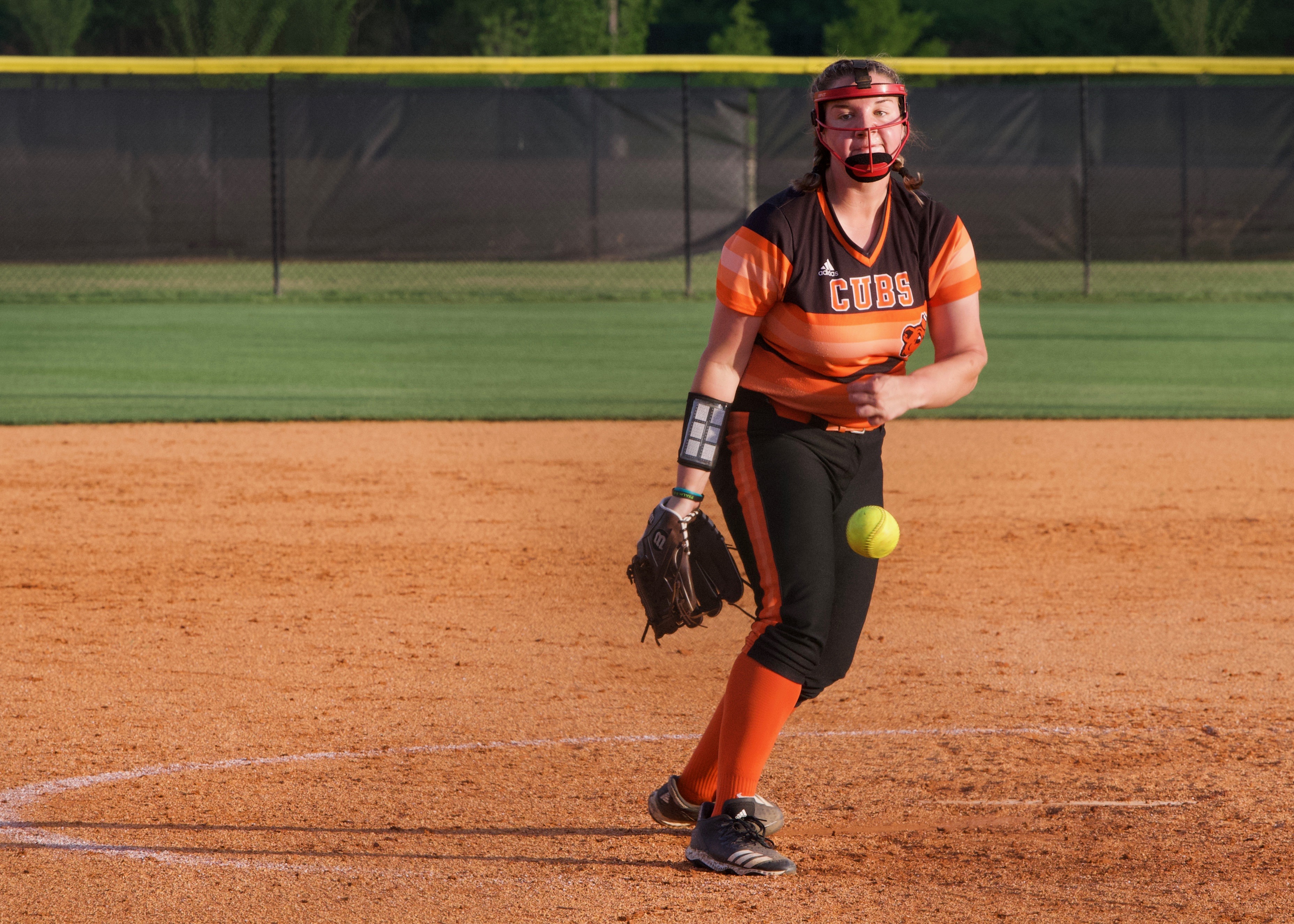 CALHOUN COUNTY TOURNAMENT
Thursday's games
Winner's bracket
White Plains 5, Wellborn 1
Alexandria 2, Oxford 0
Alexandria 5, White Plains 0
Loser's bracket
Pleasant Valley 5, Faith Christian 0
Jacksonville 4, Ohatchee 2
Piedmont 7, Saks 2
Weaver 15, JCA 1
Pleasant Valley 5, Jacksonville 4
Piedmont 10, Weaver 5
Oxford 5, Pleasant Valley 3
Piedmont 6, Wellborn 5
Friday's games
(All games on Signature Field)
Loser's bracket
Oxford vs. Piedmont, 4:30 p.m.
Oxford-Piedmont winner vs. White Plains, 6 p.m.
Championship game: Alexandria vs. Loser's bracket winner, 7:30 p.m.
Championship game: If necessary, 9 p.m.

By Al Muskewitz
East Alabama Sports Today

OXFORD — Brian Hess stood along the third-base line filling out his lineup card lamenting his team's recent struggles producing runs.

It's been all pitching and defense of late for Hess' Alexandria softball team, which really isn't a bad combination in this game.

The Lady Cubs' bats came alive at the most opportune moment Thursday, erupting for five runs in the third inning of a 5-0 win over White Plains in the winners bracket final of the Calhoun County Softball Tournament.

The Lady Cubs await what remains of the field — Oxford, White Plains and Piedmont — resting until Friday's 7:30 p.m. Signature Field final.

To see a collection of photos from the night visit www.bjfranklin.smugmug.com

"We adjusted better that game than we did the first game and as a coach that's what you're looking for," Hess said. "The longer you play in a day you want to make sure you adjust. (White Plains starter Emma Jones) is probably the second or third hardest pitcher as far as speed wise we've seen and we're proud of the way they adjusted. Hopefully, the bats are starting to come around."

When you get the kind of pitching the Lady Cubs have been getting from Maggie Phillips (and Lanie Dreyer) you don't have to hit much. Get them working all at the same time, though, and you're virtually unbeatable.

Phillips shut out Oxford (2-0) and White Plains (5-0), a pair of formidable opponents, on a total of four hits. The senior left-hander pitched a three-hitter with nine strikeouts against Oxford and a one-hitter with four strikeouts while tiring against White Plains. The Lady Cubs have yet to give up a run in the tournament.

"When I walked out there and talked to her it was just to kind of give her a pat on the back," Hess said. "I know you're tired, but this right here is your moment, so take the ball and go to work."

"He just told me that I needed to get ahead of batters and I was working myself too hard," Phillips said. "He was trying to boost my confidence because I was tired."

In both games Logan Irwin got the hit that put the Lady Cubs ahead. Her two-strike bloop into left field in the fourth inning broke a scoreless tie with Oxford and relaxed Phillips for the rest of the game. She drove in the first two runs of the five-run inning against White Plains with a shot that got through the second baseman.

"Coach Hess always talks about wanting to have the bat in your hands in a pressure situation and I was in two of those and I just knew I had to do it for my team," Irwin said. "I had to put the ball in play somewhere so we could score some runs. I wasn't worried. I just know he tells us to go up there with confidence and that's what I try to tell my teammates, too. We have to have confidence in ourselves so our teammates can have confidence in us, as can our coaches and the people who are here to watch us play."

Mattie Wade had a RBI triple later in the inning and went 3-for-3. Ashley Phillips followed with an RBI double and Maggie Phillips has an RBI single. The Lady Cubs had seven hits against Oxford, six against White Plains.

"We've kind of come accustomed to manufacturing (runs) – get 'em on, get 'em over, get 'em in; ol' Billyball," Hess said. "We've kind of embraced it and when we can make a run we try to make a run and try to shut them down defensively."

Hess called the two games Thursday, outside of a couple plays, the best defensive games his team has played all season.

Oxford stayed alive with a 5-3 win over second-seeded Pleasant Valley behind Bailey Clark's 3-for-3 day and homers by Cohlee Boone and Sarah Howell. Piedmont stayed alive with a 6-5 win over Wellborn on Kenzie Tolbert's walk-off double.

Alexandria 2, Oxford 0
Oxford 000 000 – 0 3 1
Alexandria 000 11x – 2 7 1
WP: Maggie Phillips.LP: Emily Thrasher. 2B: Kodie Williams (A).

Alexandria 5, White Plains 0
White Plains 000 000 – 0 1 2
Alexandria 050 000 – 5 6 0
WP: Maggie Phillips. LP: Emma Jones. 2B: Ashley Phillips (A). 3B: Mattie Wade (A).

Oxford 5, Pleasant Valley 3
Oxford 210 20 – 5 9 5
Pleasant Val. 120 00 – 3 6 1
WP: Emily Thrasher. LP: Leah Patterson. 2B: Bailey Clark (O), Harris (PV). 3B: Bailey Clark (O). HR: Cohlee Boone (O), Sarah Howell (O).