'My dreams aren't this crazy'
Donoho's Hughston plays the round of his life, shoots 65, closes with a flourish to win County medalist for second straight year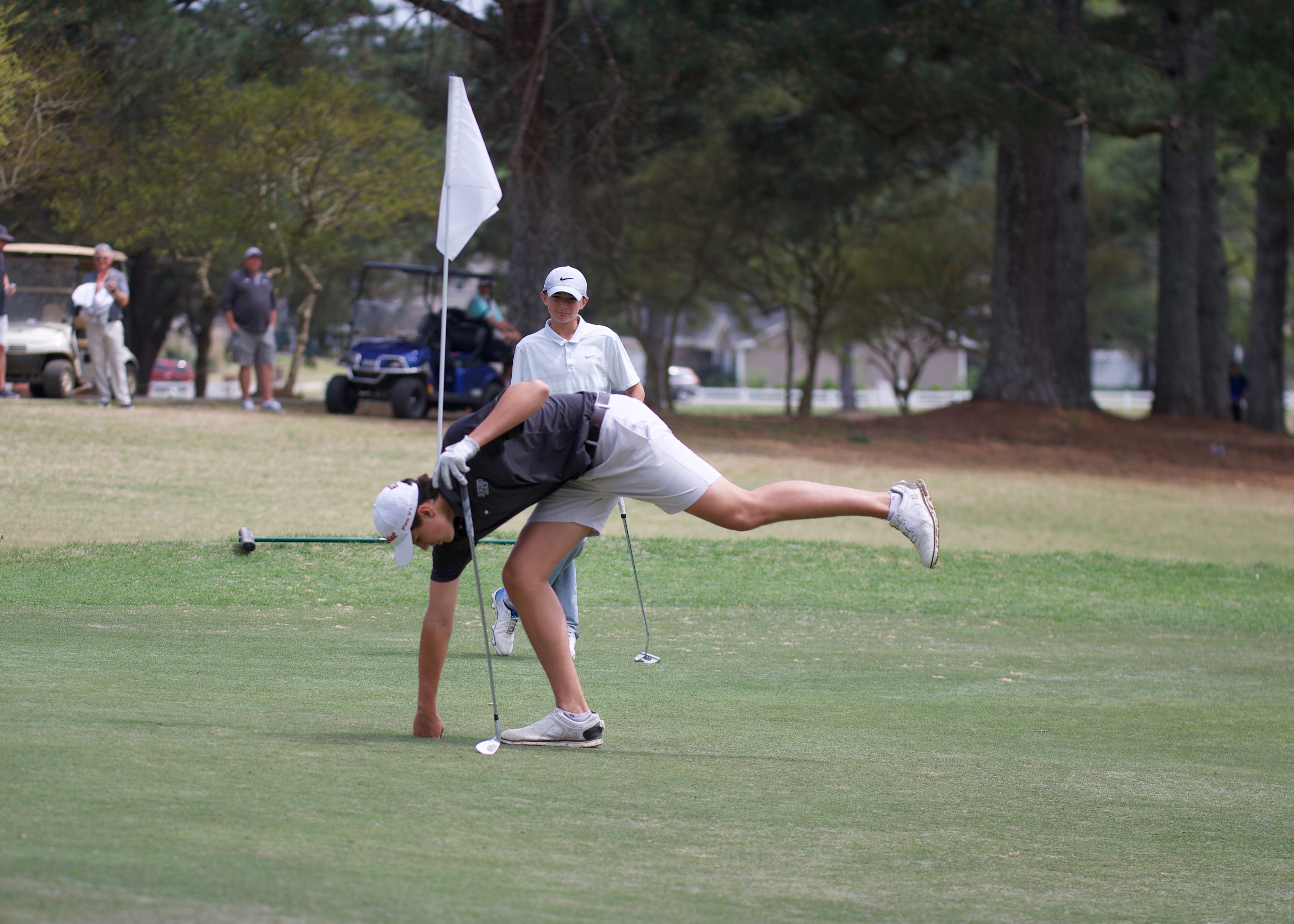 By Al Muskewitz
East Alabama Sports Today
 
It's crazy sometimes the range of thought that swings through a golfer's mind during the course of a tournament round. No matter how much a player professes to keep a sharp focus on the task at hand you're not human if a shot, lie or situation doesn't occasionally take your mind to a different place.
 
As hard as he tried to keep the outside influences to a minimum, Donoho senior Harrison Hughston couldn't help it – especially coming home in a "near perfect" back nine that carried him to the Calhoun County Tournament medalist for the second year in a row.

The Montevallo signee shot a lifetime best 7-under-par 65 in Saturday's final round of the County at Pine Hill Country Club to race past teammate Jacob LeCroy and White Plains' Wesley Jenkins to become a rare back-to-back boys individual county champ.
 
That as impressive in itself, but it's the way he finished that will have people talking for years. 
 
Hughston shot a bogey-free 6-under 30 on the back nine, birdied six of his last eight holes – three of his last four – and closed it out with a hole-out reminiscent of Larry Mize's playoff chip-in to beat Greg Norman in the 1987 Masters. He made nine birdies total in the round and won by four shots.
 
He certainly won't forget it.
 
"Six birdies out of nine holes, that's near perfect; you can't ask for better than that," Hughston said. "It's so funny. The big difference between (Friday and Saturday) was, I hit the ball about the same, but today I made the putts. I had the same opportunities today I just made the putts. All that matters is putting. If you make the putts, you can do anything."
 
No one had to tell that to LeCroy. The first-round leader (67) was frustrated by several three-putts, including three in a row down the stretch. He wound up finishing third, losing to Jenkins on the fifth extra hole of a playoff for second.
 
"I played really good today, but didn't play good enough, clearly," LeCroy said. "I didn't putt bad, I just didn't make any. I'm disappointed; I'm aggravated. I played good enough to win, I know that, but things don't always go your way and that's OK and I understand. We'll just go on and keep playing golf. … He played really good, too. I'm proud of him."
 
Hughston had plenty of chance to let his mind wander. There was that long delay for a ruling for the group in front of his on 15. Between finding a rules official and looking for a lost ball, he just laid down in the fairway for a nap that could have interrupted his rhythm and slowed his growing momentum.
 
Instead, it rejuvenated him. When they finally got to playing again, he hit it on in 2 and had a tap-in for birdie to, unbeknownst to him, take the lead.
 
"I had really no thought of winning (laying down in the fairway), I was just trying to stay focused," he said. "All those guys started messing with me and I was laying there trying to focus. I wasn't thinking about winning or anything. I just knew I had a good round going and I just had to finish it."
 
But to finish it he had to fight that mental dragon. He made par on 16 after bombing his tee shot over the green. But it was nothing like the gymnastics he faced playing 18.
 
Two years ago he made a mess of the hole in the team playoff and as fate would test him he had the same second shot Saturday he had that day – same yardage, same club. He knew it as soon as the range finder rang up the number.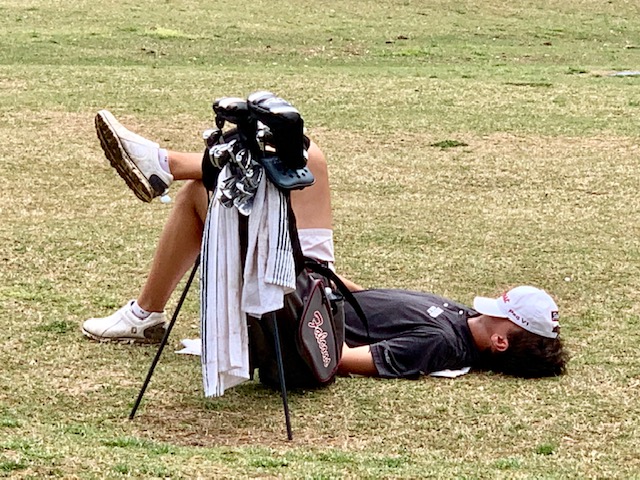 This time, instead of dumping it into the right greenside bunker, he overcooked it and landed near the ninth green. His options were to play a hero shot under the tree limb, over/through the bunker and get it to stop on the green or punch it down in front of the green and make par the hard way.

He thought about all of that as he paced between the green and his ball, finally deciding on the safe play.

"Last (year) I kind of knew where Jacob was (on the leaderboard); this time I had no idea," he said. "I really wanted to go straight under the tree around the left side of the bunker and roll it on the top of the green, but, man, it could anywhere. I really had to think. I didn't really know. I just had to make a decision. I just chose the safe way and it paid off."

What happened next was nothing short of miraculous. He pitched the ball with his 55-degree wedge and it tracked straight to the hole for an exclamation point on a memorable finish.

"You could say that may have been one of the highlights of my golf career," Hughston said. "I wouldn't say life because I've had a lot of things in my life that are awesome, but golf career wise this is the pinnacle, man. This is the peak. Awesome. My dreams aren't this crazy.

"It really is a dream. It's one of those things you're in the shower thinking about the county tournament, thinking how low could you go. It's just a dream come true, really."