'We made history today'
Anniston scores first goal, gets first-ever Calhoun County soccer tournament win; plays top-seeded Saks next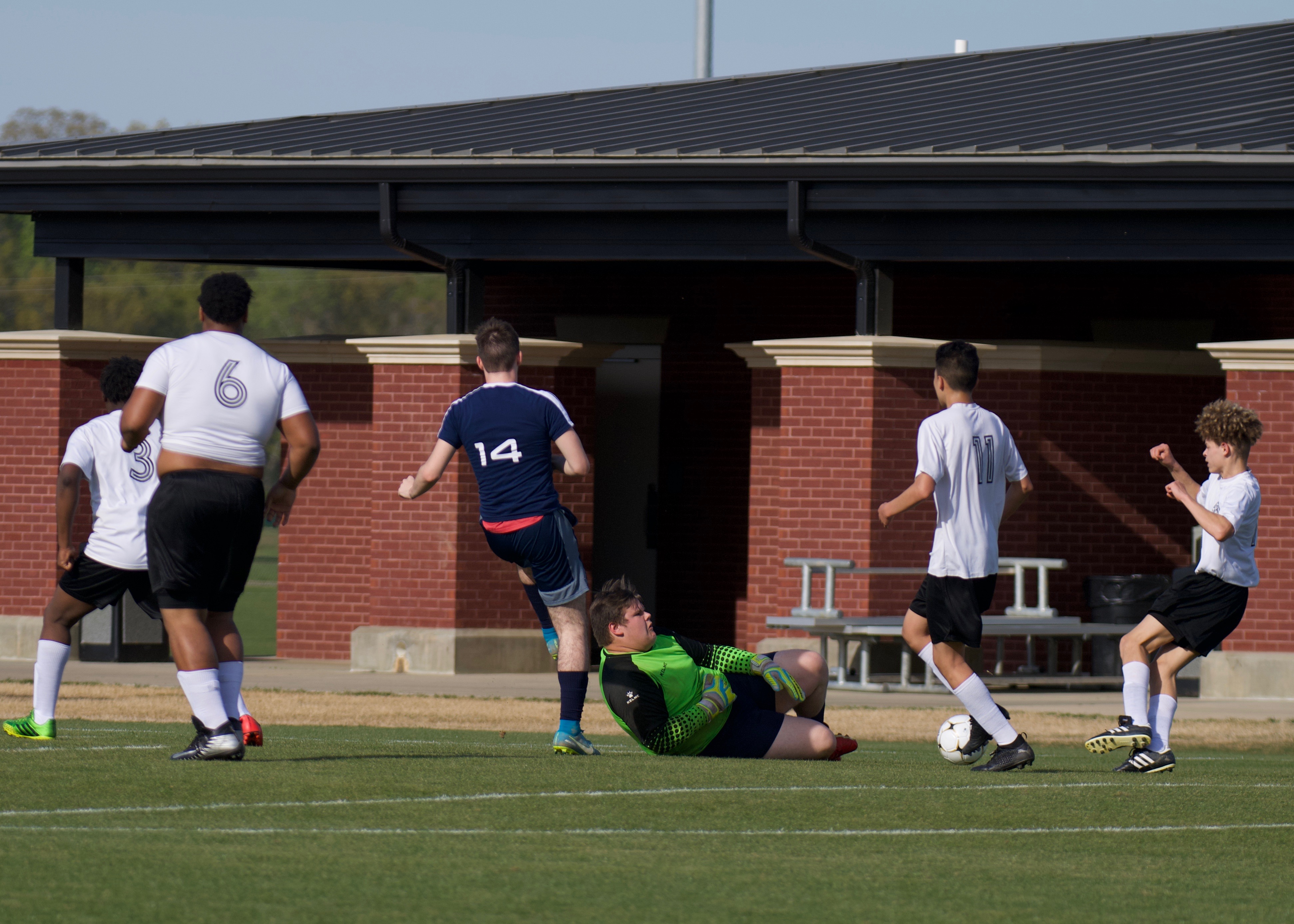 By Al Muskewitz
East Alabama Sports Today

Ryan Swaim brought his Anniston soccer team together with 1:20 left in halftime to give them some last words of instruction and inspiration. It turned out to be 80 seconds that turned the game and maybe the Bulldogs' season.

There wasn't anything particularly fiery about the speech, but inspired nonetheless the Bulldogs scored three second-half goals to grab an historic 3-0 victory over Sacred Heart in Wednesday's play-in game for the boys Calhoun County Soccer Tournament.

It was the Bulldogs' first win of the season, their first-ever county tournament win and the first time they've ever scored in the event.

"I just told them this was their opportunity to do it and if they were going to do it this season this was going to have to be it," Swaim said. "Let's not take it to overtime. Let's not chance it with PKs. Let's do it for school history.

"I tell the seniors all the time this is their opportunity to leave a legacy and that's what they did today."

The Bulldogs' history in the tournament prior to Wednesday was coming up on the wrong side of a couple shutouts. They lost to Jacksonville 4-0 last year and 9-0 to Oxford in the inaugural tournament in 2017.

"This is a special day for my team," said senior Daniel Fernandez, who scored the Bulldogs' breakthrough goal.

The teams played a scoreless first half, but the Bulldogs (1-4) had the best of the play. They outshot the Cardinals (0-7) in the half 7-4, including Chris Rawls' wide open shot from inside the box he sent over the crossbar six minutes before halftime.

The Bulldogs finally broke through when Fernandez took a through ball from Julian Bryant, rushed the goal and flicked a shot over Sacred Heart keeper Zane Marion before crashing into the keeper with 36:15 left in the match. Fernandez hurt his right upper thigh on the play, but remained in the game. Marion was helped off with a sore knee.

Kevin Escareno put a 20-yard free kick into the upper right corner to make it 2-0 with 20:30 to play and Ali Ware chipped a shot over backup keeper Tim Weng for a goal Swaim called a "complete surprise" with eight minutes to go.

"We made history today because we never advanced in the county tournament," Escareno said. "It's good for us, too, because we haven't been winning a lot. This will help boost us up. Maybe we can get more wins.

"We didn't want to disappoint coach. We've been trying so hard; we haven't met his expectations. Today we made our coach proud. It's his first year as head coach (with the boys team) and he got his first win in the county tournament."

The reward for their milestone victory is a meeting with undefeated No. 1 seed Saks (12-0) in the main event Thursday at 6 p.m. The teams played Monday with Saks winning 8-1. Fernandez scored the Anniston goal.

The Cardinals, coming off their best game of the season Tuesday night (a 4-3 OT loss to Glencoe) weren't without opportunities. Taishun Hall stole the ball just outside the box midway through the second half and shot wide across the goalmouth. Caleb Brown had their best shot, but Anniston keeper Wilson Fernandez turned him away from point blank range.

"We have a lot of good moments in most of our games and then we kind of hit a wall at some point," Cardinals coach Kellen Roberts said. "For some reason or another their level drops off. I tell them all the time in soccer if you slack off for just a few seconds, not giving 100 percent effort or challenging balls, you get a goal scored on you. That's just how it is. You can play good for so long and then one little thing it's a goal."

Anniston 0 3 – 3
Sacred Heart 0 0 – 0
GOALS: Daniel Fernandez (A), Kevin Escareno (A), Ali Ware (A).
Shots: Anniston 18, Sacred Heart 9. Saves: Wilson Fernandez, Anniston 4; Zane Marion, Sacred Heart 5; Tim Weng, Sacred Heart 4. Corners: Anniston 5, Sacred Heart 4.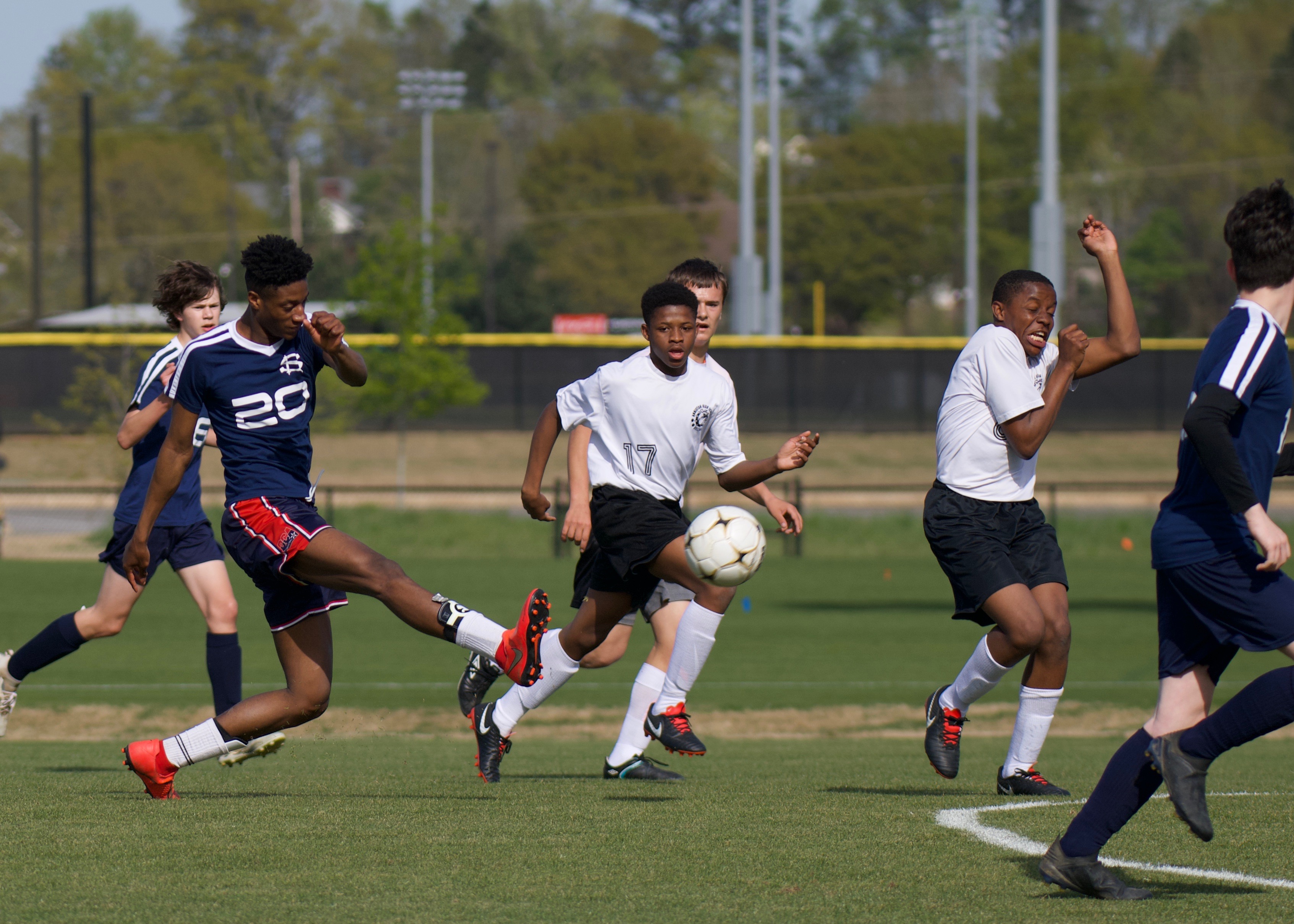 To see more photos from the match visit www.bjfranklin.smugmug.com